专辑英文名: Play Bach No. 2
专辑中文名: 礼赞 巴哈 2
古典类型: 全集作品
资源格式: FLAC
发行时间: 1960年
简介: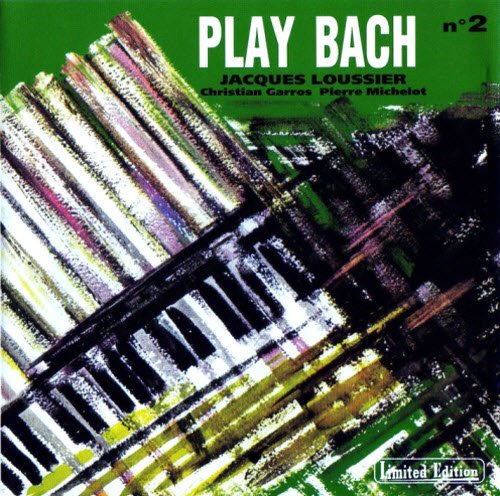 专辑介绍:

巴哈被称为音乐之父,他的作品常常是许多创作者灵感的来源.
一直延续到现代,在许多爵士乐或演奏家的专辑内仍然以演奏巴哈的作品为荣,
巴哈的音乐诞生在浪漫又拘谨的巴洛克时期,以精準的和声对位和演奏技巧闻名.
在这场音乐会中,有幸能够聆听到Jacques Loussier Trio的精采演出,
对於演奏家的了解,不再只是停留在流行歌手现场演唱会的印象,我看到一个固执,极端,深刻的老人与钢琴合唱著灵活,开阔,温柔的琴声.我自己也是学过一点乐器的,略为了解要把别人写的一首歌,弹奏得拥有属於自己的感情和个性,是多么困难的一件事,练习的过程又是多么苦涩和寂寞.我看著Jacques Loussier Trio演奏的背影,就深刻得看见他在琴房练习的样子,那一定是个不断重复,不断固执在某一小节编曲的人,独自坐在钢琴前,直到弹奏出令自己满意的旋律.听著
Jacques Loussier Trio的音乐,就像是听他讲著自己的故事,
巴哈音乐建造出听觉的歌德大教堂,在古典音乐中耸立直到现代,
而属於黑人奴隶的蓝调音乐,经过时间酿成了爵士音乐,天生就有让人翩翩起舞的本事.
Jacques Loussier Trio的巴哈爵士,在听觉上给了我一段极为刺激的幻想.
我看到我在精致的歌德大教堂门口前,随著零碎得拍点跳著自由的舞步.
我的想像一点也不符合古典的美学,但是在这一场音乐会,
感觉自己的想像未曾仅仅是想像,就像是曾经在那教堂前跳舞.
非常得陶醉.
Jacques Loussier Trio离去前,我看到他眼中好像有些不舍,
也许这就是他最后一次巡迴演唱了吧,我那时候是这样猜想.
后来在网路上找了一些他的相关资料.发现他的确结束巡迴后就要回家乡了.
我相信他不只是舍不得热情的观眾,
也是舍不得他那些在舞台上演奏的,彷彿是自己灵魂形状的美丽乐章.


JACQUES LOUSSIER
Third Stream • France
Jazz music community with reviews, MP3 (free download/stream) and forums
JACQUES LOUSSIER picture
Jacques Loussier (born October 26. 1934 in Angers, France) is a french musician and composer.

He studied classical music at the Conservatoire Nationale de Musique in Paris and worked later as accompanist for Catherine Sauvage and Charles Aznavour.

In 1959 he combined his affection for Johann Sebastian Bach with his growing interest for jazz and founded the Play Bach Trio. This group played and improvised on basis of Bach's compositions. This created vast international attention and in 1960-63 he produced 4 albums, which sold in about 6 million copies. The trio stopped after 15 years of performing in 1978.

In the 1980'ies Loussier started composing and arranging works in his recording studio in Miraval near Nice in southern France. He met the rock world and artists like Pink Floyd, Elton John, Sting og Yes. Segments of Pink Floyd's The Wall were recorded in his studio.

User-contributed text is available under the Creative Commons By-SA License and may also be available under the GNU FDL.

Label Decca
Orig Year 1960
Catalog number 157562
Discs 1
Release Date Apr 24, 2001
Studio/Live Studio
Mono/Stereo Mixed
Recording Time 37 minutes
Personnel Christian Garros - drums, percussion
Jacques Loussier - piano


引用
Also: Pierre Michelot
Additional Info Remastered

Bach: Jacques Loussier Plays Bach No. 2 by Jacques Loussier was released Apr 24, 2001 on the Decca label. Recorded in 1960. Bach: Jacques Loussier Plays Bach No. 2 Originally released on Decca (SSL40.502) All tracks have been digitally remastered. Personnel: Pierre Michelot (double bass); Christian Garros (drums, percussion). Bach: Jacques Loussier Plays Bach No. 2 Arranger: Jacques Loussier. Bach: Jacques Loussier Plays Bach No. 2 Personnel includes: Jacques Loussier (piano); Pierre Michelot (acoustic bass); Christian Garros (drums, percussion). Reissue producers: Daniel Richard, Dominique Bernard. Bach: Jacques Loussier Plays Bach No. 2 contains a single disc with 12 songs.

Audio CD (April 24, 2001)
Number of Discs: 1
Format: Original recording remastered
Label: Decca
ASIN: B00004SUZV

12 of 12 people found the following review helpful
5.0 out of 5 stars Jacques Loussier's best works November 9, 2001
By Bruce Bogart
Format:Audio CD
Jacques Loussier is quite possibly the world's most brilliant pianist today. Jacques Loussier was the original pioneer combining jazz with the works of J.S. Bach. Others have tried to do this, but Loussier has remained the most successful. His style remains true to the original works of Bach. Even the casual listener can tell that he takes his work seriously. However, Jacques Loussier's music goes far beyond that. He is gifted with an almost hypnotic style that can conjure up images
and emotions in one's mind while listening to the music. You hear it time and time again, unique to the Jacques Loussier Trio. The music is magic. He is able to transform an ordinary piece into a masterpiece. Loussier has also applied his expertise to the works of Vivaldi, Ravel, Debussy Satie and offers fresh new impressions on the work of these (and other) composers. Loussier's most recent offering is entitled "Baroque Favorites". His highly talented past and present drummer(s) and bassist(s) complement Loussier's style to form a tightly integrated trio.

Play Bach 1 and 2 are probably Loussier's very best works. These recordings were first issued on the Decca label. Listen carefully to Loussier's wonderful interpretation of Partita No. 1 in B flat major: Allemande. If you missed out on the original vinyl Decca recordings of Play Bach jazz, you now have a second chance. Grab them now!

I was fortunate to have the opportunity attend his concert and meet him in Toronto, Canada at the start of his Telarc tour. His concert received several standing ovations. He just keeps getting better with time. At the time of this writing, Jacques Loussier has just finished his North America and will appear in Australian. It may be a once in a lifetime opportunity to hear the Jacques Loussier Trio live. ...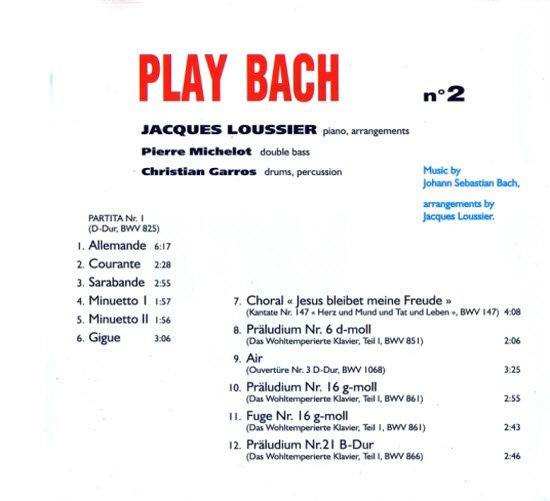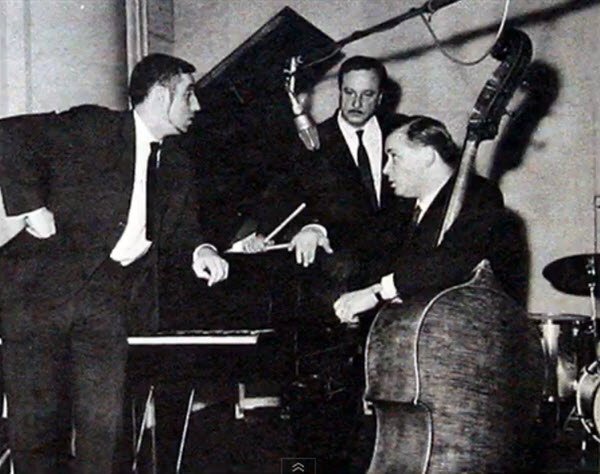 专辑曲目:
01. Partita No. 1 in D major, BWV 825: I. Allemande (6:19)
02. Partita No. 1 in D major, BWV 825: II. Courante (2:31)
03. Partita No. 1 in D major, BWV 825: III. Sarabande (2:57)
04. Partita No. 1 in D major, BWV 825: IV. Minuetto I (2:00)
05. Partita No. 1 in D major, BWV 825: V. Minuetto II (1:58)
06. Partita No. 1 in D major, BWV 825: VI. Gigue (3:10)
07. Cantata, BWV 147 "Herz und Mund und Tat und Leben": Choral "Jesus bleibet meine Freude" (4:10)
08. The Well-Tempered Clavier, Book I: Prelude and Fugue No. 6 in D minor, BWV 851: I. Prelude (2:09)
09. Orchestral Suite No. 3 in D major, BWV 1068: Aria (3:27)
10. The Well-Tempered Clavier, Book I: Prelude and Fugue No. 16 in G minor, BWV 861: I. Prelude (2:57)
11. The Well-Tempered Clavier, Book I: Prelude and Fugue No. 16 in G minor, BWV 861: II. Fugue (2:45)
12. The Well-Tempered Clavier, Book I: Prelude and Fugue No. 21 in B-flat minor, BWV 866: I. Prelude (2:46)

Total Time: 37:14
这里是其它用户补充的资源(我也要补充):
暂无补充资源