专辑英文名: Handel - Water Music & Royal Fireworks
专辑中文名: 韩德尔:水上音乐、皇家烟火
古典类型: 全集作品
资源格式: APE
发行时间: 2002年09月24日
简介: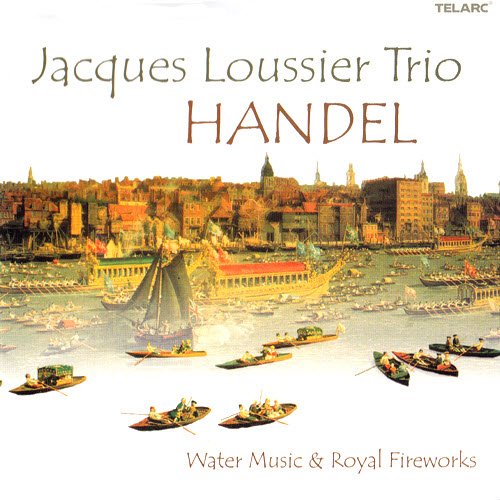 专辑介绍:

以《爵士巴哈》系列,唱片畅销全球超过六百万张的爵士乐钢琴巨匠贾克.路西耶,他1934年生於法国西北部城镇翁热,早年赴巴黎音乐院追随名师纳特教授,纳特曾是小提琴大师易沙意、提堡和安奈斯可的钢琴搭档,声望极高。路西耶后来虽然朝「跨界」发展,其行云流水般的触键,无比透明的纹理,以及气质高贵的品味,都跟恩师纳特的弹奏风格依稀神似。1959年到1978年之间,路西耶每年都要演出上百场音乐会。之后他退隐江湖七年,成立工作室跟巨星如艾尔顿强和史汀合作。1985年东山再起,推出全新组合《贾克.路西耶三重奏团》,又掀起爵士乐演奏巴哈的风潮。跟发烧名厂TELARC合作,他进一步改编韦瓦第、德布西、拉威尔、沙替的作品,神来之笔广泛获得爱乐者热烈回响。这张新片则向韩德尔经典名曲《水上音》、《皇家烟火组曲》和《帕萨卡利亚舞曲》挑战,大珠小珠落玉盘的流畅演奏,不但听到耳朵出油,也提供了充分消暑的乐趣。

TELARC 贾克.路西耶(Jacques Loussier)/韩德尔:水上音乐、皇家烟火[Handel: Water Music & Fireworks]【1CD】

专辑编号: CD83544
国际条码: 0089408354427
音乐家:Saigezhake, bass 赛戈札克, 贝斯 Saigezhake, bass 赛戈札克, 贝斯 Arpino, drum 阿尔皮诺, 鼓 Jacques Loussier, piano 贾克.路西耶, 钢琴 Jacques
Loussier, piano 贾克.路西耶, 钢琴
音乐厂牌: TELARC

Audio CD (September 24, 2002)
SPARS Code: DDD
Number of Discs: 1
Label: Telarc
ASIN: B00006G886


Pianist/composer Jacques Loussier has been swinging the classics for more than four decades now—ever since he formed the Play Bach Trio in the late '50s, when the union of his classical background with his interest in jazz created a remarkable success story. The trio toured
extensively, selling over six million albums in fifteen years, and then disbanded.

In 1985, the Bach tercentenary prompted Loussier to reform his trio with two new members and return to his jazzy spin on the classics. For Telarc, his first two recordings were reinterpretations of baroque music: Jacques Loussier Plays Bach (CD-83411) and Vivaldi: The Four Seasons (CD-83417). He then expanded the trio's musical language with recordings of music by the French composers Satie (CD-83431), Ravel (CD-83466), and Debussy (CD-83511). Loussier returned to music of the baroque era with Baroque Favorites (CD-83591), which featured re-workings of popular scores by Pachelbel, Handel, Albinoni, Marin Marais, and more.

On his newest recording for Telarc, Loussier and the members of his talented trio—bassist Benoit Dunoyer de Segonzac and drummer Andre Arpino—concentrate on the music of Handel, with fresh new settings of two of the master composer's most popular works: Water Music and Music for the Royal Fireworks. Also featured is Handel's Passacaglia, from Suite No. 7 in G Minor.

Both the scores to Handel's Water Music and Music for the Royal Fireworks were written on commission for King George II of England. The Fireworks Music, which became Handel's last orchestral work, was commissioned to celebrate the end of the Austrian War of Succession and the signing of the treaty of Aix-la-Chapelle, in 1748. All of Europe celebrated the peace with fireworks, and the English king imported the Chevalier Servandoni from France to design a spectacular display. He also commanded Handel to write a grand piece for the occasion that
featured only "war-like instruments"—by which he meant winds and percussion, and no strings. The actual fireworks display took place on April 27, 1749, and due to many "technical difficulties," was a failure, but Handel's music was a brilliant success.

Decades earlier, in July 1717, the king gave a water party. He traveled up the River Thames on a great barge to Chelsea, where he and his invited guests, also on barges, disembarked for supper. After they had eaten, the entire group returned to the barges and sailed back to Whitehall Palace. Handel's music was played throughout the evening, both outside while the king was floating on the water and inside during the meal. It consisted of a collection of three suites in different keys and for different combinations of instruments.

As with the pieces on Loussier's Baroque Favorites, the works on this new recording are familiar to many listeners. Loussier's challenge is always to maintain the essence of the composer's musical intentions and still bring something fresh and new to his own arrangements. "If you respect the spirit of the composer," he said, "you improvise in the same style—then you have the impression that the composer himself is improvising his own music."

Loussier's Trio keeps the sense and the style of these two great works intact, using sparse and witty improvisations, color and rhythm to recast them in a swinging style. Listeners will enjoy Loussier's varied approach to track 7 (familiar to many as "Hornpipe," often used as a recessional march in wedding ceremonies), in which he uses displaced beats and jazzy improvisatory piano riffs to give it a completely fresh sensibility while retaining its joyful air of celebration. The closing trio movement (track 9) breaks into a snappy Latin rhythm.

Loussier adds jazz harmonies to the stately opening chords of the Overture to the Fireworks Music, and he infuses a short introductory section before the third movement with a Spanish flavor reminiscent of a Granados song. Drummer Andre Arpino keeps the spirit of grandeur alive in his ceremonial percussion flourishes at the opening of the final movement.

Handel's Passacaglia closes the disc. This simple piece, with its ground bass line, gives Loussier a chance to employ one of his favorite schemes—a short form of theme and variations—in which he and his trio members often trade passages back and forth.

Explosive and fluid at the same time, Loussier's Handel: Water Music and Music for Fireworks offers a fresh perspective on the music of one of the most celebrated of all classical composers.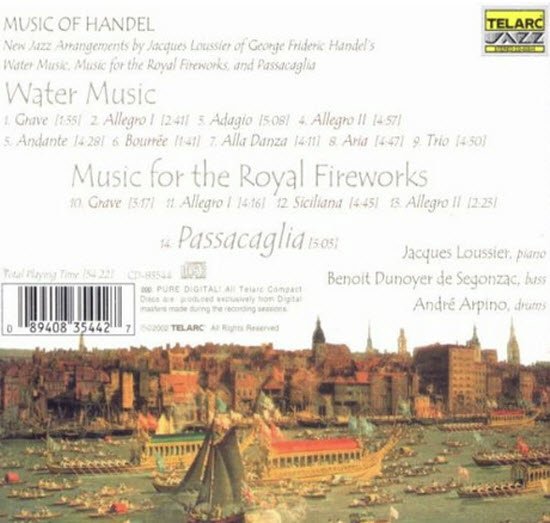 The Play Bach Trio (also credited on releases as Jacques Loussier Trio), was a Third Stream jazz piano trio that became known for their Jazz interpretations of European classical music.

The Play Bach Trio was formed in 1959 by pianist Jacques Loussier, bass player Pierre Michelot, and percussionist Christian Garros. They reworked mostly Baroque music, in particular by Johann Sebastian Bach, to fit their own style and instruments.

In 1985, Jacques Loussier formed a new trio with percussionist André Arpino, and double-bassist Vincent Charbonnier.
专辑曲目:
01. Handel: Water Music: Grave 1:36
02. Handel: Water Music: Allegro I 2:44
03. Handel: Water Music: Adagio 5:09
04. Handel: Water Music: Allegro II 5:00
05. Handel: Water Music: Andante 4:30
06. Handel: Water Music: Bourree 1:43
07. Handel: Water Music: Alla Danza 4:12
08. Handel: Water Music: Aria 4:47
09. Handel: Water Music: Trio 4:33
10. Handel: Music for the Royal Fireworks: Grave 3:17
11. Handel: Music for the Royal Fireworks: Allegro I 4:18
12. Handel: Music for the Royal Fireworks: Siciliana 4:45
13. Handel: Music for the Royal Fireworks: Allegro II 2:25
14. Handel: Passacaglia 5:04
这里是其它用户补充的资源(我也要补充):
暂无补充资源