专辑英文名: Black Lace Freudian Slip
专辑中文名: 潜意识里的 黑蕾丝
音乐风格: 爵士
资源格式: FLAC
发行时间: 2011年11月07日
简介: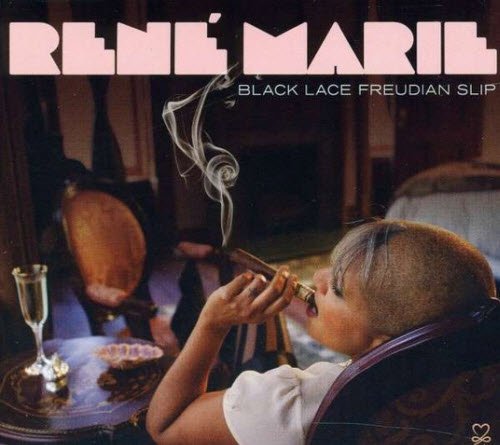 专辑介绍:

如果从主流市场来衡量René Marie,这位四十岁以后才发行个人第一张专辑的女歌手是没有任何走红条件的。但唱功深厚的René Marie毕竟是在异於市场常规的爵士圈里发展,多亏忠实的歌迷与拥戴她的厂牌老闆,René Marie去年不但换了唱片公司发片,还一口气发行了两张专辑,一张就是本篇介绍的Voice of My Beautiful Country,另一张Black Lace Freudian Slip则匯集了René Marie本人的创作。

René Marie虽然大器晚成,但她的歌喉却丝毫不受年龄影响。反而因为人生际遇的千锤百鍊,让她的作品耐久醇香。笔者心目中的铭新绝品之一是René Marie的代表作Live at Jazz Standard(Maxjazz, 2003),其中最精彩的作品是「Bolero/Suzzane」组曲,René Marie将拉威尔的「波丽露」与加拿大民谣歌手/作家Leonard Cohen的名曲「Suzzane」合为一曲,加上自身特有的蓝调詮释,真是好听极了!这也是笔者听过最好的「Suzzane」翻唱版本。

Release Date November 7, 2011
Duration 01:09:01
Genre Jazz
Recording Date January, 2011

Review by Alex Henderson [-]

Black Lace Freudian Slip is a rarity: a jazz-oriented vocal album that is dominated by the singer's own compositions. René Marie, who co-produced Black Lace Freudian Slip with acoustic pianist Bruce Barth (although Barth leaves all the piano playing to Kevin Bales), didn't write everything on this early-2011 recording. But she wrote most of the material, and her writing is as strong as her singing. Jazz vocalists, of course, have a long history of using other artists' songs to express themselves emotionally; Marie's far-reaching repertoire has included material by everyone from Harry Warren to Jefferson Airplane. But on Black Lace Freudian Slip, her own songs are the main focus. And she excels as a both a vocalist and a songwriter on originals that include the playful "Rim Shot," the bluesy "Tired," the contemplative "Gosh, Look at the Time," and the dark, moody "Fallin' Off a Log." Occasionally, Marie steps outside of jazz on this 69-minute CD. Marie's "Wishes," for example, is folk-rock and finds jazz musician Dexter Payne contributing some Bob Dylan-ish harmonica; the tune wouldn't be out of place on a Tracy Chapman album. Marie never claimed to be a jazz purist or a jazz snob, and "Wishes" underscores the fact that she sees the artistic value in music other than straight-ahead jazz. The jazz world is full of artists who have little or no interest in anything having to do with rock, folk, or R&B; Marie, however, clearly is not one of them. The jazz-oriented (though not jazz-exclusive) singer has kept an open mind, and that open-mindedness continues to serve her well on Black Lace Freudian Slip.


引用
Rene Marie: Black Lace Freudian Slip (2011)
By
DAN BILAWSKY,
Published: November 9, 2011
Rene Marie: Black Lace Freudian Slip

Budding jazz instrumentalists are often told that they need to find their own voice but, ironically, those who use their actual voices are often expected to adhere to the sonic standards of those who came before. Fans and press who value originality in jazz instrumentalists wring their hands in frustration when more John Coltrane clones come into the picture but, on the other side of the coin, the masses applaud and herald singers with voices crafted in the images of jazz icons (e.g. Madeleine Peyroux's Billie Holiday-like voice), creating a double standard that does a disservice to those singers who don't fall in line.

While the ability to interpret songs from The Great American Songbook, and understand and borrow musical mannerisms from notable artists, has undeniable merit, vocalists like the one and only Rene Marie deserve to be measured for their originality in voice, spirit and song. Marie's steadfast commitment to her own vision of music has won her wide acclaim for a string of fine recordings, and placed her in controversial situations, as with her "Lift Every Voice" rewrite of "The Star Spangled Banner," but she always remains confident in her artistic decisions, never letting populist ideals or the changing winds of the music industry sway her from her chosen path.

Black Lace Freudian Slip comes closely on the heels of Marie's personally patriotic Voice Of My Beautiful Country (Motéma, 2011), but the focus is now on Marie-as-composer. Ten of the thirteen tracks on this album are Marie originals and, while her honesty and spirit shine through in each and every performance, she touches on various themes and styles throughout.

"Black Lace Freudian Slip" is a study in contrasts, as Marie uses a sensuous delivery that shows off her feminine wiles, while also infusing her vocals with the type of boastful braggadocio usually reserved for male rappers, but that's only one side of this complex individual. Elsewhere, she touches on a folk-country hybrid that leans toward the sound of Ray LaMontagne ("Wishes"), boisterous pseudo-samba ("Rufast Daliarg"), stunning, soulful displays of vocal intensity ("Deep In The Mountains"), and music with earthy bass and tom grooves that wear textural designs often found in the work of Cassandra Wilson ("Ahn's Dream"). While Marie rails against the notion of people comparing her to other famous voices—like Ella Fitzgerald and Sarah Vaughan—during her aural response to a club owner who told her that jazz singers should interpret rather than write ("This For Joe"), it's hard not to notice a Nancy Wilson-like zeal in her voice on the waltzing "Free For A Day." Here, and on her ode to a drummer's accent ("Rim Shot"), Marie is at her most lighthearted.

With so many different styles and sounds coming in and out of the mix, Black Lace Freudian Slip doesn't really come off as a statement from a jazz singer. Instead, it arrives as a musical gift from one of the most arresting and complex vocal personalities performing today.

Track Listing: Black Lace Freudian Slip; This For Joe; Wishes; Thanks, But I Don't Dance; Free For A Day; Ahn's Dream; Gosh, Look At The Time; Rim Shot; Fallin' Off A Log; Deep In The Mountains; Serenity Prayer; Rufast Daliarg; Tired.

Personnel: Rene Marie: vocals; Kevin Bales: piano; Rodney Jordan: bass; Quentin Baxter: drums; Bill Kepper: acoustic guitar (3); Lionel Young: electric guitar, fiddle (10); Dexter Payne: harmonica (3); Michael A. Croan: vocals (10).
Rene Marie
Black Lace Freudian Slip
Motema
Christopher Loudon reviews one of last year's most exciting jazz vocal releases.
By Christopher Loudon
René Marie doesn't care what this review says. She makes that clear right off the top in the title track, a nakedly bold career mission statement that dismisses the "blah-blah-blah of critics." But what everyone else needs to know is that Black Lace Freudian Slip cements Marie's place among the vocal elite. The voice is as stunning as always, her phrasing immaculate, her ability to pack emotional wallops equaled by very few. As a songwriter and story renderer, weaving profound tales of despair and triumph, championing her beliefs about empowerment and personal fulfillment, she shares a plateau with the likes of Nina Simone, Oscar Brown Jr. and Joni Mitchell.
The title track also emphasizes Marie's tendency toward "shooting straight from the hip," a passion she has been exercising since the onset of her late-breaking career. Indeed, Marie's very existence as a vocalist is a result of her admirable stalwartness. When, at age 41, she was issued an ultimatum from her husband of 23 years that it was either music or marriage, she chose music and has never looked back. In the liner notes to her sophomore release, 2001's Vertigo, she said, "It's not like I have an agenda. But since I returned to performing, I discovered I have something to say." Since then, Marie has been steadily shaping profound musical statements, both personal and public, culminating with her maelstrom-igniting decision in 2008 to recast "The Star-Spangled Banner" using the lyrics of "Lift Ev'ry Voice and Sing" at the mayor's State of the City address in Denver, her adopted hometown. That incident, which escalated to death threats, informed Marie's earlier 2011 album, Voice of My Beautiful Country, an affecting portrait of individualistic patriotism.
Defending her songs, and her right to present them, is the subject of Black Lace Freudian Slip's second track, "This for Joe," which recalls an incident involving the titular character, manager of a Chicago club who chastised her for straying beyond the Gershwin and Porter songbooks. "I can't be a good girl singing standards all nice and sweet," she sings. "'Cause that was then, this is now … Singing the songs I write is an uphill battle/Come on and give me a fight, set my cage to rattle." Bravo and amen. Ardent cage-rattlers have of late been few and far between, and Marie's gutsiness in taking up the torch is to be both admired and cherished.
Her distinctiveness as an interpreter of original (and mostly self-composed) material continues across the album's remaining dozen tracks. The marvelous triptych of "Wishes," "Thanks, But I Don't Dance" and "Free for a Day" (the latter two co-written by Patti McKenny and Andrew Sussman) provides varied perspectives—regret, bittersweet remembrance and the desire to re-embrace the wide-eyed amazement of childhood—on disillusion.
"Rim Shot," hotter and more sensually satisfying than the version included on 2007's Experiment in Truth, overflows with delightful double entendres of the type that were Dinah Washington's stock-in-trade. Romantic and personal disappointment invade both the wistful "Gosh, Look at the Time" and the fatalistically introspective "Fallin' Off a Log." Willful perseverance fuels her blazing reinterpretation of "Rufast Daliarg," previously included on 2004's Serene Renegade and crafted as a singular declaration of independence for her sons. Finally, there is "Deep in the Mountains," written by eldest son Michael, a magnificent credo to struggle and hard-won triumph that seems a fervidly enfranchising, seven-decades-later response to "Strange Fruit."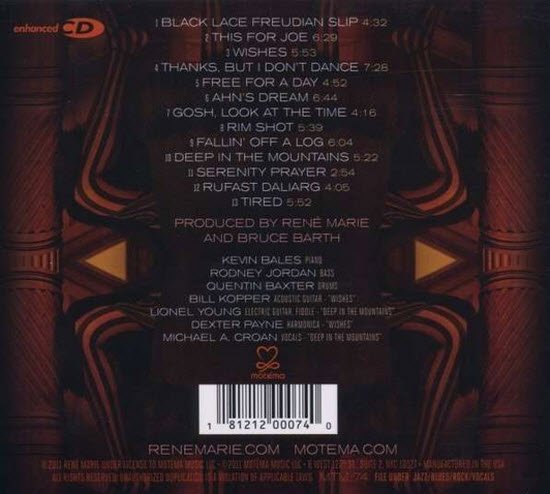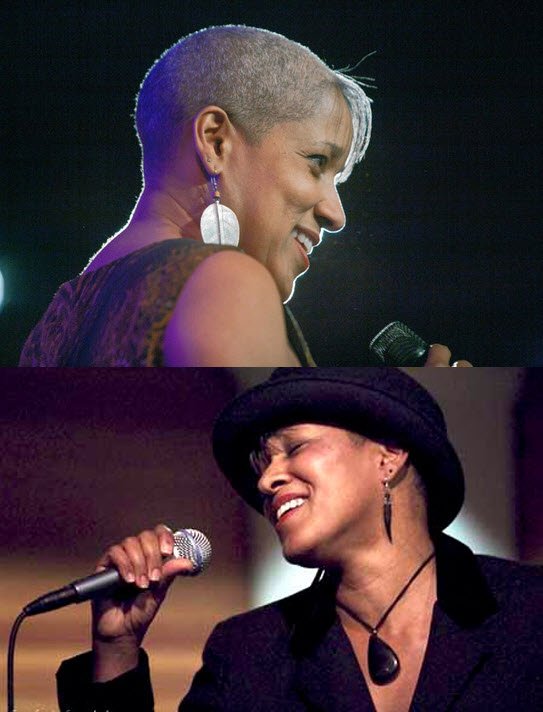 专辑曲目:
01. Black Lace Freudian Slip 04:32
02. This For Joe 06:29
03. Wishes 05:53
04. Thanks, But I Don't Dance 07:28
05. Free For Day 04:52
06. Ahn's Dream 06:24
07. Gosh, Look At The Time 04:18
08. Rim Shot 05:39
09. Fallin' Off A Log 06:04
10. Deep In The Mountains 05:23
11. Serenity Prayer 02:55
12. Rufast Daliarg 04:06
13. Tired 04:56
这里是其它用户补充的资源(我也要补充):
tianfu1517 2013/10/31 21:36:26 补充
(...)
该内容尚未提供权利证明,无法提供下载。