专辑英文名: Vertigo
专辑中文名: 目眩神迷
音乐风格: 爵士
资源格式: FLAC
发行时间: 2001年09月18日
简介: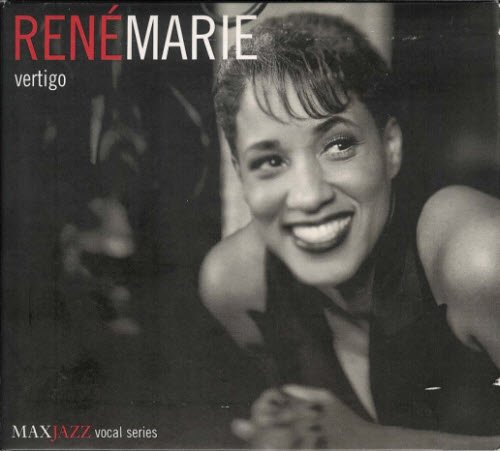 专辑介绍:

Rene Marie / Vertigo

我实在很不想再用经典的歌手来形容当今爵士女伶,但是听完「Vertigo」真的不得不承认,Rene Marie真的有Sarah Vaughan的好本事 ! --Jazztimes

「Vertigo」是Rene Marie在MaxJazz发行的第二张录音室专辑。从参与专辑的乐手名单就足以窥见MaxJazz是如何器重Rene Marie。被小威老师点评为当代咆勃钢琴手第一人的Mulgrew Miller、年轻一代贝斯手代表Robert Hurst都在演出名单内,光是乐手名单已够让人「目眩神迷」。经过首张大鸣大放的「How can I keep from Singing」,Rene Marie的唱腔有更深刻的洗礼,在本辑中她的嗓音不但内炼充实,情感也更为丰沛,唱起「Detour Ahead」、「I'd Rather talk about you 」等情歌实在太好听,会让人想起Sarah Vaughan巔峰时期的精彩表现。而Mulgrew、John Hart等乐手丝丝入扣的演奏风格更为本辑大大加分,歌手/乐手表现完美无缺,是张极为推荐的爵士歌唱专辑。

唱片公司:Maxjazz
音乐类型:爵士乐
唱片编号:MXJ 114
发行日期:2009年05月01日
豪华版 / CD / 1 片装 / 67分11秒

Release Date September 18, 2001
Duration 01:07:11
Genre Vocal Jazz
Styles Standards Vocal Jazz
Recording Date February 22, 2001 & February 23, 2001

Audio CD (September 18, 2001)
Original Release Date: 2001
Number of Discs: 1
Label: MAXJAZZ
ASIN: B00005O7UF

Review by Ken Dryden [-]

Rene Marie's second CD for MaxJazz is, for the most part, a very enjoyable CD. This extremely gifted singer has a very appealing voice and is a talented arranger as well. Her playful arrangement of "Them There Eyes," with bassist Robert Hurst and drummer Jeff "Tain" Watts, is very refreshing, with some fine scat singing, too. Her unusually deliberate and rather sexy take of "The Surrey With the Fringe on Top" adds pianist Mulgrew Miller and also has some fine scat singing, too. Her Latin chart for "I Only Have Eyes for You" proves catchy, with some tasty guitar playing from John Hart. "It's All Right With Me" is slowed to a snail's pace with Chris Potter's noodling bass clarinet and Hurst's brooding bass backing her powerful vocal. "Vertigo," another Marie original, is easily the most exciting piece on the session. The only occasion when she follows anything resembling an expected path is her lush treatment of the ballad "Detour Ahead" in a memorable duet with Miller. There are some weak spots. The original "Don't Look at Me Like That" is monotonous filler; while the Beatles' "Blackbird" is drastically rewritten with a tedious vamp that gives the song a somewhat ominous sound, but it grows tiresome quickly. The medley of "Dixie" (a song reviled by most African-Americans) and "Strange Fruit" (with its dramatic description of lynching) invites controversy. She sings "Dixie" a cappella with a possible touch of sarcasm, then the band is added for the shift into the piece that was first put on the map by Billie Holiday, introduced with almost a funeral march-like cadence. Somehow Rene Marie's lovely voice seems inappropriate for this song, as she doesn't reflect the anguish of its lyrics very consistently. Even with these reservations, this is a highly recommended CD.


引用
5.0 out of 5 stars Vertigo will make your ears smile September 25, 2001
By Kenneth Hugh Burton
Format:Audio CD
Vertigo, Rene' Marie's second album on the MaxxJazz label is a necessary addition to the collection of all jazz lovers. The CD features 11 songs. Tracks 1 thru 10 are Rene's arrangements. On track 11 Rene share arrangement credits with Burch Barth, the albums producer. Again, as on her previous album, Rene showcases her song writing talent with track # 3 "I'd Rather Talk About You"; (a blues tune), # 4 "Don't Look At Me Like That"; (hard to describe, but very light and playful, with some curious conversation in the background), and the title track # 7 "Vertigo". Rene' displays a wit and sophistication in her lyrics, and music, on a canvas of masterful arrangements. "Vertigo", the longest track on the album is a straight-ahead jazz piece that features bass, percussion, and drums at the beginning. The tenor sax is overlaid, and set in call and response with the piano. This piece more than any other showcases the extraordinary talent of the musicians (Rene's vocal musicianship included) on this CD. Mulgrew Miller on piano, and Jeffery Haynes on percussion, are the only returning personnel from "How Can I Keep From Singing?". On track #1 "Them There Eyes", Rene utilizes Robert Hurse on bass and Jeff "Tain"Watts on drums, and features the scat of Rene. Track # 2 is probably the most cheerful song I've heard in years, Rogers & Hammersteins "Surrey With The Fringe On Top". On this song Rene' slows it down and swings with it. Also of note is Track # 6, the Cole Porter tune "It's All Right With Me" which features Hurse on Bass and Chris Potter on bass clarinet along with Rene' Marie on vocals. And then there's the medley "Dixie/Strange Fruit". Who would have thought to pair up these two emotionally intense songs but Rene' Marie. All in all, the song writing, selection of material, and arrangements makes me glad I have my ear towards this artist, and thankful Rene' has shared her love for the art of jazz. Just listen. Your ears will be smiling too.

引用
A Musical Journey with René Marie…

René Marie
I had the pleasure of hearing singer/songwriter René Marie at the Monterey Jazz Festival last summer. She gave an outstanding performance so I knew we would be in for a treat this evening as she performed songs from her new MAXJAZZ album Live At Jazz Standard. René as wonderful stage presence and is very in touch with her audience. She opened her set with "Deed I Do" which featured a scatting call and response with her drummer T. Howard Curtis III. We rolled along with her as she captivated us with the sultry and sensual reading of "Surrey with the Fringe on Top." She teased that "all the gray haired and no hairs" should know her next song which was a bluesy, soulful cover of The Beatles' "Hard Day's Night" which also featured the walking bass of Elias Bailey. René is a great storyteller and she gave us little nuggets of wisdom before each song. The room fell silent as she told how she was first introduced to the music of Nina Simone when she was 15. She found great strength in her music but originally thought "I Loves You, Porgy" was too weak, too needy. Accompanied by John Toomey on solo piano, she gave a powerful yet poignant rendition of this classic love song. Her up-tempo, jazzy composition "I Like You" was inspired by her brother. The beautiful ballad "Shelter In Your Arms" was about letting her guard down and being loved. Her voice blends so well with her trio of wonderful musicians.

René closed with a unique intertwining of Maurice Ravel's "Bolero" and Leonard Cohen's "Suzanne" which has become a signature song of her performances. She introduced this song by telling us the influence her father had on her music. René was the fifth of seven children, growing up in Roanoke, Va. For entertainment, her father would play "Bolero" and pretend to be an African hunter with a broom as his spear. He also enjoyed "Suzanne" so her interpretation of the two songs is a loving tribute to her father. She scats the opening notes of "Bolero", then the drums march in and she sang "Suzanne." The audience was in amazement as René turned the impossible into the sublime.

René will be returning to the Bay Area for the San Francisco Jazz Festival on 11/2. Read more about this gifted performer on her MAXJAZZ website or her personal site, renémarie.com.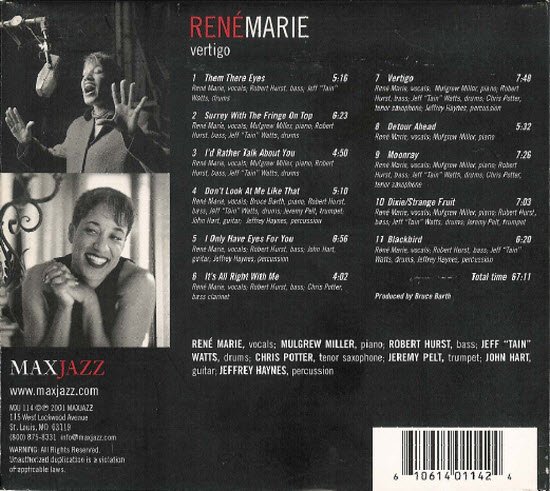 专辑曲目:
01. Them There Eyes
02. Surrey With The Fringe On Top
03. I'd Rather Talk About You
04. Don't Look At Me Like That
05. I Only Have Eyes For You
06. It's All Right With Me
07. Vertigo
08. Detour Ahead
09. Moon Ray
10. Dixie, Strange Fruit
11. Blackbird
这里是其它用户补充的资源(我也要补充):
暂无补充资源