专辑英文名: How can I keep from singing
专辑中文名: 我怎能不放声高唱?
音乐风格: 爵士
资源格式: FLAC
发行时间: 2000年05月16日
简介: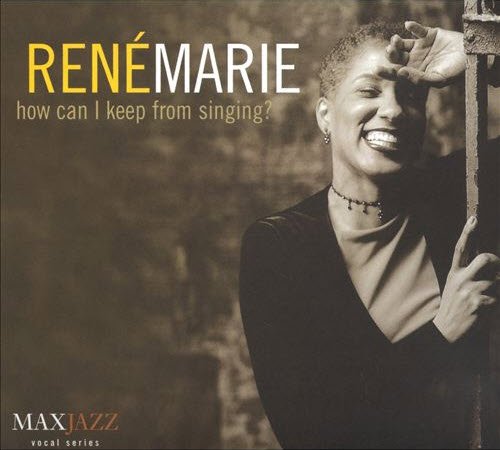 专辑介绍:

Rene Marie / How Can I keep From Singing

本辑的歌曲对爵士歌手的要求近乎苛求,不但节奏感要极佳,音域广,更要具备能驾驭各种曲风的天份。我认为全美有此能耐的线上歌手不超过十人,毫无疑问Rene Marie就是其中之一。 -JazzTimes
  
「How Can I Keep from Singing」是Rene Marie和MaxJazz合作的第一张专辑。发行初期完全没有宣传,全靠口碑发烧在全美卖出超过8万张的佳绩,因为这张专辑实在太完美,太好听。Jazztime杂誌以「给爵士歌手最大的挑战」来形容本辑的音乐性和张力,一点都不为过。Maxjazz制作人Bruce Barth像是存心刁难首次合作的Rene,考验她的演唱功力,所以在编曲上做了很繁华的安排,曲风从爵士跨Bossa Nova、R&B、灵魂、世界音乐;然而Rene唱来游刃有餘,不论多复杂的节拍、多刁钻的共鸣点转换都难不倒她。精彩的表现震惊美国爵士乐坛,替往后的发展打下极佳的基础。

http://jazzkillerdream.blogspot.sg/2009/05/maxjazz.html

曲目 (12)
发行年度:2000年5月,发行者:MAXJAZZ
制作: Bruce Barth
工程: David Baker
内容类型: Vocal

The national arrival of Virginia-Washington, D.C. singer René Marie is a major event in the jazz vocal ranks. She has passion and technique to spare, and she's willing to try unusual material and fresh approaches. A ballad like "The Very Thought of You" shows her in command of all the traditional virtues, unfaltering pitch and articulation, subtle inflections of her sound, and a personal approach to reshaping melody. She even takes some signature songs and makes them her own, recasting "God Bless the Child" at a fast tempo that takes it out of Billie Holiday's exclusive orbit. She has a sense of a lyric's strength, too, whether it's the potent protest of Nina Simone's "Four Women" or the whimsy of Harold Arlen and Truman Capote's "A Sleepin' Bee."

The musicians are superb, working hand in glove with Marie well beyond the usual accompanying roles, from the Afro-Cuban modal powerhouse "Afro Blue" to the township groove of the title song. Pianist Mulgrew Miller surrounds her voice with the most apt chords, while bassist Ugonna Okegwo, solid throughout, makes a compelling duet of "Motherless Child." "Tennessee Waltz" picks up jazz harmonies from Marie's voice and a strong country-blues infusion from Marvin Sewell's slide guitar, while "Afro Blue" has Marie soaring with Sam Newsome's soprano saxophone, effectively imitating a flute in the process. Marie's also an affecting songwriter, as the uptempo "I Like You" and the sultry "Hurry Sundown" make clear. René Marie is a classic jazz singer, one who sets her standards by Billie Holiday, Ella Fitzgerald, and Sarah Vaughan but still makes her own statements. --Stuart Broomer

Audio CD (May 16, 2000)
Number of Discs: 1
Label: MAXJAZZ
ASIN: B00004SVIM


引用
5.0 out of 5 stars How Can I Keep From Listening? July 15, 2001
By Kenneth Hugh Burton
Format:Audio CD
I first heard Rene'Marie when she performed at the emerging artist stage at the Atlanta Jazz festival in May 2001. Sometimes life offers us the most pleasant surprises,and this was one. I had decided even before Rene' had finished singing that if her CD was available,I had to get it. For her closing number Rene' did a medley that started off with "Dixie",and my first impression was, "What is this woman from Virginia doing?". Then she started singing "Strange Fruit". She Turned It Out! I ran and got the CD right after the show, and from that day to this my ears are full of bright moments. The MaxxJazz CD "How can I Keep From Singing ?" is a masterful effort from Rene' Marie. As I listened, I was in awe,with the thoughtfullnes of her repertoir and arrangements. It would be totally unfair to compare Rene' with any other jazz singers. For when you include new arrangements on "traditional" jazz standards (What A Difference A Day Makes and The Very Thought of You) with her arrangements of songs like "Tennesee Walts" now a nice blues tune, and a medley of Motherless Child-Four Women", plus the songs "I Like You" and "Hurry Sundown" (which she wrote) and "Take My Breath Away"(which she co-wrote)there is no comparison. Rene' is quite accommodating to the musicians, and frequently provides an interlude to showcase their talents.Also included in this CD is a bonus video track "Thanks But I Don't Dance" which will you an idea of what here live performance is like. How can I keep from listening? I can't.
引用
A forty-something singer who retired to raise a family in the Virginia-D.C. area, Marie is making a comeback, and it's a welcome egress. She has a strong individualistic, enjoyable voice which includes parts of Ella, Sarah, Dinah, Betty Carter, Nancy Wilson, and Teri Thornton -- most closely Thornton. She's smooth but never slick, easy on the ears, with a good range and a deep, rich instrument that can easily belt when commanded. Pianist Mulgrew Miller, guitarist Marvin Sewell, and drummer Gerald Cleaver comprise the glue of these sessions, the ultimate musical accompanists and button pushers. Marie tackles some interesting re-arrangements, like the quick samba version of "What a Difference a Day Makes," atypical hard scattish bopping "God Bless the Child," and Sewell's Duane Allman-ish slide guitar during a bluesy swing take of "Tennessee Waltz" with Marie moaning, groaning, and yeah-ing on the bridge. "Motherless Child" starts with Ugonna Okegwo's bass and Marie's voice, then merges to light Fender Rhodes based funk for Nina Simone's tale of the black Aunt Sarah, yellow woman/white fathered Sefronia, tan prostitute Sweet Thing, and brown toughie Peaches on "Four Women." Most in the mainstream, Marie sings with Miller in duet and trio on the ballad "The Very Thought of You," the cute, standard, easily swung "A Sleepin' Bee," and on the edge, the delineated, slow 6/8 "Afro-Blue" with jungle percussion by Jeffrey Haynes, soprano saxophonist Sam Newsome, Oscar Brown's deep lyric, and Marie's nervous oohs. As a songwriter Marie shines on the best cut of the date, "I Like You," a hip, swinging modal piano buoying an exhaustive, extended lyric where she likes this special someone more than just about anything. There's also the light bossa original, not the pop tune, "Take My Breath Away" with Sewell's acoustic guitar, and the Enya penned title track, using various pop, folk, and ethnic nuances with Newsome and hand percussion inserted. All in all this is a credible effort that should pave the way for much more, as Marie is quite capable and talented. Recommended. ~ Michael G. Nastos, Rovi
Rene Marie – Arranger, Vocals
Mulgrew Miller – Piano, Fender Rhodes
Sam Newsome – Sax (Soprano)
Ugonna Okegwo – Bass
Marvin Sewell – Guitar
Gerald Cleaver – Drums
Bruce Barth – Arranger, Producer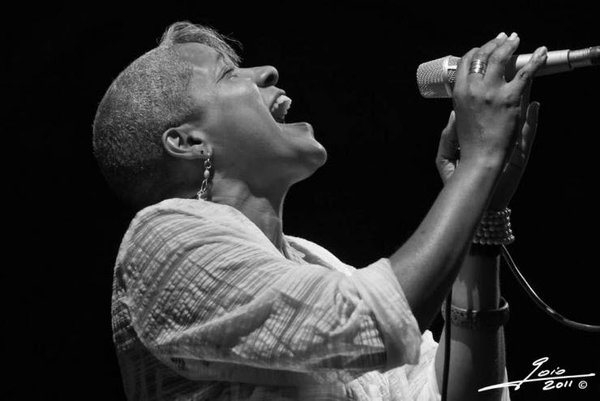 专辑曲目:
01. Tennessee Waltz 6:43
02. Motherless Child 1:27
03. Four Women 6:10
04. Very Thought of You 5:01
05. I Like You 4:06
06. Afro Blue 6:45
07. Sleepin' Bee 5:47
08. Hurry Sundown 6:03
09. God Bless The Child 5:07
10. Take My Breath Away 5:23
11. How Can I Keep From Singing? 5:39
这里是其它用户补充的资源(我也要补充):
暂无补充资源