专辑英文名: Russian Violin Concertos
专辑中文名: 俄罗斯小提琴协奏曲辑
古典类型: 协奏曲
版本: [SACD-r]
发行时间: 2011年06月23日
简介: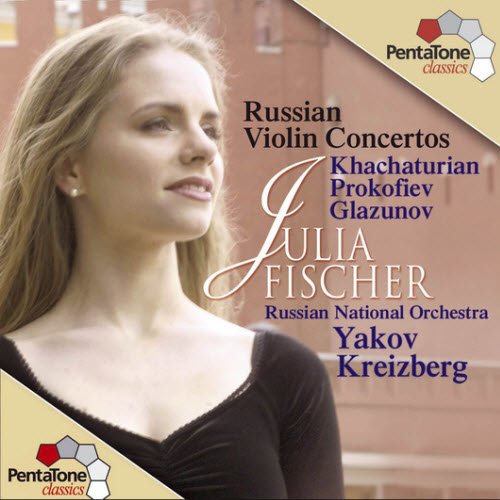 专辑简介:

★TAS发烧天碟
★英国留声机杂誌2005年1月编辑严选专辑Editor's Choice
★双层多声道,一般CD Player均可播放
★DSD Recorded

  1983年出生於慕尼黑的德国女小提琴家茱莉亚‧费雪,父亲是来自东德的数学家,母亲则是来自斯洛伐克的德国人。茱莉亚四岁不到就开始学小提琴,稍长也随母亲学钢琴。她先在奥格斯堡(Augsburg)的雷欧帕德‧莫札特音乐院接受正式音乐教育,九岁获准进入慕尼黑音乐院,在教授Ana Chumachenco门下学琴。茱莉亚在青少年时期曾参加过许多音乐比赛,最受人瞩目的就是1995年的国际曼纽因音乐大赛,她以十二岁之龄拿下青少年组第一名,同时获颁最佳「巴哈独奏作品」特别奖。接下来五年茱莉亚参加多项比赛更是屡获佳绩,之后她的足迹遍佈欧洲各地,和她合作的指挥与乐团也相当多。2003年茱莉亚在大师马捷尔带领巴伐利亚广播交响乐团之下在卡内基首度登台,终场获得全场起立致意的最高荣耀。此外,茱莉亚也是英国留声机Gramophone杂誌2007年的年度最佳艺人。

  本辑录於2004年,是茱莉亚‧费雪在PentaTone Classics旗下的首张个人专辑,发行之后大获好评,并获得留声机杂誌2005年一月号的「编辑严选专辑Editor's Choice」,也入选美国TAS发烧天碟。自此茱莉亚在演奏舞台之外,展开一帆风顺的录音工作。到2010年为止,她在PentaTone已发行十张录音,曲目包括巴哈、莫札特、孟德尔颂、舒伯特、布拉姆斯和柴可夫斯基等作品,可说是张张精采,同时获得乐迷和乐评的青睞。近年来由於主流唱片公司的操作,新生代女性小提琴家不断冒出头,然而在许多乐评眼中,费雪是在优异技巧之外,音乐性最好的一人。她在PentaTone的录音完全是以实力取胜,张张都是精品,绝对值得收藏。(PentaTone/Lins)

曲目
1-3. 哈察都量Khachaturian:d小调小提琴协奏曲
4-6. 普罗柯菲夫:D大调第一号小提琴协奏曲Op.19
7-9. 葛拉兹诺夫Glazunov:a小调小提琴协奏曲
小提琴:茱莉亚‧费雪Julia Fischer
克瑞兹贝格指挥俄罗斯国立管弦乐团
Yakov Kreizberg cond. Russian National Orchestra
录音:2004年
规格:
DSD
Stereo
Hybrid Multichannel
Plays on All SACD and CD Players

唱片公司:PentaTone Classics
音乐类型:古典音乐06-1
唱片编号:PTC5186059
发行日期:2011年06月23日
进口专辑 / SACD / 1 片装



Julia Fischer, born in Munich, Germany, is of German-Slovakian parentage. Among the most prestigious competitions that Fischer has won are the International Yehudi Menuhin Violin Competition under Lord Yehudi Menuhin's supervision, where she won both the first prize and the special prize for best Bach solo work performance in 1995 and the Eighth Eurovision Competition for Young Instrumentalists in 1996, which was broadcast in 22 countries from Lisbon. In 1997, Fischer was awarded the "Prix d'Espoir" by the Foundation of European Industry.In fall 2004 the label PentaTone released Julia Fischer's first CD: Russian violin concertos with Yakov Kreizberg and the Russian National Orchestra. It received rave reviews, climbed into to the top five bestselling classical records in Germany within a few days, and received an "Editor's Choice" from "Gramophone" in January 2005.



Performer: Julia Fischer
Orchestra: Russian National Orchestra
Conductor: Yakov Kreizberg
Composer: Alexander Glazunov, Aram Khachaturian, Sergey Prokofiev
Audio CD (December 14, 2004)
SPARS Code: DDD
Number of Discs: 1
Format: Hybrid SACD - DSD
Label: Pentatone
ASIN: B0002TX9FC


Release Date 2004
Duration 01:19:19
Genre Classical
Styles Concerto


引用
58 of 60 people found the following review helpful
5.0 out of 5 stars 3 Russian Violin Ctos - Verve, Lilt, Dash, & Elegance July 14, 2005
By Dan Fee VINE VOICE
Format:Audio CD
Julia Fischer is a violinist whose name is news to me, but then, What good news she is. Like the young Anne Sophie Mutter, she appears to have sprung whole from the head of Jove. She plays with a simply huge command of her instrument, and she grasps the music in both local nuances and larger paragraphs. Her intonation and fingerwork and bowing are well nigh faultless, so far as I can hear. She has a sort of wicked ease that actually might remind an older listener of the late, great Heifitz. He used to tell his student violinists to warm up by playing fingered octaves, which is rather like telling people to start just where most others are leaving off in happy achievement.

Nowhere are these capabilities put to better use than in her resuscitation of the much hackeneyed Khachaturian concerto, which she has the gruff to play as her opening. She obviously loves playing it, and has such a good time that it is quite easy to forget all the kitsch renderings you may have heard over the years. The RNO under Yakov Kreizberg (who is also a rising star among conductors now active in Europe) keep up with Julia all the way. Somehow all the flash just sounds scintillating, and the orientalisms just sound atmospheric and colorful. You think in some beautiful spots that Khachaturian knew what he was doing, after all.

Then Julia and company move on to the Prokofiev first violin concerto, and make deft, stunning magic of it, too. Again she and the conductor and the orchestra demonstrate remarkable unanimity of musical purpose. And, they have a good time with the Prokofiev, shattering our stuffy stereotypes that genius in classical western music is always tendentious, fat, and dressed in over-starched shirts with very stiff collars.

Thirdly, we get the Glazunov concerto. This, too, benefits from a completely fresh and straightforward reading, rooted in the players love of the music. Julia realizes the more brilliant moments of the Glazunov without forgetting that its heartfelt pusle is mainly lyrical, and her lyrical is so lithe and athletic that you don't feel for once that Glazunov was tempted to outstay the melodic welcomes embodied in his main themes.

The SACD surround sound is equally wonderful. It completely serves the music and the musicians, without calling attention to itself. You simply get a good, multichannel sense of everybody, including Julia, the super RNO as a whole body and as an unnervingly talented nexus of virtuosos, and of course, of conductor Kreizberg. The hall acoustic adds air and resonance, which is quite an accomplishment considering that we are talking about a recording studio and not one of the historic Moscovite venues like Tchaikovsky Hall at the conservatory.

If you like superior violin playing that is above all musical, with an orchestra and conductor that can keep up with such a soloist; then this disc will do fine. Five stars, fading into sunrise pinks and whites and blues. Where did the slow night go? Oh, well, play that SACD again, will you?

PS. Keep your ears and eyes on the lookout. Julia Fischer is now an exclusive Pentatone artist, and Yakov Kreizberg, maybe, too.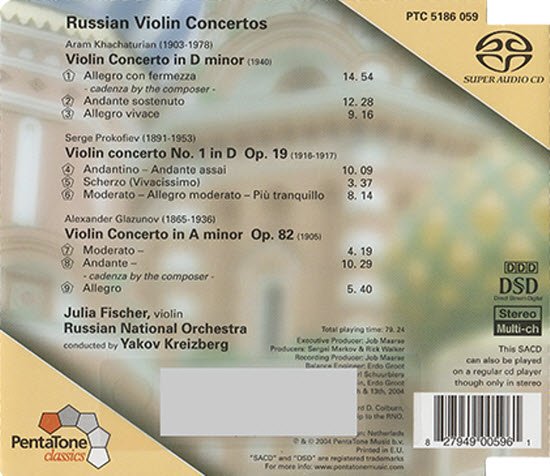 专辑曲目:
1. Violin Concerto in D minor (also arranged for violin & piano): Allegro con fermezza
2. Violin Concerto in D minor (also arranged for violin & piano): Andante sostenuto
3. Violin Concerto in D minor (also arranged for violin & piano): Allegro vivace
4. Violin Concerto No. 1 in D major, Op. 19: Andantino - Andante assai
5. Violin Concerto No. 1 in D major, Op. 19: Scherzo (Vivacissimo)
6. Violin Concerto in A minor, Op. 82: Moderato -
7. Violin Concerto in A minor, Op. 82: Andante -
8. Violin Concerto in A minor, Op. 82: Allegro
这里是其它用户补充的资源(我也要补充):
暂无补充资源