专辑英文名: Bartok - The 2 Violinconcertos
专辑中文名: 巴尔托克:两首小提琴协奏曲
古典类型: 全集作品
资源格式: FLAC
发行时间: 2010年08月24日
简介: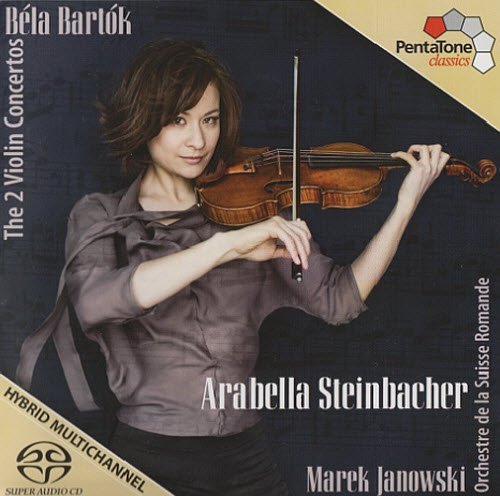 专辑介绍:

★留声机杂誌2010年11月号「编辑严选盘Editor's Choice」
★双层多声道,一般CD Player均可播放
★DSD Recorded

曲目:
1-3. 第二号小提琴协奏曲
4-5. 第一号小提琴协奏曲Op.Posth

小提琴:艾拉贝拉‧史坦巴赫尔Arabella Steinbacher
亚诺夫斯基指挥瑞士罗曼德管弦乐团
Marek Janowski cond. Orchestre de la Suisse Romande
录音:2009年
(PentaTone/Lins)

规格:
DSD Recorded
Stereo
Hybrid Multichannel
Plays on All SACD and CD Players


唱片公司:PentaTone Classics
音乐类型:古典音乐
唱片编号:PTC5186350
发行日期:2011年07月15日
进口专辑 / SACD / 1 片装

Original Release Date: 24 Aug 2010
Label: PentaTone
Copyright: © 2010 PentaTone
Total Length: 1:01:08
Genres: Classical

ASIN: B003WYVN9S

Review by Mike D. Brownell [-]

Though he was not himself a violinist, Béla Bartók managed to compose two incredible violin concertos, the second of which is considered by some to be the most important violin concerto of the 20th century. The first concerto was written for the unrequited love of his youth, violinist Stefi Geyer, who never performed the work publicly and kept hold of the manuscript until her death in 1956. The two-movement work is filled with references to Bartók's relationship with her; the first movement luxuriously romantic and the second a pyrotechnic display of sheer virtuosity. The Second Concerto came about nearly two decades later from a commission. Though the work is in a Classical three-movement format, the inner workings are a mesmerizing series of motivic variations entirely of Bartók's design. Performing on this PentaTone Classics album are violinist Arabella Steinbacher and the Orchestre de la Suisse Romande under Marek Janowski. Steinbacher continues in her recent trend of producing exemplary recordings and joining forces with equally refined orchestras. Both concertos are executed with virtually flawless technical accuracy: polished intonation, precise rhythm and articulation, and a right arm that equally creates long, flowing lines and aggressive, forceful accents. Steinbacher's connection with the score is clear as she guides listeners through the emotions of the First Concerto and the ingenious variations of the Second. Janowski leads his orchestra in a sensitive yet robust accompaniment, and PentaTone's sound is rich, full, and clear.


引用
Arabella Steinbacher艾拉贝拉.史坦巴赫尔 1981年出生於德

国,是德日混血儿,曾赴美、法接受名师狄蕾(Dorothy

DeLay)和吉特里斯(Ivry Gitlis)的指导。 2000年在汉诺威姚

阿幸国际小提琴大赛获奖,次年又获得慕特(Anne-Sophie

Mutter)基金会的赞助,小提琴天后慕特特别送她一支顶级琴弓

以示鼓励。
引用
5.0 out of 5 stars A leading consideration for these two concertos with a lyrical approach to Bartok 15 July 2013
By I. Giles TOP 50 REVIEWER
Format:Audio CD|Amazon Verified Purchase
This well recorded disc made in 2009 brings together the most obvious coupling of the two violin concertos by Bartok. This is not the first such pairing but it is one of the most enjoyable, largely as a result of its emphasis on the lyrical perspectives of the two works.

This latter point is an important one to consider as it is the reason for one reviewer to give this a poor rating and the reason for the other reviewers to give the disc a high rating. Philosophically it is reasonable to say that any work of art, however cleverly worked out and constructed, must communicate in order to succeed. I would go further and suggest that it must also communicate via its own medium. Thus a musical work must communicate musically, a visual work of art must communicate visually and so on. It should not be necessary for an explanation in words or other presentation to be given for that work of art to communicate.

In this case the issue revolves around whether the second concerto communicates and how it communicates. The reviewers who comment that this performance works for them because of its more lyrical nature are simply registering that Arabella Steinbacher has successfully identified a way to communicate Bartok's music and has done this by emphasising the lyrical nature of both works. She has not distorted the works or told a musical lie. Bartok has indeed written lyrical works here.

There is another point of view and that is that Bartok has written tough and spiky works that must be endured to some extent in order to appreciate them. This seems to be the view of another reviewer and he suggests that Steinbacher has sold Bartok short by softening his wilder side. I would disagree and suggest that performances of the sort that he suggests have failed to communicate an enjoyment of Bartok's music as this one certainly has, and it is those performances that have indeed sold Bartok short.

In my view, I have always felt that the second concerto is a masterpiece, and that any difficulty that I found in following the music for total enjoyment was my error rather than Bartok's. Enlightenment came for me with the recording made many years ago with Silverstein. Since then I have enjoyed several performances, most recently this one by Steinbacher as well as those by Chung, Ehnes and Zehetmair. I found the most successful 'Hungarian' performance to be that by Denes Kovacs with the Budapest S.O. on Hungaroton but no longer available. That blended the wilder and the lyrical elements very satisfyingly. At the present time I would suggest that Steinbacher is the most easily enjoyable version currently available even if the wilder Hungarian aspects are somewhat muted.

I would suggest that Arabella Steinbacher's performance here might be the best place to start an enjoyment of this music. Only when feeling more familiar with the idiom would I then suggest trying one of the tauter interpretations listed above but they too are not the only way to perform them as Steinbacher clearly demonstrates.
Comment |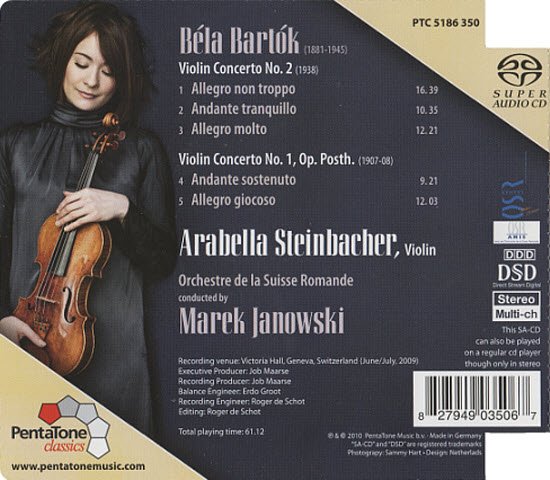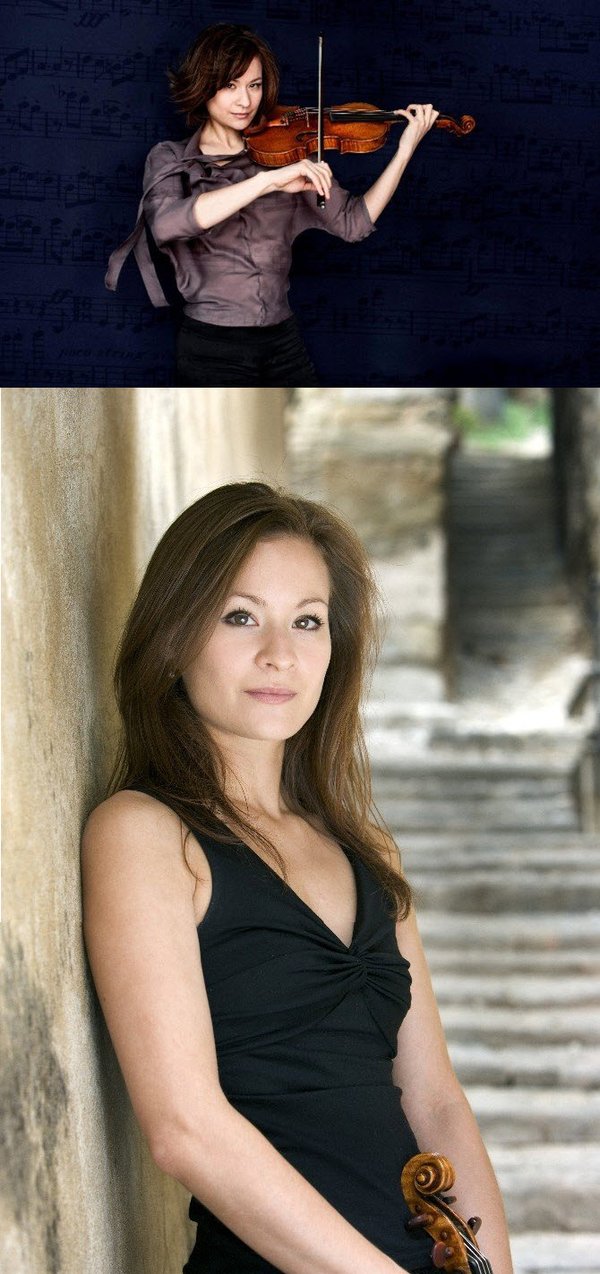 专辑曲目:
01. Violin Concerto No. 2, BB 117: I. Allegro non troppo 16:39
02. Violin Concerto No. 2, BB 117: II. Andante tranquillo 10:35
03. Violin Concerto No. 2, BB 117: III. Allegro molto 12:35
04. Violin Concerto No. 1, BB 48a: I. Andante sostenuto 9:18
05. Violin Concerto No. 1, BB 48a: II. Allegro giocoso 12:04
这里是其它用户补充的资源(我也要补充):
暂无补充资源