Various Artists -《HDtracks The Ultimate Hi-Res Sampler 》(HDtracks 高清试音碟 2013)[HDTrack 24bits 96KHz][FLAC]

专辑英文名: HDtracks The Ultimate Hi-Res Sampler
专辑中文名: HDtracks 高清试音碟 2013
音乐风格: 爵士
资源格式: FLAC
版本: [HDTrack 24bits 96KHz]
发行时间: 2013年01月01日
简介: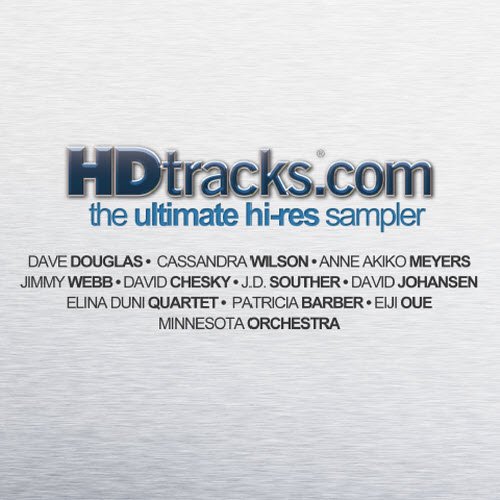 专辑介绍:

对实体唱片业者而言,景气似乎从来没有回春的迹象,但走「非实体」发行路线的网路下载却方兴未艾。发烧唱片在实体唱片发行当中,长期被视为较稳定的族群,因为发烧友依然热衷於实体唱片的购买与收集,CD或是更高规格的SACD依然是「发烧有理」的合理选择。不过,这个合理推测可能有所鬆动了,因为美国发烧唱片Chesky转向,新成立HDTracks,专门经营高品质数位音乐下载,要把发烧的领域从传统音响唱片延伸出来,攻佔网路下载一族的数位储存空间。

在发烧唱片的领域当中,David Chesky此Norman Chesky这对兄弟档,可说是非常成功的独立制片公司,但是过去三年来,这对兄弟档,却把事业的重心转往另一家公司,成立了HDTracks。从发烧音乐制作转向网路发行,HDTracks可说从零开始,自行开发软体,架构网站,同时要和许多独立制片的同业协商下载收费机制,现在HDTracks虽然仅是Beta测试,但已经开始收费营业,标榜无版权管理(DRM)的高品质数位音乐下载。

如何定义「高品质」?简单的定义就是解析度至少和CD规格相当。HDTracks虽然也销售一般320kbps规格的MP3,但受到瞩目的规格则是无损失压缩的FLAC与AIFF。David Chesky表示,HDTracks将是除了iTunes Store之外,第二家提供AIFF与完整音乐档案内容的音乐网站。在HDTracks网站上,用家可以付费下载规格最好的AIFF与FLAC,而且HDTracks还把完整的唱片资料都一起附上,譬如唱片内页的介绍以PDF档案发行,HDTracks同时也提供唱片相关的评论、演唱者或作曲家的介绍。换句话说,传统CD里面应该包含的东西,HDTracks全部都不缺,只是全部以数位形式发行而已。.......
http://audio.u-car.com.tw/detail.asp?articleid=424&typeid=2

Artist: Various Artists
Title Of Album: HDtracks.com The Ultimate Hi-Res Sampler
Year Of Release: 2013
Label: HDtracks
Genre: Jazz, Classical, Vocal


Available from www.hdtracks.com as a freebie for creating an account with them (in 2013).

Name of release referred to as "the ultimate hi-res sampler" in the accompanying PDF download.
http://musicbrainz.org/release/183a0fd2-6e...7e7d8823


引用


What do you want to hear when you listen to music? Do you want a lower-fidelity version of what the artists, engineers, and producers heard in the studio? Or would you prefer to hear exactly what they heard in the studio?

Of course, you'd prefer the latter. But you're probably getting the former — unless, that is, you're listening to high-resolution downloads from HDtracks. If you're listening to CDs, MP3s, or even vinyl records, what you're hearing is not a precise copy of the original digital recording or analog tape. It's downconverted. If it's on CD, the digital resolution has been reduced. If it's on vinyl, the audio has been remastered and the record you're listening to is actually a third-generation mechanical copy.

Sure, it might sound ok. But it's not the best fidelity you can get. HDtracks is. And HDtracks and Sound+Vision have put together an introductory sampler to show you just how good high-resolution listening can be.
What is High-Resolution Audio?

Basically, high-resolution audio has more information and thus better fidelity. It's like comparing a 1-megapixel image from a digital camera with an 8-megapixel image. Just as you see more detail in a high-resolution image, you hear more detail in high-resolution audio.

That's why professionals use high-resolution digital audio in the studio. Unfortunately, they then have to reduce the resolution to get it onto CDs.

On a CD, each audio sample is stored using 16 digital bits, which means a CD can produce 65,536 different volume gradations. That may seem like a lot, until you calculate that the 24-bit high-resolution downloads on HDtracks can produce 16,777,216 volume gradations! That's more detail, more depth, and more subtlety. It's also less noise: With CDs, the noise is 96 dB below the highest sound level. With HDtracks high-resolution downloads, it's 144 dB below.

Digital audio on CDs is sampled at 44.1 kHz, or 44,100 times per second. This gives CD a frequency response of about 20 kHz. HDtracks high-resolution downloads are sampled at 96 or 192 kHz, yielding frequency responses of slightly less than 48 kHz and 96 kHz, respectively. Some audiophiles feel that even though you can't hear sounds at those high frequencies, you can in some way sense them. Some audiophiles think that higher sampling rates sound better because the filters used to pre-condition the audio signal for digital recording are at much higher frequencies so their negative effects can't be heard. Indeed, both contentions have their merits.
How Do You Get High-Resolution Audio?

It's simple. Just go to HDtracks.com and sign up. You'll need to install the site's Download Manager, a simple piece of software that runs downloads in the background while you're doing other stuff.
How do You Play High-Resolution Audio?

The first thing you need to play high-resolution audio is software that can handle it. HDtracks recommends Media Monkey, a free music playback app you can download at www.mediamonkey.com.

Next, you'll need a 24/96 (or, even better, 24/192) digital-to-analog converter (or DAC). Your computer might have one of these built into its sound card, but computer sound cards aren't known for high fidelity. Your best bet is to use an external USB DAC. These are made by countless companies and sold by numerous online audio merchants and any brick-and-mortar high-end audio or professional audio dealer. You can spend from less than $100 to more than $10,000. Just make sure the DAC is at least 24/96. You can also get USB DACs with headphone amps built in (and we'll be looking at a few here at S+V soon).

You can connect the USB DAC to your audio system just the way you'd connect a CD player. The better your system, the more improvement you'll hear with high-resolution audio.
Get Ready for Great Music: The UDE Sampler, Track by Track

Everything on the Sound+Vision HDtracks Ultimate Download Experience Sampler is encoded in professional-quality 24/96 audio. The newer recordings are taken straight from original high-resolution digital recordings. The older recordings are transferred to high-resolution digital audio from original master tapes. Both will give you much better sound than you've ever heard before from these recordings and artists.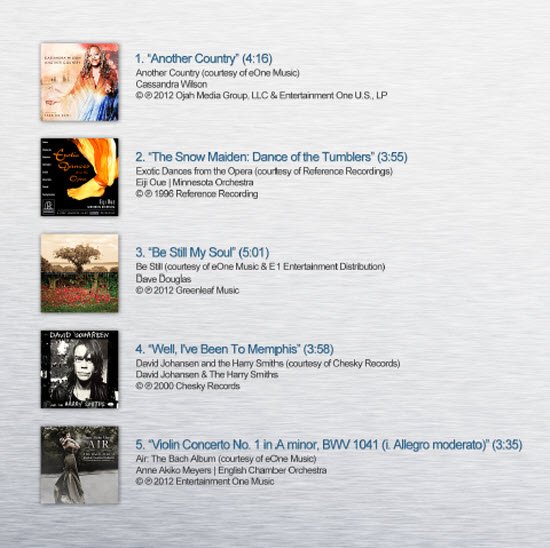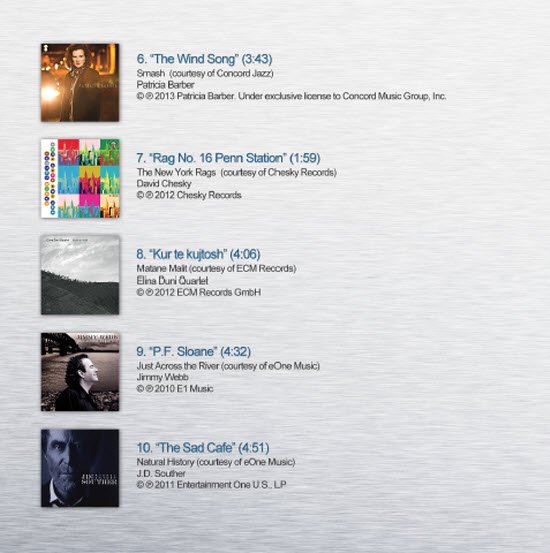 专辑曲目:
01. Cassandra Wilson - Another Country
03. Dave Douglas - Be Still My Soul (feat. Aoife O'Donovan, Jon Irabagon, Linda Oh, Matt Mitchell, Rudy Royston)
04. David Johansen and the Harry Smiths - Well, I've Been To Memphis
05. Anne Akiko Meyers - Violin Concerto No. 1 in A minor, BWV 1041 (i. Allegro moderato)
06. Patricia Barber - The Wind Song
07. David Chesky - Rag No. 16 "Penn Station"
08. Elina Duni Quartet - Kur te kujtosh
09. Jimmy Webb - P.F. Sloane
10. JD Souther - The Sad Cafe
这里是其它用户补充的资源(我也要补充):
暂无补充资源