专辑英文名: Usher Audio Demonstation
专辑中文名: 雅瑟音响试音碟
别名: 台北音响影视大展发烧精选 For Promotional Purposes Only
资源格式: FLAC
版本: [5 CD]
发行时间: 2004年
简介: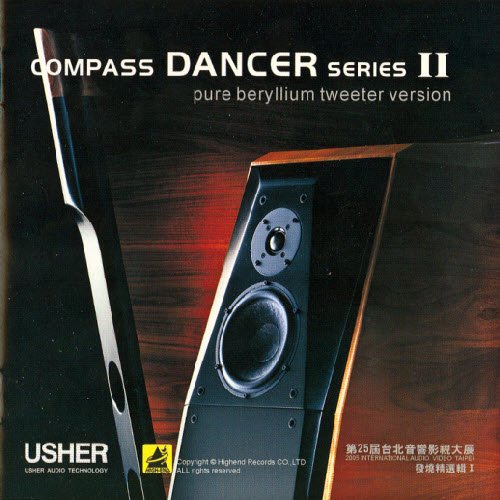 专辑介绍:

雅瑟音响有限公司创业于台中市,初期负责人蔡连水个人经营修理进口High End音响机器及喇叭为主。1973年开始研发设计扩大机的套件与喇叭的成品。
1974年雅瑟音响极重视测试数据,领先同业购入高级精密测试仪器(如,B&K、HP...等等),作为研发的基础。1974年创立第一个国产音响品牌"Marshal",与"MS."。
1979年推出台湾有史以来第一部Class A前后级扩大机,造成当年国内市场的轰动。
1981年成立台北门市,位于台北市最为繁华的中华商场。
1982年于全省各都会城市等重要据点成立门市及经销中心。
1995年代理法国AUDAX与德国ETON顶级单体和德国RDM音频测试
http://www.audio160.com/factory/usher/about.htm

http://www.audioaffair.co.uk/Usher-Audio-D...uct_5997
Last chance to buy the OOP Usher Audio Demo CD, made to demonstrate their stunning range of Beryllium Be Dancer speakers - or indeed to enjoy the abilities of any other speakers, from a tour-de-force selection of music. The music is pressed onto a 24k plated CD along with comprehensive booklet summarising the Usher Audio range of speakers, from the impressive Usher S520 monitors, to the flagship Be718, Be10 and Be20 speakers.

Be quick! Now out of print, these CDs have sold out but we found a very limited quantity in our warehouse, all brand new. Available to buy here while stocks last.


引用
Each of us has test or demo CDs that we prefer to use over the others whenever we come to assessing or auditing audio system both at home and in car audio. Most of us should be very familiar with demo CDs from Focal No.3, Chesky's Ultimate Demonstration CD, Sheffield Lab's Drum and Track Record CDs and blah blah blah…but most often than not, these good CDs are either no longer in production or are really hard to come by since they were made in the last century. Yes, last century, and we are talking about just 7 years back?

Having this limitation and the mass market of MIC CDs abundant everywhere in our local CD shops, it is really pretty difficult to ascertain just which ones are truly demo CDs? Actually we knew of some out there, one of those is "Golden Ear Volume 1" isn't it?

I have on hand this fantastic demo CD by Usher Audio Technology produced in year 2005 as part of the International Audio Video promotion in Taipei. I think this CD is comparable to Focal No.3. The selection of songs are much more closer to heart, I should say, much more Eastern than Western.

Total of 15 tracks, each track has its set of assessing values and enjoyment values. My first impression is that, this demo CD makes more as an enjoyment CD rather than assessment CD.

The first two tracks, Carl Orff's introduction to "Fortune" and Jim Keltner's Drum Improvisation should be familiar to you and has appeared on Focal No.3's selection as well.
The following is the complete list.

1. Carl Orff – Introduction "Fortune". The choir seemed more distinct than the Focal No. 3 's one.

2. Jim Keltner – Improvisation.

3. Fary Karr – O Holy Night. Bow on bass…mellow…soothing…

4. TIMBRE – Moonlight. Lively percussion with violin, cello on a Chinese classic oldies…

5. Jacintha – The Look of Love. Sounded very similar to Diana Krall's version at the beginning..kudos to Jacintha for delivering it in the Singapore style.

6. Bluevolution (B.B de Vouex) – Sound of Silent. The percussion and the bell in the initial 1 min is remarkable. The male voice puts your mid range through a full test. I especially like the percussion.

7. Could it be you.

8. Emerald City. I like her voice, really, very nice…nothing to say.

9. Too Young.

10. George Benson – The Ghetto.

11. Five Songbirds's River of Sorrow

12. Georgia on my mind. By Marie Nakamoto

13. Una Matica de Ruda by Esther Ofarims. Nice starting, vocal is unique, traditional music in Judeo-Spanish.
The lyrics goes like this.

Una matica de ruda
Una matica de flor
Hija mia mi querida
Dime a mi quen te la dio
Me la dio un mancevico
Que di mi s'enamoro
Que de mi s'enomoro
Hija mia mi querida
No t'eches a la perdicion
Mas vale un mal marido
Que un mancevo de amor
Mal marido, la mi madre
Un pilisco y la maldicion
Mancevo de amor, la mi madre
Una mansana y el buen limon

14. Darling, Je Vaus Aime Beaucaup. By Ayako Hosokawa. The double bass introduction should set your left door panel vibrating, get ready for some oomph...

15. The beat goes on by Patricia Barber. This is my favourite…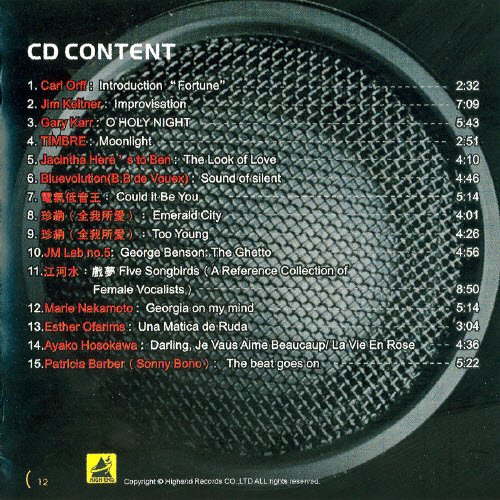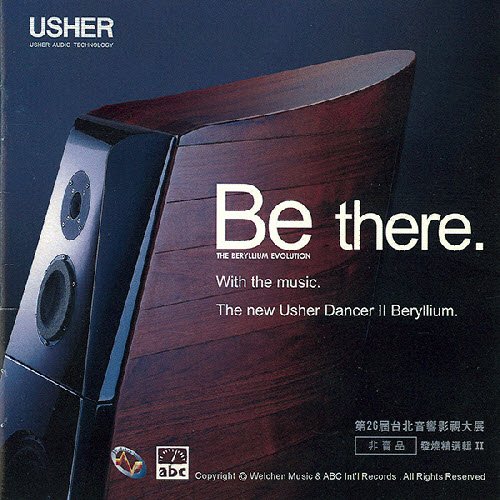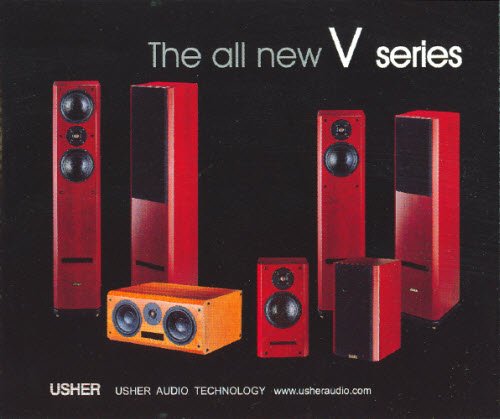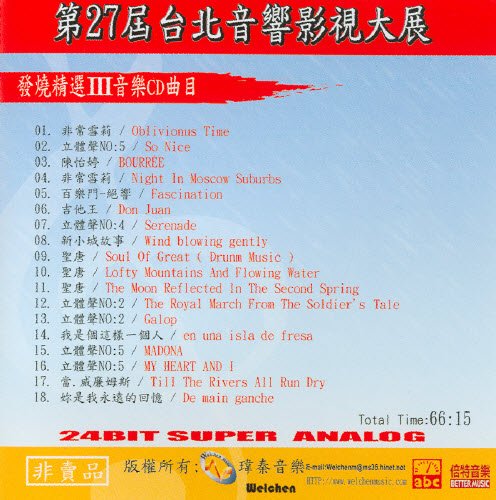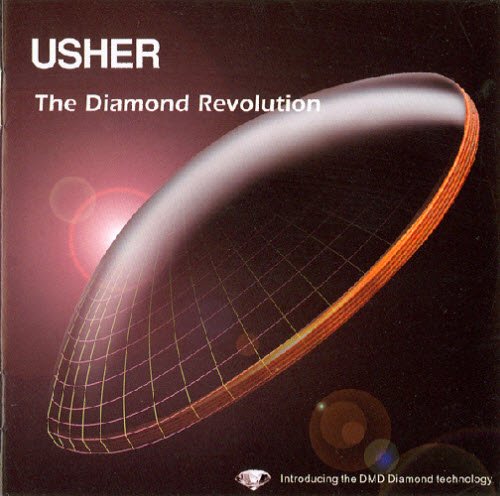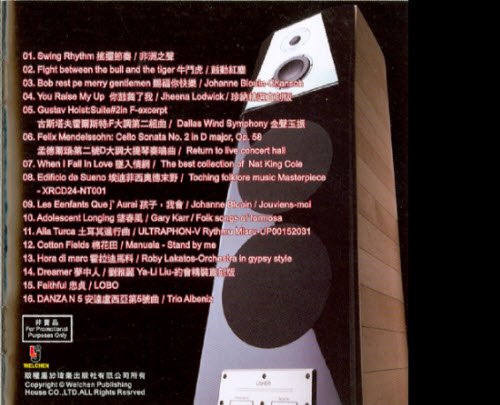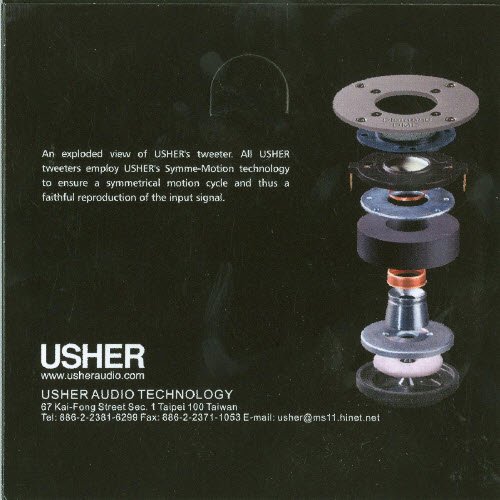 专辑曲目:
Usher Audio Be There Volume 1(2004)

01. Introduction 'Fortune'-Carl Orff (2:33)
02. Improvisation-Jim Keltner (7:13)
03. O Holy Night-Gary Karr (5:44)
04. Moonlight-TIMBRE (2:52)
05. The Look of Love-Jacintha Here's to Ben (4:11)
06. Sound of silent-Bluevolution (B.B de Voeux) (4:47)
07. Could it Be You-Dizzy Gillespie (5:15)
08. Emerald City-Jheena Lodwick (4:04)
09. Too Young-Jheena Lodwick (4:28)
10. George Benson: The Ghetto-JM Lab no. 5 (4:59)
11. Mood & Dream of an Opera-Wei Li (8:52)
12. Georgia on my Mind-Marie Nakamoto (5:15)
13. Una Matica de Ruda-Esther Ofarims (3:09)
14. Darling, Je Vaus Aime Beaucoup-La Vie En Rose-Ayako Hosokawa (4:37)
15. The beat goes on-Patricia Barber (Sonny Bono) (5:37)

Usher Audio Be There Volume 2 (2005)

01. The Mass – The Broadcast Chorus of China (3:44)
02. Coppelia-Mazurkas – The Royalty Ballet (4:24)
03. Manjiiang Hong – Chris Babida (4:31)
04. I'm Just A Country Boy – Don Williams (3:06)
05. The Moon River – Sam Taylor (3:20)
06. Outside World – Ming (5:37)
07. I Love You For Sentimental Reason – Shirley Blanc (5:05)
08. A Tour To Xikou – Hou Yonggang (5:47)
09. Give Me A Kiss – Shirley Blanc (4:28)
10. North Travels – Teresa Teng (4:22)
11. The Way You Look Tonight – Perry Shi (5:18)
12. My Song – Perry Shi (4:41)
13. No Matter What – Perry Shi (3:34)
14. Evening Primrose – Teresa Teng (5:12)
15. Yellow River – Hao Zi-Hou Yonggang (5:25)

Usher Audio Be There Volume 3 (2006)

01. Xue Li – Oblivious Time (2:42)
02. Stacey Kent & Jim Tomlinson – So Nice (4:34)
03. J.S. Bach – Bourree (3:03)
04. Xue Li – Night in Moscow Suburbs (3:26)
05. Jimmy Chan – Fascination (2:03)
06. Elton Kranse and Antonnio Urzaiz – Don Juan (4:01)
07. Schubert (Composer) – Serenade (4:12)
08. Little Town Story – Wind Blowing Gently (4:34)
09. Saint Tang – Soul of the Great (Drum Music) (3:54)
10. Saint Tang – Lofty Mountains and Flowing Water (3:17)
11. Saint Tang – The Moon Reflected in the Second Spring (6:04)
12. Stavinsky (Composer) – The Royal March from The Soldier's Tale (2:43)
13. Jacques Offenbach (Composer) – Galop (2:17)
14. Carlos Cano – En Una Isla de Fresa (3:20)
15. ERA – Modona (4:28)
16. Charlotte Rampling – My Heart and I (3:08)
17. Don Williams – Till the Rivers All Run Dry (3:30)
18. You are my Forever Memories – De Main Ganche (3:51)

Usher Audio The Diamond Revolution (2009)

01. Le Serpent (The Sound of Africa-Swing Rhythym) – Kai Ying (5:17)
02. Fight between the bull and the tiger – Unknown (5:39)
03. Bob rest pe merry gentlemen-Chanson style – Johanne Blouin (3:47)
04. You Raise My Up-Jheena Lodwick (4:47)
05. Dallas Wind Symphony Gustav Holst: Suite #2 in F (excerpt) – Gustav Holst (4:38)
06. Felix Mendelssohm: Cello Sonata No. 2 in D major Op. 58-Return to live concert hall -Felix Mendelssohm (8:35)
07. When I fall in Love (The Best Collection of Nat King Cole) – Nat King Cole (3:13)
08. Edificio de Sueno (Toching folklore music Masterpiece XRCD24)-Mario Suzuki (3:42)
09. Les Enfans Que j'Aurai (Jouviens-moi)-Johanne Blouin (2:50)
10. Adolescent Longing (Folk songs of Formosa)- Gary Karr (3:17)
11. Alla Turca (ULTRAPHON-V Rythmu Misru [UP00152031])- Mozart (3:24)
12. Cotton Fields (Stand by Me) – Muanuela Mina (4:30)
13. Hora Di Marc (Roby Lakatos Orchestra in Gypsy Style) – Roby Lakatos (2:41)
14. Dreamer (Date 2) – Ya-Li Liu (3:16)
15. Faithful-LOBO (3:38)
16. DANZA No. 5 -Trio Albeniz (4:36)

Usher Audio The Diamond Revolution (2010)

01. Roaring of the Tiger and Dragon-Longtenghuyue (3:36)
02. A Melody of Hong Chun-Oyster Sisters and Gary Karr Gairuikaer (3:22)
03. Flower Woman-New Age (4:46)
04. Les enfants oublies-Johanne Blouin (3:33)
05. Csardas-Jotka Hosprova (5:08)
06. I1 Signor Bruschino-Rossini 'Mr. Chino Bruce' (4:33)
07. La Boheme: Introduction-Puccini (0:32)
08. La Boheme: Non Sono in Vena-Puccini (4:10)
09. Delicate Dawn-Mikis Theodorakis Duolaijisi (2:58)
10. Under the Boardwalk-Mighty Echoes Quartet (3:26)
11. Lucky-Jurek Lamorski Quartet (6:49)
12. A Groovy Kind of Love-Jheena (3:39)
13. Interlude-Jheena (3:25)
14. Honey Sweet-Mebis Li (5:01)
15. Each In a Different Corner of the World-Linda Xu Wen (3:39)
16. The Spring Lake-Xiao Gang (5:00)
17. When will I See You Again-Linda Xu Wen (4:24)
这里是其它用户补充的资源(我也要补充):
音乐时空56789 2013/07/27 14:41:02 补充
(感谢楼主分享好的资源)
该内容尚未提供权利证明,无法提供下载。