专辑英文名: Best Of Jazz Audiophile Voices
专辑中文名: 爵士经典专辑 2011
音乐风格: 爵士
资源格式: FLAC
版本: [2 CD]
发行时间: 2011年10月17日
简介: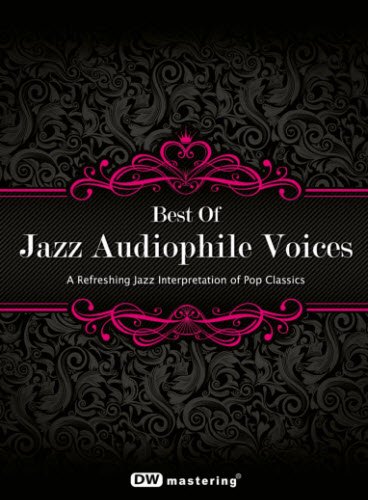 专辑介绍:

爵士系列又一经典大碟,集各国多位巨星演绎世纪金曲,包括Close to you,The Look Of Love and Just The Way You Are …..等等,示范级演绎录音,内人声丰富立体感,乐器线条优美玲瓏浮凸,层次先明集以上多种发烧元素于一身,发烧极品实碟你又怎能错过。


A Refreshing Jazz Interpretation of Pop Classic

VA - Best Of Jazz Audiophile Voices (2CD) (2011)
Genre: Jazz | Label: EQ Music

Artists: Various Artists
Title: Best Of Jazz Audiophile Voices
Genre: Vocal Jazz
Label: EQ Music
Released: Oct 17, 2011


引用
Monique Klemann

Monique Klemann ( Amsterdam , September 18 1965 ) is a Dutch singer and actress. She is best known as one of the two singers of the pop group Lois Lane in late 80s and early 90s was popular. In Lois Lane she sings with her ​​sister Suzanne Klemann . In addition Klemann member of the band Girls Wanna Have Fun . In 2005 she played Lynn in the crime series Pearls & Pigs on Talpa . From 1 January 2008 the series continued on RTL 5 . The songs she sings in this series, on her solo CD On Patrol which appeared in late 2006.

Chaka Khan

Chaka Khan (born Yvette Marie Stevens; March 23, 1953), also known as the "Queen of Funk-Soul", is a 10-time Grammy Award-winning American singer-songwriter whose career has spanned four decades, beginning in the 1970s as the frontwoman and focal point of the funk band Rufus.

While still a member of the group in 1978, Khan embarked on a successful solo career. Her signature hits, both with Rufus and as a solo performer, include "Tell Me Something Good", "Sweet Thing" which she wrote for her then husband Richard Holland, "Ain't Nobody", "I'm Every Woman", "I Feel for You" and "Through the Fire".

Malene Winter Mortensen

Malene Winter Mortensen (born May 23, 1982) is a Danish singer. She made her entrance into the Danish music scene in 2001, during the first season of "Stjerne for en aften", the Danish edition of Star for a Night. She made it to the finals, with her rendition of Moloko's "Sing it back". The following year, she entered the Dansk Melodi Grand Prix, the Danish national pre-selection for the Eurovision Song Contest.

Although her song "Vis mig hvem du er" performed strongly in the national final, receiving top marks from all televoting regions, it was a full-scale failure at the Eurovision Song Contest 2002,[1][2] in its English version, "Tell me who you are". Her song received a mere seven points, placing her last amongst the 24 participating countries.

The unforeseen Eurovision outcome was a blow to her previous achievements, but it did not make her give up her musical career. In 2003 she released her debut album called "Paradise". This album, revolving around modern jazz, was supported by three of Denmark's best known jazz musicians: Niels Lan Doky (piano), Niels-Henning Ørsted Pedersen (bass) and Alex Riel (drums).

Karin Melchart

Bio: Originating from Germany, Karin Melchert conquered the Grand-Duchy with her stunning voice in less than a decade. With more than 25 years of experience on international stages performing with numerous bands and orchestras, her repertory includes a variety of styles from jazz, musical and chansons to modern pop- and rock songs. While managing her own band, she engages in various live- and studio projects and enjoys a reputation as vocal expert. As a songwriter she reached chart successes in Luxemburg and received record- and publishing deals in Germany and Asia.
专辑曲目:
CD1:

01. Monique Klemann - The Look Of Love [03:35]
02. Chaka Khan - Crazy [03:10]
03. Malene - We've Only Just Begun [03:45]
04. Tipitina - Dream A Little Dream Of Me [03:17]
05. Lisa Lauren - All My Loving [04:19]
06. Karin Melchart - Sealed You With A Kiss [02:59]
07. Marilyn Keller - Fragile [04:54]
08. Inger Marie - I Don't Want To Talk About It [04:20]
09. Tok Tok Tok - Alone Again [05:02]
10. Jacqui Naylor - Ain't No Sunshine [05:15]
11. Carol Duboc - Close To You [03:14]
12. Tessa Souter - Eleanor Rigby [03:50]
13. Sophie Milman - I Can't Make You Love Me [04:28]
14. Veronica Mortensen - In My Life [03:07]
15. Angelita - So Far Away [04:27]
16. Karin Melchert - When I Fall In Love [03:09]

CD2:

01. Terez Montcalm - L.O.V.E. [03:45]
02. The Vipers - Don't Know Why [04:04]
03. Rosemary Hans - Just The Way You Are [05:09]
04. Lisa Fredrik - Don't It Make My Brown Eyes Blue [03:35]
05. Patricia O' Callaghan - I Believe In You [04:12]
06. Hanne Boel - Into My Arms [05:48]
07. Steve Tyrell & Patti Austin - I Say A Little Prayer [03:21]
08. Carol Duboc - Walk On By [03:34]
09. Chaka Khan - The Best Is Yet To Come [03:36]
10. Marilyn Keller - Moon Dance [05:07]
11. Dee Daniels - Love Me Tender [04:13]
12. Karin Melchert - Fly Me To The Moon [02:49]
13. Allison Adams Tucker - La Vie En Rose [03:12]
14. Jacqui Naylor - How Deep Is Your Love [03:26]
15. Inger Marie Gundersen - One [05:38]
16. Fragile - Holding Back The Years [03:50]
这里是其它用户补充的资源(我也要补充):
暂无补充资源