专辑英文名: Hi-Fi Guitarra
专辑中文名: Hi-Fi 西班牙吉他专辑
音乐风格: 摇滚
资源格式: APE
发行时间: 2000年
简介: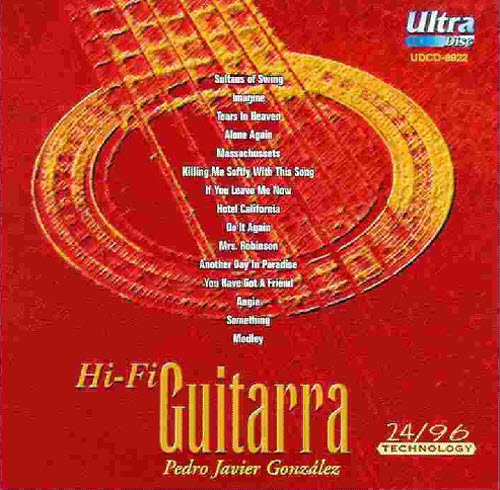 专辑介绍:

西班牙Pedro Javier Gonzalez 带来的吉他精品,以流丽的技巧、Hi-Fi级的音色演绎多首经典歌曲。优美动人,在炎热渐散的下午来听,居然品到一点点西班牙的气息。(

飞舞在指尖的心醉神迷
西班牙最初的喜爱,源於对西班牙吉他的喜爱,就如同向往阿尔罕布拉,纯粹是因为塔雷加的吉他曲。吉他,西班牙的国宝,浪漫爱情的化身,演绎出温柔、活泼,宛如耳畔情人的低诉,细腻、饱满,流畅的旋律令人心醉神迷。

Pedro Javier Gonzalez的吉他演出,好听的吉他曲,帅气的男人。

Pedro Javier Gonzalez,巴塞罗那人,吉他作曲、演奏、音乐制作人。开始弹弗拉门戈吉他,得过几个奖项,之后开始於其他曲作者合作,涉猎更广泛的音乐制作,出过6张专辑。还跟另外两个音乐人组成乐团,搞过三重奏组合。

他演奏的时候,时而闭目陶醉,时而低头沈思,时而伴著音乐轻轻地耸著肩膀。曲间,他总是一边调著吉他,一边对著大家微笑。言谈举止间,透著特有的韵味,优雅、成熟,而演奏时,又是那麽富有激情!

CD编号 : UDCD8922
艺人/团体 : Pedro Javier Gonzalez
专辑名称 : Hi-Fi结他
Hi-Fi Guitarra
音乐类型 : 发烧片 [CD ]
发行公司/日期 : 运筹


Artist:Pedro Javier Gonzalez
Title Of Album:Hi-Fi Guitarra
Year Of Release:1998
Genre:Instrumental/Guitar

Release Date 2000
Duration 1:01:57
Genre Pop/Rock


http://www.pedrojaviergonzalez.com/
Pedro Javier González

Musician, born in Barcelona, owner of a distinctive guitar language, ranging from flamenco to a fusion of rhythms in a way that melts the modern with the traditional. Arranger, composer, musician and producer, through time has extended the radius of his artistic desire to fulfil his project by himself.



Winner of several awards as a flamenco guitar player, he started traveling around the musical map working with artists like Toti Soler, Joan Manuel Serrat, Angelo Branduardi, Victoria de los Angeles, El último de la fila, Maria del Mar Bonet, Alejandro Sanz and Manolo García.

His abilities as guitar player are emphasized in historical pop recordings from the 80's and 90's. Manolo García and Serrat are familiar with Pedro's artistry as arranger and musical producer.

In 1992 Pedro formed his flamenco band "Arrebato" to become a soloist in 1996 with hits like his compilations of pop-rock classics titled "Guitarra".

Making both, personal and artistic growth, he paves the way for the mix vibration with the hit "Callejón del gato", emphasizing his vocation as author of his own particular formula:

Jazz-rock, Brazilian airs, love for the South and the silence of the flamenco beat. Music for nomads that do not understand frontiers.

Pedro Javier González is a Spanish guitarist, composer and musical producer who excels at his measure and temperance when playing along with his versatility when adapting to several genres. Throughout his career he has recorded eight musical albums and has produced and collaborated with artists from the very different fields of classical, flamenco, jazz and pop-rock music.

His quality skills as a guitarist began to make him well-known in the nineties as a member of the historic Spanish band El Ultimo de la Fila, playing the Spanish and acoustic guitar for most of their albums and joining the band during the Spanish and American tours. Later, after the band broke up, Pedro Javier also collaborated with Manolo Garcia, the band leader, for the recording of the album and joined him in the promotional tours where he directed the band.

Throughout his long and varied musical career, Pedro Javier has received several awards in the flamenco guitar field and has collaborated with artists from very different styles such as Toti Soler, Victoria de los Ángeles, Joan Manuel Serrat, Lluis Llach, Maria del Mar Bonet, Alejandro Sanz, Paco Ortega, Monica Molina, Seguridad Social, Angelo Branduardi, Roberto Alagna o Rafael Maya. He has also performed at major festivals with artists like BB King, John McLaughlin, Pat Metheny, Paco de Lucía, Keziah Jones, John Williams or Tomatito.

As a producer, arranger, and musical director, the works done next to Manolo Garcia and Tomasito or D'Callaos, among others, are outstanding and won him recognition for being nominated at the Spanish Music Awards for the "Best Musical Arranger" in 2004.

He has published eight albums and one DVD: three from the series Guitarra, where he adapts international pop and rock hits acoustically; Callejón del gato (1997), Árboles nuevos (2001) and Verdades ocultas y medias mentiras (2007), of own compositions; Nuevo callejón del gato (2005), where he again plays his first solo album next to Toni Terré, Javier Martín and Roger Blavia; the DVD Pedro Javier Gonzalez Trio (2007), which presents the live concert from the Vicenza Olympic Theater (Italy) and summarizes the experience of his trio formation throughout the last years; and Live (2010), a live concert with a very personal review of the most important highlights of his artistic career.

At the moment, after having toured around the world next to Toni Terré and Roger Blavia with the trio, his most steady and lasting formation, he leads his musical career onto a more personal and intimate path, far from media concerts, and recovers his professional line as a solo guitarist. This includes giving concerts with a classical-flamenco repertoire, starting a new jazz duo project with the double-bass player Horacio Fumero, founding the Transversal projects with con Raúl Rodriguez, Trilok Gurtu and Guillem Aguilar, and making his debut with the Concierto de Aranjuez in Moscow accompanied by the Russian Philharmonic Orchestra.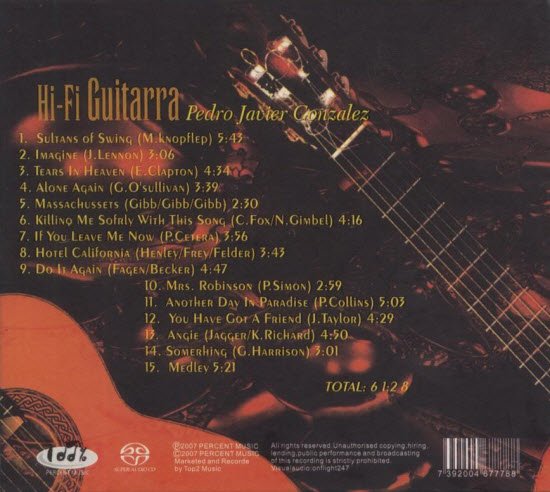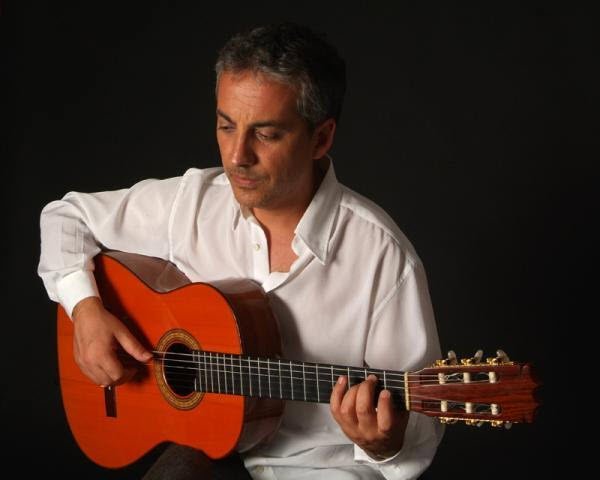 专辑曲目:
01. Sultans of swing (5:39)
02. Imagine (3:03)
03. Tears in heaven (4:31)
04. Alone again (3:36)
05. Massachussets (2:26)
06. Killing me softly with this song (4:13)
07. If you leave me now (3:54)
08. Hotel California (3:40)
09. Do it again (4:44)
10. Mrs.Robinson (3:00)
11. Another day in paradise (4:59)
12. You have got a friend (4:25)
13. Angie (4:48)
14. Something (2:58)
15. Medley (5:21)
这里是其它用户补充的资源(我也要补充):
暂无补充资源