专辑英文名: Antonio Vivaldi - con moto
专辑中文名: 活跃的韦瓦第
古典类型: 全集作品
资源格式: FLAC
发行时间: 2013年03月12日
简介:


专辑介绍:

十八世纪的音乐环境有一个特点:即大眾们不断要求新作品。

韦瓦第曾在许多欧洲都市担任作曲与指挥,其中又以在威尼斯的时间最长。他是位杰出的小提琴手及作曲家,作品包括数百首的协奏曲、奏鸣曲及四十部歌剧。这些作品在当时颇受大眾及专家的好评,被誉为同儕间的巴赫。大约将近五十年的时间,韦瓦第一直担任皮埃塔音乐院的院长。这所音乐院本来是一所孤儿收容所,管理有几百名孤儿(大多数是女孩子),他的许多神剧、宗教音乐及几百首器乐曲就是为这些学生所写的。

在韦瓦第的器乐作品,特别是协奏曲,动人地表现出巴洛J音乐的特性。在他漫长的音乐生涯中,共谱写了近五百首协奏曲,以小提琴的奏曲为主(约二百二十首)。过去几年来,义大利小提琴家卡米诺拉出版了多张韦瓦第小提琴协奏曲专辑,并且以新颖完美的解读,得到乐评人与爱乐者的喜爱。这张专辑的六首协奏曲都是韦瓦第晚期的作品,其中编号283的作品,包含了一段过去从未发表,在韦瓦第得意门生安娜‧玛丽亚的笔记发现的一段装饰奏;RV187和281则是根据韦瓦第的原稿重建。

活跃的韦瓦第
☉卡米诺拉,小提琴 ★
丹同指挥,拜占庭学院乐团

类别:CD
音乐类型:古典音乐

产品编号 : 4791075
产品名义 : VIVALDI CON MOTO
艺人名称 : GIULIANO CARMIGNOLA/ACCADEMIA BIZANTINA/OTTAVIO DANTONE
产品种类 : 古典音乐


Orchestra: Accademia Bizantina
Conductor: Ottavio Dantone
Composer: Antonio Lucio Vivaldi
Audio CD (March 12, 2013)
Number of Discs: 1
Label: Archiv Produktion
ASIN: B00AYF5SRG

Italian violinist Giuliano Carmignola is one of Europe's best soloists specializing in the Baroque violin.
He was born to a musical family and started playing violin at the age of five, taught by his violinist father, Antonio Carmignola. Eventually he studied at the Conservatorio Benedetto Marcello in Venice, where his teachers were Luigi Ferro and Sergio Lorenzi. Commentators remark on the cantabile Venetian quality to his playing.
He went on to attend the Accademia Musical Chigiana in Siena, where he had master classes with the great violinists Nathan Milstein and Franco Gulli. He also took master classes with Henryk Szeryng at the Conservatory of Geneva.
Carmignola began his performing career by successfully competing in several international competitions. Early in his career he had a break when he took over from his teacher Ferro during a tour with his ensemble, the Virtuosi di Roma, to major concert halls of Europe and the United States.
From Ferro he also derived a strong interest in the Baroque music of the early eighteenth century, particularly those of the Venetian school, which included Antonio Vivaldi. He finds the sound of the violin when set up as in the Baroque time (no chin rest, flatter bridge, gut strings, and a bow that bends outward rather than inward and hence is applied to the strings with a very different touch) to be especially charming. He prefers this set-up, rather than the mere fact that his favored instrument, a Pietro Guarneri violin, was made in Venice in 1733, during the Baroque era.
Carmignola became concertmaster of the orchestra of Venice's main opera theater, the Teatro La Fenice, in 1978 and remained in that position until 1985. He has played Classical and Romantic chamber music on standard-type instruments with leading soloists and ensembles, and has appeared with major orchestras conducted by maestros of the caliber of Claudio Abbado, Peter Maag, Eliahu Inbal, and Giuseppe Sinopoli.
He began working with Italian period instrument specialty groups, primarily the Sonatori de la Gioioas Musica, then with the Venice Baroque Orchestra, one of Italy's primary early music ensembles, led by Andrea Marcon, who inspired Carmignola's interest in the texts of music of this era. This has led Carmignola to do his own research into the scores and sources of the Baroque Italian violin repertory. To his performances of Vivaldi's The Four Seasons, released in 2000, he and Marcon brought new nuances to the solo part and the treatment of the thorough bass part, as well as an approach to link the concertos to the idea of the change of the seasons in Venice, specifically. On the same release, Carmignola also introduced three Vivaldi violin concertos that appear never to have been recorded before.
Carmignola is a frequent participant in leading Baroque music festivals throughout Europe, including Bruges, Vienna, Brussels, Barcelona, Salzburg, and Lucerne. In 1999, he was appointed a professor of violin at the Lucerne Hochschule für Musick, and in the 2000 summer term was a professor of music at the Accademia Musicale Chigiana. He previously was a professor of violin for ten years at the Marcello Conservatory in Venice.


引用
review
[-] by James Manheim

The trend in historical performances of Vivaldi's violin concertos has been to have the violinist serve as leader of the ensemble, as would likely have happened in Vivaldi's time. But Vivaldi's music, like Bach's, contains multitudes of ideas, and one way to look at the concertos, especially the late ones heard here, is to regard them as part, and indeed as a foundation, of the virtuoso tradition that grew up over the 18th century. That's the idea behind this recording, featuring violinist Giuliano Carmignola and the Accademia Bizantina under conductor Ottavio Dantone. All these musicians have recorded a good deal of Vivaldi before -- Carmignola was one of the mainstays of the Brilliant label's budget Vivaldi series -- but they produce something different as a team from what they accomplished individually. These concertos are all late works; one has never been recorded before, and two others are given in reconstructed versions. Dantone can deliver a good specimen of the high-octane way of playing Vivaldi that has become common among Italian historical-instrument groups, but here he selectively reins in the Accademia Bizantina in order to put Carmignola's exertions front and center and focus on the daring and innovative contrasts that are essential to Vivaldi's late style. And what exertions they are! In addition to the sheer speed of the finales and the presence of extravagant moments such as the three-octave scale in the cadenza used in the finale of the newly reconstructed Violin Concerto in F major, RV 283, there are such novel effect as a concerto (the Violin Concerto in D minor, RV 243) written entirely without the use of the E string. This is, in short, state-of-the-art Vivaldi, and a great deal of fun for listeners of any kind. Extra points for the fun pun in the album title.

Vivaldi con moto: Violin Concertos
Giuliano Carmignola, Accademia Bizantina/Dantone
Decca (UMO) 2013


The violinist Giuliano Carmignola is pictured on his motorbike on the cover of this collection of six concertos played "con moto", and the sound is indeed hard-driven and exciting, full of those pulsating unisons and relentless sequences with which Vivaldi powers his music. But there is also incredible delicacy and refinement here, and Carmignola's wiry sound is a world away from the tubby, rich Vivaldi performances of yore. There are countless angular surprises, one echo of Bach's Third Brandenburg, and one concerto which ignores the violin's top string, showing Vivaldi's continual inventiveness. Superb support from the Accademia Bizantina.
【曲目】
韦瓦第:E小调为小提琴、弦乐与数字低音所写的协奏曲,RV 281
[1]第一乐章:快板
[2] 第二乐章:缓板
[3]第三乐章:快板
韦瓦第:C大调为小提琴、弦乐与数字低音所写的协奏曲,RV 187
[4]第一乐章:快板
[5]第二乐章:不很活跃的缓板
[6]第三乐章:快板
韦瓦第:D大调为小提琴、弦乐与数字低音所写的协奏曲,RV 232
[7]第一乐章:快板
[8]第二乐章:缓板
[9]第三乐章:快板
韦瓦第:F大调为小提琴、弦乐与数字低音所写的协奏曲,RV 283
[10]第一乐章:快板
[11]第二乐章:缓板,而且奏击跳弓
[12]第三乐章:快板
韦瓦第:降E大调为小提琴、弦乐与数字低音所写的协奏曲,RV 254
[13]第一乐章:稍快但不及快板
[14]第二乐章:缓板
[15]第三乐章:快板
韦瓦第:D小调为小提琴、弦乐与数字低音所写的协奏曲,RV 243
[16]第一乐章:快板
[17]第二乐章:活跃的行板
[18]第三乐章:(快板)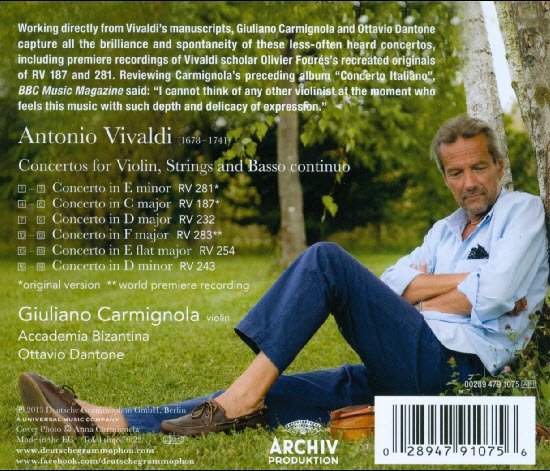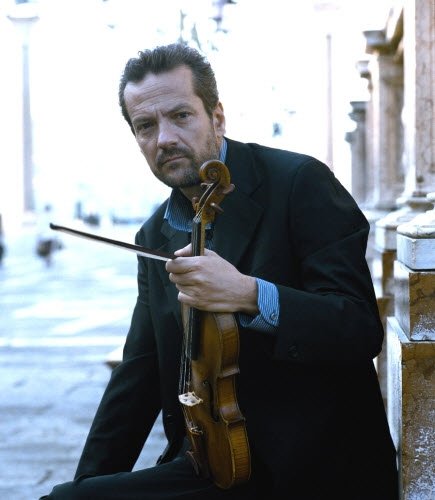 专辑曲目:
Antonio Vivaldi
Concerto For Violin And Strings In E Minor RV281
01. allegro 4:32
02. largo 3:02
03. allegro 3:50

Antonio Vivaldi
Concerto For Violin And Strings In C Major (First Version) RV187
04. allegro 4:22
05. largo ma non molto 3:52
06. allegro 4:35

Antonio Vivaldi
Concerto For Violin And Strings In D Major RV232
07. allegro 4:49
08. largo 3:51
09. allegro 3:59

Antonio Vivaldi
Concerto For Violin And Strings In F Major RV283
10. allegro 4:32
11. largo e spiccato 4:25
12. allegro 4:49

Antonio Vivaldi
Concerto For Violin And Strings In E Flat Major RV254
13. allegro 6:11
14. largo 3:35
15. allegro 4:57

Antonio Vivaldi
Concerto For Violin And Strings In D Minor RV243
16. allegro 4:07
17. andante molto 2:20
18. allegro 3:58
这里是其它用户补充的资源(我也要补充):
暂无补充资源