专辑英文名: Blue Note Plays Bossa Nova
专辑中文名: 从蓝调到巴沙诺瓦
音乐风格: 爵士
资源格式: FLAC
版本: [3 CD]
发行时间: 2008年06月30日
简介: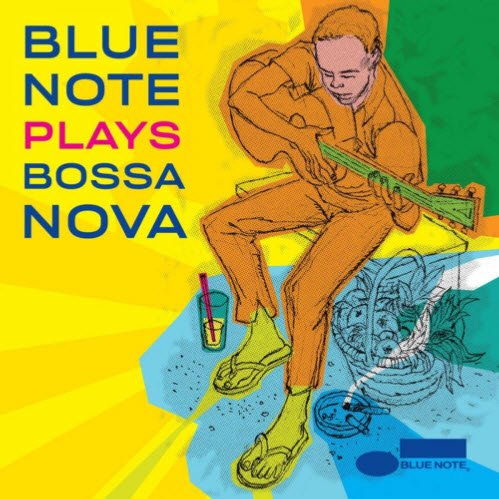 专辑介绍:

◎集合Blue Note及旗下Capitol、Pacific Jazz自1960以来所录制发行之45首经典Bossa Nova作品。
◎特别收录〈The Girl From Ipanema〉,由Eliane Elias、Lou Rawl分别詮释的两首不同版本。
◎涵盖史黛西肯特Stacey Kent、戴安瑞芙Dianne Reeves、Peggy Lee、Bobby McFerrin等多位爵士美声,洋溢著热带岛屿的凉爽感受。

  Bossa Nova於1958年自南美巴西引进北美,是一种融合Samba与Cool Jazz的新派爵士乐。有别於Samba节奏强烈且煽情,Bossa Nova较为慵懒、甜美、且带点性感。为庆祝Bossa Nova於世界风靡第50週年,Blue Note於2008特别发行此《Blue Note Plays Bossa Nova》3CD选辑,集合Blue Note及旗下Capitol、Pacific Jazz自1960以来所录制发行之45首经典Bossa Nova作品。

  提到Bossa Nova不外乎会联想到1963年由Jobim、Joao及Astrud Gilberto与Stan Gets所合作之经典名曲〈The Girl From Ipanema〉,此选辑特别收录两首不同版本,分别有葛莱美巴西爵士女乐手Eliane Elia以她沉稳低沉的嗓音所演唱的原文版、及较为独特由Lou Rawl以4/4摇摆乐风所呈现的版本。1959年由法国导演Marcel Camus执导的巴西电影【黑色奥菲斯】,不仅荣获该年奥斯卡最佳外语片,片中由巴西作曲家Luiz Bonfa为该片所写的〈Samba De Orfeu〉、〈Manha De Carnaval〉也风行一时。选辑则收录美国爵士乐坛传奇的贝斯高手Ron Carter及萨克斯风手Charlie Rouse所演奏的版本。专辑中更有声音甜美的史黛西肯特Stacey Kent〈Samba Saravah〉,连续三年勇夺葛莱美爵士女演唱的戴安瑞芙Dianne Reeves〈Triste〉之现场录音,风靡爵士乐坛、演唱俱佳的 Peggy Lee〈Little Boat〉,以及由 Bobby McFerrin所詮释的〈Blue Bossa〉,歌如其名洋溢著热带岛屿的凉爽感受。

  有别於市场氾滥销售的Bossa Nova选辑,《Blue Note Plays Bossa Nova》不论在曲目的选择及歌曲的编排上,均谨慎细心挑选,绝对让喜爱爵士的乐迷体验一场从未接触的拉丁爵士之旅。。

Audio CD (June 30, 2008)
Original Release Date: 2008
Number of Discs: 3
Format: Box set, Import
Note on Boxed Sets: During shipping, discs in boxed sets occasionally become dislodged without damage. Please examine and play these discs. If you are not completely satisfied, we'll refund or replace your purchase.
Label: EMI Europe Generic
ASIN: B0018S6ZE8

review
[-] by Thom Jurek

If only this terrific triple-disc set would get released here in the States! EMI Italy digs into the Blue Note catalog for this rich assortment of samba and bossa tunes both old and new, revealing -- once again -- the seemingly endless wealth of material resting stealthily in the Blue Note vaults. Assembled aesthetically rather than chronologically, each disc is its own veritable mixtape featuring both nuggets and rather obscure takes on the great Brazilian art form. In other words, over these 45 cuts, you either have an entire afternoon's or evening's listen or a delightful, sensual, and breezy hour of delight ahead. Some of the many highlights on disc one include Willie Bobo's "Bossa Nova in Blue" and Lou Rawls' unlikely but effective "Girl from Ipanema," along with Duke Pearson's "Sandalia Dela." Then, shifting over to the second disc, one finds treasures such as the Jazz Crusaders' vintage read of "Ontem a Noite," pianist Eliane Elias' "Chega de Saudade," and Joe Henderson's "Blue Bossa." Meanwhile, disc three plays host to Peggy Lee singing "Little Boat," Jackie McLean's "Bluesanova," and Blossom Dearie's trademark version of "Quiet Nights of Quiet Stars." In terms of contextual weight, the set makes a rather strong argument for bossa nova and samba being real pillars of jazz: they offer a very different body of standards in contrast to the overfished waters of the American Songbook, but these forms more often than not contains songs so well written that they become inspirations for improvisation and reinterpretation without losing their mystery or charm, in addition to providing structural forms for new compositions. Given that this is a rather inexpensive box, and doesn't rely on the masters themselves to "beef it up," it's almost impossible not to see it as somehow essential.


2008 three CD set from Blue Note featuring the best of the Jazz labels roster tackling the cool tropical sounds of Bossa Nova. Each of the individual artists featured on this 45 track collection were able to successfully maintain their own unique musical vision while also adding a Brazilian flair to their sound. Includes cuts from Lou Rawls, Grant Green, Duke Pearson, Nancy Wilson, Lee Morgan, Hank Mobley and many others. EMI.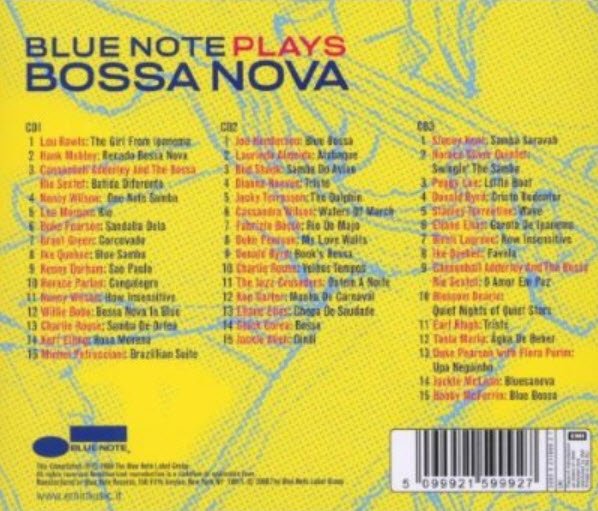 专辑曲目:
CD 1

01. Lou Rawls - The Girl From Ipanema (Live)
02. Hank Mobley - Recado Bossa Nova
03. Cannonball Adderley and the Bossa Rio Sextet - Batida Diferente
04. Nancy Wilson - One Note Samba (Samba De Una Nota So)
05. Lee Morgan - Rio
06. Duke Pearson - Sandalia Dela
07. Grant Green - Corcovado (Quiet Nights)
08. Ike Quebec - Blue Samba
09. Kenny Dorham - Sao Paulo
10. Horace Parlan - Congalegre
11. Nancy Wilson - How Insensitive (Insensatez)
12. Willie Bobo - Bossa Nova in Blue
13. Charlie Rouse - Samba De Orfeu
14. Kurt Elling - Rosa Morena
15. Michel Petrucciani - Brazillian Suite

CD 2

01. Joe Henderson - Blue Bossa
02. Laurindo Almeida - Atabaque
03. Bud Shank - Samba Do Aviao (Song of the Jet)
04. Dianne Reeves - Triste (Live)
05. Jacky Terrasson - The Dolphin
06. Cassandra Wilson - Waters of March
07. Fabrizio Bosso - Rio De Majo
08. Duke Pearson - My Love Waits
09. Donald Byrd - Book's Bossa
10. Charlie Rouse - Velhos Tempos
11. Jazz Crusaders - Ontem а Noite
12. Ron Carter - Manhг De Carnaval
13. Eliane Elias - Chega De Saudade
14. Chick Corea - Bossa
15. Jackie Allen - Dindi

CD 3

01. Stacey Kent - Samba Saravah
02. Horace Silver Quintet - Swingin the Samba
03. Peggy Lee - Little Boat (O Barquinho)
04. Donald Byrd - Cristo Redentor (Rudy Van Gelder Edition; 1999 Digital Remaster)
05. Stanley Turrentine - Wave
06. Eliane Elias - Garota De Ipanema
07. Bireli Lagrene - How Insensitive Insensatez
08. Ike Quebec - Favela
09. Cannonball Adderley and the Bossa Rio Sextet - O Amor Em Paz (Once I Loved)
10. Blossom Dearie - Quiet Nights of Quiet Stars (Corcovado)
11. Earl Klugh - Triste
12. Tania Maria - Agua De Beber
13. Duke Pearson with Flora Purim - Upa Neguinho
14. Jackie Mclean - Bluesanova (1993 Digital Remaster)
15. Bobby Mcferrin - Blue Bossa (Live)
这里是其它用户补充的资源(我也要补充):
暂无补充资源