专辑英文名: The Silver Violin
专辑中文名: 银色小提琴
古典类型: 全集作品
资源格式: FLAC
发行时间: 2013年02月19日
简介: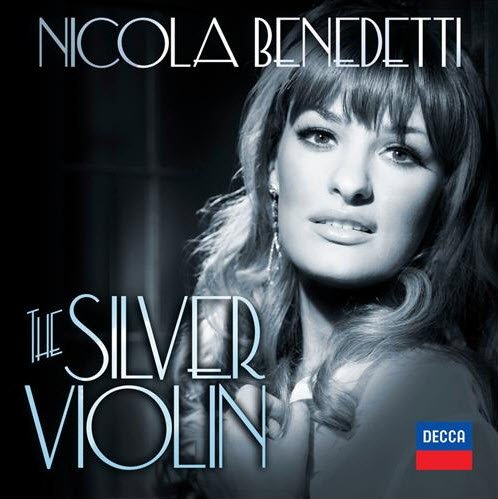 专辑介绍:

自制编号 原厂编号 478 3529 条码 0289 478 3529 5
曲目 辛德勒的名单、探戈名曲 - 一步之遥、康果德︰小提琴协奏曲、萧士塔高维契︰牛氓 等 Por Una Cabeza, Schindler's List, Gadfly
演出者 妮可拉‧班乃德提 Nicola Benedetti

二十五岁,苏格兰小提琴家Nicola Benedetti已经稳坐当今乐坛名家之列。

八岁成为英国国家儿童乐团首席、九岁进曼纽因音乐学校成为曼纽因的学生、十四岁展开忙碌的演奏生涯、十五岁赢得全英神童大赛冠军、十六岁吸引导演以她为主角,拍摄纪录片纪录她的神童生涯,并赢得BBC年度青年音乐家大赛首奖。

这张专辑是Nicola Benedetti生平第一张跨出古典领域的演奏专辑,她以康果尔德的小提琴协奏曲为核心,由此伸出触角与古今的好莱坞电影名曲接轨;从康果尔德为好莱坞电影所写的配乐,再延伸到包括电影《辛德勒名单》和《女人香》中的探戈名曲,乃至去年为金球奖提名的电影Eastern Promises配乐演奏的新曲,以及上映不久的电影《简爱》中的配乐。


引用
Nicola Benedetti钟情电影配乐

苏格兰小提琴家Nicola Benedetti早前来港与香港管弦乐团合作演出,她接受本报访问时表示:「我来过香港几次,很喜欢这个城市结合了怀旧及现代的生命力。」

Nicola最近推出大碟《The Silver Violin》,收录了电影原创配乐如John Williams的《舒特拉的名单》(Schindler's List)金像奖配乐,电影中出现的古典音乐如《女人香》(Scent of a Woman)的著名探戈。Nicola大讚已故电影配乐先驱Erich Wolfgang Korngold的影响力巨大,更演绎其多首作品,同时也欣赏近代配乐师如Danny Elfman的《蝙蝠侠》(Batman)配乐。
引用
银幕 Silver Screen
放映电影用的白色幕布。无声片时期,幕布上涂有无光泽白色颜料,幕面平整,用永久性银幕架固定,竖起于放映台上。有声电影诞生后,因传声需要,采用橡胶和塑料材料制成有孔银幕。使装置在幕后的扬声器透过银幕发出声音。银幕大小因影片画幅宽高比不同而有不同规格。早期银幕宽高比为4:3(即1.33:1)。宽银幕电影出现后,银幕宽高比增至8:3(即2.66:1)。随着宽银幕电影工艺的不断改进,影片画幅宽高比也不断变化,电影院为适应这种变化,相应设置更宽规格的银幕,并根据放映不同规格影片的需要,设置两端可以移动的黑布,以便将银幕遮成合乎需要的宽高比规格。
Orchestra: The Bournemouth Symphony Orchestra
Conductor: Kirill Karabits
Composer: Carlos Gardel, Erich Wolfgang Korngold, John Williams, Howard Shores, Dmitri Shostakovich
Audio CD (February 19, 2013)
SPARS Code: DDD
Number of Discs: 1
Label: Decca Classics
ASIN: B008CYV046
Release Date: 02/19/2013
Label: Decca Catalog #: 001760902
Composer: Erich Wolfgang Korngold, Gustav Mahler, John T. Williams, Howard Shore, ...
Performer: Nicola Benedetti, Leonard Elschenbroich, Alexei Grynyuk, Tom Dunn, ...
Conductor: Kirill Karabits
Orchestra/Ensemble: Bournemouth Symphony Orchestra
Number of Discs: 1
Recorded in: Stereo
Acclaimed as one of the leading violinists of her generation, best-selling violin virtuoso Nicola Benedetti turns the spotlight on Hollywood in this collection of original violin music written for the silver screen.
Argentinian tango casts its sultry spell in the form of Carlos Gardels swooning, seductive Por una cabeza, famously used in the Al Pacino film Scent of a Woman.
Taking as its center piece Korngold's melodious Violin Concerto - a work in which the émigré Austrian composer used themes from some of his most famous movie scores The Silver Violin celebrates the film music of composers from both East and West.
This unique collection includes the poignant lament from John Williams Oscar-winning score for Schindler's List, the achingly beautiful My Edward and I from Dario Marianelli's 2011 music for Jane Eyre, and extracts from Howard Shore's Golden Globe-nominated score for Eastern Promises, which Nicola herself performed on the original soundtrack.
Dmitri Shostakovich stakes a claim as the Soviet Union s greatest film composer with his much-loved Romance from The Gadfly, as well as the lyrical Andante from The Counterplan.
Contemporary UK cinema is represented by the haunting main theme and specially-composed Fantasy for Violin and Orchestra from the 2004 hit Ladies in Lavender.
引用
Having become a fan of Nicola Benedetti's playing through her Italia album (see review), we now enter an entirely different realm of musical experience, as she "moves dramatically from the 18th-century world of Italia to the 20th-century world of cinema." If you can put up with the look of this release, which is designed to evoke the golden age of the silver screen and places our soloist into the role of a glam Hollywood diva in a series of more or less silly photos, there is a great deal to discover and enjoy in this superbly performed and produced album.
Benedetti has long been a champion Erich Korngold's deeply romantic Violin Concerto, and with his reputation as a great stage and screen composer it was logical to build this programme around violin classics written specifically for the movies. There is no great shortage of recordings of Korngold's concerto, and your choice will depend to a certain extent on the couplings which go with the work. All of Benedetti's competitors pair the work with other violin concertos. Gil Shaham's Deutsche Grammophon disc has the Barber concerto as well as Korngold's score for Much Ado About Nothing, and his performance is excellent, though he does slide around the notes more than Benedetti. The single-disc recording also appears in a two disc Korngold special (see review). The Korngold Much Ado combination is also covered on the Naxos label by Philippe Quint, though the recording is not as lush and satisfactory, and Quint isn't quite as effortlessly brilliant as either Shaham or Benedetti. None of the recordings you will find on the shelves are particularly weak and many are superlative, such as Anne-Sophie Mutter on DG and James Ehnes on the Onyx label, but they all have to stand comparison with that of the great Jascha Heifetz. His RCA recording, now superbly re-mastered by Naxos, is the one which originally inspired Nicola Benedetti, and while his is a performance which speaks to us from a different era it is nonetheless hard to equal in terms of emotional intensity and communication, let alone technique.
The Decca engineers bring us a terrifically detailed and colourful tapestry of sound for the concerto in Nicola Benedetti's recording. Her violin is close enough and arguably a bit over the top, sounding almost amplified at times, but the presence of the orchestra and the subtle touches of orchestration mostly come through, so that the whole thing shimmers with effervescence and a remarkable range of expression and mood. For anyone prejudiced against Korngold's unrepentant romanticism, this is the kind of performance which will sell his music to you once and for all – and in this I speak from my own personal listening history. If you love Barber's violin concerto then Korngold's can reach similar places, especially in the gorgeous central Romance. Benedetti's communicative playing carries everything here, with the orchestra needing only to provide the subtlest of support. The striking Finale wakes us up from our reverie, and Benedetti's pizzicati have terrific impact. Compliments also go to the Bournemouth winds, shining through their tricky close-scrutiny tests with grace and ease.
The rest of the programme is substantially filled with well chosen and superbly performed music from film scores and works used in films both justly famous and perhaps less well known but by no means inferior. The lament from Schindler's List has been chosen to reflect Korngold's Jewish background and life story, and sets the expressively heartfelt tone right from the top. Korngold's Tanzlied des Pierrots and Mariettas Lied are from his 1920 opera Die tote Stadt, which has seen something of a revival in recent years. Chamber music contrast is amply provided with Carlos Gardel's tango Por una cabeza known from 'Scent of a Woman', with accordion and improvisatory variations from the players creating an unmistakably smoky dance atmosphere.
Shostakovich is represented with famous melodies such as the Romance and Prelude from the Gadfly Suite showing he was capable of taking a Tchaikovsky pill and slapping the high-romance tunes on with a jewelled trowel. Conductor Kirill Karabits commented that the Andante from 'The Counterplan' is "like a Mahler Symphony in 2.5 minutes." Nigel Hess's big tune from Ladies in Lavender has a muted-strings aura from the orchestra which is beautifully beguiling, and Marinelli's My Edward and I from 'Jayne Eyre' is a point of reflective rest. Howard Shore's Concertino is known from 'Eastern Promises', casting a magical spell with its cimbalom part, which is always evocative of tantalising mystery. Mahler's Piano Quartet in A minor is included here for its use in the film 'Shutter Island', performed with a suitably moody expression which works well in this context, though is perhaps not this CD's main selling point.
In all this is a thoroughly enjoyable excursion into some terrific music. Nicola Benedetti is to be applauded for seeking beyond standard repertoire to support her marvellous Korngold Violin Concerto, though the 'risk' she mentions is more than covered by the commercial appeal of the product as a whole. Don't be put off by the glitz and glam however, or by the thought of bringing so much film music into your pristine serious classical collection. This is the kind of disc we all need to have around for those softer moments, and the performances are of a standard which raises all of these scores to higher status, as if that were needed.
Dominy Clements
Read more:
http://www.musicweb-international.com/clas...Uh5zCbnX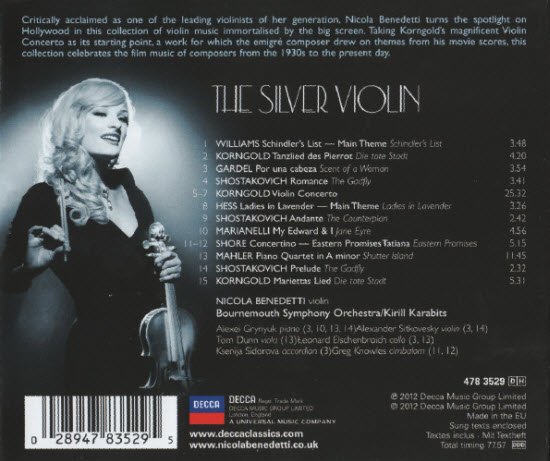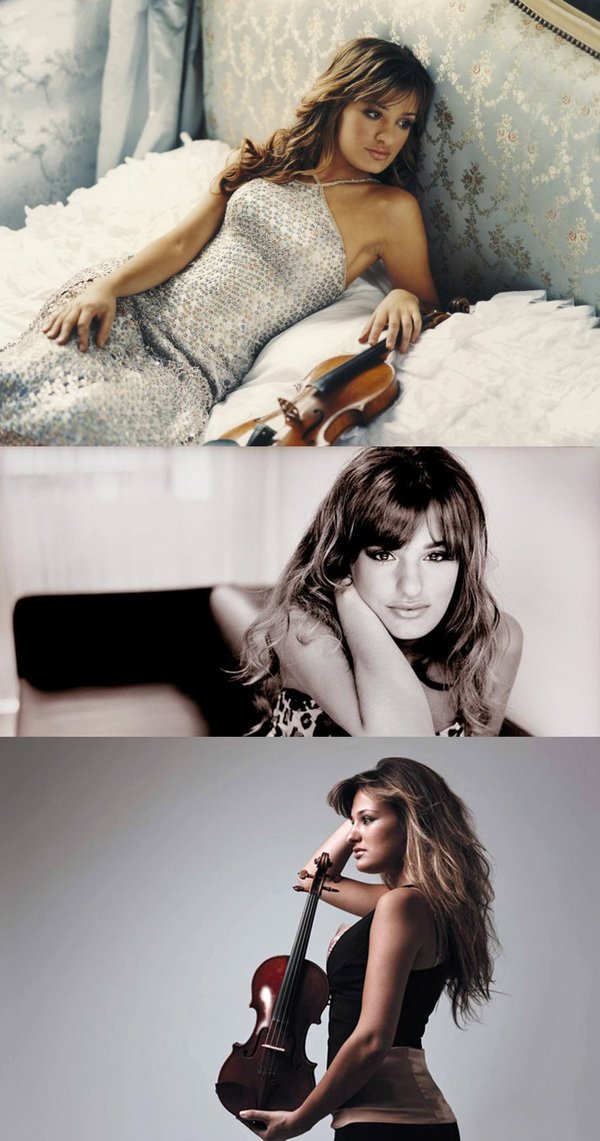 专辑曲目:
John Williams (1932 - )
1. Schindler's List

Erich Wolfgang Korngold (1897 - 1957)
Die tote Stadt
2. Tanzlied des Pierrot (Arr. Franz Willms) 4:20

Carlos Gardel (1890 - 1935)
3. Tango - Por Una Cabeza

Dmitri Shostakovich (1906 - 1975)
The Gadfly, Op97
4. 3. Youth (Romance)

Erich Wolfgang Korngold (1897 - 1957)
Violin Concerto in D major, Op.35
5. 1. Moderato nobile
6. 2. Romance: Andante
7. 3. Finale: Allegro assai vivace

Nigel Hess (1953 - )
8. Ladies In Lavender - Main Theme

Dmitri Shostakovich (1906 - 1975)
"The Counterplan", Op.33 - music from the film
9. 2. Andante

Dario Marianelli
10. My Edward & I (from "Jayne Eyre")

Howard Shore
Concertino from "Eastern Promises"
11. Mvt. 1 - Eastern Promises
12. Mvt. 2 - Tatiana

Gustav Mahler (1860 - 1911)
Piano Quartet in A minor (1876) Quartet for piano, violin, viola and cello
13. 1. Nicht zu schnell

Dmitri Shostakovich (1906 - 1975)
Five Pieces For 2 Violins & Piano
14. 1. Prelude (Arr. Atovmyan)

Erich Wolfgang Korngold (1897 - 1957)
Die tote Stadt
Act 1
15. Glück, das mir verblieb (Mariettalied)
这里是其它用户补充的资源(我也要补充):
暂无补充资源