专辑英文名: Blue Country Heart
专辑中文名: 心燃乡土情
音乐风格: 乡村
版本: [SACD-r]
发行时间: 2002年06月12日
简介: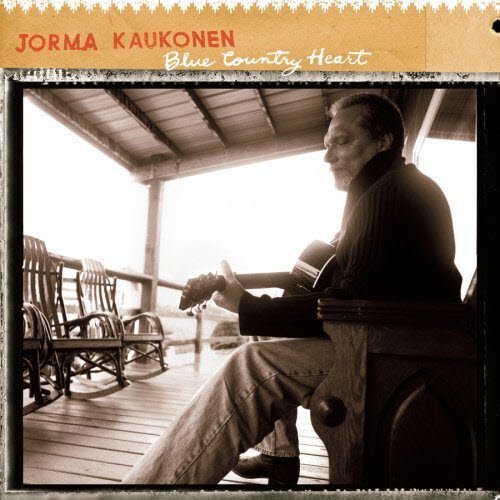 专辑介绍:

Jorma Kaukonen是美国摇滚团体jefferson airplane的吉他手,他出生於1940年12月23日,出生地是美国华盛顿特区。他学习吉他是在青少年时期,在这之前他随著家人住在菲律宾,后来回到美国,他遇到了贝士手 Jack Casady,他们一起组成了The Triumphs这个团。他离开华盛顿到 Antioch College就读,那里有他的朋友Ian Buchanan教他指弹吉他,Ian Buchanan也介绍了一位蓝调吉他手 Reverend Gary Davis的音乐,影响他后来的音乐事业。

他在1962年到旧金山的大学就读,自我学习蓝调,他从未想过要加入摇滚团,他在咖啡店中演奏吉他,直到遇到他听到 Janis Joplin的空心吉他伴奏,他加入了jefferson airplane。

当一个指弹吉他手,他的电吉他技巧变得很独特,他在团里第二张专辑里的歌曲Embryonic Journey展现了他空心指弹吉他精湛的技巧,后来更有许多惊人的演出,不过他在1971年离开jefferson airplane,跟贝士手Jack Casady另组一个团 Hot Tuna。接下来他就专心在他的演奏事业上,偶尔也帮他之前的团体。

他使用的吉他是 Gibson ES-345以及Martin M-30 Jorma Kaukonen Custom Artist Edition,音箱则是 Fishman Loudbox。


  Jorma Kaukonen是最著名的根源布鲁斯和兰草传奇乐手之一,"Rolling Stone"杂志的百大吉他手榜单中,他名列第五十四位。参与的两支乐队Jefferson Airplane和Hot Tuna都有着长长的唱片发行列表,Solo唱片从1974年开始至今已发行了14张,最近一张作品是09年的"River of Time",由美国著名的独立厂牌Red House发行,在Billboard Top Heatseekers榜单中打入前五。
    
    Jorma Kaukonen作为一个指弹吉他手,演奏技巧有着明显的个人特质,早早确立了自己的独特风格,他的早期乐队生涯中就历练出了精湛的演奏技巧,尤以名曲"Embryonic Journey"中的空心指弹吉他最为绝妙,让人津津乐道,在现场的无数演出中都有着非常惊人的表现。事实上,Jorma Kaukonen的演奏技巧仍在不断向前,他说:"不能给自己留下后路,我的方向只有向前"。


43 of 43 people found the following review helpful
5.0 out of 5 stars Jorma Kaukonen - From Jefferson Airplane to Nashville! June 12, 2002
By George Walsh
Format:Audio CD
Blue Country Heart
Jorma Kaukonen

Jorma Kaukonen's new CD, "Blue Country Heart", (Columbia Records) is warm, passionate and extremely enjoyable. Jorma's numerous fans (as well as newcomers) will find this CD essential listening. Jorma's gentle vocals and acoustic finger-picking guitar are right up front in the mix and the guest musicians who contribute dobro, mandolin, fiddle & banjo add a superb dimension. The old-timey songs swing, and are guaranteed to keep you grooving. Jorma, a legendary guitarist and member of the Rock N Roll Hall of Fame, was a founding member of Jefferson Airplane. The Airplane ascended to the Top of the Charts in 1967 (with Grace Slick's vocals) on the hit singles Somebody To Love and White Rabbit. Jefferson Airplane performed celebrated concerts at the Fillmore East (NY) and Fillmore West (SF), played on the Ed Sullivan show and were on the cover of Life Magazine in 1968. Jefferson Airplane, before mutating into Jefferson Starship, played all the major concert events of the 1960's, including: Monterey Pop Festival, Woodstock (1969) and Altamont. Jorma left the Airplane in 1972 to pursue a more roots/blues-based form of music with "Hot Tuna" and also began a career as a solo performer. On "Blue Country Heart", Jorma Kaukonen shines on 13 "old timey" songs, including "Just Because", which was made famous by Elvis Presley in 1955 on the Sun Records Sessions. The opening song, "Blue Railroad Train", was originally recorded by The Delmore Brothers, who are one of the architects of early blues and rock. "Blue Country Heart" was recorded in Nashville in the Spring of 2002. All the songs were recorded live (no overdubs) and many selections feature mandolinist Sam Bush, dobro player Jerry Douglas, and banjo virtuoso Bela Fleck Jorma is a master at fusing country and bluegrass with his own traditional acoustic guitar style, which makes for a delightful "down-home" listening experience. George Walsh


引用
Blue Country Heart is a Jorma Kaukonen studio album released in June, 2002.
It was his first album on a major label since 1980′s Barbeque King. Kaukonen didn't write any new compositions for the album, and instead played mostly country-blues cover songs. Kaukonen again relied on the talents of other musicians for this solo effort, but turned to musicians he had not previously worked with on any project. Sam Bush, Jerry Douglas, Byron House and Bela Fleck helped add more of the country flavor not present in previous Kaukonen solo efforts. The album was nominated for a Grammy award in 2003 for "Best Traditional Folk Album."

Audio CD (June 11, 2002)
Number of Discs: 1
Label: Sbme Special Mkts.
ASIN: B0012GMV94

editor rating 3 Stars
release date June 11, 2002
duration 45:15
genre Pop/Rock Folk Blues
styles Neo-Traditional Folk Acoustic Blues Blues-Rock Country-Rock

review
[-] by Zac Johnson

Acoustic fingerpicker Jorma Kaukonen fiddled around with his country roots a bit in Jefferson Airplane and dipped a little deeper while fronting Hot Tuna, but his 2002 release, Blue Country Heart, is his most summertime-afternoon, front-porch-pickin' album. The album is comprised of traditional country songs from the '30s and '40s popularized by legendary performers like Jimmy Rodgers, Jimmy Davis, Gene Autry, and the Delmore Brothers. The blue country band features contemporary acoustic virtuosos Sam Bush on mandolin, Jerry Douglas on dobro, bassist Byron House, and Grammy-winner Béla Fleck on banjo, backing Kaukonen's nimble fingers and gruff vocals. The whole album carries an easygoing vibe throughout; whether Kaukonen is waiting for a train, recounting his promiscuous tomcat, or escaping from a chain gang, his voice maintains a relaxed feel, and the "no overdubs" recording style gives it a real "living room jam" kind of sound. The recordings aren't flawless, but pretty close, and any brown notes and voice crackles only help to add to the down-home atmosphere, making for a warmly enjoyable listening experience.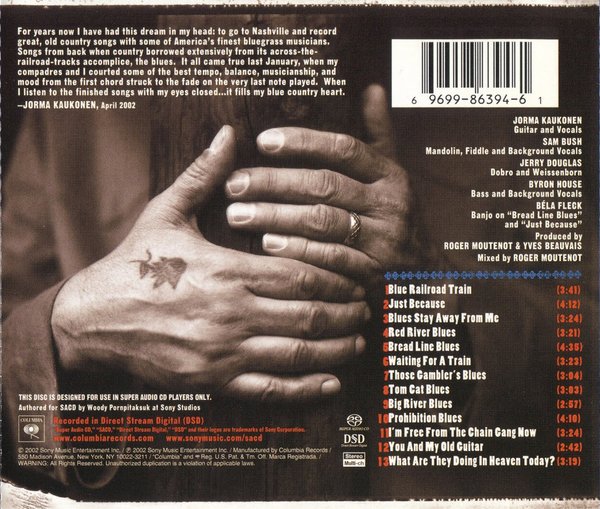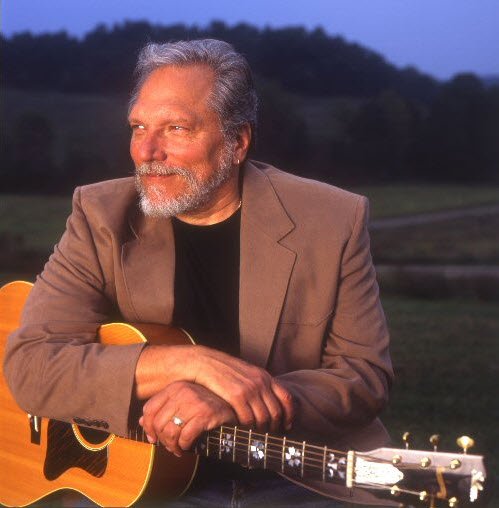 专辑曲目:
01. Blue Railroad Train - 3:43
02. Just Because - 4:13
03. Blues Stay Away from Me - 3:26
04. Red River Blues - 3:23
05. Bread Line Blues - 4:39
06. Waiting For A Train - 3:24
07. Those Gambler's Blues - 3:06
08. Tom Cat Blues - 3:06
09. Big River Blues - 2:59
10. Prohibition Blues - 4:11
11. I'm Free from the Chain Gang Now - 3:26
12. You And My Old Guitar - 2:43
13. What Are They Doing In Heaven Today? - 3:21
这里是其它用户补充的资源(我也要补充):
暂无补充资源