专辑英文名: The Private Collection
专辑中文名: 私房蒐藏
别名: 薑还是老的辣!
音乐风格: 爵士
资源格式: FLAC
版本: [HDTrack 24bits 96KHz] [2 CD]
发行时间: 2008年05月31日
简介: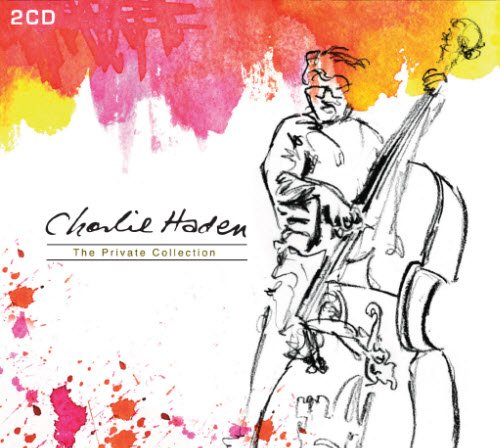 专辑介绍:

在一个爵士乐团中,贝斯手的角色往往较不引人注目,因为我们总是容易记得像是萨克斯风、小号或钢琴这样旋律性出色的乐器,但或许你不知道,在爵士乐的历史上,有许多贝斯手都担任著乐团主导者的角色,正如今年(2008年)已71岁的Charlie Haden。

本名为Charles Edward Haden的Charlie Haden出生於1937年8月6日,故乡是美国爱荷华州的Shenandoah。Haden「出道」甚早,22个月大时,就在父母的乡村音乐广播节目上演唱,或许演出不算太成功,但过人的音乐天分自小展露无疑。20岁时Haden跑去洛杉磯,辉煌的音乐生涯就此展开。这时他参与伴奏的对象说出来还真吓死人,都是一些传奇性的爵士乐手,诸如Art Pepper、Hampton Hawes与Dexter Gordon等,从小就开始培养大师风范。

后来Haden去了纽约,又是一番全新的不凡遭遇。他在此时加入Ornette Coleman的自由爵士四重奏,团员还包括小号手Don Cherry与鼓手Billy Higgins,开始他的爵士先锋体验。另外,他也跟一些喜欢创新、冒险的爵士乐手合作,包括John Coltrane、Archie Shepp、Keith Jarrett等人,可都是「A咖中的A咖」。这样的机会对所有爵士乐手来说,都是千金难买的际遇,而能够与这么多重要的爵士大师合作,对Charlie Haden来说的确是个天赐的恩典,但更重要的是,Haden除了本身也是极具天赋的音乐家,他也崇尚创新与实验,至此之后,Haden也与「大师」划上等号,躋身爵士巨匠之林。


或许这就是Haden的演出风格,他一直没有长时间隶属某个乐团,而他后来的合作伙伴,就是一个个当今重要的爵士乐手,像是Hank Jones、Don Cherry、Dewey Redman、Paul Motian、Jack DeJohnette、Michael Brecker、Kenny Barron、Pat Metheny等,他悠游於各种乐风、各种组合之间,不断激发出音乐的创意火花,留下无数重要的作品。

Charlie Haden演奏生涯非常长,从1957年到现在,跨越50年,至今仍有作品推出。他不断地追求现代爵士音乐的界线,从不限制自己在哪一个领域。「我总是不断地在找寻乐手组合的可能性,」Charlie Haden说,「透过不同乐手的组合,又会变出新的魔法,而我的判断总是对的。我所做的就是演奏各式各样的曲子,用美妙的旋律或是和声架构来吸引不同的乐迷,让越来越多的人愿意欣赏这样的艺术形式。」,「我要大开爵士乐的视野,不让听眾受限,透过不同形式的音乐录音来接触从来不进音乐厅听现场演奏的人。」

这张「The Private Collection」则是Naim为庆祝Charlie Haden七十大寿而重新发行的唱片。原先「The Private Collection」是以1、2集的形式分成两张CD发行,在1994年以限量形式做贩售,当时的一批2,200张唱片只在英国当地销售,甫一推出便售。2007年正逢Charlie Haden七十大寿,Naim便再将这两张唱片重新推出,并以单张双CD形式发行。这也就是说,这二张唱片过去只在英国出现过,从未发行於英国以外的市场。


「The Private Collection」的CD 1录音於1987年8月6日,刚好是Haden的50岁生日音乐会当天,地点在加州Santa Monica。一起搭档的乐手是他所率领的Quartet West乐团,萨克斯风是Ernie Watts,钢琴为Alan Broadbent,鼓手则由原编制的Larance Marable换成Haden的老朋友Billy Higgins。演奏曲目的年代跨越数百年,从巴哈、Charlie Parker、Miles Davis到Pat Metheny都有,曲风则兼容并蓄,显示Haden「博通古今」的能力。

CD 2的录音地点则回到Haden的故乡密苏里州,1988年4月4日录於St Louis的Webster大学,鼓手则换成了Paul Motian。在这个录音中,Haden再次演奏了Pat Metheny的《Farmer's Trust》,不过速度比上次舒缓得多,感受完全不同。特别的是,Haden挑选了Ornette Coleman的名曲《Lonely Woman》,在全长将近23分鐘的竞速中,每位团员都有段精彩的独奏,Haden个人也弹奏了6分多鐘,并於当中融入故乡的乡村音乐曲调,像是在回想青少年生活的种种,十分詼谐且热烈。

「The Private Collection」虽然是大师七十大寿的庆贺礼,但倒不算是Haden音乐生涯的总回顾,应该可以视作他在人生当中重要的时点与地点,在非常愉悦轻鬆的心情下,挥撒出的写意之作,支支动听,曲曲深刻,让人忍不住要说:「薑还是老的辣!」。

CD编号 : NAIMLP110
艺人/团体 : 查理海登 Charlie Haden
专辑名称 : 私房蒐藏
The Private Collection
音乐类型 : 黑胶唱片 [黑胶唱片 演奏会]
发行公司/日期 : 巨礼 
制作公司 : Naim

all music rating 5 Stars
release date January 1, 2000
duration 146:27
genre Jazz

Audio CD (November 20, 2007)
Original Release Date: 2007
Number of Discs: 2
Format: Import
Label: Naim Records/Premiere
ASIN: B000X3SZCO

Charlie Haden: The Private Collection (2008)
By
JOHN KELMAN,
Published: May 31, 2008
Charlie Haden: The Private Collection

Originally released as limited edition single discs sets, bass icon Charlie Haden and specialty audiophile label Naim Audio finally give The Private Collection broader release. Two CDs documenting two concerts with his then relatively nascent Quartet West from 1987 and 1988, it's also a dovetail to The Best of Quartet West (Verve, 2007), prefacing Haden's 2008 summer tour with founding members Alan Broadbent (piano), Ernie Watts (saxophones) and newcomer Rodney Green (drums).

The 1987 show was in celebration of Haden's fiftieth birthday, and features the original Quartet West line-up with the late Billy Higgins on drums. Paul Motian is in the drum seat for the 1988 performance, prior to Larence Marable joining the band and remaining until it's sixth and (so far) final studio disc, The Art of the Song (Verve, 1999). Initially conceived as a West Coast, film noir homage, Quartet West's origins were as more of a playing band, in contrast with later projects, where Haden would paste archival recordings, Zeilig-like, from artists including Coleman Hawkins, Chet Baker and Duke Ellington.

With a handful of tracks from its first two releases, the group takes liberties with tunes like Pat Metheny's "Hermitage"—originally a lyrical tune from the guitarist's folkloric New Chautauqua (ECM, 1979)—that recall just how exciting the group was in its early years, before a stronger nostalgic penchant set in. Firmly planted in the mainstream, Charlie Parker's "Passport" is still a thrilling fifteen minute ride, with fiery solos from everyone, most notably Higgins, whose brushwork remains an unparalleled thing of beauty to this day.

Motian's set makes clear, on Charlie Parker's "Lisa," that despite a lifelong predilection for color he's just as capable of swinging hard. But it's the 23-minute version of Ornette Coleman's "Lonely Woman" that's a high point on two-and-a-half hours of music where the bar is set extremely high from the outset. More open-ended than anything the group's recorded before or since, its unbridled bursts of energy prove Broadbent and Watts—two players largely associated with the mainstream—to be more widely versed than their discographies suggest. Haden's solo returns to the country roots of his younger days, but feels completely natural in the context of Quartet West's no-boundaries approach to this Coleman classic.

Two versions of Metheny's poignantly balladic "Farmer's Trust" shed light, not only on how each performance is different for Quartet West, but on the difference two drummers can make. With Higgins it's taken at a brighter tempo, swinging in ways that Metheny's original on Travels (ECM, 1983) never did. With Motian the tempo is slower, the drummer providing a more texturally driven, implicit pulse. Still, as the tune intensifies during Watts' fluid solo, Motian doesn't steer clear of explicit rhythm, making it the more dramatic and, ultimately, satisfying take.

Surpassing its Best of collection, The Private Collection finds Haden and Quartet West at its true best, with material spanning four decades but still sounding, twenty years later, as if it had been written yesterday.

Track Listing: CD1: Hermitage; Passport; Misery; Nardis; Segment; Farmer's Trust; Etudes. CD2: Bay City; Farmer's Trust; Lonely Woman; Silence; Body & Soul; Lisa.

Personnel: Charlie Haden: bass; Ernie Watts: saxophones; Alan Broadbent: piano; Billy Higgins: drums (CD1); Paul Motian: drums (CD2).


引用
23 of 23 people found the following review helpful
5.0 out of 5 stars ONE OF THE BEST STRAIGHT AHEAD JAZZ RELEASES THIS YEAR May 27, 2010
By Stuart Jefferson TOP 100 REVIEWER
Format:Audio CD|Amazon Verified Purchase
Two discs 71,75 minutes each approximately. The remastered sound is very good-especially for live recordings from 1987-88. There are no real notes to speak of-except some personal thoughts from Haden concerning each concert. The discs are snapped in,inside the four-fold-out cardboard holder,which is nicely done with a pen-and-ink drawing of Haden and his instrument. There are a number of b&w photos of various members of the group inside the holder,which are nice but small in size.

This is a re-release of two separate recordings that were originally released in very small quantities. The first disc features Haden on double bass,Ernie Watts-saxophones,Alan Broadbent-piano,and the drummer's drummer (the late) Billy Higgins,who Haden has played on and off with for some three decades. The second (recorded near Haden's boyhood home) disc has identical personnel except Higgins is replaced with Paul Motian,another legendary jazz musician.

The first disc (recorded at Haden's 50th birthday) has a slight jam session feel to it (which is fine) but the compositions and the high caliber of musicianship more than compensate for any looseness in the playing. The tunes range from two Pat Metheny songs ("Hermitage" and "Farmer's Trust"),to Miles Davis ("Nardis"),to two Charlie Parker tunes ("Passport","Segment"),to a tune each by Tony Scott ("Misery") and J.S. Bach ("Etudes"),all which the group attacks in equal amounts of subtle fervor and restrained skill-all from many years of playing both together (Haden's QUARTET WEST) and with many other jazz greats.

The second disc comes from a live public concert in 1988. In comparison to the first disc,these tracks have a bit more life in them,thanks in large part to Watt's angular sounding sax. Motian's drumming is also a bit more forceful sounding almost as if this were his group. And Haden's bass playing (especially solo) is truly great-thoughtful yet visceral. The compositions range from Metheny (with "Farmer's Trust" again),to Charlie Parker ("Visa"),to two tracks by Haden ("Bay City" and "Silence"),to Ornette Coleman ("Lonely Woman"),to a standard ("Body and Soul"),all which have a livelier sound to them than the private recordings on disc one.

For anyone who's heard the 1986 album by QUARTET WEST (if you haven't you're missing some great straight ahead jazz),this is more of the same-in other words,well worth seeking out. The warm,intelligent musicianship,the wide-ranging compositions,the arrangements (even on the loose first disc),all make this set something special. This is jazz from the days when melodies mattered,from true group interplay when a solo was something that was played strictly to advance the music-not the musician's ego. The musicians on both these sets come from an age when musicians listened to each other and contributed something of true value. A time when the song was (is) the thing. If you like unpretentious,straight ahead,no nonsense jazz,with great solos out in front of an equally fine rhythm section-this is one of the better releases in a long while. It's to bad it took so long to finally see this music released on a larger scale,but the wait was worth it-listen and you,too, will hear why.

引用
review
[-] by Scott Yanow

Bassist Charlie Haden gained his initial fame with the Ornette Coleman Quartet of 1959-1961, developing an innovative style that allowed him to walk the bass and create a forward movement and momentum while not stating a chord structure. Haden worked on other rewarding groups through the years, including his Liberation Music Orchestra, the 1970s Keith Jarrett Quintet, and in Old and New Dreams. His longest running project has been Quartet West, which he formed in 1986. A somewhat nostalgic unit, Quartet West matches Haden with tenor saxophonist Ernie Watts, pianist Alan Broadbent and usually drummer Larance Marable on melodic jazz that often could have been played in 1950s (or at least 1960s) Los Angeles. The two-CD set The Private Collection consists of two rare concerts from early in the group's existence. The first CD, recorded at a club date on Charlie Haden's 50th birthday, has the group (with its original drummer Billy Higgins) playing songs by Pat Metheny, Tony Scott, Miles Davis, Bach (a beautiful rendition of "Etudes"), and Charlie Parker in 1987. The second CD, recorded in 1988 in St. Louis, was a homecoming of sorts for Haden, who had many friends in the audience. The quartet (with Paul Motian on drums) performs numbers by Metheny (a second version of "Farmer's Trust"), Charlie Parker, and Ornette Coleman (a nearly 23-minute rendition of "Lonely Woman") plus "Body and Soul" and two Haden originals. Ernie Watts' tenor flights are consistently full of fire, passion, and intensity. His tone is soulful and distinctive, and Watts' style has his own "sheets of sound." While Haden and the drummers are capable of pulling the music in any direction, pianist Alan Broadbent keeps the proceedings grounded, chordal, and boppish. Although one would not have necessarily predicted this direction for Charlie Haden's music in 1970, it has worked out quite well. This well-recorded two-fer features Haden's Quartet West at its best.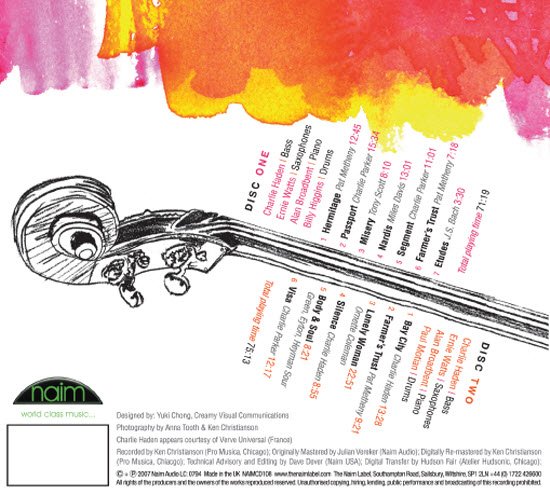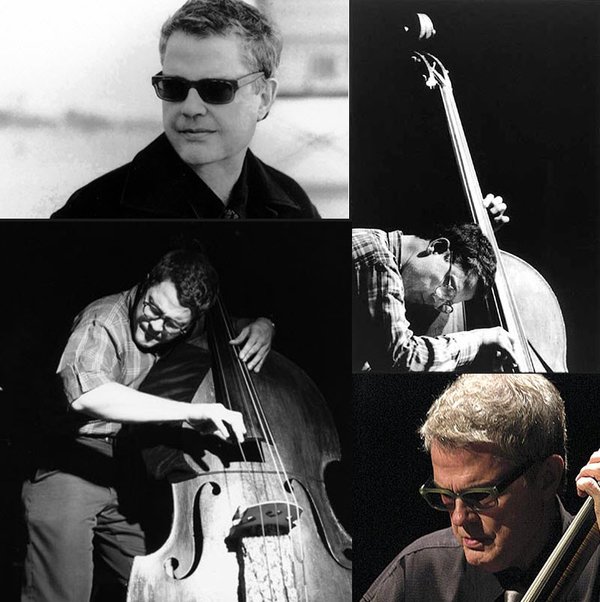 专辑曲目:
CD 1

1. Hermitage (Pat Metheny) 12:24
2. Passport (Charlie Parker) 15:34
3. Misery (Tony Scott) 8:09
4. Nardis (Miles Davis) 13:01
5. Segment (Charlie Parker) 11:00
6. Farmer's Trust (Pat Metheny) 7:18
7. Etudes (JS Bach) 3:30

CD 2

1. Bay City (Charlie Haden) 13:27
2. Farmer's Trust (Pat Metheny) 9:21
3. Lonely Woman (O Coleman) 22:51
4. Silence (Charlie Haden) 8:55
5. Body & Soul (Green,Eyton,Heyman,Sour) 8:20
6. Visa (Charlie Parker) 12:14
这里是其它用户补充的资源(我也要补充):
暂无补充资源