Sir Neville Marriner -《马利纳 - 艾维森改编自史卡拉第之十二首大协奏曲集》(Charles Avison: 12 Concerti Grossi after Scarlatti )[2 CD][APE]

专辑英文名: Charles Avison: 12 Concerti Grossi after Scarlatti
专辑中文名: 马利纳 - 艾维森改编自史卡拉第之十二首大协奏曲集
古典类型: 协奏曲
资源格式: APE
版本: [2 CD]
发行时间: 2007年11月27日
简介: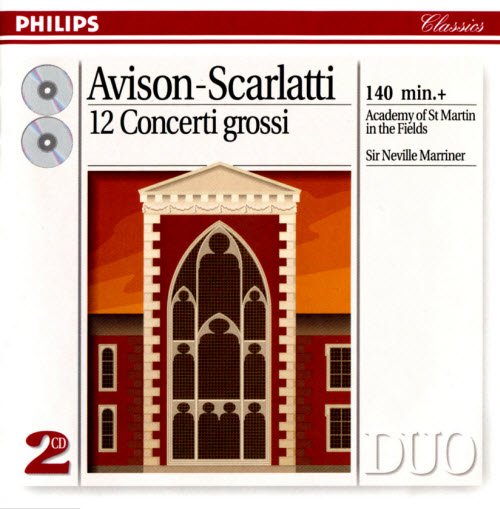 专辑介绍:

  查尔斯·阿维森(1709-1770),英国作曲家。1709年2月16日出生於英格兰泰恩河畔纽卡斯尔(Newcastle upon Tyne)。青年时期曾游历意大利,随作曲家杰米尼亚尼(Francesco Germiniani)学习。1735年成为家乡圣约翰教堂的管风琴师,次年任尼古拉斯教堂的管风琴师,两年后担任指挥,此外还教授大键琴、小提琴和长笛。1770年5月9日(或10日)逝世於纽卡斯尔。

  阿维森一生创作了大量的三重奏奏鸣曲,并将一些斯卡拉蒂的大键琴奏鸣曲改编为絃乐乐队曲。此外他於1752年发表的文章《音乐的表达》(usical Expression),被认为是音乐史上最早的论文,他本人也因此被视为是最早的音乐评论家。

Charles Avison (pron.: /ˈeɪvɨsən/; 16 February 1709 (baptized) – 9 or 10 May 1770) was an English composer during the Baroque and Classical periods. He was a church organist at St John The Baptist Church in Newcastle and at St. Nicholas's Church (later Cathedral). He is best remembered for his 12 Concerti Grossi after Scarlatti and his Essay on Musical Expression, the first music criticism published in English.


马利纳-艾维森改编自史卡拉第之十二首大协奏曲集

阿维森(Charles Avison 1709~1770)的《十二声部协奏曲》是从史卡拉蒂的羽管键琴教材练习曲改编而来,以独奏小提琴作为主角,其他乐器组依次进行对位和声的变奏,在声部和音色上穿插对比,低音乐器构成的基础非常重要,是支援上行线条的关键。

专辑名称:史卡拉第-十二首大协奏曲(2CD)【已绝版!无法供货!】
专辑编号:438806-2
国际条码:028943880626
作曲家:史卡拉第
第一小提琴:艾欧纳.布朗
唱片公司:PHILIPS

Thought by many to be Avison's greatest masterpieces, these arrangements of Scarlatti's keyboard sonatas were for many decades the only Avison music known. Now thanks to Gordon Dixon and the Avison Ensemble, a complete edition of his quite large output is weill underway; this is the fifth in the series, following two sets on Naxos and two on Divine Art. This is sublime baroque music at its best, performed on period instruments.

AVISON, C.: Concerti Grossi Nos. 1-12 (after D. Scarlatti) (Avison Ensemble, Beznosiuk)


Release Date: 11/27/2007
Label: Philips Duo Catalog #: 438806 Spars Code: ADD
Composer: Charles Avison
Performer: Malcolm Latchem, Denis Vigay, Nicholas Kraemer, Iona Brown
Conductor: Sir Neville Marriner
Orchestra/Ensemble: Academy of St. Martin in the Fields
Number of Discs: 2
Recorded in: Stereo


类型: 古典音乐, 音乐
发佈於: 2008年11月04日
℗ 2008 the Avison Ensemble

Orchestra: Avison Ensemble
Conductor: .
Composer: Avison, Scarlatti
Audio CD (April 14, 2009)
Number of Discs: 2
Label: Divine Art
ASIN: B001GU2EKC

Newcastle-born and -based, Charles Avison issued his string arrangements of harpsichord sonatas by Domenico Scarlatti in 1744. Forty-two of Scarlatti's sonatas had been published by Roseingrave in London five years earlier and it was these which, by and large, provided Avison with his material. 'By and large', since, as Stephen Roe remarks in his note, the sonatas included only two slow movements and Avison, planning 12 concertos in the slow-fast-slow-fast scheme favoured by his teacher, Geminiani, required 24. So, at ''extraordinary expence'', Avison got hold of some manuscript copies of further sonatas by Scarlatti which provided him with additional slow pieces. In the end, however, he inserted a few of his own, albeit in some cases little more than cadential chords. Avison's arrangements are delightful and even as early as 1768 the novelist, Laurence Sterne had immortalized them in the Third Book of Tristram Shandy where he finds an ingenious analogy between Tristram's father's apoplectic rage and the Con furia movement of the Sixth Concerto. In a coda of some asperity Sterne then ticks off Avison for his use of such terms for, as he says, ''What has 'con furia'—'con strepito' [which Avison never used]—or any other hurly-burly whatever to do with harmony?''

These performances are lively in spirit, bringing out much of the charm and vitality of some inventive musical ideas. Marriner adopts sensible tempos throughout and has a good feeling for dance measures. The concertino players are excellent and the performances are almost consistently reliable in matters of tuning and ensemble....

All in all, this is an engaging issue of music that stands up to more than cursory investigation. The recorded sound is clear and there is effective differentiation between solos and tuttis. Lovers of Tristram Shandy will require no further recommendations, but the set should have a wider appeal.


引用
review
[-] by Uncle Dave Lewis

Charles Avison's concertos after Domenico Scarlatti -- often referred to as the "Avison Scarlatti concerti" -- are a landmark in British music. It's sometimes hard to get a grip on what makes them Avison, and indeed, in older recordings, one can find them accredited to Scarlatti alone with Avison merely indicated as an arranger, if at all -- certainly they have unjustly overshadowed Avison's own, very fine, original concerti. Despite his industrious achievement in producing keyboard sonatas, Scarlatti never composed a single concerto -- Avison made this set of 12 by arranging and adapting Scarlatti's keyboard sonatas and through adding movements of his own -- they really should be considered original works of Avison, as here, but there are still plenty strands of Scarlatti DNA in the mix. No matter how you "splice" it, just about the best recording ever offered of the Avison/Scarlatti is this exceptionally fine one by Roy Goodman and the Brandenburg Consort for Hyperion.

Roy Goodman leads the Brandenburg Consort with his violin and is the primary violin soloist in the concerti; one wonders if this was not Goodman's finest hour as a soloist -- his playing is direct, clear, and full-throated. The ensemble as a whole is no less so, contributing ample amounts of color to the ripieno yet achieving absolute unanimity of purpose as a group. Hyperion's recording is very forward, but not too loud -- just right to make this relatively small band come across with a big sound. If you are a fan of Baroque concerti -- and there is every indication that most folks who like Baroque music at all like the concerti as well -- then Roy Goodman leading the Brandenburg Consort's Charles Avison: 12 Concerti Grossi after sonatas by Domenico Scarlatti cannot fail to appeal.
引用
Introduction EnglishFrançaisDeutsch
By the 1740s the concerto grosso had become a peculiarly English type of orchestral music. It was originally devised by Alessandro Stradella and Arcangelo Corelli in Rome in the 1670s and '80s as a type of polychoral music suitable for spatially separated galleries in churches, or sometimes carts or platforms in outdoor secular entertainments, but by the second decade of the eighteenth century, when Corelli's Op 6 Concertos were published, it had been modified to serve a different purpose. The concertino of two violins, cello and continuo, instead of being separated from the concerto grosso or string orchestra, was now taken by the leaders of the respective sections. At this point, the concerto grosso was largely abandoned in Italy in favour of the newer and more virtuosic three-movement solo concerto, but its career was only just beginning north of the Alps. In England, in particular, the 'grand concerto' (as it was often known in English) was the main type of orchestral music far into the century; native composers were still writing examples in the 1770s and '80s, long after J C Bach, C F Abel and the Earl of Kelly had popularized the German classical symphony in London.

At first, grand concertos were written mainly for London's theatres and professional concerts. This was the original purpose of Geminiani's two influential sets, Opp 2 and 3 (1732), and Handel's Op 3 (1734) and Op 6 (1740), as well as the earlier collections by native composers, such as John Stanley's Op 2 (1742). However, before long provincial composers began to take up the genre, and for them the main motive was to provide repertory for the amateur orchestral societies that were springing up in every sizeable English town at the time. The grand concerto was the ideal vehicle for these groups: the difficult concertino parts were played by hired hands, while the easy ripieno parts could easily be taken by their employers, the gentleman amateurs. Such was the rage for grand concertos in mid-century England that demand soon exceeded supply, and composers and publishers began to cash in with a series of arrangements. Geminiani published concerto versions of Corelli's solo sonatas and trio sonatas, while his friend Francesco Barsanti added arrangements of Geminiani's Op 1 sonatas and trio sonatas by Giuseppe and Giovanni Battista Sammartini to the repertory. We now know that Handel's concertos are largely arrangements of orchestral music drawn from existing vocal works, while Benjamin Cooke even cobbled together a spurious set of concertos by Alessandro Scarlatti from disparate sources, including some chamber sonatas.

Charles Avison is a crucial figure in these developments. He was born the son of a town musician in Newcastle upon Tyne in February 1709, and, apart from a brief period in London in the early 1730s, remained there for the whole of his career. In 1735 he was appointed organist of St John's Church, and in the next year he also acquired the post at St Nicholas, now the cathedral (illustrated on the front of this booklet). At the same time he was involved in organizing a series of subscription concerts and was appointed director of them in 1738; it was for this organization that Avison presumably wrote most of his orchestral music. In later life he extended his activities to local theatres and pleasures gardens, and to Durham where he collaborated in a series of concerts with the composer John Garth. He died in Newcastle in May 1770.

Avison was one of the most prolific and accomplished provincial composers of grand concertos. His first set, Op 2, was published in 1740, and was followed by a pair of concertos published separately two years later—one of which seems to be the earliest solo keyboard concerto to be published by a native Englishman. The subject of this recording, the Twelve Concerto's in Seven Parts … Done from Two Books of Lessons for the Harpsicord Composed by Sig. Domenico Scarlatti, was published by Avison himself in 1744, though he had tested the water a year earlier with an early version of the sixth concerto. In this publication, I Concerto in Seven Parts Done from the Lessons of Sigr Scarlatti, he announced that he would publish the complete set if he received 100 subscriptions; in the event, there were 151 subscribers.

The prototype concerto, two fast movements in D major, evidently attracted criticism, for Avison added a 'PS' dated 23 May 1743 to a reprint, in which he admitted that 'this Undertaking would have been liable to Exceptions from a Want of slow Movements in the Original', but announced that he had 'been favour'd (since the printing of this Specimen) with as many Pieces of the same Author's as will be an Addition, in general, of two to each Concerto', which enabled him to make up concertos in the traditional slow-fast-slow-fast pattern. The printed source Avison had access to, XLII Suites de pièces pour le clavecin published by Thomas Roseingrave in 1739, contains only two slow movements. Some of the others came from manuscript copies acquired at 'extraordinary expence', while others were adaptations, made by turning fast movements into slow. Twelve of the fifty movements cannot be found in Scarlatti's surviving works, and may have been composed by Avison himself.

Avison was up-to-the-minute in publishing a collection of arrangements of Domenico Scarlatti. Scarlatti had been a friend and colleague of the Irish organist Thomas Roseingrave in Rome and Naples around 1710, and seems to have come to London in 1720 to supervise the production of his opera Narciso, assisted by Roseingrave. Roseingrave's 1739 edition of Scarlatti made the Italian's harpsichord music fashionable in England, and in the 1740s and '50s a Scarlatti cult developed, based on Roseingrave, his pupil John Worgan, the composer Joseph Kelway, and his patron Lord Fitzwilliam. In the words of Charles Burney: 'The Lessons of M. Scarlatti were in a style so new and brilliant, that no great or promising player acquired notice of the public so effectually by the performance of any other music. Kelway kept them in constant practice; Worgan played no other music, except his own. In short, everyone played, or tried to play, Scarlatti's'. Burney is said to have made his own concerto arrangements of Scarlatti, drawing on movements not used by Avison, and Handel, the century's most incorrigible borrower, also drew on Scarlatti in several of the specially composed movements in the Op 6 concertos. Domenico Scarlatti even figures in Tristram Shandy: a father is described as 'like the sixth of Avison Scarlatti—con furia!'

Avison did not confine himself to translating Scarlatti's keyboard writing into orchestral terms. He wrote in the introduction to the prototype concerto that the sonatas 'being extremely difficult, and many delightful Passages entirely disguised, either with capricious Divisions, or an unnecessary Repetition in many Places, few Performers are able to execute them with that Taste and Correctness they require', so 'forming them into Parts, and taking off the Mask which concealed their natural Beauty and Excellency, will not only more effectually express that pleasing Air, and sweet Succession of Harmony, so peculiar to the Compositions of this Author, but render them more easy to the Instrument for which they were first intended'. For this reason, Avison frequently made sizeable cuts, particularly in those fast movements that were converted to serve as slow movements, and in those passages with a large number of repeats. Incidentally, Malcolm Boyd has pointed out that Avison did not usually mark the repeated phrases he retained with changes from ripieno to concertino, or even with dynamic marks, which suggests that echo effects played a smaller role in the interpretation of the period than we tend to think. The other changes Avison made to the sonatas were evidently designed to take off 'the Mask which concealed their natural Beauty and Excellency': 'capricious Divisions' were sometimes rewritten, Scarlatti's harmony was occasionally changed, and extra contrapuntal lines were added. The result was something unique, half Spanish exuberance and half English sobriety—music that, in Avison's words, 'will be found to contain a Collection of the most genteel and lively Pieces'.

Peter Holman © 1994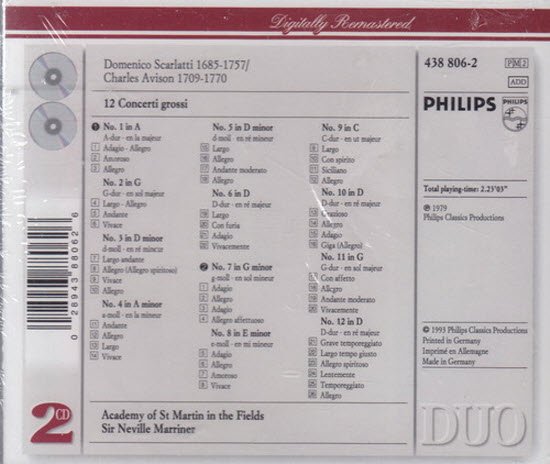 专辑曲目:
Concerto Grosso No 1 in A major 'after Scarlatti' Domenico Scarlatti (1685-1757)

CD1:

01. Concerto No. 1 In A: Adagio - Allegro - AVISON/SCARLATTI
02. Concerto No. 1 In A: Amoroso - AVISON/SCARLATTI
03. Concerto No. 1 In A: Allegro - AVISON/SCARLATTI
04. Concerto No. 2 In G: Largo - Allegro - AVISON/SCARLATTI
05. Concerto No. 2 In G: Andante - AVISON/SCARLATTI
06. Concerto No. 2 In G: Vivace - AVISON/SCARLATTI
07. Concerto No. 3 In D Minor: Largo andante - AVISON/SCARLATTI
08. Concerto No. 3 In D Minor: Allegro (Allegro spiritoso) - AVISON/SCARLATTI
09. Concerto No. 3 In D Minor: Vivace - AVISON/SCARLATTI
10. Concerto No. 3 In D Minor: Allegro - AVISON/SCARLATTI
11. Concerto No. 4 In A Minor: Andante - AVISON/SCARLATTI
12. Concerto No. 4 In A Minor: Allegro - AVISON/SCARLATTI
13. Concerto No. 4 In A Minor: Largo - AVISON/SCARLATTI
14. Concerto No. 4 In A Minor: Vivace - AVISON/SCARLATTI
15. Concerto No. 5 In D Minor: Largo - AVISON/SCARLATTI
16. Concerto No. 5 In D Minor: Allegro - AVISON/SCARLATTI
17. Concerto No. 5 In D Minor: Andante moderato - AVISON/SCARLATTI
18. Concerto No. 5 In D Minor: Allegro - AVISON/SCARLATTI
19. Concerto No. 6 In D: Largo - AVISON/SCARLATTI
20. Concerto No. 6 In D: Con furia - AVISON/SCARLATTI
21. Concerto No. 6 In D: Adagio - AVISON/SCARLATTI
22. Concerto No. 6 In D: Vivacemente - AVISON/SCARLATTI

CD2:

01. Concerto No. 7 In G Minor: Adagio - AVISON/SCARLATTI
02. Concerto No. 7 In G Minor: Allegro - AVISON/SCARLATTI
03. Concerto No. 7 In G Minor: Adagio - AVISON/SCARLATTI
04. Concerto No. 7 In G Minor: Allegro affettuoso - AVISON/SCARLATTI
05. Concerto No. 8 In E Minor: Adagio - AVISON/SCARLATTI
06. Concerto No. 8 In E Minor: Allegro - AVISON/SCARLATTI
07. Concerto No. 8 In E Minor: Amoroso - AVISON/SCARLATTI
08. Concerto No. 8 In E Minor: Vivace - AVISON/SCARLATTI
09. Concerto No. 9 In C: Largo - AVISON/SCARLATTI
10. Concerto No. 9 In C: Con spirito - AVISON/SCARLATTI
11. Concerto No. 9 In C: Siciliano - AVISON/SCARLATTI
12. Concerto No. 9 In C: Allegro - AVISON/SCARLATTI
13. Concerto No. 10 In D: Grazioso - AVISON/SCARLATTI
14. Concerto No. 10 In D: Allegro - AVISON/SCARLATTI
15. Concerto No. 10 In D: Adagio - AVISON/SCARLATTI
16. Concerto No. 10 In D: Giga (Allegro) - AVISON/SCARLATTI
17. Concerto No. 11 In G: Con affetto - AVISON/SCARLATTI
18. Concerto No. 11 In G: Allegro - AVISON/SCARLATTI
19. Concerto No. 11 In G: Andante moderato - AVISON/SCARLATTI
20. Concerto No. 11 In G: Vivacemente - AVISON/SCARLATTI
21. Concerto No. 12 In D: Grave temporeggiato - AVISON/SCARLATTI
22. Concerto No. 12 In D: Largo tempo giusto - AVISON/SCARLATTI
23. Concerto No. 12 In D: Allegro spiritoso - AVISON/SCARLATTI
24. Concerto No. 12 In D: Lentemente - AVISON/SCARLATTI
25. Concerto No. 12 In D: Temporeggiato - AVISON/SCARLATTI
26. Concerto No. 12 In D: Allegro - AVISON/SCARLATTI
这里是其它用户补充的资源(我也要补充):
暂无补充资源