专辑英文名: Nomad
专辑中文名: 游牧浪人
资源格式: FLAC
发行时间: 2003年09月02日
简介: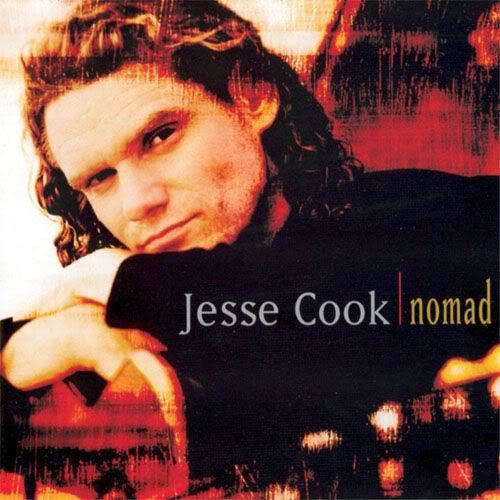 专辑介绍:

喜欢弗拉门戈的,一定知道 Jesse Cook 杰西·库克,一把木琴玩的出神如话,无论速度, 旋律,技巧都是一流的,他的6张专集都很棒,且录音都很好,很是难得。 这张名为《Nomad 》是 Jesse Cook 沈寂3年后的第一张作品。 Jesse Cook 以前的专辑当中都会出现一首人声作品,而且都是轻柔的流行作品。而这次一下来了5首人声作品,而且风格各不相同。 Acoustic Alchemy 也在他们的新专辑当中开始第一次人声作品尝试,看来时下用现代吉他音乐家越来越喜欢人声的加入,而不是寻求配器上的突破和创新。

浓郁的现代中东味道,明快的舞曲节拍......让你感觉不到任何 Flamenco 的味道了,只是那几声木琴的撩线声让你似乎感到了些 Flamenco 的忧郁与深沈。

Audio CD (September 2, 2003)
Original Release Date: 2003
Number of Discs: 1
Label: Narada
ASIN: B0000BV1ZO

If a Nomad is someone who walks all over the globe aimlessly, then Jesse Cook's album is improperly titled. There's nothing aimless about it; Cook's fiery flamenco style is still the heart of it all and he's more in sync with his guests than most new age artists can be. Showing the proper amount of restraint while accompanying the BoDeans or former Rembrandts singer Danny Wilde, Cook gives the pop stars better material and more freedom than they're used to. It's a shame that these wonderful singers haven't gotten this respect before, because their poignant performances here reveal talents that aren't properly showcased in the pop world. Flora Purim gives the light "Maybe" just the right amount of sweetness, and the passionate vocals of Montse Cortes return Cook to his flamenco roots. The truly atmospheric moments are supplied by numerous Egyptian and electronic touches that Cook uses with sincerity and respect. Nomad flows like an album should, with each track complementing the next, and Cook has proven himself a mindful producer. Despite being recorded at stops all over the world and a diverse list of guest stars, Nomad ends up being his most cohesive and rewarding album. ~ David Jeffries Audio Mixer: Simon "Mass" Massey. Recording information: 20 Hz Sound Studios, Toronto, Ontario, Canada; Coach House Music, Toronto, Ontario, Canada; Groovy Drums Studios, Toronto, Ontario, Canada; Leila Studios, Cairo, Egypt; Shydog Studio, Austin, TX; Sonic Innovation Studio 2, London, England. Photographers: Margaret Malandruccolo; Jesse Cook. Unknown Contributor Roles: Danny Wilde; Simon "Mass" Massey; BoDeans; Simon Emmerson; Shebl Abdalla. Arranger: Jesse Cook. Personnel includes: Jesse Cook (vocals, guitar); Maryem Tollar, Sam Llanas, Kurt Neuman (vocals); Saeid Kamal, Chris Church (violin); Yasser Taha (cello); James McNally (accordion, sound effects); Collin Barrett (bass); Paul Antonio (drums); Art Avalos (percussion); Simon Massey (programming); Roula Said, Mike Ferfolia (background vocals). Personnel: Jesse Cook (guitar); Hounda El Sombaty, Sam Llanas, Kurt Neumann, Montse Cortés, Maryem Hassan Tollar (vocals); Chris Church (spoken vocals, violin); James McNally (whistling, pennywhistle, accordion, keyboards, bodhran); N'Faly Kouyate (kora); Ihab Tutu, Moheb, Said Kamal, Amer Fouad, Ihab Sobhy, Adel Eskander (violin); Yasser Taha (cello); Simon Emmerson (keyboard bass); Paolo Antonio, Johnny Kalsi (drums); Art Avalos (djembe, shaker, percussion); Hossam Ramzy, Rick Lazar (percussion); Simon "Mass" Massey (keyboard programming, drum programming); Eric Persing, Bashiri Johnson (loops, sampler); Francisco Orozco (palmas); Roula Said, Mike Ferfolia, Alejandro Nunez (background vocals).


The Story
Guitarist Jesse Cook 2003 CD, "Nomad", features strong flamenco rhythms fused with Arabic and Indian textures, Western pop vocals and hip ambient production values. Cook desribes the music thusly, "It's certainly world music. Some people consider it a kaleidoscope of music of different cultures coming together. Every tune is like a kaleidoscope, you turn the lens and it forms a new picture. You shuffle things around a bit and suddenly you've created something new using often very old ancient music. You're refocusing it by bringing together two forms of music that may have existed together on the planet for hundreds of years but have never been together in the same piece of music." "Nomad" was recorded in a number of studios the world over.


引用
Jesse Cook 出生於法国巴黎,父母为加拿大人,他早年成长於充满文化艺术氛围的法国南部和西班牙。3岁时就伴随著他母亲的 Flamenco 录音弹奏一把玩具吉他。后随父母返回加拿大,6岁时进入闻名遐邇的 Eli Kassner 吉他学院。在此后16年的学习生涯裏他还在多伦多皇家音乐学院,约克大学,及波士顿的 Berklee 音乐学院深造过。

Jesse Cook 还曾重返法国及西班牙去重新探索他童年时期充满神秘的 Flamenco,此间他遍访生活於安达露西亚,科多巴,格拉那达和马德裏的吉他大师。返回加拿大后,像其它吉他演奏家一样,他在自己的音乐中加入了一些爵士,拉丁和世界音乐的 元素,他还因为活力四射的现场表现而家喻户晓。他还对 Afro Celt Sound System album Seed 作出了杰出的贡献,后记录在 Narada label 上。

Jesse Cook 及他的四人乐队曾於2002年初短暂访问过韩国及新加坡,据称一个更完整的亚洲数国之行正在酝酿中,其中包括中国。"从我记事起吉他就一直陪伴著我" ,Jesse Cook 说,"她是我永恒的伙伴" 。


19 of 20 people found the following review helpful
5.0 out of 5 stars Jesse matures, continues to expand December 20, 2003
By B3n S6z
Format:Audio CD|Amazon Verified Purchase
Some people have said that this is a real departure for Jesse. I think they haven't been paying attention. He's been going this direction since his first album. Jessi is becoming increasingly fascinated with different music from around the world, and you shouldn't think it's a new trend. Remember, Jessi has been a musician for a long time -- if I recall correctly from when I received his first CD for my radio show, he'd been playing for 15 years at that point! Jessi is NOT a simple musician; he's been around a lot.

Yes, his first CD was guitar melodies first and foremost, and yes, he's gotten into different rhythms, instruments, and ethnic influences since then, but it's not an about-face. You could hear it coming on his second album, and I don't mean "in hindsight" because I noticed it then, not now.

Don't confuse Jessi with some jump-on-the-bandwagon artist trying to imitate the successes of folks who've mixed exotic sounds with cool techno and made it big, or jumped in with "Oh, Riverdance is hot, let me have Liam O'Flinn play the bagpipes on my next album" like some artists. Jessi's not trying to make money off of a fad, and if you're concerned that's what this album is like, don't be. I don't want you to read other reviews and think this is another Deep Forest knock-off with guitar thrown in. This is Jessi Cook sharing his musical interests and talents with us.

I think this album is a testimony to Jessi's broad horizons and diverse influences, and as far as I'm concerned it's a success.

The Artists
Jesse Cook - Guitar, Other Instruments, Production, Engineering, Photography
Hossam Ramzy - Arabic Percussion, Egyptian Session Coordination, Percussion
Chris Church - Violin, Long Discussions On The True Meaning Of Music, Patented "Melancholy-Meets-Exoticism-Meets-Crushing-Angst" Violin Solo
Maryem Tollar - Lead Vocals, Vocals
Omneya Tollar - Additional Baby Sounds
Saeid Kamal - Solo Violin, Violin
Shebl Abdalla - Magrouna
Mohammed Naiem - Naey
Moheb - Violin
Ihab Sobhy - Violin
Ihab Tuto - Violin
Amer Fouad - Violin
Adel Eskander - Violin
Yasser Taha - Cello
James McNally - Accordian, More Reverb Mass, Whistles, Artistically Dropped Penny Whistles, Bodhran, Keyboards, Kitchen Sink
Simon Massey - Drum/Keyboard Programming, Hand-Rolled Cigs, Unbelievably Long Hours In The Studio, Mixing, Tea Master, Engineering
Roula Said - Background Vocals
Collin Barrett - Bass, Engineering
Sam Llanas - Vocals
Kurt Neumann - Vocals, Engineering
Art Avalos - Percussion, Late Night Testosterone Flicks, Cajas, Djembes, Shakers, Ron Cross` Famous "King Cajon"
Mike Ferfolia - Background Vocals
Rick Lazar - Arabic and Brazilian Percussion
Paul Antonio - Extra Darboukas
Danny Wilde - Vocals
Paul Antonio - Drums
Houda El Sombaty - Vocals
Flora Purim - Lead Vocals
Alejandra Nunez - Background Vocals
N`Faly Kouyate - Kora
Simon Emmerson - Production, Keyboard Bass, Far-Beyond-The-Call-Of-Duty Hospitality
Johnny Kalsi - Dhol Drum
Montse Cortes - Godlike Vocals
Francisco Orozco - Caja Solo, Palmas, Jaleo
Peter Bond - Additional Tracking
Alaa El Kashef - Engineering
Javier Limon - Engineering
Geoff Gillette - Engineering
Carlos De Rosario - Vocal Editing
Steve Kultgen - Engineering
Mark Kelso - Engineering
Trevor Sadler - Mastering
Connie Gage - Design, Art Direction
Margaret Malandruccolo - Photography
Bashiri Johnson - Percussion Loops and Sounds
Eric Persing - Percussion Loops and Sounds
Kathleen Shea - Photography
Studios used: Coach House Music (Toronto), Sonic Innovation Studio 2 (London), Leila Studios (Cairo), Musiquina (Madrid), Visual Rhythm Sound (Alhambra, CA), Remote Planet (Milwaukee), Shydog Studio (Austin), Groovy Drums Studio (Toronto), 20 Hz Sound Studios (Toronto).
Mastered at Mastermind Productions.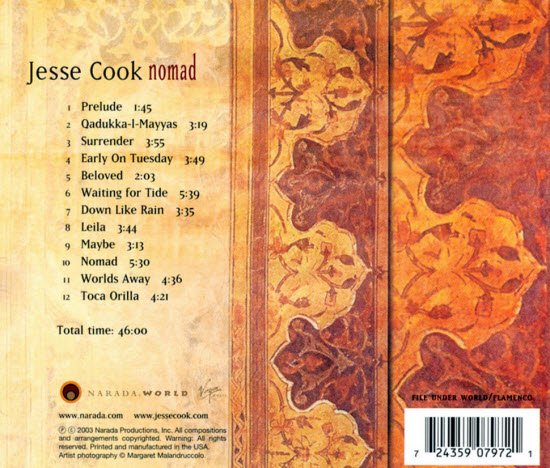 专辑曲目:
01. Prelude 1:45
02. Quadukka-l-Mayyas
03. Surrender 3:55
04. Early On Tuesday 3:49
05. Beloved 2:03
06. Waiting For Tide 5:39
07. Down Like Rain See All 2 3:35
08. Leila 3:44
09. Maybe 3:13
10. Nomad 5:30
11. Worlds Away 4:36
12. Toca Orilla 4:21
这里是其它用户补充的资源(我也要补充):
暂无补充资源