专辑英文名: Haydn - Violin Concertos
专辑中文名: 海顿:小提琴协奏曲集
古典类型: 协奏曲
资源格式: FLAC
发行时间: 2012年01月31日
简介: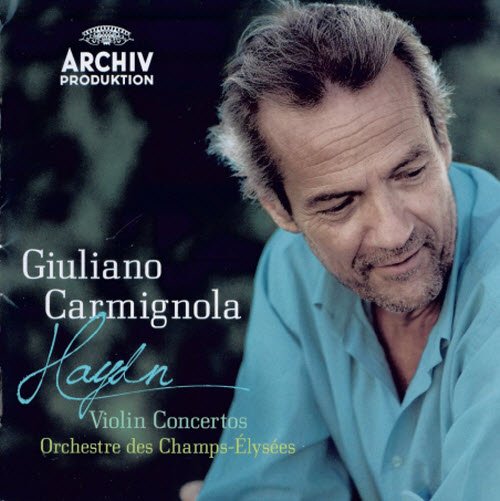 专辑说明:

音乐史上,标注是海顿创作的小提琴协奏曲共有十一首,但是根据音乐学者的研究,其中大部分都是海顿弟弟,或是同时期作曲家的作品,只有三到四首真正出自海顿之手,而第二号小提琴协奏曲的乐谱已佚失。这张专辑收录的,就是其他三首保存下来的作品,具有强烈的巴洛克风格

C大调第一号小提琴协奏曲创作於1761年到1765年间,是海顿为艾斯特哈吉乐团首席托马希尼所写,也是三首协奏曲里最著名的一首。A大调小提琴协奏曲的手稿在奥地利某处修道院被发现,很可能是1765年到1777年之间的作品。由於部分铜管与木管声部的乐谱已经被焚毁,因此现在演出的,都是经过后人重建后的版本。G大调小提琴协奏曲大约创作於1761年到1765年之间,不过它是不是海顿的作品,至今在音乐学界仍有争议。

担任独奏的小提琴家卡米诺拉,是当今专攻演出巴洛克、古典时期小提琴作品的第一把交椅。他的声音清晰而且音色纯净,以灵巧的手指,精细地雕刻分句、轮廓与细节,为海顿的作品增添优雅而且稳重的气质。

唱片公司:Archiv
音乐类型:古典音乐
唱片编号:4778774
发行日期:2012年02月10日

【DG】Haydn : Violin Concertos海顿:小提琴协奏曲集(卡米诺拉Carmignola)*详细介绍, 担任独奏的小提琴家卡米诺拉,是当今专攻演出巴洛克、古典时期小提琴作品的第一把交椅。他的声音清晰而且音色纯净,以灵巧的手指,精细地雕刻分句、轮廓与细节,为海顿的作品增添优雅而且稳重的气质。


【曲目】海顿:C大调第一号小提琴协奏曲,H. 7a/1
[1]第一乐章:有节制的快板
[2]第二乐章:慢板
[3] 第三乐章:终曲,急板 海顿:A大调小提琴协奏曲,H. 7a/3
[4]第一乐章:中板
[5]第二乐章:有节制的慢板
[6]第三乐章:快板 海顿:G大调小提琴协奏曲,H. 7a/4
[7]第一乐章:有节制的快板
[8] 第二乐章:慢板
[9]第三乐章:快板

Orchestra: Orchestre des Champs-Élysées
Composer: Joseph Haydn
Audio CD (January 31, 2012)
SPARS Code: DDD
Number of Discs: 1
Label: Deutsche Grammophon
ASIN: B0062Z22DK

review
[-] by James Manheim

Italian violinist Guiliano Carmignola has a crisp, sharp style that can do wonderful things in High Baroque repertory. In Classical-period music he is again distinctive, but your mileage may vary. This release harks back to the middle days of historically informed playing, when Baroque groups first began to explore the Classical era (and music beyond). There are no graceful, gentle lines here, no warm, muted colors of mythological figures frolicking in summer sunshine. The Orchestre des Champs-Élysées slashes away at the outer-movement entrances, and Carmignola matches them step for step. The third participant is engineer Ulrich Vette, who mikes everything close enough to hear the players' clothes rustling, much closer, in fact, that Haydn's audience at Esterháza would have been. This doesn't make sense, but if you like the overall approach there's a lot to recommend this recording. Carmignola does not conduct the orchestra, but he manages a much closer and more coherent ensemble than occurs on many other recordings where the violinist is waving his bow around. In the slow movements he has nice control over the line, and in general his playing is quite musical in these rather wandering early Haydn works. He makes a good case for them, but there are plenty of other recordings that sound a good deal more "Classical."

Haydn's violin concertos are a bit of a puzzle. He composed four in all, of which the Second is lost. The First was written in 1765 for one Luigi Tomasini, an Italian violinist at the Esterháza court. The rest can't be dated with certainty: it has been mooted that Haydn, also an accomplished violinist, may have written them for himself. The First is very retro and reminiscent of Vivaldi. The Third and Fourth are more courtly and self-consciously grand. Baroque violinist Giuliano Carmignola has been championing them for some time now. His dexterity is at its most sensational in the double-stopped allegro moderato of the First Concerto and the cadenza of the Fourth, while his ability to generate intense emotions by the sparest means leads to unforgettable things in the First's adagio. The Orchestre des Champs-Elysées under its leader Alessandro Moccia are classy: their acerbic sound keeps the drama uppermost and prevents everything from becoming cloying.


引用
17 of 18 people found the following review helpful
5.0 out of 5 stars EXCELLENT INSPIRING INTERPRETATIONS OF HAYDN VIOLIN CONCERTI BY CARMIGNOLA February 1, 2012
By RBSProds TOP 500 REVIEWERVINE™ VOICE
Format:Audio CD
Five ENJOYABLE Stars! This excellent CD captures violin virtuoso Giuliano Carmignola as he steps away from the baroque period of his last recording, the well-received Concerto Italiano, into the Classical period with the exceptional support of the Orchestre des Champs-Elysées under the leadership of Alessandro Moccia playing Franz Joseph Haydn's three surviving concertos for violin and orchestra: Hob. VIIa-1, 3, & 4. Because these concerti occurred relatively early in Haydn's career and occupy such a small part of his list of prolific compositions, some downplay their importance. Nonetheless this music, in the hands of master musician Carmignola and his cohorts, speaks for itself: it is elegant, beautiful, and stimulating music that represents the composer Haydn, the Classical period, and the concerto format very well. Written during the 1760's, none were published before the 20th Century and Hob VIIa 2 still awaits discovery. These works are uniformly excellent, and some of the best moments include the stately elegance of the Allegro moderato movement of Hob. VIIa 1 played wonderfully by Carmignola and the Orchestre des Champs-Elysées using period instruments, especially Carmigola's exciting soliloquy here and in the Allegro moderato movement of Hob. VIIa 4. And there is Carmignola's masterful reading of the Moderato movement of Concerto in A Major, Hob. VIIa 3 and and the drama of the concluding Allegro movement of Violin Concerto in G Major, Hob. VIIa: 4. Superbly recorded and Highly Recommended. Five STATELY Stars! (This review is based on an mp3 download of 9 tracks; time: 59:30.)
Comment |
Was this review helpful to you?
11 of 12 people found the following review helpful
5.0 out of 5 stars A pleasant surprise February 1, 2012
By jgri
Format:Audio CD|Amazon Verified Purchase
Being a fan of Carmignola I was at first a bit disappointed to see his newest recording announced, I had hoped for some Bach (e.g. Partitas) or more Vivaldi, of course. Nevertheless, I thought one can usually not go wrong with his recordings (bare one older Mozart recording) so I ordered the CD - and was very pleasantly surprised. These Concertos are very nice and provide some interesting listening. I was more than once pleasantly surprised and was looking up from my usual chores (I can work/study while listening to music) as there are some real gems in there (e.g. track 6, Allegro Finale of VIIa No. 3). Good recording quality and good orchestra work as well. Can only recommend it and it got me interested in more Haydn concertos.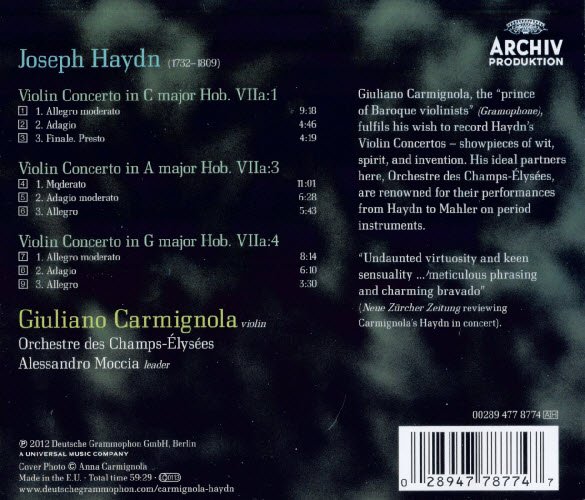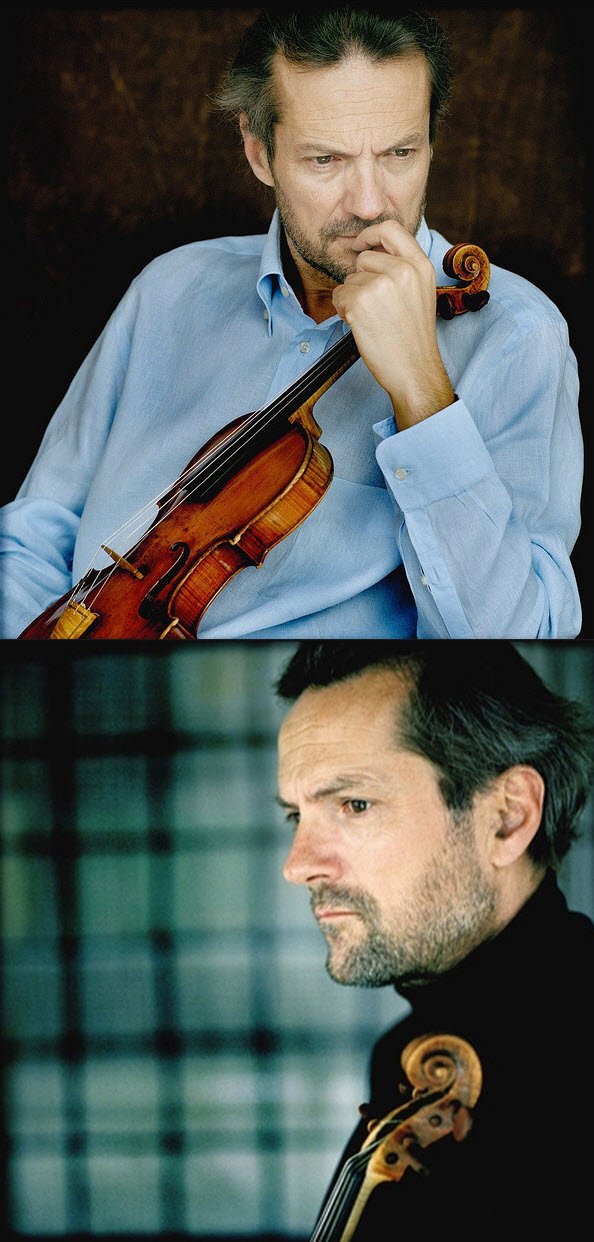 专辑曲目:
1. Violin Concerto in C major, Hob.VIIa:1 - 1. Allegro moderato (09:17)
2. Violin Concerto in C major, Hob.VIIa:1 - 2. Adagio (04:46)
3. Violin Concerto in C major, Hob.VIIa:1 - 3. Finale. Presto (04:18)
4. Violin Concerto in A major, Hob.VIIa:3 - 1. Moderato (11:00)
5. Violin Concerto in A major, Hob.VIIa:3 - 2. Adagio moderato (06:27)
6. Violin Concerto in A major, Hob.VIIa:3 - 3. Allegro (05:42)
7. Violin Concerto in G major, Hob.VIIa:4 - 1. Allegro moderato (08:14)
8. Violin Concerto in G major, Hob.VIIa:4 - 2. Adagio (06:09)
9. Violin Concerto in G major, Hob.VIIa:4 - 3. Allegro (03:30)
这里是其它用户补充的资源(我也要补充):
暂无补充资源