专辑英文名: Marvin Gayes Greatest Hits
专辑中文名: Marvin Gayes 精选专辑
资源格式: FLAC
发行时间: 1978年10月
简介: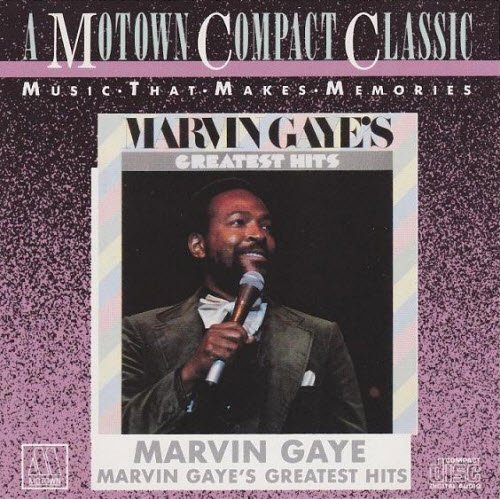 专辑介绍:

Marvin Gaye (本名是 Marvin Pentz Gay, Jr.) 1939出生於基督教家庭,父亲担任神职人员,从小在诗歌班里担任独唱,由於父亲生性保守管教严格,高中毕业后加入美国空军,退伍后回到华盛顿,在当地doo wop 乐团担任主唱。

1950 后期在 Bo Diddley 的赏识下发行单曲,开始在美国巡迴表演。
1961 年被 Berry Gordy相中, Motown签约。
1971 年 Marvin Gaye在 Motown 发行专辑What's Going On滚石杂誌将这张唱片列为史上最重要 500张专辑的第 6 名。
1973 年发行的另一张专辑 Let's Get It On。
1984 年 4 月 1 日,就在 Marvin Gaye45 岁生日的前一天,因为吸食古柯硷的老问题与父亲发生激烈争吵,衝突之下竟遭到父亲开枪,终结了他充满传奇的一生。


Marvin Gaye

Marvin经历药物成癮及财物困境,在1983年搬回家与父母同住,然而经常与父亲 Marvin Gay Sr产生争执,在一次激烈的争吵下,Marvin Gay Sr奋而朝儿子 Marvin Gaye的胸口开了两枪,由於Marvin Gay Sr身上的瘀青及Marvin Gaye身上验出的毒品反应,Marvin Gay Sr获判过失杀人,然而Marvin的家人宣称这是一起冷血的杀人行为,在法庭上 Marvin Sr.被问到是否爱他的儿子, Marvin Sr.回答:"这么说吧,我并不讨厌他。"。


I Hear It Through The Grapevine - Marvin Gaye 流言蜚语 - 马文盖 (1968)

我知道男人不应该哭, 但这些眼泪我hold不住!
失去妳, 会断送我的人生, 妳明白吗? 因为妳对我而言意义重大!
妳可以亲口告诉我, 妳爱上了别人, 而不是...
我听到流言蜚语, 人云亦云…
http://tw.myblog.yahoo.com/manwith-rules/article?mid=2897

Audio CD (25 Oct 1990)
Number of Discs: 1
Label: Universal
ASIN: B000001ADM

Released October 1976
Recorded 1963 - 1975
Genre R&B/soul
Length 34:05
Label Motown
Producer Marvin Gaye, Brian Holland, Lamont Dozier, Norman Whitfield, Leon Ware

Marvin Gaye's Greatest Hits is a compilation album released by American R&B/soul singer and Motown legend Marvin Gaye, released on the Motown label in 1976. The hits collection, with the exception of Gaye's signature 1960s hits "Can I Get a Witness", "How Sweet It Is (To Be Loved By You)" and "I Heard It Through the Grapevine", was a review of Gaye's signature 1970s hits including the socially conscious anthems "What's Going On" and "Mercy Mercy Me (The Ecology)", erotically-focused material like "Let's Get It On", "I Want You" and "After the Dance", his bluesy and funky autobiographical "Trouble Man" and the famed live version of his quiet storm classic, "Distant Lover". The album has received a Gold as well as a Platinum Certification by the RIAA in 1993.


引用
by Ed Masley - May. 20, 2011 04:16 PM
The Arizona Republic

Saturday, May 21, marks the 40th anniversary of "What's Going On," the socially conscious masterpiece on which Marvin Gaye's legend has increasingly come to rest. It's been named the best album of all time (NME) and the greatest album of the 20th Century (The Guardian), placing sixth on Rolling Stone's most recent list of Greatest Albums of All Time.

But the legacy he left behind in 1984 when his father gunned him down in the heat of a family dispute went deeper than that album, spanning decades, from his breakthrough single, "Stubborn Kind of Fellow," to the Grammy-winning "Sexual Healing."

Here's one critic's take on the essential Marvin playlist.

1. "I Heard it Through the Grapevine" (1968)

This is the perfect Motown single. Every nuance of Norman Whitfield's dramatic production was custom-designed for maximum impact, from the tension of the string part to that note Gaye hits on "guy" with that raspy falsetto of his in the opening line, "I bet you're wonderin' how I knew 'bout your plans to make me blue with some other guy you knew before." And that tinkling piano Whitfield doesn't even introduce until the final chorus? Genius. Plenty of perfectly legendary artists have taken a crack at this mountain of soul, from Smokey Robinson & the Miracles to Gladys Knight & the Pips and Creedence Clearwater Revival, but Gaye's recording remains the quintessential version. Motown's biggest-selling single of the 1960s, it put in seven weeks at No. 1.

2. "Let's Get It On" (1973)

It's not the most romantic come-on ever, right? I mean, how many guys could hope to get it on within a week of trying that one out at home? But Marvin got away with it because he made it sound so sexy, growling "You don't have to worry that it's wrong/If the spirit moves you, let me groove you." And how many artists would follow a triumph as righteous as "What's Going On" with a come-on as transparent as "We're all sensitive people with so much to give . . . " and, therefore, we should get it on? A vocal tour de force for Gaye, it kicks off with a classic wah-guitar lick that may help explain how wah-guitar became the go-to instrument for the '70s porn industry, although Marvin himself went on to say he hoped his record wasn't advocating "promiscuity."

3. "What's Going On" (1971)

A heartfelt plea for peace and understanding while America was fighting over whether we had any business sending children off to die in Vietnam, it laid the struggle out in simple human terms. "Mother, mother/There's too many of you crying/Brother, brother, brother/There's far too many of you dying." His delivery is almost conversational in spots, which only makes it that much more emotionally devastating - the way he practically whispers "You see" before belting out the lyric, "war is not the answer." Meanwhile, the Funk Brothers play it like a jazz gig, underscoring Marvin's pleading with sophisticated soul. The reaction at Motown? Berry Gordy, Jr., didn't want to put it out, said it was "uncommercial," but when Marvin said he'd never make another record, Gordy changed his tune, and the rest is history.

4. "Ain't No Mountain High Enough" (1967)

Diana Ross' version was the bigger hit, but this was better, making the most of the musical chemistry between Gaye and his frequent duet partner, Tammi Terrell. You'd never know their vocals were recorded separately, at different sessions. I'd always imagined the two of them gazing longingly into each other's eyes, especially on the chorus, where their voices come together in a celebration of the kind of love that can't be kept away by mountains, valleys, rivers or conflicting session dates.

5. "Got to Give It Up, Part 1" (1977)

His greatest funk hit sounds like there's a party going on behind that sweet falsetto as Marvin schools you on the reasons dancing couldn't hurt. "I used to go out to parties and stand around," he reveals in the opening verse. " 'Cause I was too nervous to really get down." But then, he overcame his fears and now the girls tell him, "Let's get it on." Or words to that effect. Apparently, he meant those words to be facetious, mocking his label's attempts at getting him to join the disco revolution, but disco era never came up with a more compelling invitation to the floor than "Long as you're groovin', there's always a chance/Somebody watchin' might wanna make romance."

6. "You're All I Need to Get By" (1968)

That ascending harmonic progression just before the gospel-flavored chorus, where Marvin and Tammi are trading off vocals about the many ways her love can "make a man out of a soul that didn't have a goal," may be as close as Motown ever came to bottling euphoria. Amazing, the vocals were again recorded separately - to allow more time to recover from surgery on the malignant brain tumor that would ultimately cause her death in 1970.

7. "How Sweet It Is (To Be Loved By You)" (1964)

His most successful pop hit at the time, "How Sweet It Is" was all about that classic early Motown bounce, especially the bass part on the chorus hook. The whole track sounds as happy as the vocal, one of Marvin's sweetest, smoothest, most seductive vocals. Check the way he sings the line, "I needed the shelter of someone's arms and there you were/I needed someone to understand my ups and downs and there you were."

8. "Your Precious Love" (1967)

Another duet with Terrell, this soulful, finger-popping ballad was a throwback to the golden age of doo-wop - written, like "Ain't No Mountain High Enough" and "You're All I Need to Get By," by Nickolas Ashford and Valerie Simpson. Marvin's vocals are brilliant, of course, but Tammi steals the show with "I look in the mirror, and I'm glad to see/Laughter in the eyes where tears used to be." D'Angelo and Erykah Badu teamed up to cover this one in the '90s, but they couldn't top it.

9. "Too Busy Thinking About My Baby" (1969)

You wouldn't want to be the single Marvin Gaye released to follow through on the artistic triumph of "I Heard It Through the Grapevine." But this cover of an old Temptations single somehow managed to become his second-biggest selling single of the decade. And it's held up really well. It does sound like an old Temptations single, but he definitely met it on his own terms, running down the list of all the things he has no time to think about because, as he sings on the best part of the song, "when it comes to thinkin' 'bout anything but my baby, I just don't have the time," revisiting the high note trick from "Grapevine" on "just."

10. "Ain't That Peculiar" (1965)

Smokey Robinson co-wrote and produced this upbeat track and you can definitely hear it in the lyrics and the backing vocals. The call and response with the backup singers on the chorus is the hook that reaches out and grabs you first time through, but Marvin's vocal is flawless throughout, and he nails the broken essence of the line, "A child can cry so much until you do everything they say/But unlike a child my tears don't help me to get my way."

Also classic: "Pride and Joy," "Inner City Blues (Make Me Wanna Holler)," "Mercy Mercy Me (The Ecology)," "Ain't Nothing Like the Real Thing," "If I Could Build My Whole World Around You," "Distant Lover," "Sexual Healing," "Stubborn Kind of Fellow," "I'll Be Doggone," "That's the Way Love Is."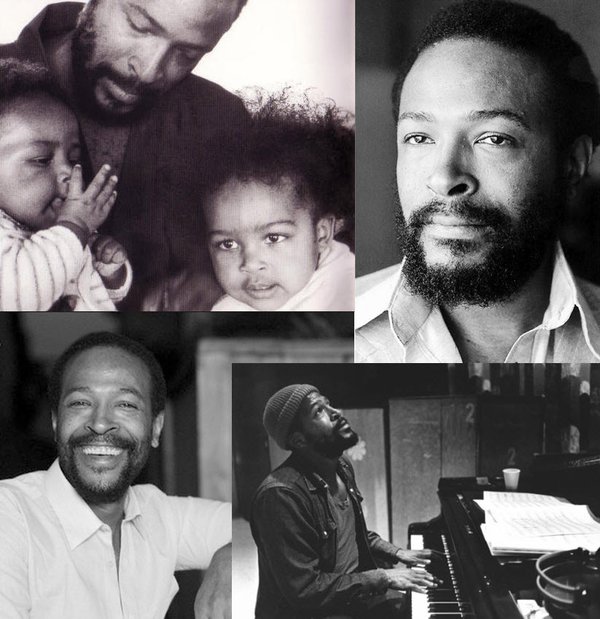 Marvin Gaye (April 2, 1939 – April 1, 1984), born Marvin Pentz Gay, Jr.,was an American singer-songwriter and musician.
专辑曲目:
01. Let's Get It On 4:02
02. I Want You 3:56
03. How Sweet It Is (To Be Loved By You) 2:54
04. I Heard It Through the Grapevine 3:15
05. Mercy Mercy Me (The Ecology) 3:14
06. What's Going On 3:55
07. After The Dance 3:31
08. Can I Get A Witness (Album Version (Stereo)) 2:47
09. Trouble Man 6:04
10. Distant Lover (live) 6:56
这里是其它用户补充的资源(我也要补充):
暂无补充资源