专辑英文名: Lazar Berman Rarities: Bach – Chopin – Brahms – Dynamic
专辑中文名: 古典传奇录音系列—贝尔曼珍稀
古典类型: 全集作品
资源格式: FLAC
发行时间: 2012年08月26日
简介: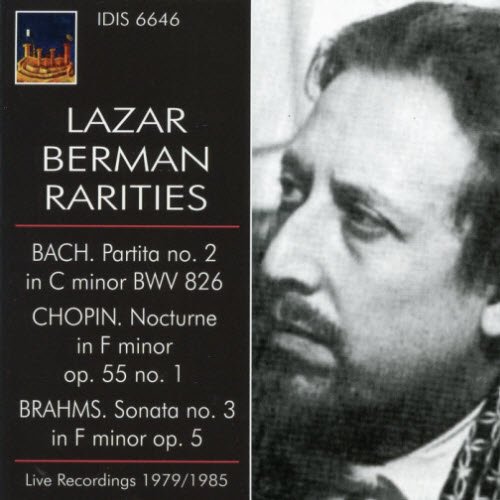 专辑介绍:

誉满世界乐坛的俄罗斯钢琴巨匠贝尔曼(Lazar Berman)三岁开始学习钢琴,七岁首次演奏录制莫扎特作品的唱片,九岁入读莫斯科音乐学院,师承钢琴大师戈登威泽(A.Goldweiser)。1956年他赢得"国际李斯特钢琴大赛"首奖而一鸣惊人,他所备受注目不仅是超凡卓越的钢琴造诣,还有他对乐章的透彻且全面的洞察力,演奏份外细腻,充满 澎湃的动力。

此专辑再度带来贝尔曼的独奏珍贵录音,纪录了1979与1985年期间以独奏带来巴哈(J.S.Bach)的[C小调第2帕蒂塔,BWV826(Partita No.2 in C minor,BWV826)]、肖邦(Fryderyck Chopin)的[F小调第1夜曲,作品55(Nocturne in F minor,Op.55 No.1)]与及布拉姆斯(Johannes Brahms)的[F小调第3奏鸣曲,作品5(Sonata No.3 in F minor,Op.5)],贝尔曼使出精湛过人的钢琴绝技,独奏演出尽显功架,钢琴大师的珍贵录音你又岂能错过!

古典传奇录音系列—贝尔曼珍稀
历史录音(Lazar Berman Rarities)
Lazar Berman(钢琴)
IDIS6646 (1 disc)

Label: Italian Discographic Institute
Catalog No: IDI 6646
Format: CD
Release Date: 2012-07-05
Number of Discs: 1
Running time: 57 min.
Mono/Stereo: Stereo
UPC Code: 675754040734


Published on August 26, 2012
Lazar Berman Rarities = BACH: Partita No. 2; CHOPIN: Nocturne in F Minor; BRAHMS: Piano Sonata No. 3 in F Minor – IDIS

Lazar Berman Rarities = BACH: Partita No. 2 in C Minor, BWV 826; CHOPIN: Nocturne in F Minor, Op. 55, No. 1; BRAHMS: Piano Sonata No. 3 in F Minor, Op. 5 – Lazar Berman, piano – IDIS 6646, 57:33 [Distr. by Qualiton] ****:

"A phenomenon of the musical world," were the words with which Emil Gilels described pianist Lazar Berman (1930-1975). Berman's appearance in 1975 in the U.S., and his subsequent recording of the complete Liszt Transcendental Etudes, set the West on its ear. Berman's rise in stature became meteoric; but many would claim his agents and imprasario Jacques Leiser overly exploited Berman, and he suffered a creative burnout, particularly since he had ever to contest with Soviet restrictions and the KGB before his emigration to Italy in 1990.

IDI resurrects Italy-based live performances from 1979, 1983, and 1985 from Milan and Carate Brianza, respectively. The Brahms may represent the most audacious piece on the program, but the Chopin stands out, given the infrequency of Chopin on a Berman recital.

Berman refused to play Chopin, explaining that "Of course I used to play him, but many years ago I entered for a Chopin competition in Warsaw, and I did not qualify. It was a tremendous blow to my pride, and I vowed that I would never play him again." His playing of Chopin, however, exists in documents, in both a concert film and a DGG recording of the Polonaises from the 1970s.

Beginning with Bach's French Overture to the Partita in C Minor, live from Milan 1985, we feel the presence of a facile and monumental technique in the service of an eminently musical mind. The shape of the phrases, the cleanliness of articulation, and the luxury of passionate filigree all literally explode in a burst of jubilant expression. We feel no attempt to make the piano a harpsichord, but the Allemande assumes a darkly introspective intimacy rare in music. A fleet, contrapuntal Courante leads to a haunted Sarabande, and we feel as though Berman's plastic art were on a par with that of Backhaus or Casadesus. The last two movements, Rondeau and Capriccio, exert a muscular authority and joie de vivre that dance and sing with voluptuous authority.

Chopin's Nocturne in F Minor, Op. 55, No. 1, in my opinion "has belonged" to Shura Cherkassky; but Berman's studied rendition, the trills etche and the sudden shift to the dramatic middle section, bespeak an equally informed sympathy with this intricately passionate music. Berman's silken legato and pearly play quite beguile us, as they did the Milanese in 1979.

Clara Schumann heralded the Brahms 1854 F Minor Piano Sonata as "one of the most inward pieces that recent piano music has to offer." The combination of ardent emotional expression and architectural formal necessity combine with the composer's stylistic leanings to both Beethoven and Schumann. Berman bestows his Herculean technique, heated tempos, and volatile temperament upon the opening Allegro maestoso, which here (1983) surges with alternately symphonic and intimate gestures. Unfortunately, there are sudden cough or hiccoughs in the sound document, but the potent arch of the first movement maintains its Promethean fire. Sweet sixths mark the tender nocturne Brahms labels Andante espessivo, with its quoted lines from a poem by Sternau about two lovers who embrace in the moonlight. The homage clearly points to Robert Schumann, the drooping figures often reminiscent of that composer's Intermezzi and folk-like filigree.

Rarely have we heard Lazar Berman so intimately bemused, his dimunendi plastically diaphanous. Berman's smooth legato and strummed chords turn the movement into a troubadour's song, the piano a stringed rather than percussive instrument. The marvelous choral-setting of the movement's "epilogue" might have inspired Scriabin's notion of "mysterium."

With the rollicking Scherzo, Brahms reveals that he, like Beethoven or Schumann, could exert gruff and impetuous energies, his own nod to Dionysus and Florestan. Berman's attack proves as vehement, sinewy, and impish as his nocturne had been gossamer. The Trio section, however, assumes a hymnal character, stately and optimistic, the Beethoven rhythm just barely contained below the surface. A bravura transition by Berman sails us back to the da capo, potent and magisterial, rife with the composer's youthful confidence. Brahms designates the fourth movement Rueckblick, a "backward glance" that embraces the Andante and the funereal Beethoven Fifth motto. Sternau, too, speaks of "how soon the trees become withered." In the manner of Haydn, Brahms molds his Finale: Allegro moderato ma rubato as a sonata-rondo that leaps up in question-and-answer form. The Brahms predilection for strict counterpoint juxtaposed with his galloping Schumann fantasies proves luxuriant under Berman's sympathetic hands. The major-key coda, contrapuntal and ingenuously childlike at once, moves with that flamboyant panache in which both composer and Berman can display their cooperative prowess. The last thrusts upon and sweeps of the keyboard light up an already demonstrative audience.

—Gary Lemco


引用
Album Summary
>Bach, Johann Sebastian : Partita for Keyboard no 2 in C minor, BWV 826
>Chopin, Frédéric : Nocturne for piano no 15 in F minor, Op. 55/1, CT. 122
>Brahms, Johannes : Sonata for Piano no 3 in F minor, Op. 5
Performer

>Lazar Berman (Piano)

Composers

>Frédéric Chopin (1810 - 1849)
>Johannes Brahms (1833 - 1897)
>Johann Sebastian Bach (1685 - 1750)

Notes & Reviews:

The great Russian pianist Lazar Berman became famous in the west only from the seventies of the last century, but he was often considered, simply, a virtuoso specialized liszt 's repertoire. His amazing technique made him able to play every kind of pianistic repertoire with a quality of sound and a variety of instrumental colors completely unique, that made him successfully deal with all the of the great pianistic repertoire with very original results.

This CD collects three live recordings of works rarely performed in concert by the Maestro as for example Brahms great Sonata op.5, A work so difficult and complex that embarrassed the most famous pianists. Berman in plays this work with an extraordinary expressive depth.
Notes & Reviews:

Recording information: 1979-1985.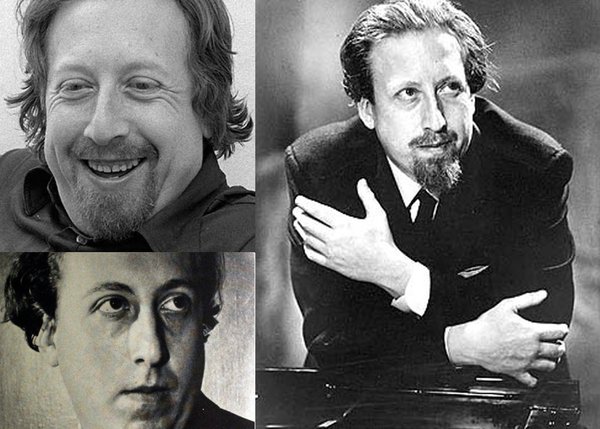 专辑曲目:
Johann Sebastian Bach: Partita No. 2 in C minor, BWV 826
01. I. Sinfonia 04:40
02. II. Allemande 03:25
03. III. Courante 01:48
04. IV. Sarabande 03:01
05. V. Rondeaux 01:33
06. VI. Capriccio 01:49

Fryderyk Chopin:
07. Nocturne No. 15 in F minor, Op. 55, No. 1 05:14

Johannes Brahms: Piano Sonata No. 3 in F minor, Op. 5
08. I. Allegro maestoso 07:56
09. II. Andante espressivo 12:07
10. III. Scherzo: Allegro energico 04:44
11. IV. Intermezzo (Ruckblick): Andante molto 03:45
12. V. Finale: Allegro moderato ma rubato 07:25

Lazar Berman, Piano
这里是其它用户补充的资源(我也要补充):
暂无补充资源