专辑英文名: Definitive All-Time Greatest Hits
专辑中文名: 永恒情歌精选
音乐风格: 乡村
资源格式: FLAC
版本: [2 CD]
发行时间: 2009年05月12日
简介: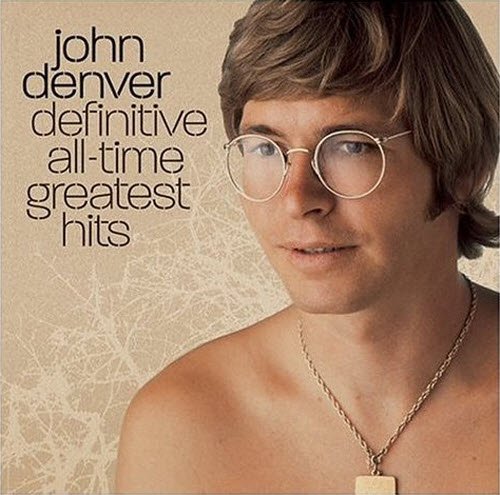 专辑介绍:

◎2座葛莱美奖得主,本世纪最伟大的乡村摇滚歌手24首精彩音乐生涯总回顾
◎收录Leaving On A Jet Plane、Leaving On A Jet Plane、Annie's Song等膾炙人口的经典好歌

  充满人文气息,全球总销售量超过两亿张,堪称本世纪最伟大的乡村摇滚及美式民谣创作歌手约翰丹佛John Denver,以「搭机离开Leaving, On A Jet Plane」一曲传递即将搭机上前线离开心上人之难舍心境的动人作品,建立起其个人音乐事业的基石,生前以其简单真诚却别具优美特色与韵味手法而闻名全球,此辑特别将John Denver最精华的24首膾炙人口的雋永经典鉅作予以网罗,包括:不断为后人所翻唱、儼然已成了乡村乐国歌所描写出生活中点点滴滴单纯而美丽事物的「乡村路带我回家Take Me Home Country Roads」、温柔地抚慰人心的双料排行冠军曲「肩上的阳光Sunshine On My Shoulders」、描述他对家以及妻子的爱恋、获得无数乐迷共鸣而双双成为全美双料排行#1的「再度返家Back Home Again」「安妮之歌Annie's Song」,真挚的歉意令人动容与奥莉薇亚纽顿强Olivia Newton-John甜美的合音为这首优美的作品更添悦耳动听性的「远走高飞Fly Away」等,首首都是排行榜热门畅销单曲,忠实纪录John Denver的音乐旅途树立里程碑的关键作品,绝对是张值得永恒典藏的世纪典藏。


CD编号 : 88697503612
艺人/团体 : 约翰丹佛 John Denver
专辑名称 : 永恒情歌精选(情歌名人堂7)
Definitive All-Time Greatest Hits
音乐类型 : 西洋 [CD 精选辑]
发行公司/日期 : SONY MUSIC 2009/5/12

Audio CD (October 5, 2004)
Label: RCA
ASIN: B0002WZT4S

One of the best-selling and most-loved artists of all time. John Denvor's legacy as a singer/song-writer resonates as strongtly today as before his untimely death.

Definitive All-Time Greatest Hits is the first complete single CD of John Denvor's original hit recordings, digitally remastered for optimum sound. A must-have for long-time fans or new converts, the songs are a great way to update your Denver library or introudce you to the incredible body of work of this legend.


October 12, 2004 -- Here it is, the seventh anniversary of John Denver's death and another John Denver greatest hits album is now in music stores. This makes the fourth Denver greatest hits album, but this one has the distinction as being labeled "Definitive All-Time Greatest Hits." This two-disc, 24-song release with 20 pages of liner notes and photos does indeed have Denver's greatest hits, among others, as well as some previously unreleased recordings.

The recordings are lean and clean-sounding. Denver's best recordings are those which are not dominated by a lot of orchestration. His strong singing voice easily dominates. The lyrics come through crystal clear. One of the few exceptions is "Calypso" which sounds a little too over-produced. Fortunately, the bonus disc has a fine, lean, previously unreleased, acoustic mix of "Calypso." This track demonstrates once again that Denver's voice needs no acoustical camouflage. Unlike some modern singers, whose voices are so poor, record producers have to literally bury them in background music, Denver's voice soars like an eagle, especially when he lets it flow. True, at times Denver sounds as if he's breathing breathing helium in between the notes. In the song, "The Eagle and the Hawk," Denver's voice seems to be straining at the top of his range at times. His voice even seems to break slightly at one point. At other times, his voice is less forced, more melodic, as it is in his monster hit "Back Home Again."

So what's on the album? Songs are: Disk one, track one, Leaving, On A Jet Plane, 2, Take Me Home, Country Roads, 3, Sunshine On My Shoulders, 4, Poems, Prayers And Promises, 5, The Eagle And The Hawk, 6, Rocky Mountain High, 7, Farewell Andromeda (Welcome To My Morning), 8, Annie's Song, 9, Back Home Again, 10, Sweet Surrender, 11, Thank God I'm A Country Boy, 12, I'm Sorry, 13, Calypso, 14, Fly Away, 15, Looking For Space, 16, Like A Sad Song, 17, My Sweet Lady, 18, Perhaps Love, 19, Shanghai Breezes, 20, Wild Montana Skies.

On disc two, there are just four songs, all previously unreleased versions of popular songs. Track one is a spare version of Denver's first hit (and Peter, Paul and Mary's only number one hit), "Leaving, On A Jet Plane" recorded in Hollywood in 1966. Track 2 is Denver's version of The Band's big hit, "The Weight" recorded by Denver in 1970. Track 3 is an acoustic mix of "Annie's Song," recorded in 1974. Track 4 is an acoustic mix of "Calypso" recorded in 1974. According to the album notes, both these previously unreleased versions of "Annie's Song" and "Calypso" were recorded on the same day as the popular versions of these songs were recorded. I actually prefer these acoustic versions to the popular, heavily orchestrated versions of these songs.

John Denver's version of "The Weight," written by Robbie Robertson, is a fully orchestrated, lively version of this solemn, religiously symbolic song, while "Leaving on a Jet Plane" is a solid acoustic version of Denver's first hit song. The bonus disc also has a good acoustic mix of "Annie's Song." In the acoustic mix, Denver's voice sounds stronger, less muted, than it does in the popular version. "Annie's Song," dedicated to his wife, is among the most popular love songs ever recorded.

More than just a musician and singer, though, Denver, was most of all a songwriter. His best songs have intensely personal lyrics with universal appeal. From time to time his inner demons come to the surface, as in "Looking For Space" when he sings, "Sometimes I fly like an eagle/ Sometimes I'm deep in despair." This lyric sums up his bipolar disorder very well. "Like a Sad Song" also reveals Denver's times of despair. Denver was also an alcoholic, a condition which haunted him to the very end. Yet, some of his songs are incredibly joyful and soulful, like "Sunshine on My Shoulders," "Rocky Mountain High" and the raucous "Thank God I'm a Country Boy." Perhaps Denver's greatest gift to the world was that he shared his joy with us much more than he shared his pain. He suffered a lot in his life, but his music is overwhelmingly positive, loving and soulful.

Of all the songs on this album, easily the most disposable is Denver's duet with opera star Placido Domingo in "Perhaps Love." Their singing styles are so different that their duet is like an attempt to mix oil and water. On the other hand, Denver's duet with Emmylou Harris in the lively "Wild Montana Skies" works very well.

It's not enough just to the songs on the album. What is not on the album? Songs not on the album which are found on the other three best of John Denver albums include "Goodbye Again," "Grandma's Feather Bed," "This Old Guitar," "Follow Me," "Starwood in Aspen," "For Baby (For Bobbie)," "Love Again," "Dancing With the Mountains," "I Want to Live," "Gold and Beyond," "Autograph," "Rhymes and Reasons," "Seasons of the Heart," "How Can I Leave You Again?" "Some Days Are Diamonds (Some Days Are Stone)."
So is this really the definitive John Denver greatest hits album? That is up to each John Denver fan to decide, based on the song lists. It is certainly the best John Denver album I've ever heard. For those of you worried about whether or not you can make a backup copy of this album to protect against possible future damage to your disk, don't worry, I checked, and it can be backed up.

Although Denver got his start in the folk tradition, few of his songs concern social issues. Exceptions include a few environmental songs, like "Calypso." Songs like "Rocky Mountain High" have an environmental slant in the lyrics "more people, more scars upon the land." Denver's message is subtle. He never bashes the listener over the head with his viewpoint the way some folk singers do.

Born Henry John Deutschendoft Jr. in Roswell, New Mexico on December 31, 1943 (well before the flying saucer crashed), Denver got his big break in show business when he joined the established folk group The Chad Mitchell Trio as lead singer in the 1960s. He then became a solo artist. He went on to become a dominant performer in the 1970s, topping the charts a number of times. For a time, he was the most popular recording artist in the world. He carved out his own musical niche. He wasn't part of any popular musical trend or fad. His music was distinctly different than country, rock and roll or other popular styles of the day. He was the ultimate crossover artist. His first greatest hits album sold 10 million copies. He also became an actor, appearing with George Burns in the popular movie "Oh, God!" He later became more involved in social activism. The number of his recordings dropped steeply after the 1970s.

I've been a John Denver fan for many years. I once attended a concert of his in Duluth, Minnesota about 30 years ago. I had to drive 100 miles to get to the concert, but it was worth the trip. It was the best concert I've ever been to. There was no warmup band, and no delay waiting for the star performer to appear. Denver stepped into the spotlight right on time. There was just Denver and an acoustic bass player. He sang for three hours. He told jokes. He even juggled. The guy was a terrific entertainer. He sounded fantastic and he had a winning personality. He also seemed unusually humble for such a big star. I got the distinct impression that he was a nice guy. It was more than just a slick image. I read a story recently that Denver once showed up unannounced at a hospital and sang for hours to a couple of young victims of an airplane crash in which they were badly injured and most of their family died. He remained friends with those two boys for years after that, right up to the time of his death, Oct. 12, 1997, in an airplane crash.

Hearing this album brought back a lot of fond memories of that Duluth concert, and the many other times I saw Denver on television, in the movies and all the times I've listened to his warmhearted songs and felt a spiritual lift. Denver's songs are the equivalent of a walk in the mountains, the forests, or along a quiet ocean beach. It is comforting to think that although John Denver is gone, and that his generation will be only memories someday, that his music will soar on forever. This album is a fitting chapter in that timeless, healing musical legacy. It rates an A.


引用
review
[-] by James Christopher Monger

Placing the word definitive on a best-of collection is usually a panicked label attempt to fill last-minute Christmas stockings, but in the case of RCA's Definitive All-Time Greatest Hits John Denver retrospective, it's a truly apt description. Coinciding with the 35th anniversary of Denver's first album release on RCA, 2 Disc, 24-track overview of the country-pop singer's storied career is the most concise and nuanced yet. Digitally remastered from the original master tapes, road-trip classics like "Take Me Home, Country Roads," "Rocky Mountain High," and "Back Home Again" are as warm as the singer's lauded tenor. There are no gimmicky re-recorded cuts or disappointing live tracks -- "Thank God I'm a Country Boy" spent its time on the charts in its live incarnation -- and his spotty '80s material is only briefly covered ("Perhaps Love" and "Shanghai Breezes"). The only real omission is "Grandma's Feather Bed," but the 20-page booklet and song-by-song commentary by longtime friend Milt Okun more than suffice. The bonus disc, maddeningly sparse at just four tracks, makes up for its brevity by including a goose bump-inducing 1975 acoustic version of "Calypso." With the pompous string section, clanging ship bell, and unnecessary drum fills removed, his ode to Jacques Cousteau's tenacious vessel is a wonder of emotion and nautical kinsmenship that inarguably exhibits Denver as one of the greatest vocalists of his time. For those unwilling to sift through the exhaustive four-CD Country Roads Collection, this Definitive package is a good buy and a rewarding visit with an old friend. Initials pressings include bonus disc. Personnel: John Denver (vocals, guitar); Emmylou Harris, Plácido Domingo (vocals). Audio Mixer: Chris Theis. Liner Note Authors: Milton Okun; David Wild. Recording information: Goldstar Recording Studios, Hollywood, CA (??/1966-04/1983). Photographer: Lowell Norman. Arrangers: John Denver; Milton Okun; Dick Kniss; Lee Holdridge ; Mike Taylor .

引用
5.0 out of 5 stars The best single-CD collection of John's work available., January 11, 2008
By
Tyler Rose "-Tyler" (Sweetwater, Tennessee) - See all my reviews
This review is from: John Denver - Definitive All-Time Greatest Hits (Audio CD)
First off, let me just say that there will never be another John Denver. He has solidified himself as one the history's most beloved song writers. Now, onto the nitty gritty. This CD contains 24 songs. The 1st 20 songs are on the 1st CD and contain all of John's #1 hits. A treat on this CD, for me anyway, was the entire LIVE version of "Thank God I'm A Country Boy. That's right, all 3:22 seconds of it. It also contains alot of the songs that people call their favorites of his like "The Eagle and the Hawk" and "Farewell Andromeda (Welcome To My Morning)" among others. The other 4 songs are on the 2nd CD, and are previously un-released material. The CD contains an alternate version of "Leaving On A Jetplane", "The Weight", an acoustic version of "Annie's Song" and an acoustic version of "Calypso". The inside booklet of the CD has plenty of inside info for you. Publicity shots, original LP covers, an essay on John and his music, and descriptions of how each song came to be. Ofcourse, the most important, vital part of any CD is the sound quality. This is the best restoration I've ever encountered of John's music. Some compilations have only managed to digitalize the sound until it has no more feeling. That isn't the case here. These songs have been restored to perfection, and only to that point. Another great part of it is that these songs are the original cuts. I for one, have been a victim multiple times of finding a CD of John Denver in some store, look at the songs on it, and think it's just what I've been wanting, only to get home and find that they are the horrible re-releases that I've been tricked into buying not once, not twice, but three times in the past. Alot of reviews claim that there is a better value in "The Essential John Denver" collection. That collection may be suitable for some. But for those of you who just want 1 CD with all the got-to-haves on it, skip "The Essential" collection and choose this one wich, between the two, has superior sound quality. And plus, at this price, it is absolutely unbeatable. So if you find yourself wanting the best single CD compilation of John Denver available out there, this is without a shadow of a doubt the answer.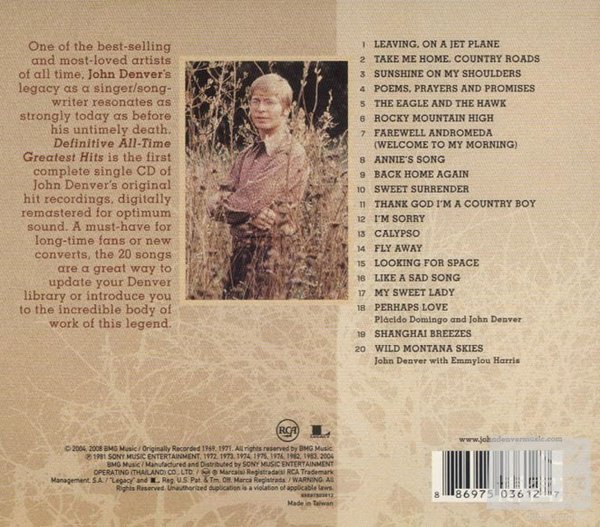 专辑曲目:
Disc 1

01. Leaving on a Jet Plane 3:37
02. Take Me Home, Country Roads 3:08
03. Sunshine on My Shoulders 5:11
04. Poems, Prayers and Promises 4:05
05. Eagle and the Hawk 2:07
06. Rocky Mountain High 4:43
07. Farewell Andromeda (Welcome To My Morning) 4:01
08. Annie's Song2:58
09. Back Home Again 4:43
10. Sweet Surrender 5:26
11. Thank God I'm A Country Boy 3:18
12. I'm Sorry See 3:30
13. Calypso 3:34
14. Fly Away4:08
15. Looking for Space 3:58
16. Like a Sad Song 3:42
17. My Sweet Lady 4:25
18. Perhaps Love 2:56
19. Shanghai Breezes 3:11
20. Wild Montana Skies 4:02

Disc 2 (Bonus)

01. Leaving on a Jet Plane 3:12
02. Weight 4:29
03. Annie's Song 3:00
04. Calypso 3:35
这里是其它用户补充的资源(我也要补充):
暂无补充资源