专辑英文名: Haydn & Hummel Trumpet Concertos
专辑中文名: 海顿 胡梅尔 小号协奏曲
古典类型: 协奏曲
资源格式: FLAC
发行时间: 2008年10月14日
简介: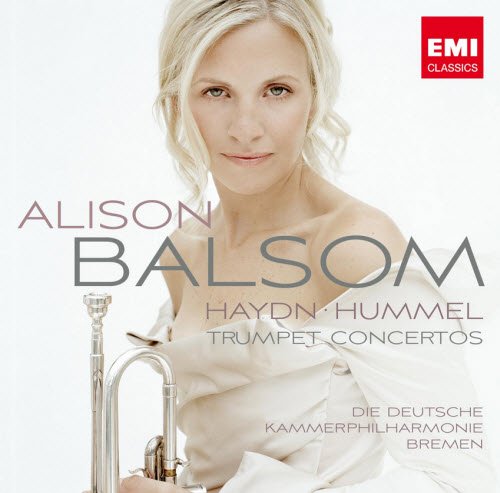 专辑简介:

艾莉森.鲍尔珊,小号/布莱梅德意志室内爱乐管弦乐团
Haydn/Hummel: Trumpet Concertos
Alison Balsom/Die Deutsche Kammerphilharmonie Bremen

本片的四首小号协奏曲是来自完全不同年代作曲家的作品,横跨了巴洛克到古典乐派前后150年的时间,而这150年的期间正好也是欧洲从传统手工跨入工业时代的交界,这个工业文明的转变,直接影响了音乐演奏和风格的变化,而小号吹奏也是,本片这四首协奏曲就见证了这个转变的过程,看著小号从无音栓的自然小号进展到有音栓的小号。

片中最早的是义大利巴洛克作曲家托瑞里的协奏曲,出生於十七世纪中叶的他,当时的小号家所演奏的技巧和四世纪前小号诞生时的技巧没有两样。但到了十八世纪中叶,也就是涅鲁达创作他的协奏曲时,这种无音栓小号就已经式微,被新式小号所取代,在维也纳的宫廷中流行的是一种按键式小号,海顿和胡麦尔的协奏曲都是为这种如今已经失传的乐器所写的。这种新式小号让小号家可以吹奏半音阶,并且自由的转调,正符合古典乐派的曲式需求。海顿与胡麦尔的小号协奏曲是音乐史上最著名的小号协奏曲。海顿的协奏曲是他唯一流传下来的此类作品,是特别为宫廷小号手温丁格所写,完成於1796年,当时他已经离开宫廷乐长的工作。胡麦尔的协奏曲也同样是为温丁格所写,有意思的是,这是为1804年的新年所写的作品。

这份录音是当今最受欢迎的女性小号演奏家鲍尔珊在EMI的第三份录音,短短一年半内即发行了三张专辑,足见鲍尔珊演奏的魅力。在巴黎音乐院拜著名北欧小号家Hakan Hardernberger为师的鲍尔珊,在这些经典小号协奏曲中,展现了饱满的音色与精準的技巧。

【Track list】
1-3. 胡麦尔:降E大调小号协奏曲
4-6. 海顿:降E大调小号协奏曲
7-9. 托瑞里:D大调小号协奏曲
10-12. 涅鲁达:降E大调小号协奏曲


引用
   Alison Balsom(艾利森 巴尔松)1978年10月7日生于英国。自11岁随John Miller、Paul Benniston、John Wallace学习。1999年进入法国国立高等音乐学院,随Antoine Cure学习。得奖经曆:97年获John Fletcher 铜管大赛优胜奖;98年获得BBC年度铜管青年演奏家称号;99年获得伦敦交响乐团招考半准决赛入围。Alison随后又在巴黎音乐学院的市府学校学习小号,师傅哈肯哈登伯格。并在第四届莫裏斯安德烈国际小号比赛中获得第三名和最具美感银色奖。她进来被任命为市府音乐及戏剧学校的小号访问学者,并被英国古典音乐奖评为年度最佳青年英国表演者。Alison Balsom的独奏和协奏曲目非常广泛,从阿尔比诺尼泽梅曼。她既演奏现代小号也演奏传统小号。

在青年艺术家音乐基金会的推荐下,Alison 引起了百代古典唱片公司的关注,在2002年为她发行了首张唱片,Alison现为BBC第三套广播演奏中的新生代艺术家节目中的一员,她已经在维格摩尔音乐厅和全部BBC管弦乐队合作演出过,这其中包括BBC交响乐和Andrew Davis爵士及BBC威尔国家管弦乐团。美女小号手在《Caprice》专辑中改编莫扎特《第11钢琴奏鸣曲》《夜后咏叹调》法雅的《7首流行的西班牙歌曲》帕格尼尼的《随想曲第24号》巴赫的《第一小提琴协奏曲》等等大家耳熟能详的曲目。通过这张专辑作品反映出了Alison 高超的小号演奏技巧。
  专辑英文名: Haydn & Hummel Trumpet Concertos
  艺术家: 艾利森 巴尔松 Alison Balsom
  古典类型: 协奏曲
  发行时间: 2008年
  地区: 美国
  语言: 英语
Release Date: 10/14/2008
Label: Emi Classics Catalog #: 16213 Spars Code: n/a
Composer: Johann Nepomuk Hummel, Franz Joseph Haydn, Johann Neruda, Giuseppe Torelli
Performer: Alison Balsom
Orchestra/Ensemble: German Chamber Philharmonic Bremen
Number of Discs: 1
Recorded in: Stereo
Length: 0 Hours 53 Mins.
http://www.arkivmusic.com/classical/album....d=205893
UPC: 5099921621307
Artist: Alison Balsom
Format: CD
Release Year: 2008
Record Label: EMI Classics
Genre: Classical, Concerto
Alison Balsom's fourth CD for EMI Classics features Franz Joseph Haydn and Johann Nepomuk Hummel's evergreen trumpet concertos, coupled with concertos by Johann Baptist Georg Neruda and Giuseppe Torelli. Balsom also directs Die Deutsche Kammerphilharmonie Bremen.
The Haydn Trumpet Concerto is arguably the most popular work for the instrument as well as one of the composer's best known compositions, a favourite of performers and audiences alike for its wonderful melodic invention and challenging virtuosity. Reviewing Alison's performance with the Milwaukee Symphony in March of this year, the Journal Sentinel wrote, "Alison Balsom's details of attack, release, dynamics and timbre polished Haydn's … Trumpet Concerto into an exquisite little gem. …This concerto … has its moments of brilliant bugling. More often, though, it [shows the short-lived keyed trumpet] capable of a refined sort of expression …. Balsom excelled at both facets of the concerto. She snapped off staccato 16ths with ease and signal calls with clarion purity and power. And she shaped and colored Haydn's gentle, lyrical lines with the grace and warmth of a really good Mozartean mezzo."
Jonathan Freeman-Attwood's CD booklet note describes the notoriously-difficult-to-play 'natural' trumpet of the Renaissance and Baroque periods and the development of the 'keyed' trumpet by the Viennese court trumpeter Anton Weidinger in the 1790s, which inspired the concerto masterpieces by Haydn and Hummel performed on this disc.
The enticing melodic possibilities of Weidinger's "keyed" trumpet, and indeed the artistry of Weidinger himself, moved Franz Joseph Haydn (1732-1809), then at the height of his powers, to compose his concerto in E-flat for trumpet & orchestra. His last purely orchestral work, the concerto is a "gloriously ebullient and concise masterpiece in which the composer […] conceives a highly distinctive palette to thrust the trumpet into a brave new world." Interestingly, it was not premiered until 1800, four years after its completion, possibly because Weidinger needed time to master its technical challenges.
Also composed for Weidinger was the Concerto in E Major (often performed, as here, in E-flat) by Johann Nepomuk Hummel (1778-1837), prodigy, student of Mozart and, later, of Haydn. Hummel composed his trumpet concerto in 1803 and Weidinger premiered it the following year for members of the Esterházy court. The composer was subsequently appointed music director there, on Haydn's recommendation and likely helped by the success of his trumpet concerto. The concerto, "a more expansive work [than Haydn's, takes the modified trumpet] a stage further in variety of idiomatic figuration and harmonic adventure."
The Concerto in D by Giuseppe Torelli (1658-1709) was composed for the "natural" trumpet and likely performed on feast days in the San Petronio Basilica. The concerto for hunting horn and strings in E-flat by the Czech composer Johann Baptist Neruda (c1707-c1780) was probably written in the 1760s and is an example of a charming, traditional work of its era.
引用
review
[-] by James Manheim

With the large selection of recordings on the market for both the Haydn and Hummel trumpet concertos, the browser might be forgiven for wondering whether British trumpeter Alison Balsom's no-neckline look might be the chief attraction here. It's not the case, and Balsom crafts a distinctive interpretation of these familiar works within the category of modern-instrument, chamber-orchestra readings. Annotator Jonathan Freeman-Attwood points out an interesting feature of the Haydn concerto's outer movements: the composer's humorous treatment of the fanfares conventionally associated with the trumpet. The instrument seems to be trying to assert itself against the flow of melody characteristic of Haydn's time. Balsom catches this humor with restrained playing that has an unmistakably sly quality. She also handles the virtuoso demands of the Hummel concerto effortlessly; offers very langorous, lovely slow movements; and switches gears into a sparer idiom for the Trumpet Concerto in D major by Giuseppe Torelli, which would have originally been played on a natural trumpet. The Deutsche Kammerphilharmonie Bremen, with Balsom apparently conducting from the trumpet, offers support in keeping with the general mood. The only complaints, and they are small ones, are that the program ends with a thud with the slight trumpet concerto (originally for hunting horn) by Jan Neruda and that the program is short at under 53 minutes. The shorter concertos would have worked better as an entr'acte, with the Hummel at the end. The sound, captured at a Lutheran church in suburban Bremen, is on the bright side, but reveals Balsom's subtle approach nicely. The buyer new to these familiar trumpet pieces can choose this release with confidence.
引用
Performer: Bremen German Chamber Philharmonic, Alison Balsom
Composer: Franz Joseph Haydn, Johann Nepomuk Hummel, Jan Krtitel Jiri Neruda, Giuseppe Torelli
Audio CD (October 14, 2008)
SPARS Code: DDD
Number of Discs: 1
Format: Enhanced
Label: EMI Classics
ASIN: B001B1R1EU

5.0 out of 5 stars Musically Interesting December 1, 2008
By John A. Moskal II
Format:Audio CD
For 95% of you buyers, you've not only heard the Haydn, the Hummel, and the Neruda before, but you've probably got multiple recordings of each (I think I have at least 8 of each on my computer, not including ones that I haven't loaded yet), so you're probably wondering why should you buy this one.

First of all, let me say, if you're not in that category and you have no recordings of these pieces and are looking for one, go ahead, get this CD and you'll love it. The Haydn and Hummel are THE TWO trumpet concertos most backed by time for as universally guaranteed likability as could be sought. The other two are quite popular concertos as well, and her performances of them are as fine as any.

For those of you who want to save their money and don't feel like buying yet another recording of the same pieces; this recording is worth your money. While everyone's made their own statements of these pieces, few of them have surprised me as much as this one. Her interpretations are quite distinct from any that I have heard of these pieces and have allowed me to hear many parts of them in a different way. The usual articulations time-tested and handed down from one teacher to everyone have, quite as often as not, been shelved for new ones; and not to the detriment of the product.

She weaves her way through the melodies effortlessly and beautifully and is a delight to listen to. What has impressed me most about her playing (and was even more exemplified when I heard her play live) is her quiet playing. Her pianissimo entrances entrance. Her strength, in my opinion, and it is a great one, is in her great chamber music playing. She can blend her sound into that of a violin better than just about any I've ever heard, and this CD exemplifies that.

With respect to the entire repertoire of modern fully orchestral trumpet concertos, Miss Balsom has chosen to exemplify her talents with these four chamber pieces, traditionally chosen though they may be, they represent her talents fully. Her fantastic ability to phrase through the orchestra with the advantage of a beautiful soft sound to a fresh and delightfully coherent scheme of articulations make this CD a delight for any collector, be they new to the genre or as well traveled as a pair of old boots.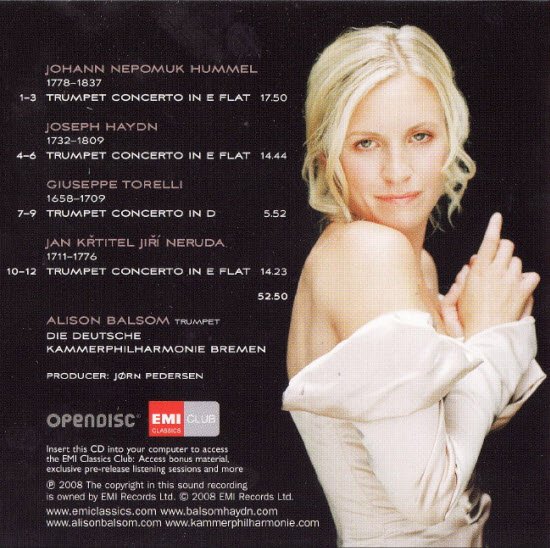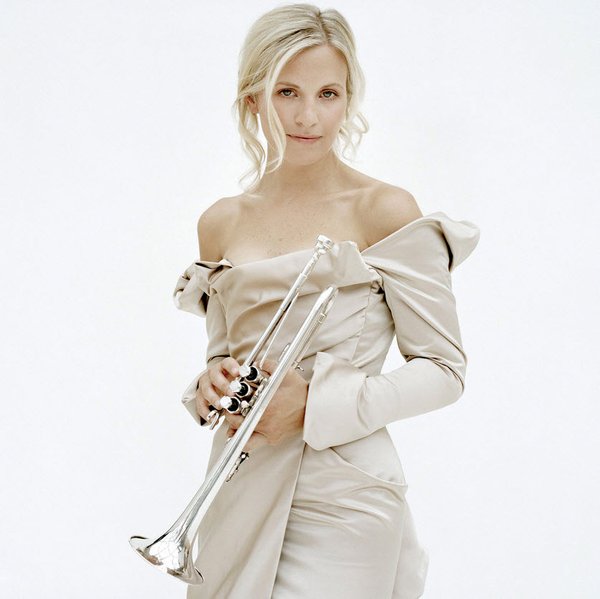 专辑曲目:
01. Concerto in E flat major for Trumpet and Orchestra (1806): I. Allegro con spirito – 09:24
02. Concerto in E flat major for Trumpet and Orchestra (1806): II. Andante – 04:45
03. Concerto in E flat major for Trumpet and Orchestra (1806): III. Rondo – 03:40
04. Concerto in E flat for Trumpet & Orchestra Hob. VII e:I: Allegro – 06:37
05. Concerto in E flat for Trumpet & Orchestra Hob. VII e:I: Andante – 03:31
06. Concerto in E flat for Trumpet & Orchestra Hob. VII e:I: Finale. Allegro – 04:35
07. Concerto for Trumpet & Orchestra in D major 'Estienne Roger': I. Allegro – 02:00
08. Concerto for Trumpet & Orchestra in D major 'Estienne Roger': II. Adagio - Presto - Allegro – 02:18
09. Concerto for Trumpet & Orchestra in D major 'Estienne Roger': III. Allegro – 01:33
10. Concerto for Trumpet and Strings in E flat major: I. Allegro – 05:13
11. Concerto for Trumpet and Strings in E flat major: II. Largo – 04:34
12. Concerto for Trumpet and Strings in E flat major: III. Vivace – 04:36
这里是其它用户补充的资源(我也要补充):
暂无补充资源