专辑英文名: Dreamchaser
专辑中文名: 追梦人
资源格式: FLAC
发行时间: 2013年01月16日
简介: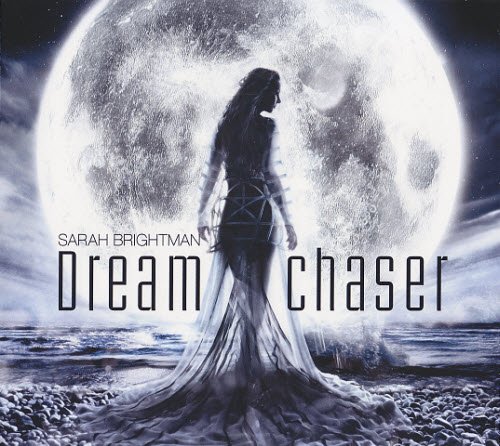 专辑介绍:

莎拉布莱曼(Sarah Brightman) 《Dreamchaser》专辑首波主打曲Angel

蛰伏多年的跨界美声天后莎拉布莱曼(Sarah Brightman)的最新专辑《Dreamchaser》将於2013年1月22日发行,同时展开全球巡演!

  这张专辑恰逢她确定将前往太空站观光,且接任联合国教科文组织的和平艺人的时机,结合了展望太空、关怀地球的主题,首波主打曲「Angel」就可窥见浓厚的科幻风格。

  莎拉在今日的记者会上说,她当年看见人类首度登月的新闻画面就受到无比震撼,从此对太空神往不已。太空不仅是她的音乐灵感来源,当她登台表演感到紧张时也会想像自己眺望著星空。歌迷们应该也不难发现她对太空的著迷,从出道作「I Lost My Heart to a Starship Trooper」、专辑《飞》(Fly)及《月光女神》(La Luna),真的充满著许多科幻/太空之主题,她甚至还笑说若能在太空行时被外星人绑架走就太好了!

  这支「Angel」MV开头播映的小女孩影片正是莎拉小时后的家庭录影,并且和美国太空总署NASA合作取材,道出她的太空梦即将成真的心情。

Audio CD (April 16, 2013)
Original Release Date: 2013
Number of Discs: 1
Label: Simha LLC
ASIN: B009NOVCQ0
In-Print Editions: Audio CD

Artist: Sarah Brightman
Album: Dreamchaser
Quality: iTunes Plus AAC M4A
Genres: Vocal
Released: Jan 16, 2013
℗ 2013 EMI Music Japan Inc.

Sarah Brightman's new album "Dreamchaser" will be released worldwide in April 2013, it was announced today.

Fans in Germany will be able to buy 'Dreamchaser' on April the 5th, it will be available in the US and Canada on April 16th and, for the rest of the world, the release date is April 8th. Pre-order a copy of "Dreamchaser" HERE.

Following the "Dreamchaser" album release, Sarah is heading out on her international tour beginning in China this June. Tickets and VIP Packages are available from the tour section of the website.

In October 2012, THE PHANTOM OF THE OPERA star also announced that she will be travelling into space in 2014 or 2015 for ten days on a voyage that will take her to the International Space Station. At the completion of her 5-continent, 100-city tour, Brightman will go straight into 6 months of training before her space flight.

Brightman's West End debut was at the age of 13 in "I and ALbert". She orginated the role of PHANTOM's Christine in London and in New York. Brightman has also appeared on the West End in Nightingale and Cats, as well as the Broadway production of Aspects of Love in 1990.

Over the past two and a half decades, Sarah Brightman has distinguished herself as the world's biggest selling soprano of all time with global sales reaching over 30 million units. She has received more than 180 gold and platinum awards in over 40 countries. Brightman pioneered the classical crossover music movement and is the only artist to have simultaneously topped the Billboard dance and classical music charts.

Brightman was married to composer Andrew-Lloyd Webber from 1984 to 1990. She has recorded a number of solo albums, including 1988's The Trees They Grow So High, 1989's The Songs That Got Away, 1990s As I Come of Age, 1993's Dive, 1995's Fly, and 1998's Eden. And recent ones like La Luna (2001) Harem (June, 2003), Symphony (2008), A Winter Symphony (2008) and the upcoming Dreamchaser (2013).


引用
Dreamchaser ★★★★★ Sarah Brightman 48:29 min • 429 Records • January 29, 2013

At 52, you'd expect Sarah Brightman to have retired to a cottage somewhere in Cornwall, baking and living off the royalties from Phantom Of The Opera and her 10 studio albums. This is if you hadn't already realised that Sarah Brightman is the classical music version of Madonna … a workaholic with her finger firmly on the pulse of the music industry, who is constantly changing and evolving. She's also utterly bonkers, and not only announced last year she has plans to be the first person to ever sing from space (!!!) she is also about to release her 11th studio album, Dreamchaser, to accompany her bizarre space mission … and it's possibly the best P'Opera crossover album ever made. I had reservations about Dreamchaser, as I find Sarah's albums hit and miss. Over the years, she has flirted with disco, produced some amazing ambient neo-classical music, some awesome rock music, and even had her songs remixed into dancefloor thumpers … but I thought she may have lost her edge. Nothing she'd done in recent years had grabbed me in the way that her constant regeneration over the past 30 years had, and the only reason I gave this album a whirl was after the news of her space mission had reignited my enthusiasm for her. Sarah Brightman, Dreamchaser review Yes, it's an album of covers, but the material is impeccably chosen. Opening with the stunning 'Angel', originally recorded by Jerry Burns and co-written with Sally Herbert (violinist with '90s band Banderas), this sets the tone of the album perfectly. Lifting the song above its original angst and emotion, Sarah's voice soars above the gorgeously full classical backing, whilst ambient beats envelop us. It's text book Brightman, but also a simply stunning opening, and made me concerned how the rest of the album would match up, especially when the second track was a huge undertaking. As the strings melt into electronic blips and distortion and the songs shift from one to the other, and as Sarah begins to sing Drinking in the morning sun Blinking in the morning sun Shaking off the heavy one Oh heavy like the loaded gun… There's the first "holy shit" moment … and as the song builds, with strings wrapping themselves around synths and Sarah's voice bounding over it all, you realise she's covering 'One Day Like This' by Elbow. On the surface, this sounds like a terrible idea. To be honest, it's not my favourite Elbow song (as great a song as it is, its quite commercial, and could have easily been mistaken for a Take That song by the uninitiated) but this version really is beautiful. Production-wise, if I can geek out for a moment, the song uses no percussion at all for the first half, which means that when the drums finally hit you during the last section of repeated choruses, you explode with euphoria. Well, I did anyway – dancing around in my seat on the tube like a loon, mouthing the chorus like I was in a youtube video that could go viral. I wasn't however, so I just looked like I was on day release. Oh well. As 'One Day Like This' finishes we hear the distant thump of feet … possibly an army heading towards us … and as Sarah begins to sing over the top of these footsteps, what do we get? We get a beautiful and sensitive cover of 'Glosoli' by Icelandic soundscape band Sigur Ros. Sarah [内容被过滤,请注意论坛文明]ing Brightman covering Sigur Ros. Did this woman just raid my iTunes to try and decide what to cover?! With stunning English lyrics written by Chris Difford, this cover takes the song to a whole new level. As beautiful as Sigur Ros are, their long ambient soundscapes carry an emotion all of their own, and I honestly never thought I would hear someone successfully cover a Sigur Ros song … It's an almost impossible task that Sarah grabs with both hands and sings at us violently until you're left asking "Sigur Who?" Following Icelandic electronica is Polish neoclassical, with Sarah expertly tackling Henryk Gorecki's 'Lento E Largo', from Holocaust memorial Symphony Of Sorrowful Songs. It's a welcome break in the pop-ambient soundscape this album creates, and rather than being overwhelming and grand, Sarah's version of this dramatic piece is simple and haunting, offering the listener beautiful respite before being drawn into B12, what can only be described as a Prog Rock aria, and is a cover of Japanese producer Sasakure-P. With not a single word sung, Brightmans voice la's and hums over a stunning Pink Floyd-do-opera backing, that leads us beautifully into the big surprise of the album. 'Breath Me' by Australian singer songwriter Sia is already typical of what I love about Sarah Brightman's music. In its original form, it's a lusciously produced ambient pop ballad, and I was fully expecting a blow by blow copy of the original but with Sarah's Soprano vocals. What we actually get is a broken down, almost acoustic version (for the most part). Only strings and distorted sounds are the base for the majority of Sarah's vocal and the first thing that strikes me is the lyrics. As much as I adore Sia – and I really do – her vocal delivery is never about annunciation, so hearing the heart breaking opening lines Help I have done it again, I have been here many times before Hurt myself again today And the worst part is there's no one else to blame, Be my friend…. was almost like hearing them for the first time. Listening to Sarah Brightman sing about self harm is something I don't think I ever expected, and as the song builds into its full ambient and symphonic climax, the music manages to add high drama and beauty to an otherwise tragic and introverted song, without destroying the lyrics' intent. Flying us headlong into 'Ave Maria', written by Sally Herbert and the album's producer Mike Hedges, we're once again treated to a serious of beautiful strings, with distorted synth and bass noises, and Sarah's voice floating above it all. These simple moments, which help to give the album its light and shade, act not so much as standalone songs but almost as long interludes, knitting the songs together to form one long journey for the listener. This time, the seamless sonic transportation is to a cover of 'Eperdu' by the Cocteau Twins. As you can imagine Liz Fraser's melody suits Sarah's voice perfectly, and the prog ambient envelope is pushed even further. The stunning 'A Song Of India' by Russian composer Nikolaj Rimsky-Korsakov transports us through heady Soprano heaven, till we are met at the other end by a cover of the Wings classic 'Venus And Mars', and this time the electronica and synths are in overdrive. It sounds like a lost song from a Prog Rock Opera, and Sarah's decision to use the reprise of 'Venus And Mars' rather than the shorter original version from the Wings album of the same name, is integral in conveying her artistic vision. There is no doubt that the end to this stunning album will be the soundtrack to her impending space travel. The Japanese edition (and, it would seem, the only one commercially available until April) includes a cover of the stunning 'Kaze No Torimichi' from the Japanese animation of the same name, which Sarah sings entirely in Japanese. The selection of covers on this album is flawless, and how much of that down to Sarah herself and how much is down to producer Mike Hedges I don't know. And, as much as I'd like to think that Sarah chose all of these songs from her vast collection of music, I'm pretty sure she was guided towards the more obscure sections of this album, but it's the perfect combination of music snobbery and ambient pop perfection and I wouldn't change this album for the world. Instead of playing it safe and releasing yet another Mother 's Day Opera By Numbers album, like most classical singers, Sarah's general lunacy helps her to take risks most artists in her genre wouldn't take. Whether your average Classic FM listener will be as excited by this as I am I have no idea, but this album has barely been off my iPhone since I got it, and I can't imagine I will tire of it anytime soon. At the age of 52, Sarah Brightman is at the top of her game and, more so than she has ever been, is one of the most relevant women in music. All hail the queen of the P'Opera!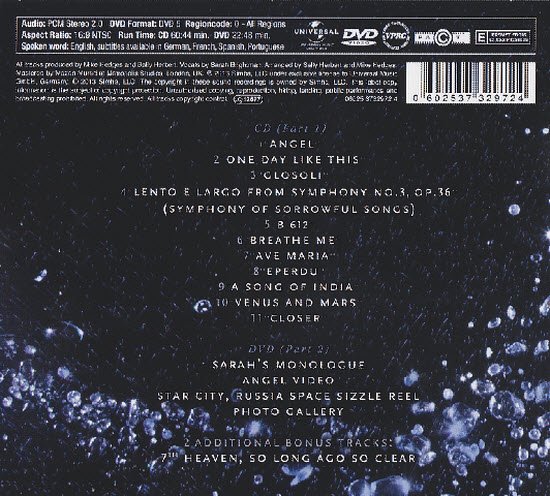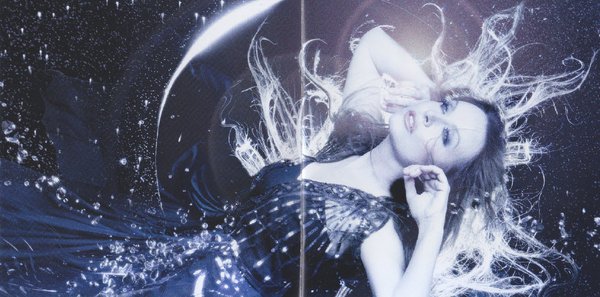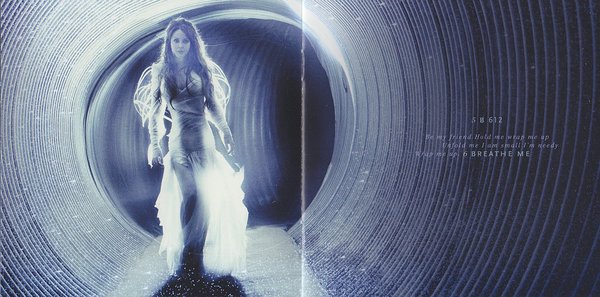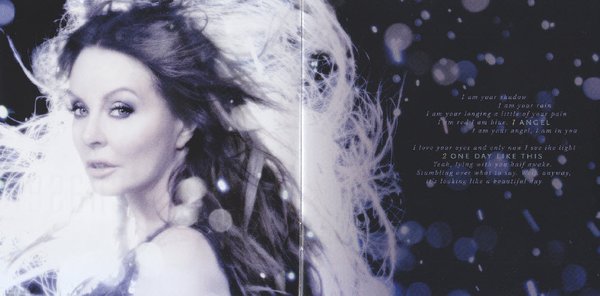 专辑曲目:
01. Angel
02. One Day Like This
03. Glosoli
04. Lento E Largo from Symphony
05. B612
06. Breathe Me
07. Ave Maria
08. Eperdu
09. A Song Of India
10. Venus And Mars
11. Closer
这里是其它用户补充的资源(我也要补充):
暂无补充资源