专辑英文名: The Best of Eva Cassidy
音乐风格: 爵士
资源格式: FLAC
版本: Eva Cassidy 经典专辑
发行时间: 2012年10月19日
简介: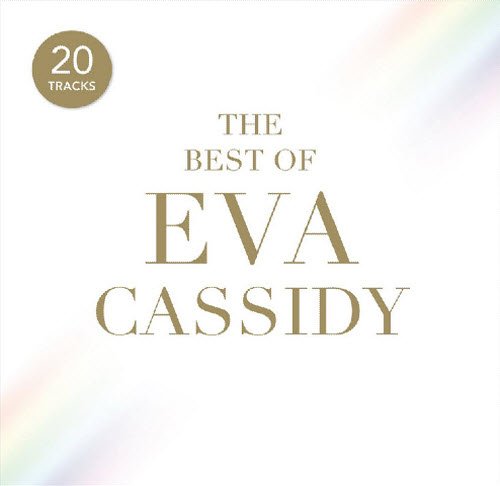 专辑介绍:

听到发烧——
《The Best of Eva Cassidy》
2012-12-02
上星期才介绍了二十七岁便离世的英国最有前途女歌手AmyWinehouse,这个星期又在唱片店裏见到另一位同样是英年早逝的女歌手——EvaCassidy。不过,这位来自美国华盛顿的女歌手却更传奇,皆因她不但死后成名,而且不断有新专辑推出,某些唱片的销量更达白金,个别歌曲亦曾荣登流行榜冠军!

对於我辈发烧友而言,EvaCassidy这名字绝对不陌生,原因是她的歌曲动听,兼且录音水準奇佳,笔者独爱她的一张1996年现场录音──《LiveatBluesAlley》。此制作是当年EvaCassidy在她老家华盛顿附近一间名为BluesAlley的JazzBar进行,所唱的歌不外乎BridgeoverTroubledWater、WhataWonderfulWorld等金曲,但由於当时EvaCassidy仍然寂寂无闻,在没有包袱下,反而演绎得更加无拘无束,俗语所谓──去到尽!

至
於录音方面,亦一反传统现场收音那种失真大、杂音多,於是可以让听者更进一步聆听Eva那一把独有的抑扬顿挫唱腔,以及体验置身现场效果。不过,当这个录音完成后不久,EvaCassidy便因癌病去世,终年才三十六岁,连同这张现场录音《LiveatBluesAlley》和另一张1992年的制作《TheOtherSide》,她合共只有两张专辑。那么又何来她身后的多张新录音呢?

虽然EvaCassidy只有两张完整专辑,但原来她生前曾经试录过不少未公开的歌曲,此外还有一些不经意的现场录音。后来她的家人为了纪念她,将这些零碎的录音拼凑一起,推出一张名为《Songbird》的专辑,殊不知此碟经英国BBC电台和美国报章TheNewYorkTimes大力推介后,结果广为乐迷所接受,而且愈来愈得到有耳之士欢迎,就连PaulMcCartney也是她的fans,於是在这十多年间,合共推出了五六张这类「新」录音,而这张《TheBestofEvaCassidy》正是2012年新作。

有云「人死留名」,那么EvaCassidy应是歌唱界中的佼佼者了。

马中超

Audio CD (November 19, 2012)
Original Release Date: 2012
Number of Discs: 1
Label: Blix Street
ASIN: B009A87X80

Eva Cassidy was just 33 years old when cancer took her in 1996, yet her breathtakingly beautiful voice lives on. As a vocalist and guitarist, she interpreted melodies from a wide variety of musical categories - jazz, blues, soul, gospel, folk, country, and pop - infusing all of her songs with authentic emotion, a wonderful warmth, purity, and power that made them both moving and memorable.
Performing and recording in the Washington DC area during the early 90s, Eva released only two albums before her untimely demise. She never landed a contract, mainly because she stubbornly insisted on singing and playing songs that spoke to her, regardless of genre, and this prevented her from fitting into a commercial pigeonhole. In the wake of her enormous posthumous popularity on both sides of the Atlantic, however, no fewer than eight collections of her music have been produced.
"The Best of Eva Cassidy" is indeed her best, containing as it does a full 20 tracks over 80 minutes and including most of the songs for which she is best known. A few of my favorites are missing, of course, like "At Last," "The Water Is Wide," "Blues in the Night," and "Who Knows Where the Time Goes," but that's inevitable when you assemble a compilation.
So if you can buy only one of Eva's albums, make it this one. However, if her music touches you like it does me, you owe it to yourself to check out a few of her other collections. She never sang a song that wasn't vital and compelling. And if you'd like to know more about her life and work, search for an excellent 18-minute video from ABC's Nightline program entitled "The Eva Cassidy Story."


引用
review
by Steve Leggett

Eva Cassidy's story is a sad one, certainly, but the bittersweet happy ending to it all is that her singing, music, and recordings continue to live on and gather fans and admirers even after her early death from melanoma cancer in 1996 at the age of 33. Cassidy was never really known outside of the Washington D.C. area during her lifetime, and her recorded legacy consists of a live album, assorted other live tracks, an album of duets, and a handful of demos. She was a masterful song interpreter, able to take on almost any song in any style or genre and spin her voice around it, giving it a kind of haunting and sincere freshness. This set makes a great introduction to Cassidy's style and substance, collecting her key and signature performances from all of the above sources.
引用
November 19, 2012 at 8:04 am
Eva Cassidy – The Best Of Eva Cassidy (2012)
by S. Victor Aaron

Even today, more than a decade after discovering Eva Cassidy, listening to her music always brings me an unshakable tinge of melancholy that accompanies the joy and wonderment from hearing her unbelievably perfect voice. I guess it's difficult to separate these recordings from the tragedy of Cassidy never realizing the fame and acclaim she earned but didn't receive outside her Washington, D.C. environs until after her premature death from melanoma at the young age of thirty-three.

Fortunately, Cassidy had left behind a vast treasure trove of recordings. A concert souvenir, Live At Blues Alley (1996), was the only record she lived to see released, but she had also taped a whole studio album Eva By Heart that was released months after her passing, and she had previously cut a record co-led by D.C. go-go music legend Chuck Brown. Blix Records assembled some select tracks from these three albums into Songbird in 1998, a record that eventually topped the British charts in 2001. Beyond these artifacts are dozens of demos recorded in the studio of former partner Chris Biondo and additional live recordings, of which some half dozen or so additional albums were assembled. Blix Street had also made these recordings available to a public eager to hear more Eva after getting blown away by Songbird, and Imagine and American Tune topped the UK charts, too (these albums also performed well on American charts).

With the store of demo material now presumably exhausted, this is probably the right time for another compilation that includes choice tracks from those albums released since Songbird, and so today we have The Best Of Eva Cassidy.

Compiling a Best of can be a trickier proposition than a Greatest Hits, but some of these selections are clear fan favorites or ones she was particularly fond of. "Over The Rainbow," her poignant sign-off song to the world is included of course, as is her striking rendition of Sting's "Fields of Gold," Paul Simon's underrated "Kathy's Song" and the eternal optimism she exudes on a bluesy take of "What A Wonderful World." The depths of her soulfulness knows no bounds when she belts out Curtis Mayfield's "People Get Ready" or Bill Withers' "Ain't No Sunshine," and the easy-swinging hymn "Wade In The Water" gives strong testimony of her as a inspirational singer. Even a sturdy old jazz standard like "Autumn Leaves" is rendered in a bright, new light a old jazz snob like me is unaccustomed to when Cassidy brings unparalleled feeling and sincerity to the lyrics.

The hard core fans might quibble out an omitted track or two — mine is "Woodstock," her version crushes CSN's and composer Joni Mitchell's — but this is an admittedly pretty well-rounded retrospective, covering songs from the pop, soul, Tin Pan Alley, jazz and country realms. Among the styles in which she practiced her art, only the blues tunes are omitted.

The appeal of her recordings doesn't just derive from her voice (although it begins and ends there); since Cassidy was never signed to a label during her lifetime, virtually all of her work had spare, raw arrangements, which conveniently, was exactly what meshed well with a voice that needed no artificial help, just good material. (The slickly produced anomaly No Boundaries (2000) suggests the damage an opportunistic major label might have done to her artistic integrity, and none of those tracks are represented here). Every one of these songs is lightly accompanied, sometimes by only her acoustic guitar, and I can't imagine them sounding any better with heavier production.

For those completists who already have all of Cassidy's prior releases, there's a new treat awaiting them sequenced right at the beginning of the album: the original voice/acoustic guitar take of "You Take My Breath Away, " composed by Josephine Claire Hamill, has been beefed up by additional instrumentation from her old band mates Biondo (guitar) and Lenny Williams (piano and string arrangement). It's very tastefully done, keeping her mesmerizing vocal up front and at the center. The small string section makes a noticeable but unobtrusive entrance right after the first chorus, adding a sublimely measured touch to an already fine recording.

Sixteen years after her death, Cassidy continues to accumulate new fans every day from around the world, because her music ignores classification and the limits that come with it, the only concern being the beauty of song and voice. The Best Of Eva Cassidy gives newcomers to her musical world a convenient starting point for exploration and enjoyment. But, trust me, "the best" of Eva Cassidy can be found in nearly every recorded performance by her.

The Best Of Eva Cassidy goes on sale today (November 19), by Blix Street Records.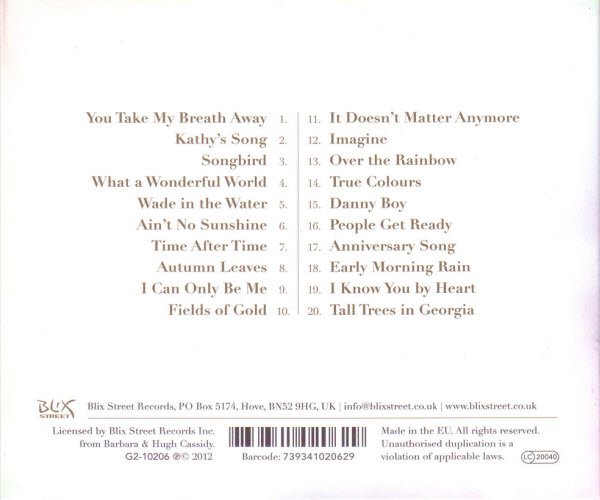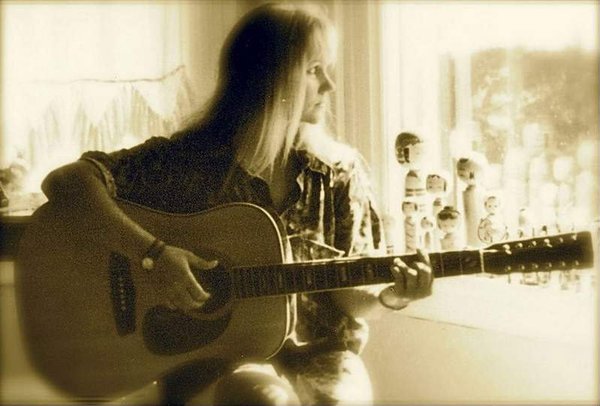 Family Photo, before cancer took her life in 1996, Cassidy was one of Washington's favorite singers, whose range ventured through blue, jazz, folk, country, gospel and pop.
专辑曲目:
01. You Take My Breath Away [Previously Unreleased]
02. Kathy's Song
03. Songbird
04. What A Wonderful World
05. Wade In The Water
06. Ain't No Sunshine
07. Time After Time
08. Autumn Leaves
09. I Can Only Be Me
10. Fields Of Gold
11. It Doesn't Matter Anymore
12. Imagine
13. Over The Rainbow
14. True Colours
15. Danny Boy
16. People Get Ready
17. Anniversary Song
18. Early Morning Rain
19. I Know You By Heart
20. Tall Trees In Georgia
这里是其它用户补充的资源(我也要补充):
暂无补充资源