专辑英文名: Libertango: The Music of Astor Piazzolla
专辑中文名: 向 皮亚佐拉-自由探戈大师致敬
音乐风格: 爵士
资源格式: FLAC
发行时间: 2000年04月04日
简介: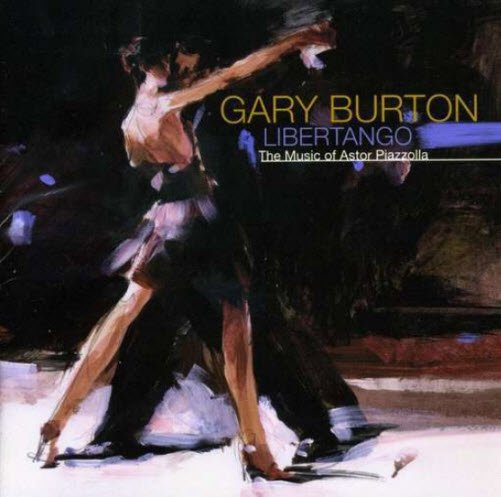 专辑介绍:

爵士吉他秘密基地 颤音琴手Gary Burton

在爵士乐里,颤音琴(铁琴Vibraphone)并不常见
但是其音色充满了迴音,空间感,却是能够在多种乐风中悠游自如
几位知名的颤音琴手包括了Lionel Harmpton,Milt Jackson,Cal Tjader,Bobby Hutcherson等

这里要介绍的是另外一位知名的颤音琴手:Gary Burton
他独特的四支棒子的打法,让音乐的空间感十足,
加上时常与一些现代风格的乐手合作,让他的音乐充满灵性
年轻时曾与Stan Getz,George Shearing演出,但并没有大放异彩,
而是到了60~70年代,67年的A Genuine Tong Funeral(演出Carla Bley的歌剧式作品)
69年与爵士小提琴手Stephane Grappelli录制Paris Encounter
71年的独奏专辑Alone at Last,
同年也与钢琴手Chick Corea在ECM唱片录制Crystal Silence专辑,去年这个组合也曾来台演奏,
更发行了二重奏35週年纪念的The New Crystal Silence
Crystal Silence

The New Crystal Silence

而到了73年,他与吉他手Mick Goodrick,贝斯手Abraham Laboriel,鼓手Harry Blazer
录制了The New Quartet。接下来的三张专辑
包括了Ring,Dream so real,Passengers找来了吉他手Pat Metheny,
还有Bass手Eberhard Weber。这三张专辑都拥有很高的评价
Dream so real则是完全詮释Carla Bley的作品
Passengers的第一首歌曲,则是Chick Corea的Sea Journey,当中找了两名Bass手solo
一位是Eberhard Weber,另一位则是Steve Swallow
而Pat Metheny也在这张专辑中提供了三首曲目
Passengers

84年Gary Burton也找来了日本钢琴手Makoto Ozone小曾根真与
吉他手John Scofield录制四重奏专辑
而后加入了Concord唱片,录制了一些Tango专辑,
也找来Chick Corea,Pat Metheny,Dave Holland,Roy Haynes
全明星阵容录制了Like Mind专辑
Like Mind

由於Burton本身在Boston的Berklee担任教职工作
因此他后来也时常提携校内的优秀学生
包括了像是吉他手Kurt Rosenwinkel,还有近年他发行的专辑Next Generations
则是找了天才吉他手Julian Lage,以及其他三位Berklee的高材生来录制
并前往东京爵士音乐节演出

Audio CD (April 4, 2000)
Original Release Date: April 4, 2000
Number of Discs: 1
Label: Concord Records
ASIN: B00004S968

There is no equivalent person who played as central a role in jazz as Astor Piazzolla has in tango. Imagine that instead of numerous jazz giants such as Duke Ellington, Charlie Parker, Bill Evans, John Coltrane, Stan Getz and Miles Davis, there was just one modern jazz hero who was both virtuoso performer and prolific composer. In the world of tango, Piazzolla was just such a unique figure. Straddling the worlds of classical music and of his own popular culture he made nearly one hundred recordings of original music released between 1945 and 1995. He was also the greatest bandoneon virtuoso to ever play the instrument. When I discovered Astor's music in 1965 I was just twenty two years old, and he was already the foremost tango musician in history.

Standing at the side of the stage in that Buenos Aires club thirty-five years ago, I was swept away by the passion of his soaring melodies and rich harmonies and the breathtaking virtuosity of his musicians. But even more surprising, I couldn't believe this music existed and it was so little known in the United States. Tango had been around since the turn of the century, experiencing the same growth patterns that jazz had in the USA: first came small combos, then the big tango orchestras (like big bands), and then by the 60s, both musics had moved into the concert halls. The more I learned, the more I realized that Piazzolla was as much a hero in his world as Ellington and Miles were in mine.

Tango is rare among music with folk origins. Usually, a country's national music remains simple in structure: the average person can sing it, play it, or dance to it. But tango, like jazz, brought together the considerably developed traditions of Western European music and local folk influences and evolved into a sophisticated art form requiring the highest levels of musicianship. I was immediately drawn to what I heard. For four nights I watched and listened as the Piazzolla Quintet held their audiences spellbound. At first I was overwhelmed and could only take in the incredible playing skills of the musicians and their tight-knit ensemble playing. But as I heard more I began to understand the compositions on a deeper level. I bought an armload of Piazzolla's records to take home so I could continue my tango education.

For the next twenty years I was an enthusiastic fan, listening for my own enjoyment and introducing Piazzolla's music to friends whenever I had the opportunity. I never expected to play tango myself; I mean, who could have imagined a jazz vibraphonist in a tango group? But in 1984, after I finished a concert with Chick Corea in Paris, Astor came up from the audience and asked me if I remembered him. We started reminiscing about the time we met before in Argentina. To my delight, he wanted to try writing for the vibraphone and suggested we try a project together.

We were both scheduled to be back in Argentina soon and I cautioned him not to begin writing until I had the chance to explain some vibraphone logistics to him. A lot of composers assume it's like writing for the piano, but there are many differences between playing with ten fingers and managing four mallets. Astor showed up at the Buenos Aires club I was playing and we sat down to talk. Excitedly, he said he'd already been able to hear all the music in his head and he had gone ahead and written everything! I was thrown into a panic. What if I couldn't play it? What if it had to be rewritten? What if I ended up not fitting in with his ensemble at all? After all, no one had put the vibes in tango before. Because we had already committed to an extensive concert tour and signed a record deal, it was too late to back out, and I had yet to see a note of the music. A few months later, Astor and his band made a brief stop in New York en route to Europe, and we arranged to meet and have a quick run through. It didn't go that well. Everyone was grappling with the complexities of the music. Astor was trying to explain to me how to phrase the melodies and how he wanted me to add improvisations. Because it was so different from jazz, I was really struggling. In jazz, the soloist typically develops a solo over several minutes and is used to having an extended time to create something meaningful. But Astor wanted intermittent improvisations of short duration, sometimes just a few seconds in length, somewhat like the ornamentation in Baroque music. I had to learn to shift smoothly back and forth between written parts and improvising, making sure to maintain continuity.

We gathered at a local school in Ravenna, Italy, to rehearse for a few days before our first concert. Astor didn't have a lot of patience for rehearsing. After only a couple of hours each day he would announce it was time to eat, and that would be it. He was supremely confident while I was worried that we would fall flat on our faces. In spite of my concerns, our first concert was a big success and things only got better as we continued to tour.

After every gig, Astor would take me aside and make suggestions, and gradually the other musicians began to offer their advice, too. I could feel everyone accepting me into the group and there was a general sense of relief that it was working out. Our fourth concert, at the Montreux Jazz Festival, was scheduled to be recorded and at first things didn't look too promising. We were last on a long program and didn't go on stage until after midnight. Not only were we tired, but we expected the audience to be totally saturated with music by that time. Honestly, I expected we would have to record everything again under better circumstances. Instead it turned out to be an inspiring night for us and the audience was right with us all the way. And when I heard the tapes a month later, I knew we had captured one of our best performances. After Montreux, we went on to tour more in Europe followed by concerts in Japan and a few dates in North America. But we never got around to performing in Argentina. My greatest hope had been to play someday with Astor in front of Argentina's very discerning tango fans. At first, Astor was opposed to this, saying that if he brought a jazz musician to play tango in Buenos Aires he would be lynched! But, after we'd finished touring and the record came out he changed his mind and was anxious to get some dates arranged. Unfortunately, before anything could be set up, he became seriously ill and failed to recover in spite of a year long convalescence. His passing was a great loss to all of his fans and all the musicians who worked with him during his career. I thought it meant the end of my tango experience too, but this turned out not to be the case.

Marcelo Morano, a leading concert impresario with whom I've done many tours in Argentina, suggested that I reunite Piazzolla's musicians and record more of Astor's music, which, in 1997, led to the making of our Concord CD Astor Piazzolla Reunion-A Tango Excursion (CCD-4793-2). After its release, we toured in Europe and South America and continued to add more Piazzolla works to our repertoire. Inevitably, I wanted to record the new pieces, adding this latest CD to my tango experience and continuing my tribute to Piazzolla's legacy.

I can't praise the brilliant musicians on this CD enough. They represent the best in tango, and as interpreters of Piazzolla's music, can't be matched. Guitarist Horacio Malvicino played with Astor oft and on for thirty years and is an established writer and arranger in his own right. His assistance in organizing the music and interpreting the original scores was invaluable. He always knows just which parts in Astor's compositions to assign to the vibraphone. Violinist Fernando Suarez-Paz and pianist Pablo Ziegler, also members of Astor's ensemble for many years, are two of the most dazzling soloists in contemporary tango. Bandoneonist Marcelo Nisinman was Astor's protege, and although he is not yet out of his twenties, is recognized as the leading master of Piazzolla's styles and technique.

Nisinman and pianist Nicolas Ledesma (who plays on four tracks) appear regularly in the official performing group of the Astor Piazzolla Foundation based in Buenos Aires. The behind-the-scenes hero of the group is Hector Console, the number one tango bassist for several decades. His inspired role at the bottom of the instrumentation guides the ensemble through the many changes of mood and tempo typical in tango.

For this project, we chose some of the pieces Astor created specially to showcase his star musicians: Escualo, written for Suarez-Paz, and Contrabajissimo, composed for Console. We also included three of Piazzolla's most well-known pieces- Libertango, Invierno Porteno, and Adios Nonino - featuring solos by pianists Pablo Ziegler and Nicolas Ledesma. And, of course, there are featured spots throughout for bandoneon and guitar as well as vibes. It is hard to express what my experience playing with Piazzolla and his musicians has meant to me. Decades ago when I was first captivated by their music, I never dreamed I would someday play with them. Now this music has become an essential part of my career. Playing tango has transformed my jazz playing. There is tremendous drama in Piazzolla's music which spills over into everything I do; his memorable melodies influence my improvisations and I've learned how to be more creative with tempos and use of space. I learned so much from him directly. I have continued to learn more from his enduring compositions and playing with the musicians who were there when the music was first created. Looking back to 1965, that chance meeting in Buenos Aires was a real lucky break.

Gary Burton
Boston, Massachusetts
January 25, 2000


引用
LIBERTANGO was nominated for the 2001 Grammy Award for Best Latin Jazz Album. For those with exotic tastes, vibraphonist Gary Burton's LIBERTANGO, a tribute to the music of the late tango master Astor Piazzolla, is a treat for the senses. As with his previous efforts in this genre, Burton captures the authentic spirit of Piazzolla's music while infusing it with the contemporary freshness of his legendary vibraphone technique. It's the distinctive flavor that the vibraphone brings to this ensemble, which includes authentic Latin musicians like Fernando Suarez-Paz (violin) and Hector Console (bass), that gives this session such a zestfully unique sound. The music, recorded in the tango's birthplace of Buenos Aires, Argentina, is all Piazzolla, however, and fans of this most passionate of exotic dances will find no fault in Burton and company's careful execution. Particularly exceptional cuts include the dark-flavored opening title track, which features Burton on a mesmerizing solo introduction, the spirited "Fuga Y Misterio," and the beautifully intricate "Milonga Loca." Recorded at El Pie Studio, Buenos Aires, Argentina from January 20-24, 1999. Includes liner notes by Gary Burton. Personnel: Gary Burton (vibraphone); Horacio Malvicino (guitar); Fernando Suárez Paz (violin); Marcelo Nisinman (bandoneon); Nicolas Ledesma, Pablo Ziegler (piano). Audio Mixer: Bill Scheniman. Recording information: El Pie Studio, Buenos Aires Arg (01/20/1999-01/24/1999). Personnel: Gary Burton (vibraphone); Fernando Suarez (violin); Marcelo Nisinman (bandoneon); Pablo Ziegler, Nicolas Ledesma (piano); Horacio Malvicino (guitar); Hector Console (bass). JazzTimes (11/00, p.88) - "...He reaches a higher pinnacle, triumphing over stylistic and technical hurdles of the tango to improvise with utmost creativity, clarity and confidence..."
引用
Astor Piazzolla
皮亚佐拉(1921-1992)为阿根廷探戈作曲家及手风琴演奏家。自从他8岁那年,父亲从当舖为他买了一台手风琴之后,他就一头栽入探戈的世界。曾经师随拉赫玛尼诺夫的弟子─匈牙利钢琴家贝拉‧威尔达的皮亚佐拉由恩师啟蒙,瞭解西欧古典音乐主流的奥妙,他的作品结合了爵士及古典音乐等元素,革命性地将新风格引进传统探戈中,称为「新探戈」。
他四岁时全家迁居到美国纽约市,希望能脱离贫穷的家境。九岁生日那天,父亲买了一个手风琴给他当生日礼物,同时开始了人生的第一个古典音乐课。皮亚左拉的父亲经常在家裏用留声机放一些怀旧的探戈老歌,少年时代的他也常流连在夜总会的门口听爵士乐,在他13岁时更有幸和有探戈界『猫王』之称的传奇歌手卡洛斯•嘉代尔(Carlos Gardel)同台演出,这些经历都影响了他的音乐世界。
皮亚左拉16岁那年,全家再度迁回阿根廷,而他决定隻身前往首都布宜诺斯艾利斯,他形容那里的人们身上『穿』著探戈,脚下『踏』著探戈,整座城市都洋溢著探戈的气息。
起初他加入一个流行探戈乐队,任手风琴手及编乐,后来还自己组了乐团,专门演奏自己编曲的探戈音乐,在城市内的每一个歌厅内演奏手风琴。
那时钢琴家鲁宾斯坦住在布宜诺斯艾利斯,皮亚佐拉便大胆地向他毛遂自荐自己创作的一部没有写上乐团部分的钢琴协奏曲。后来皮亚佐拉回忆道:「当鲁宾斯坦弹奏时,我才发现自己干了蠢事。他弹了几小节,然后看著我,突然开口问:『你喜欢音乐吗?』『是的,大师』我回答道,『那么你为什么不学呢?』」
於是鲁宾斯坦为他推荐作曲老师,皮亚左拉从此开始学习古典乐曲创作,并试著远离他的探戈世界。
1953年皮亚左拉在一个作曲大奖赛中,得到年度最佳作品奖,并得到法国政府的奖学金,送他前往巴黎跟随作曲家娜蒂亚•布兰捷尔(Nadia Boulanger)学习。
初见这位女教授时,皮亚左拉将数年来创作的交响曲和奏鸣曲给她看,她却评论道:『你的作品像史特拉汶斯基、巴尔托克、拉威尔,甚至辛德密特…,但你知道吗?就是偏偏就是没有皮亚佐拉的灵魂。』於是布兰捷尔开始询问皮亚左拉的总总生活情形,这对皮亚左拉是有点难堪的,因为他实在不想承认自己是个在夜总会弹探戈的手风琴手,这在当时仍被认为是低下阶层的活动。但是拗不过布兰捷尔的一再询问,皮亚左拉只好坦承此事,并在钢琴上弹奏一段探戈。他回忆这段往事说:「突然间,她睁大了眼睛,抓住我的手说:『你这个白痴,这才是皮亚佐拉。』就在那两秒内,我把十年来的创作作品都丢了……」
1956年皮亚佐拉回到布宜诺斯艾利斯,组成一支八重奏乐团,採用传统探戈的要素,并与阿根廷民间音乐、当代古典音乐、爵士乐和流行音乐技巧揉合在一起,创作出一种既适合在音乐厅演奏,又适合在舞池表演的「新探戈(Tango Nuevo)」。从此这原本在街头小酒馆悲伤低吟的不入流曲调,全然改头换面,竟以万般迷人的风情席捲欧美。
到今日,探戈Tango和皮耶左拉Piazzolla之间几乎要被划上等号。
皮亚佐拉的生命便可以看作是一支探戈单曲,一支非常「布宜诺斯•爱利斯式」(porteno)的的探戈,带著一些伤感,却又有些漫不在乎的放纵,颓废之中依然蕴藏浓浓的爱意,正是他深爱音乐,而且全身投入音乐的证据。
如他所说:「音乐,更胜於女人,因为你可以和女人离异,但不能同音乐分离。一旦你娶了她(音乐),她便成为你恒久不变的真爱,你将和她同生共死。」
皮亚佐拉不断在世界各地巡迴演出、录制唱片,不断创作。1992年7月5日在布宜诺斯艾利斯逝世。
http://www.wretch.cc/blog/mimi680204/22687491
Gary Burton (born January 23, 1943, Anderson, Indiana) is an American jazz vibraphonist.
专辑曲目:
01. Libertango 4:34
02. Invierno Porteno 7:05
03. Escualo 3:04
04. Buenos Aires Hora Cero 5:38
05. Fuga Y Misterio 4:13
06. Milonga Del Angel 6:33
07. Michelangelo 70 4:04
08. Contrabajissimo 11:02
09. Fugata 4:12
10. Mumuki 9:05
11. Milonga Loca 3:09
12. Adios Nonino 8:35
这里是其它用户补充的资源(我也要补充):
暂无补充资源