专辑英文名: Troubadour Live
专辑中文名: 吟游诗人
音乐风格: 爵士
资源格式: FLAC
发行时间: 2011年05月10日
简介: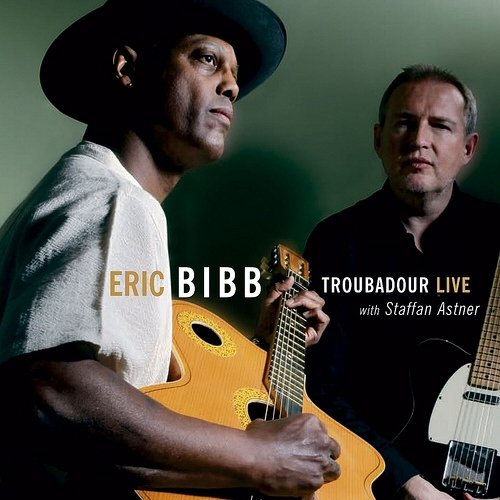 专辑简介:

Eric Bibb 与 Staffan Astner 二人组合模式,於澳洲巡迴演出。一个获得高度讚誉的现场专辑,这绝对是另一种探索EricBibb最好的艺术领域。拥有高超技术的Staffan Astner用迷人的电吉他与 Eric Bibb的细腻声舔完美混合,钢琴客人GlennScott和深情的演唱福音三人组PSALM4(Paris Renita, André De Lange &Scott),使这场精彩的演出成为音乐的宝石,绝对要收藏於你的唱片架中。

Audio CD (May 10, 2011)
Original Release Date: 2011
Number of Discs: 1
Label: Telarc
ASIN: B004R2A77I

Eric Bibb's version of the blues has always been patient and positive, and it serves as a reminder that the blues isn't necessarily always about despair, darkness, and ominous guitar riffs, but is also built on the concept of survival and moving forward, on the idea of getting through tough times and reaching brighter days. In Bibb's hands, the blues becomes sustaining, moving closer to the spiritual uplift of gospel, and the often shaky division between Saturday night blues and Sunday morning praise drops away with this man. Bibb isn't haunted by personal demons as much as he is by cultural ones. He doesn't have a hellhound on his trail, and he isn't about to go down to the crossroads and make deals with the Devil. His 21st century version of the folk-blues isn't about that kind of stuff. It's about healing. A voice of temperate reason and unyielding hope in the dawning of better days is welcome in any musical style and in any era, and Bibb continues down that path with his latest release, Troubadour Live, recorded at a December 9, 2010 concert in Stockholm, Sweden, and featuring guest electric guitarist Staffan Astner. Astner's astounding tone and sharp efficiency on guitar dovetails neatly with Bibb's own accomplished and full-sounding acoustic guitar playing, and it's obvious that the two guitarists enjoy working together. There's an intimate feel to this set, which illustrates Bibb's presence and vitality as a live performer. Highlights include the majestic opener "The Cape," a Guy Clark/Susanna Clark/Jim Janosky composition, the country blues boogie shuffle "New Home" (complete with an absolutely burning guitar lead from Astner), and the pop soul of "For You," which features the gospel trio Psalm4 (Glen Scott, Andre De Lange, and Paris Renita), and shows that Bibb is quite comfortable outside of the blues medium. As an added bonus, a couple of studio tracks ("Put Your Love First," a duet with Troy Cassar-Daley, and "If You Were Not My Woman") are tacked on at the end of this charming, pleasant, and wonderfully intimate live album. ~ Steve Leggett Liner Note Author: Katalin. Recording information: Katalin's, Stockholm, Sweden (12/09/2010); The Gastation (12/09/2010). Photographers: Lotta Schwarz; Juhani Niiranen; Jonas Egehult. Personnel: Eric Bibb (vocals, 6-string guitar, 12-string guitar, baritone guitar); Staffan Astner (electric guitar). Audio Mixers: Lennart Östlund; Magnus Ringström; Glen Scott. Down Beat (p.51) - 4 stars out of 5 -- "The sage deliberation of his singing and his delicate, beguiling touch on acoustic guitar, evidenced on fine new and old songs, would be enough to recommend the album, but further appeal comes from the presence of Staffan Astner."
Living Blues (p.44) - "Sensitive-folkie offerings like 'For You' and 'Connected' reflect both deep feeling and finely honed craftsmanship....Both uplifting and musically satisfying."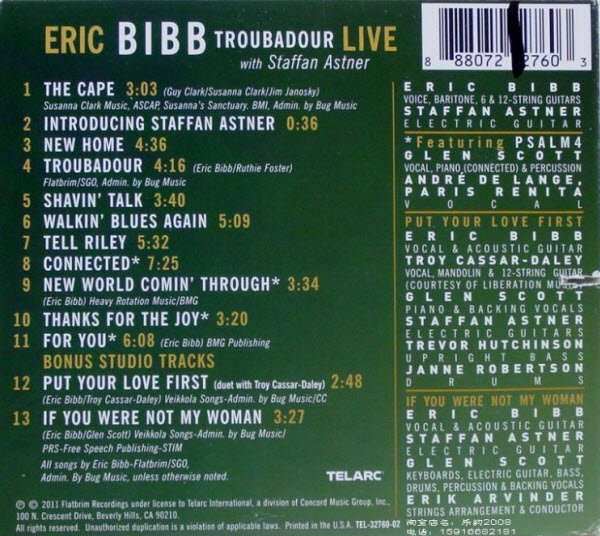 专辑曲目:
01. The Cape
02. Introducing Staffan Astner
03. New Home
04. Troubadour
05. Shavin' Talk
06. Walkin' Blues Again
07. Tell Riley
08. Connected
09. New World Comin' Through
10. Thanks For The Joy
11. For You
12. Put Your Love First
13. If You Were Not My Woman
这里是其它用户补充的资源(我也要补充):
暂无补充资源