专辑英文名: In2ition
专辑中文名: 二度交锋
音乐风格: 摇滚
资源格式: FLAC
发行时间: 2013年01月15日
简介: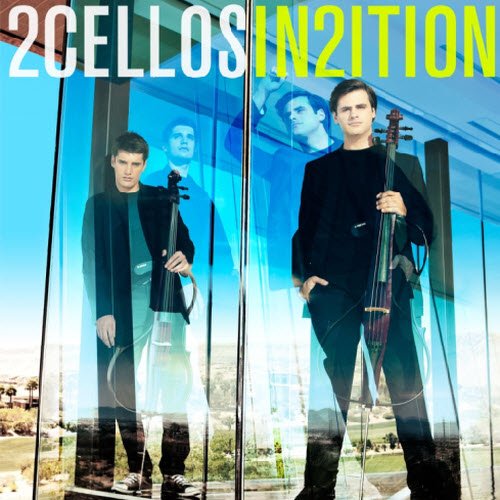 专辑介绍:

 由与Pink Floyd、Peter Gabriel、Alice Cooper等多位巨星合作的幕后名将,摇滚界传奇资深制作人Bob Ezrin操刀。

 传奇之星艾尔顿强、吉他大师史帝夫‧范、钢琴巨星郎朗、欢乐合唱团Naya Rivera等眾家巨星齐聚跨刀助阵!

 录音足迹遍及各大城市:克罗埃西亚之萨格勒布、罗马、田纳西州、纳许维尔、洛杉磯与拉斯维加斯等,规格豪华。

 优游於流行、摇滚、节奏蓝调、电子等领域,彻底颠覆想像空间;成功改编眾多知名巨星经典曲目:艾尔顿强《Candle In The Wind》、佛利伍:麦克合唱团《Oh, Well》、蕾哈娜《We Found Love》、酷玩乐团《Clocks》、超凡乐团《Voodoo People》、谬思合唱团《Supermassive Black Hole》等。

"新专辑将正崭露头角的他们推上高峰,他们是多么独一无二而具多元性,在我的演唱会上,我见识到了从未发生过的开场景象,当他们演完每首乐曲,感受强烈的激情观眾们,一再地起立鼓掌。" ─ Elton John

没有不可能的事,用在「提琴双杰2Cellos」身上再适当不过了!完全跨越音乐的籓篱,无须利用字词演绎,两位不当乖乖牌的高材生,利用大提琴载承古典频率,大摇大摆抢攻流行、摇滚、节奏蓝调、电子等区块,颠覆你的想像空间,不思议的畅快把玩,小小撒野的不断刺激乐迷聆听感官世界!

将流行天王麦可‧杰克森经典名曲〈Smooth Criminal〉发挥创意手法,精湛的提琴拉奏令人讚嘆不已,迅速席捲网路平台,狂飆百万点阅率,加上拥有帅气外型的苏利克(Luka Sulic)和豪瑟(Stjepan Hauser)两位成员,未发片前早已累积大批死忠粉丝追随!进而受到巨星艾尔顿‧强的青睞,邀请他们担任巡演客席嘉宾,也顺利与Sony Music签下一纸唱片合约的2Cellos,各自皆有深厚的古典底子,并且写下获奖无数的纪录、世界巡迴演出的傲人经历!2011年发行首张同名专辑《2CELLOS》,过癮打造枪与玫瑰、超脱合唱团、谬思合唱团、酷玩乐团、U2、强尼凯许、史汀经典好歌全新生命!2011年底受邀高收视率影集「欢乐合唱团Glee」演出,和主角们共通詮释的〈Smooth Criminal〉新版本,闯入告示牌数位榜前十名之林!

  趁胜追击的第二弹《In2ition》,更为加宽音乐视野,挑战首辑未曾触碰的领域,并且邀获多位大明星站台献艺,添入绝对的精彩度!开场的〈Oh, Well〉,交付伯乐艾尔顿‧强主导,一展不同以往的外放感应,保留原曲的狂野面,同时选择艾尔顿写下音乐史上最畅销的催泪作品〈Candle In The Wind〉。此回首度触碰节奏蓝调+电音的〈We Found Love〉、叱咤90年代电子舞曲界国歌之一〈Voodoo People〉等曲目。当然少不了拿手的〈Highway To Hell〉、〈Every Breath You Take〉、〈Supermassive Black Hole〉、〈Clocks〉等轰动排行之摇滚大作!还有请到:吉他大师史帝夫‧范、国际钢琴巨星郎朗、义大利天王巨星苏奇洛、Glee剧中饰演啦啦队长Santana的Naya Rivera、新世纪概念天团「阿迪玛斯」创办人卡尔‧詹金斯等人齐力抬轿,相互擦出更为灿烂的音乐火花!两人特别合力写出原创新作〈Orient Express〉,展现最动容时刻!

Audio CD (January 15, 2013)
SPARS Code: DDD
Number of Discs: 1
Label: SONY MASTERWORKS

Artist: 2Cellos
Album: In2ition
Released: 2013
Style: Pop


Published on February 10, 2013
2 Cellos – In2ition – Sony Masterworks

2 Cellos – In2ition – Sony Masterworks 88725 40944 2, 47:00 (1/15/2013) ****:

(Stjepan Hauser – cellos; Luka Sulic – cellos; with special guests Elton John – vocals; Steve Vai – guitar; Naya Rivera – vocals; Lang Lang – piano; Sky Ferreira – vocals; Zucchero – vocals; Tom Snider – keyboards; Bob Ezrin – keyboards)

It seems that for years, popular music has attempted to enhance its sound with classical orchestration. Groups as diverse as Mettalica, Sting and Procol Harum, have adapted their music and live performances to this concept. However, classical musicians have now embraced modern pop influences. Kronos Quartet's cover of Jimi Hendrix's "Purple Haze" was groundbreaking in assimilating hard-edged rock imagery to classical string format. Violinist David Garrett has recorded albums that rearrange heavy metal and hard rock.

It is not surprising that Croatian cellists Luks Sulic and Stjepan Hauser (known collectively as 2 Cellos) have achieved success in this arena. Elton John discovered their online videos and they were signed to Sony Masterworks. Their self-titled debut featured compositions by U2, Kings Of Leon Trent Reznor and Guns N' Roses. But it was their version of Michael Jackson's "Smooth Criminal" that lead to a guest appearance with Naya Rivera on TV's Glee that propelled the duo into the mainstream.

2 Cellos has released their follow-up album IN2ITION. Produced by Bob Ezrin, there are 13 tracks of blended classical/pop music, many with guest artists. The opening cut works to perfection. The duo resurrects "Oh Well" from the Peter Green-led Fleetwood Mac catalogue. Sulic and Hauser use their cellos like driving electric guitars, creating a blues/rock groove. Even better, Elton John belts out the vocals with grit and soulful passion. He reminds the listener that his roots have always been in this genre. A likely "hit" will be the head-banging rendition of AC/DC's "Highway To Hell". The dual cellists lay down the requisite cohesive framework to free up Steve Vai's screaming guitar licks. Another rock hit("Every Breath You Take") interprets a well-known standard, maintaining the baleful undercurrent of this Police classic.

On "Clocks" (Coldplay), pianist Lang Lang ramps up the intensity. The vocal collaborations are varied with different results. Maya Rivera joins on a nasty take of Muse's "Supermassive Black Hole". The organic connection of voice and cello is not consistently fluid on certain vocal contributions ("Bang Bang"). But Italian singer Zuccharo does provide some romantic nuance to "Il Libro Dell'Amore". The cello accents are lyrical and prominently melodic. Possibly the most engaging arrangement is an instrumental: "Benedictus". Exploring a meditative theme, the addition of two keyboardists (Tom Snider, Bob Ezrin) builds a layered sonic effect. The use of harmony (especially by the cellos) is haunting. The duo shines on an original, "Orient Express" that employs a pulsating tempo and highlights the chemistry between these instrumentalists.

It is entirely possible that classical music purists will be skeptical about this album. For that matter, rockers may react in a similar fashion. For those who are not entrenched in either camp, IN2ITION will be a breath of fresh air.

TrackList: Oh, Well; We Found Love; Highway To Love; Every Breath You Take; Supermassive Black Hole; Technical Difficulties; Clocks; Bang Bang; Voodoo People; Candle In The Wind; Orient Express; Il Libro Dell'Amore; Benedictus

—Robbie Gerson


引用
7 of 7 people found the following review helpful
4.0 out of 5 stars Sophomore "crossover" album by eclectic/electric cello duo from Croatia - Lots of guests too! January 15, 2013
By Steven I. Ramm TOP 100 REVIEWER
Format:Audio CD
Here's the 2nd "crossover" album by Croatian cello players Luka Sulic and Stjepan Hauser. (I haven't heard the first one but - on Amazon - folks seemed to like it.
These guys became a big hit - apparently - when they appeared on the TV series "Glee" with Glee star Naya Rivera and there is a YouTube going viral.
On this album the two cellists have lots of big name company as guests. The first track, "Oh Well" is the early Fleetwood Mac hit (written by Peter Green, when he was in the band). Elton John is the guest here and he provides vocals to the electric cellos. It gets the album off to a great start. There more pop (hits by Rhianna, Cher and The Police) and rock (AC/DCs hard edged "Highway to Hell" - with guest Steve Vai on guitar and Muse's "Supermassive Black Hole) than I cared for and it's certainly like nothing else on Sony Masterworks (the label). An interesting track is the 6-minute version of "Clocks" (the Coldplay hit) with the cellists and Lang Lang on piano. Others I liked were the one original by the pair ("Orient Express"), the Italian song "The Book of Love" with Italian superstar Zucchero, and the closer, "Benedictus" (the dou accompanied by two keyboard players. This last track is the closest to a "classical piece". The 46 -minute CD is accompanied by an 8 panel booklet with more photos than info (basically the track listing). In one of the four photos of the duo they are shown with acoustic cellos; the others show them bearing electric ones. I can't tell for sure if the acoustic ones were used on the album, but if they were, it was sparse.

This is a fun album to listen to at least once, and I'm sure there will be a fan base, but those who are not fans of electric guitar riffs should be aware that electric cello riffs sound pretty much the same.
Another album that will get a boost from Youtube videos.

I hope you found this review both informative and helpful.

Steve Ramm
"Anything Phonographic"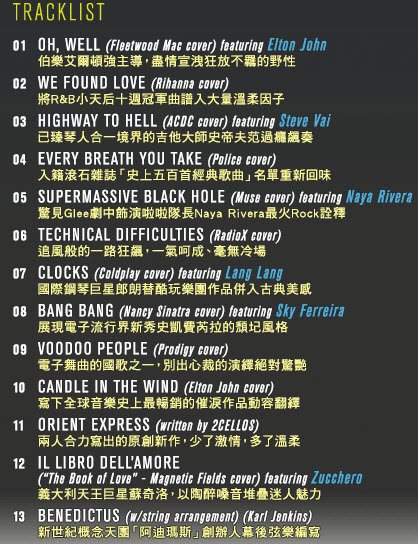 专辑曲目:
01. Oh, Well
02. We Found Love
03. Highway To Hell
04. Every Breath You Take
05. Supermassive Black Hole
06. Technical Difficulties
07. Clocks
08. Bang Bang
09. Voodoo People
10. Candle In The Wind
11. Orient Express
12. Il Libro Dell 'Amore
13. Benedictus
这里是其它用户补充的资源(我也要补充):
暂无补充资源