专辑英文名: Putumayo Presents - Jazz Around The World
专辑中文名: 普图马约 : 世界爵士疯
音乐风格: 爵士
资源格式: FLAC
发行时间: 2009年10月27日
简介: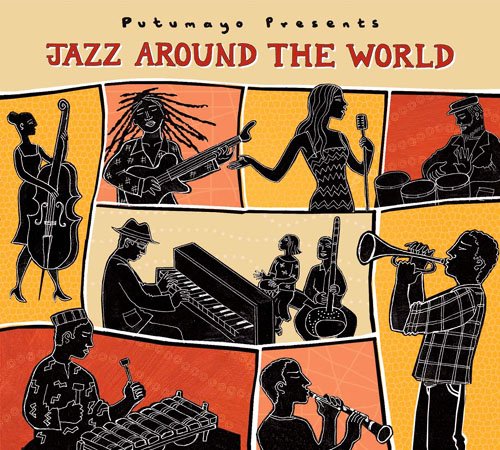 专辑介绍:

爵士乐於上个世纪初期诞生於美国南方,与蓝调音乐一样,融合了源自於非洲的殖民后代的音乐元素,以及美国南方传统音乐逐渐演化而成,在上个世纪的四十五十年代发展到顶峰,全世界都开始玩爵士音乐,因而成为一股世界性的潮流音乐,就像Salsa及雷鬼音乐一样,已经是世界共通及共有的音乐了,不过有趣的是,爵士乐传到世界各地后,除了爵士乐各种主要型式之外,与当地的传统及世界音乐结合之后,竟然成为一种新的音乐类型,称之为World-Jazz Music(世界爵士音乐),顾名思义就是世界音乐与爵士音乐的综合体。

这张专辑里收入了当今世界各地最具代表性的World-Jazz风格曲子,听起来没有正统爵士乐的艰涩,反而有更多流行及世界民俗的味道。World-Jazz Music其实早在上个世纪的六十年代就已经开始了,当爵士音乐遇到拉丁音乐之后,成了最受全球欢迎的拉丁爵士(Latin Jazz),Bossa Nova可以算是其中的代表产物之一;如果爵士乐碰到法式香颂会是什么感觉呢?其实近代的法式香颂里多少都会加一点点爵士的东西在里面,来增加浪漫及慵懒的感觉;爵士音乐如果碰到非洲音乐会是什么样子呢?南非算是非洲地区最早与西方接触的国家,当爵士乐在美国发展时,南非也几乎与美国同步,在经过了跟风的时期后,逐渐开始尝试融合南非当地特色在爵士乐中;夏威夷音乐遇到爵士又会是什么情况呢?其实夏威夷最特色的音乐Slide Key(閒散调)在发展之初受爵士的影响就很大,所以这两者就在很自然的情况之下融合成为Hawaiian Jazz这种乐风;全世界各种不同与爵士乐融合的乐风,全都在这张专辑里找得到。

专辑名称 : 世界爵士疯 Jazz Around the World
专辑编号 : PUT296
专辑特色 : 收录了当今世界各地最具代表性的World-Jazz Music风格代表作
唱片公司 : Putumayo

Audio CD (October 27, 2009)
Original Release Date: 2009
Number of Discs: 1
Label: Putumayo World Music
ASIN: B002MT3BRQ

Putumayo World Music is a New York City-based record label, now specialising in compilations of music from various nations, regions or musical styles which may be classified as world music.

Jazz may have been born in the United States, but it didn't take long for it to find its way to every corner of the globe, and for remarkable artists to emanate from dozens of other nations. Too bad they're not here, on Putumayo's well-intentioned but ultimately disappointing collection. Jazz Around the World can't hope to be the definitive statement on contemporary international jazz at only 11 tracks, and it doesn't cover nearly enough geography (no Asian artists are represented). More to the point, though, its idea of jazz is a music that never quite swings, has never heard of bop or anything since, and aims more at the dinner-music set than serious jazz fans. Africa claims four of the 11 tracks collected here, among them "Open the Door," by the CD's most prominent artist, Hugh Masekela. Teaming up with vocalist Malaika, Masekela slips into an easy funk groove, and while his trumpet solo never really catches fire, it's a strong and sensual one. The Kora Jazz Trio combines that exquisite stringed instrument with piano and drums on the Cuban-derived melody "Chan-Chan," and Mali's Kélétigui Diabaté utilizes the balafon on an appropriately warm and lazy take on George Gershwin's "Summertime." Nice enough, but hundreds of jazz artists have given it more life. Another standard opens the set: "La Mer," better known to Westerners as "Beyond the Sea," is given a breathy, late-night, innocuous reading by Canada's Chantal Chamberland. Mexico, never a hotbed of jazz, is the source of the Django Reinhardt-esque "Polka Dot Blues" by Sherele, and legendary American drummer Billy Cobham is rather restrained on his collaboration with the Cuban son group Asere on "Destino." New Zealand, too, earns an entry, but Kataraina Pipi's "Te Reo o Papatuanuku" barely registers as jazz, devoid of improvisational spark. That, in fact, sums up the set's problem: Jazz Around the World never reaches down into smooth jazz territory, but neither does it ever make us understand why these tracks might have something to contribute to the ongoing conversation that is jazz. ~ Jeff Tamarkin Illustrator: Nicola Heindl. Photographers: Nathan Hughes; Kora Jazz Trio; Nathan Hughes; Kataraina Pipi; Michel De Bock. Personnel: Hugh Masekela (vocals, flugelhorn); Heather Rigdon, Kataraina Pipi, Chantal Chamberland (vocals); Boubacar Sidibe (guitar, harmonica); Blick Bassy (guitar, percussion); Habib Koité, Rob Piltch (guitar); Jean Louis Solans (acoustic guitar); Djeli Moussa Diawara, Sékou Kouyaté (kora); Robi Botos Trio, Abdoulaye Diabaté, Catherine Marx (piano); Kélétigui Diabaté (balafon); Souleymane Ann, Jim White , Billy Cobham, Sello Montwedi (drums); Valery Lobe, Mahamadou Koné, Tlale Makhene, Francis Fuster (percussion). Liner Note Author: Jacob Edgar.


引用
Reviews
4.8 out of 5 stars

See all 6 customer reviews
Share your thoughts with other customers
Most Helpful Customer Reviews
10 of 11 people found the following review helpful
4.0 out of 5 stars "Jazz" is a subjective term. This combines "jazz" with World music" October 27, 2009
By Steven I. Ramm TOP 100 REVIEWER
Format:Audio CD
Another fine CD from Putumayo, best known for its CD compilations of "world music". Most of their releases emphasize a specific geographical region or country, while some are by "style".

While the homelands of the artists included on this disc range from New Zealand to Mexico to Cameroon to Canada the emphasis seems to be on African beats with Cuban/Mexican rhythms.

Hugh Masekela - who had hits in the US in the 1960s ("Grazin' in the Grass" hit #1 on the pop charts), he is now back in South Africa. US drummer Billy Cobham mixes his band with Cuban musicians. Katarina Pipi lives in New Zealand (not a country with an identifiable music style) but her Maori music echoes Hawaiian singing. And the oddest combination here is the band Sherele, a Klezmer band from Mexico.

There's no one here playing in the Traditional Jazz style and no one using bebop or, thank you Putumayo, "smooth jazz". The sole American singer is Heather Rigdon, an independent label artist. Masakela is probably the only easily recognizable name. But, then again, Putumayo wants to introduce listeners to artists that are new to them. They accomplish this with this album, with selections taken from 2004-2008 releases.
专辑曲目:
01. Chantal Chamberland - La Mer (3:50)
02. Niuver - Quiereme Mucho (4:05)
03. Blick Bassy - Donalina (4:11)
04. Kora Jazz Trio - Chan Chan (4:45)
05. Heather Rigdon - Young And Naive (2:50)
06. Kad - J'aime Mon Lit (3:21)
07. Sherele - Polka Dot Blues (2:20)
08. Kataraina Pipi - Te Reo O Papatuanuku (2:11)
09. Keletigui Diabate - Summertime At Bambako (3:29)
10. Billy Cobham And Asere - Destinos (6:11)
11. Hugh Masekela With Malaika - Open The Door (5:11)
这里是其它用户补充的资源(我也要补充):
暂无补充资源