中文名: 机械工程设计CAD解决方案
英文名: VariCAD 2013
资源格式: 压缩包
版本: v1.03
发行时间: 2013年
简介: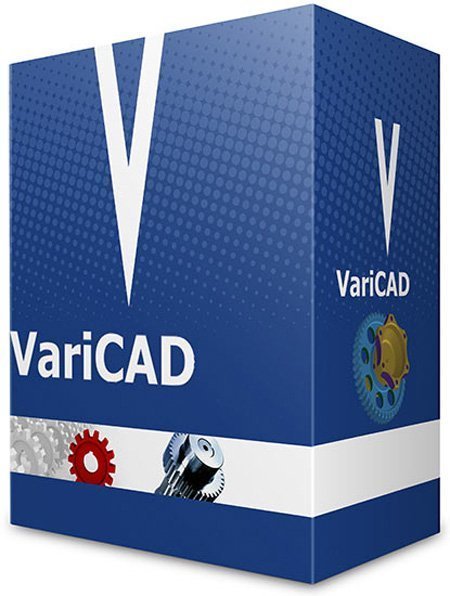 VariCAD - 设计从未如此简单 !

VariCAD是一款适用于机械工程设计的Windows/Linux双平台CAD设计软件,它不仅包含标准的2D工程图绘制和3D建模等功能,还提供了利用参数和几何约束来控制对象、以及创建带有厚度的外壳、创建智能管道、展开曲面、干涉检查、内置ANSI与DIN标准的2D与3D机械零件库等许多实用功能。VariCAD可以创建单独的零件文档以及装配体文档并在它们之间协同工作和同步更新,还拥有创建物料清单以及自动填充2D图纸标题框等功能。VariCAD支持STEP、STL、IGES、DWG和DXF格式的文档。

VariCAD软件简单易用,即使是初学者也可以很快地掌握利用VariCAD来创建设计对象、修改编辑、以及测算和评价设计对象的方法。最重要的是,VariCAD软件是一款"全包形式"的软件,它本身即提供了如上所述从事机械设计所需的全部功能,您无需额外付费购买其它插件。

功能强大而又经济实惠——VariCAD会是您精明理智的选择。

VariCAD可以在Microsoft Windows XP、Windows Vista和Windows 7操作系统上安装和运行,并且支持32位与64位的Windows系统。



VariCAD软件简单易用,即使是初学者也可以很快地掌握利用VariCAD来创建设计对象、修改编辑、以及测算和评价设计对象的方法。最重要的是,VariCAD软件是一款"全包形式"的软件,它本身即提供了如上所述从事机械设计所需的全部功能,您无需额外付费购买其它插件,在目前的全球机械工程设计领域,VariCAD堪称性价比最高的CAD解决方案。国外用户形象地称其"值得我们所付的每一分钱"。
VariCAD的用户界面

VariCAD拥有简单明了的图形用户界面,非常适合用户进行直观快速地操作和精准的3D空间定位。该用户界面经过历代版本的改进和精心调整,如今设计师可以通过很短捷直观的操作步骤,即能完成自己的设计构思。全部的操作菜单和键盘指令也是秉着简洁易用的宗旨而开发。VariCAD可以在具体的操作期间为您提供光标提示、光标自动探测、以及多种选择对象的模式,此外,诸如辅助网格、辅助线、打开/关闭绘图限制等许多功能也大大方便了您的操作。



您可以选择在3D区域或2D区域开始工作。传统的方式是在2D区域完成绘图后,再由此生成3D模型。而我们建议您可以直接在3D区域开始工作,因为这种方法更加形象和直观,您可以很方便地利用完成后的3D模型生成2D绘图(如前视图、侧视图、透视图、局部图、剖视图等)。
3D建模

为了方便您的操作,VariCAD提供了基本的3D几何实体(如方体、圆柱体、方塔、圆塔等),您只需定义它们的尺寸即可生成3D模型。此外还可以通过将2D轮廓拉伸、旋转、螺旋或放样来生成3D模型。
您可以通过布尔操作、后期编辑布尔结构树来很方便地修改和编辑3D实体。VariCAD的布尔操作能够真实地模拟和计算机械加工所得出的结果,如钻孔(包括螺纹孔)、磨铣、沟槽和创建倒角、斜角等。
3D工具 - 装配体、群组、机械零件库等

VariCAD可以创建单独的零件文档和装配体文档,并支持它们之间的装配关联和同步更新,对零件或装配体的任何变更都会应装配关联产生即时的同步更新。VariCAD还提供了群组功能,在操作复杂的装配体文档时,您可以通过群组功能,很方便地选择或隐藏相应的对象。


干涉检查

VariCAD提供了丰富的干涉检查功能(即多个实体之间的相互重迭)。您可以利用该功能在装配体中探测到任何存在的干涉现象并进行调整。


机械测算

VariCAD可以进行如下自动测算并得出结果:表面积(选定表面或2D剖面)、体积、质量、重心以及转动惯量等。此外还为用户提供了诸多日常操作所需的测算:压缩弹簧、牵引弹簧、螺丝连接、销与键、花键轴、轴承、直齿轮与直齿锥轮、滚柱链、V带传动等。这些功能可以有效提高您设计的合理性。


展开(钣金工件)表面

VariCAD能够自动探测到包含有厚度的钣金工件将其展开成为2D绘图,也能够根据您所定义的弯曲系数和厚度,将选定的3D实体表面展开成为2D绘图,您还可以将展开后的2D绘图的X、Y坐标值保存为纯文本文档。


机械零件库与常用符号库

VariCAD内置了ANSI与DIN标准的机械零件库(包括2D图块与3D实体两种形式),其中包括诸如螺丝、螺母、销与键、垫圈、型材、轴承等。此外,VariCAD的2D绘图区域中还提供了液压符号、焊接符号、电气符号等常用的符号库。
一些非图像化的机械信息也被包含其中,如原材料列表及其质量密度等,这在创建设计方案的物料清单等操作时将很有帮助。


由3D输出2D绘图

在VariCAD中,用户可以很方便地将3D对象输出为2D绘图,如前视图、侧视图、当前透视图等,也可以输出定义的剖面图或鼠标框选的局部视图。利用"视图输出管理列表",您还可以在3D变更后,自动更新此前输出过的2D绘图。


2D绘图与编辑

VariCAD的工程图绘制功能相对更加直观和简单易用,其中包括诸如光标自动探测对象和捕捉到几何定位点、光标提示、辅助网格与辅助线、绘图限制等辅助功能,此外,VariCAD还提供了图层(上限为250个图层)、创建与编辑图块、自动探测轮廓并绘制填充线、智能尺寸标注与调整(包括mm与英寸)等诸多方便实用的功能。


物料清单与标题框的自动填充

VariCAD可以为装配体创建物料清单,该清单可以包括装配体中的全部零件对象及其各自的详细信息(如名称、数量、重量、原材料、编号、购买等信息)。用户可以定义链接将物料清单自动填充到2D绘图的标题框中,也可以直接输出为纯文本文档。


参数与几何限制

通过创建参数与几何限制,可以在VariCAD中方便地实现对3D实体的形状变更和控制(包括对Nurbs曲线形状的控制)。


兼容性

VariCAD拥有强大的兼容性,您可以在VariCAD中输出STEP (3D)、STL (3D)、IGES (3D或2D)、DWG (2D)、DXF (2D)格式的文档,也可以导入STEP (3D)、DWG (2D)、DXF (2D)与IGES (2D)格式的文档,此外还支持对多个文档的批量转换功能。


打印与输出

VariCAD兼容几乎所有的打印输出设备(如各种打印机、绘图仪等,包括Postscript输出),可以通过任何Windows或KDE Linux的打印驱动来进行输出,也可以使用VariCAD内置的打印驱动指令进行输出。







################ If you like this software, consider to buy it #############

资源更新列表



http://www.VeryCD.com/i/5190747/create/fol...postTime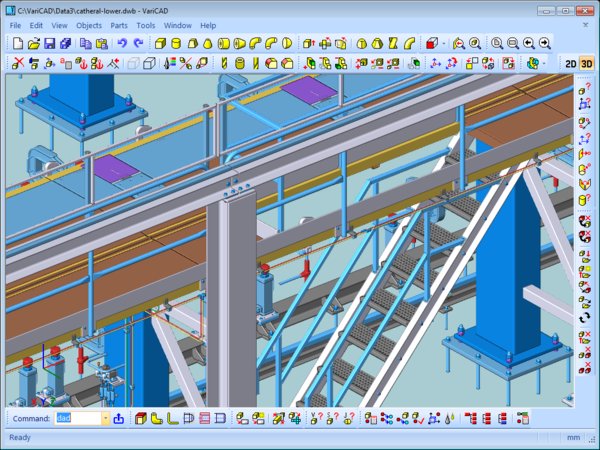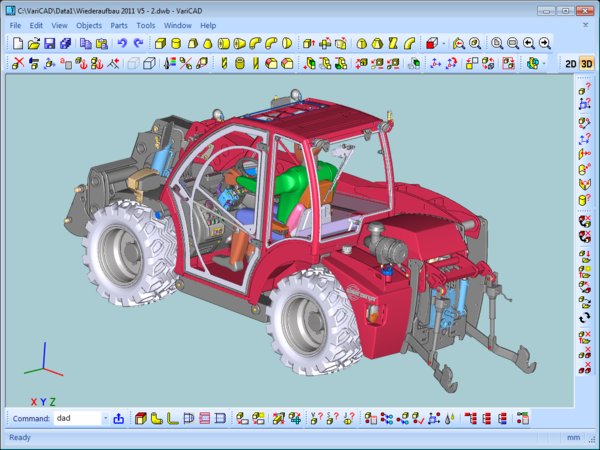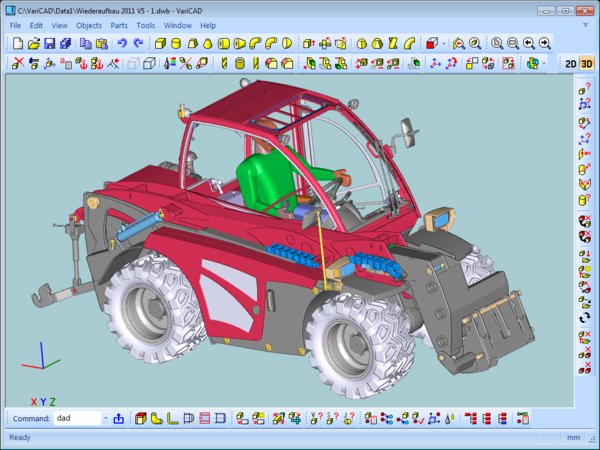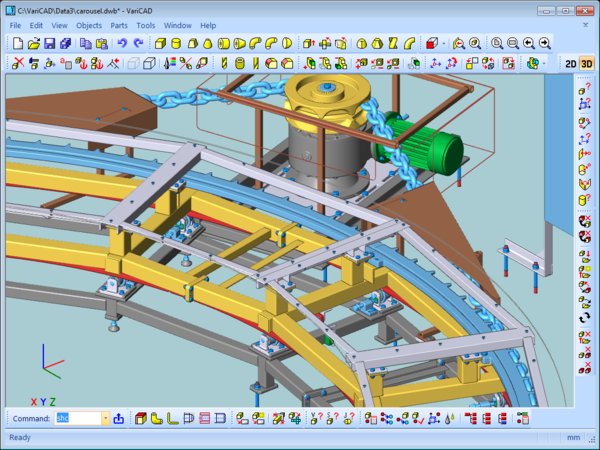 VariCAD - designing has never been easier!


VariCAD is a 3D / 2D CAD software for mechanical engineering. VariCAD is compact, fast, easy to use, and provides everything necessary for mechanical design. VariCAD is sold "fully loaded", including all features and functions, for one affordable price. The system contains:
3D Modeling
2D Drawing and Editing
Optional Support of Parameters
Optional Support of Geometrical Constraints
Shells Modeling, Pipelines, Wires
Crash Tests (Interferences)
3D Assemblies and Groups
Surface Development (Sheet Metal Unbending)
Mechanical Part Libraries and Symbol Libraries
Calculations of 3D Objects or 2D Sections
BOM and Title Blocks

VariCAD is available in English, German, Portuguese, Japanese and Chinese versions. All features are included in one package - from 499 EUR. For data exchanging, VariCAD uses STEP, STL, IGES, DWG and DXF file formats. The system fully supports Unicode.



VariCAD - CAD system requirements


True Color mode and hardware support of OpenGL are always required.
Windows version

recommended minimum configuration:
at least 2GHz processor
1GB RAM
HDD 250MB
graphic card with hardware support of OpenGL graphics
three-buttoned mouse
Microsoft Windows XP (SP2), Windows Vista or Windows 7




Introduction

VariCAD is 3D / 2D CAD software primarily intended for mechanical engineering design. The comprehensive CAD software enables designers to quickly create, evaluate, and modify their models. The software is sold as one "fully loaded" package, with all features and functions, for one very affordable price. VariCAD delivers an excellent performance-to-price ratio, making it one of the smartest choices on the market today.


VariCAD 2013-1.03- January 30, 2013

Changes in 3D kernel, allowing you to read multiple shape representations from STEP:

For instance, you can load open shells (shells with zero thickness), or solids with missing patches and work with them. This improvement significantly reduces number of solids, previously refused to load. Until now, VariCAD refused to load a solid, if an error was detected at a single patch. Now, the solid is loaded with missing patch only. Moreover, there are other improvements in opening of STEP files.
Support of DWG/DXF format of Autocad 2013
Tools for working with open solids (mostly loaded from STEP, see above):

Now, VariCAD can work not only with closed surfaces, but also with objects with missing patches (originally, a closed surface where a patch was deleted due to error or, optionally in VariCAD). Other supported shape representations are set of patches and especially, open shells. The open shells may be often used in various libraries of mechanical parts.

You can convert objects from one representation to another, with certain limitations. If necessary, you can also convert solids into open shells (for instance, if such type is demanded by other systems).

Tools for working with such objects and for displaying information about them are accessible from pull-down menu or from optional toolbar. Also, you can right-click open solid and select tools from pop-up menu.
New reparation tools:

Reparation tools are accessible from pull-down menu, or from a new toolbar. Apart from already existing tools, there are possibilities to handle erroneous surfaces, if they were loaded from STEP.
Completely rebuild working with construction lines in 2D:

You can conveniently define directions, where new construction lines will be created, or optionally, drag construction lines by cursor at a defined step. These new features are especially useful, if you draw 2D objects in 3D space.
Other minor improvements in 3D kernel:

They affect filleting, shell creation, rounded corners or working with surfaces, created by lofting of one profile to another profile.
A few changes in user interface:

There is a new possibility to open pop-up menu within command (for instance, during solid transformation, selecting objects etc…) by simultaneous pressing left and right mouse button. Also, you can turn on/off some information messages. Run "cfg" command to configure these options.



代码
Ü ß ß Ü
Ü ÜÜÛß ßÛÜÜ Ü
ÜßßÛÜ ÜÛß ÜÜßÛÛß ßÛÛßÜÜ ßÛÜ ÜÛßßÜ
Ü ÞÛÜß Ü ßß ÜÛÛß t h e c r a c k e r s o f ßÛÛÜ ßß Ü ßÜÛÝ Ü
ßÜ ÛÛÛÜ ß ÜÜÜß ÛÛÛ ÛÛÛ ßÜÜÜ ß ÜÛÛÛ Üß
ß ÜÜ ßßßÜßÛÛÛß ÛÛÛ ÜÜÜ ÜÜÜ ÜÜÜ ÜÜÜÜ ÜÜÜ ÛÛÛ ßÛÛÛßÜßßß ÜÜ ß
ÛÛÛ ßÛß ÛÛÛ ÜÛÛ²²ÛÛÜ ÜÛÛÛ²ÛÛÜ ÛÛÛÛ²ÛÛÜ ÞÛ²²ÛÛÛ²ÛÝ ÛÛÛ ßÛß ÛÛÛ
ÛÛÛ ß ÛÛÛ ÛÛ²ÛßßÛÛÛÝÛ²ÛÛßßÛÛ²ÛÞÛ²ÛßÛÛÛÝ ²²ÛÛßÛÛßß ÛÛÛ ß ÛÛÛ
ÛÛÛ ÛÛÛ ÞÛÛÛÝ Û²ÛÞÛÛÛÝ ÞÛÛ ÛÛÛÝ Û²Û ÞÛÛÝ ÛÛÛ ÛÛÛ
ÛÛÛÛÛ ÞÛ²Û ÞÛÛßÞÛÛÛ ÛÛÛÝÛÛÛ ÜÛÛÛÝÛÛ²ÛÜÜÜ ÛÛÛÛÛ
ÛÛÛ ÛÛÛÝ Û²ÛÝ ÞÛ² Þ²ÛÛÛ²Ûß ÞÛÛÛÛÛÛÝ ÛÛÛ
ÜÛÜÜÜÛÜ ÞÛÛÛ ÛÛÜÞÛÛÛ ÛÛÛÝÛÛÛßßÛÛÛ ²ÛÛ²ßßß ÜÛÜÜÜÛÜ
[rAD!s] ÛÛÛßß ßßÜ Û²ÛÝ ÞÛÛÝÛÛÛÝ Þ²Û Û²Û Û²ÛÝÞÛÛÛÝÜÜ Üßß ßßÛÛÛ
ÛÛß ÞÛ²ÛÛÜÛ²ÛÝÞÛ²ÛÛÜÛÛÛÝ ÛÛÛ ÞÛÛÛ Û²ÛÛÛ²ÛÜ ßÛÛ
²ÛÛÜ ßÛÛÛ²ÛÛß ßÛÛÛ²²Ûß ÞÛ²ÛÝ ÞÛ²ÝÞ²ÛÛ²ÛÛÛÛÝ Ü²Û²
ß²²Û ßßß ßßß ßßßßß ßßß ßßßßß Û²Ûß
²Ý Ü ßÛÝ ÞÛß Ü Þ²
ÞÝ Û ÛÝ p r e s e n t t h e 3 0 k - c o l l e c t i o n ÞÛ Û ÞÝ
² ² þßß ßßþ ² ²
ÞÝ ÛÝ VariCAD 2013 v1.03 *INCL.KEYMAKER* ÞÛ Þ
þ ÞÛ ÛÝ þ
ÛÝ ÞÛ
ÞÛ Cracked by....: Cyrex Release-Name..: CR-TPU01.ZIP ÛÝ
ÛÛ Supplied......: CORE Release-Date..: 2013/02/03 ÛÛ
ÛÛÝ Packaged......: Bergelmir Release-Type..: Util ÛÛ
Û²Ý Protection....: Serial OS............: Windows Þ²Û
ÞÛÛ Crack/SN......: Keymaker Language......: English ÛÛÝ
ÞÛÛÝ Rating........: [You decide!] Disks.........: 27 ÛÛÝ
ÞÛÛ ÛÛÝ
Û²Û Û²Û
ÛÛÛ ßÛÜ ÜßßßÜ ÜÛß ÛÛÛ
ÛÛÛÜ ßÜ ÜÛ²ßÜÜß ßÜÜß²ÛÜ Üß ÜÛÛÛ
þ ßÛ²ÛÜÜ ßßÜÜ Üßß ßÜ Üß ßßÜ ÜÜßß ÜÜÛ²Ûß þ
ßÜÜ ßßÛÛÛÛÛÜ ßÜ Þ ßÜÜ Üß ßÜ ÜÜß Üß ÜÛÛÛÛÛßß ÜÜß
ßßÛÜÜÜ ßÛ²ÛÛ Û ß ßßÛÜ ÜÛßß ß Û ÛÛ²Ûß ÜÜÜÛßß
Ü ßßÛÛß ßÛ þß Üßß Þ°² ²°Ý ßßÜ ßþ Ûß ßÛÛßß Ü
Üþ Ü Ü ÞÝ ±±Ý Þ±± ÞÝ Ü Ü þÜ
ÛÝ ß ²ÜÜß ßÜÜ ßÜÜ ²²Û Û²² ÜÜß Üßß ßÜܲ ß ÞÛ
Þ²ÛÜܱ ÜÜÜÛÛß ß Üܲ²ß ß²²ÜÜ ß ßÛÛÜÜÜ ±ÜÜÛ²Ý
ß²Û²ÛÛÛÛ²²Û ÜÛ²ß ß²ÛÜ Û²²ÛÛÛÛÛ²Û²ß
ßßßßß °Ûß ßÛ° ßßßßßßß
°Û ÜßßÜ ÜßßÜ Û
ÞÝ°²ß ÞÝ ÞÝ ß²°Þ
ßÜ Üß ßÜ Üß
ßß ßß
Üþ þÜ ÜÜß Üß²Ü
ܲßÜ ßÜÜ ÛÝ ß ²ÜÜß ßÜܲ ß ÞÛ Üßß ÜÜÜ Û
Û ÜÜÜ ßßÜ Þ²ÛÜܱ ÜÜÜÛÛß ßÛÛÜÜÜ ±ÜÜÛ²Ý ÞÝ Ü²° ßßÜÜ
ÜÜßß °²Ü ÞÝ ß²Û²ÛÛÛÛ²²Û Û²²ÛÛÛÛÛ²Û²ß ßÜ ß ß Ü ßÜ
Üß Ü ß ß Üß ßßßßß ßßßßßßß ßß²° Ûß ÞÛ
ÛÝ ßÛ °²ßß þß ²Ý
Þ² ßþ ..: DESCRiPTiON :.. ²Ý
Û² ²Û
Û² ²Û
² VariCAD is a 3D/2D CAD system for mechanical engineering. In ²Û
² addition to standard tools for 3D modeling and 2D drafting, the ²Û
² CAD system provides support for parameters and geometric ²Û
² constraints, tools for shells, pipelines, sheet metal unbending ²Û
² and crash tests, assembly support, libraries of standard ²Û
² mechanical parts (ANSI, DIN) and symbols, mechanical part ²Û
² calculations and tools for working with bills of materials (BOM) ²Û
² and title blocks. VariCAD supports STEP, STL, IGES, DWG and DXF ²Û
² file formats. ²Û
² ²Û
² http://varicad.com ²Û
Û² ²Û
Þ²ÝÜ ÜÞ²Ý
ß°ß ß°ß
þß ßþ
ßÜ ÜÜ Ü Ü ÜÜ Üß
ß Ü þ Üßß ß ß±ß ß±ß ß ßßÜ þ Ü ß
ÞÝ ß Ü Ü Ü Ü ß ÞÝ
ܲßÜ ßÜÜ ßþ Ü þß ßþ Ü þß ÜÜß Üß²Ü
Û ÜÜÜ ßßÜ Üßß ÜÜÜ Û
ÜÜßß °²Ü ÞÝ ÞÝ Ü²° ßßÜÜ
Üß Ü ß ß Üß ßÜ ß ß Ü ßÜ
ÛÝ ßÛ °²ßß ..: iNSTALL/REGiSTER NOTES :.. ßß²° Ûß ÞÛ
Þ² ßþ þß ²Ý
Û² ²Û
Û² ²Û
² Use our keymaker to register the application. ²Û
² ²Û
Û² ²Û
Û² ²Û
Û² ²Û
Û² Thanks for choosing ²Û
Û² (C)hallenge (O)f (R)everse (E)ngineering! ²Û
Û² ²Û
Û² ²Û
ÞÛ² ²ÛÝ
ÞÛ² Üþ þÜ ÜÜß Ü߲ܲÛÝ
ßÜ ßÜÜ ÛÝ ß ²ÜÜß ßÜܲ ß ÞÛ Üßß ÜÜÜ
ÜÜÜ ßßÜ Þ²ÛÜܱ ÜÜÜÛÛß ßÛÛÜÜÜ ±ÜÜÛ²Ý ÞÝ Ü²° ßßÜÜ
ÜÜßß °²Ü ÞÝ ß²Û²ÛÛÛÛ²²Û Û²²ÛÛÛÛÛ²Û²ß ßÜ ß ß Ü ßÜ
Üß Ü ß ß Üß ßßßßß ßßßßßßß ßß²° Ûß ÞÛ
ÛÝ ßÛ °²ßß þß ²Ý
ÜÜ Ü ..: CORE NEWS AND iNFOS :.. Ü ÜÜ
ÜÛÛÛÛ ßÜ Üß ÛÛÛÛÜ
ÞÛÛ²ÛÛÝ ÞÝ ÞÝ ÞÛÛ²ÛÛÝ
ÛÛ²ÛÛÛ Û - not available - Û ÛÛÛ²ÛÛ
Þ²Û²ÛÝ Üß ßÜ ÞÛ²Û²Ý
Û²ÛÛ ÞÝ ÞÝ ÛÛ²Û
ÞÛ²Ý ßÜÜ ÜÜß Þ²ÛÝ
ÛÛÝ ßÜ Üß ÞÛÛ
ßÛ ÞÝ ÞÝ Ûß
² Üß ßÜ ²
ÜÛß ßÛÜ
Üßß ßßÜ
Üß ßÜ
ÜÛÝ ÞÛÜ
²ÛÝ ÛÛ²
ÞÛÛ ÞÛÝ
ÛÛ ÛÛ
ÛÛ ÛÛ
ÛÛ ÛÛ
²ÛÛ ÛÛ
ÞÛÛÝ þßÜ Üßþ ÞÛÝ
Û²ÛÜ ÞÝ ÞÝ ÜÛ²
ßÛÛÛÛÜÜ ÜÜÜÜÛß ßÛÜÜÜÜ ÜÜÛÛÛÛ
ÛÛÛÛ²ÛÛÛÛÛßß ßßÛÛÛÛÛ²ÛÛÛÛ
Þ²Û ßßß ßßß Û²Ý
ÞÛÝ ÞÛÝ
ÞÛÝ ÞÛÝ
Û² ²Û
ÞÛÝ ÞÛÝ
Û² ²Û
ÞÛÝ ÞÛÝ
Û² ²Û
ÛÝ ÛÛ
ÛÛ ÞÛÝ
ÞÛÝ ÞÛÝ
Þ²Ý Þ²Ý
ÛÛ Ü ßþ þß Ü ÛÛ
Þ²Ý þ ß ß þ Þ²Ý
ÛÛ ÜÛßßÜÜ Ü ß ß ß ß Ü ÜÜßßÛÜ ÛÛ
Þ²ÝÜßß ßÛÜ ß²ß ß²ß ÜÛß ßßÜÞ²Ý
ÛÛ ß ß ÛÛ
ÛÛÛ ÛÛÛ
²ÛÛ ÛÛ²
ÞÛÛÝ ÞÛÛÝ
²ÛÛ ÛÛ²
ÛÛ² ²ÛÛ
²ÛÛ Û²Û
ÛÛÛ ÛÛÛ
ÛÛÛ ÛÛÛ
ÛÛ ÛÛ
ÞÝ ÞÝ
Û ÜÜÜ ÜÜÜ Û
Û Üßß ßßÜ lAYOUt & hEADER bY. [rAD!s] Üßß ßßÜ Û
ßÜ ßÜ Û nfO UPdATED ON [2012/01/03] Û Üß Üß
ßßÜÜÜ ÜÜÜß Ü (c) C.O.R.E. 2 0 1 3 Ü ßÜÜÜ ÜÜÜßß
ßßßßß ßßßßß
ú CRC CE8F:A066
这里是其它用户补充的资源(我也要补充):
暂无补充资源