专辑英文名: The Best Of Toots 90
专辑中文名: 爵士口琴 耄耋之音
音乐风格: 爵士
资源格式: MP3
版本: [2 CD]
发行时间: 2012年04月16日
简介: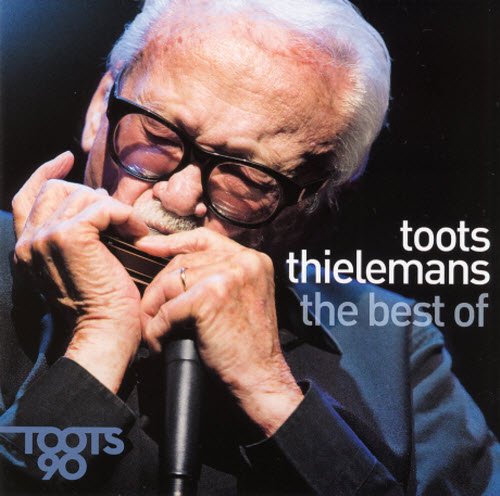 压缩码率: 320Kbps

专辑介绍:

2012年五月推出的 Toots Thielemans 最新精选集!
最伟大的爵士口琴手,最新的专辑,最新的精选集~
2CD,28首精选曲目~

比利时为90岁爵士乐大师"图茨"庆生

作为"比利时2012年美食年"主题活动的一项,10月25日晚,活动主办方在布鲁塞尔举行了一场特别的晚宴,专门为比利时国宝级爵士乐大师"图茨"庆祝90岁生日。
当晚还举办了关於"图茨"先生生平、作品的图片、实物展,老人家再次亮相显得十分开心,现场演奏了他的经典曲目,回馈广大爵士乐爱好者。
"图茨"先生出生於1922年4月29日,他原名叫 Jean Baptiste Thielemans,"Toots"是他出名后获得的绰号。"图茨"凭借一把口琴名蜚欧美爵士乐坛。正是"图茨"把口琴这一件不起眼的乐器带入爵士乐,并且使它成为真正意义上的主奏乐器的"第一人"。
目前,虽然已是耄耋之年,"图茨"未从演奏舞台上完全退隐,他时常应邀出席一些重要活动,现场炫技。

Artiest: THIELEMANS, TOOTS
Titel: TOOTS 90 -THE BEST OF
Drager: 2 - CD
Genre: JAZZ
Label: UNIVERSAL
Releasedate: 19-04-2012
Barcode: 0600753386651
VelvetID: 9324158
Prefix: 06007
Suffix: 5338665
Statuscodes: 5
Taal: English
Import: Nee ( NLD )

提到爵士口琴,乐迷们闪过脑海的第一位音乐家除Toots Thielemans外别无第二人选。今年四月底Toots迈向90岁高龄大关,并且发行了纪念90岁的新作90Yrs - The European Quartet。这篇NPR的文章描写不少关於Toots的趣事,包括他的大名曲Bluesette的由来,以及与Jaco间忘年之交的初始,在这就不翻译请大家自行参阅啦!

Toots Thielemans European Quartet: 90 Years (2012)
By
IAN PATTERSON,
Published: January 23, 2013
Toots Thielemans European Quartet: 90 Years

NEA Jazz Master and harmonica playing legend Toots Thielemans turned 90 in April 2012, and the milestone has been marked by an exhibition, a street-naming in his honor and a couple of releases. The double-CD Yesterdays and Todays (Dreyfus, 2012) contained 37 previously unreleased recordings spanning a remarkable 65 years, from 1946 to 2011. Then in September, the Lincoln Center paid tribute to Thielemans in a concert where the maestro was joined by pianists Herbie Hancock and Kenny Werner, bassist Marc Johnson, pianist/vocalist Eliane Elias, guitarist/vocalist Dori Caymmi and guitarist Oscar Castro-Neves. Finally, Toots 90 (Challenge Records, 2012) captures the great man live between 2006 and 2011, and sounding in very good nick indeed.

Thielemans "Waltz for Sonny," for tenor great Sonny Rollins, skips lightly on its feet, and introduces his sidemen of long-standing, pianist Karel Boehlee, bassist Hein Van de Geyn and drummer Hans van Oosterhout, in a series of short solos. Thielemans has lost none of his warm lyricism, and his phrasing remains arresting. Thielemans has recorded dozens of film soundtracks over the years and the self-penned "The Dragon" and Rogier van Otterloo's "Dat MIstige Rooie Beest" convey his uniquely nostalgic tone.

The crisp phrasing of Boehlee's solo graces the gently swinging "Sno Peas"; written by pianist Phil Markowitz, this tune was originally recorded by Thielemans with pianist Bill Evans on Affinity (Warner Bros, 1979). Another song from that album included here is singer/songwriter Paul Simon's "I Do it for your Love." Thielemans toured with Simon in the 1970s and continues to include the number in his sets to this day. Thielemans' lyrical improvisation—wonderfully supported by Van de Geyn— provides a set highlight.

Thielemans' love affair with Brazilian music began with Honeysuckle Rose Aquarela Do Brazil (Philips, 1969) with singer Elis Regina; continued through the mid-1980s with accordionist/guitarist Sivuca; and into the 1990s on a series of more celebrated recordings with some of the modern greats of Brazilian music. Three Brazilian numbers are included here: Antonio Carlos Jobim's "Wave" and "One Note Samba" sound as fresh as ever, with Thielemans particularly inspired; but it's samba/bossa nova pianist Luiz Eça's "The Dolphin" that stands out most for its subtle delivery from this highly attuned quartet.

Other highlights include a heartfelt eulogy to Louis Armstrong on the trumpeter/singer's "What a Wonderful World" and a rousing quartet workout of pianist Dave Brubeck's "In Your Own Sweet Way." Those wondering where "Bluesette" (Thielemans' signature tune) is will find it on the accompanying DVD, a 25-minute bonus of half a dozen tracks recorded in Tokyo and New York. Thielemans is in good voice and good humor too, introducing "Turk's Fruit," "This is the introduction to a song from a porno film."

It's hard not to get misty eyed during a moving "What a Wonderful World" or at the sight of the standing ovation from the Tokyo crowd at the end. Thielemans, naturally enough, has slowed down, but he has already announced concerts for 2013, and as this two-disc document beautifully illustrates, he still has the ability to touch the soul.

Track Listing: CD: Waltz for Sonny; The Dragon; Sno' Peas; Wave; Dat Mistigie Rooie Beest; In Your own sweet Way; What a Wonderful World; One Note Samba; The Dolphin; I Do it for your Love: Old Friend. DVD: Autumn Leaves; Turks Fruit; Midnight Cowboy; Saint Thomas; Bluesette; What a Wonderful World.

Personnel: Toots Thielemans: harmonica; Karel Boehlee: piano; synthesizer; Hein Van de Geyn: double bass; Hans van Oosterhout: drums.


引用
People throughout Belgium are currently celebrating the harmonica player and guitarist Jean-Baptiste "Toots" Thielemans, born in Brussels on April 29, 1922. That puts the NEA Jazz Master, also made a Baron by the King of Belgium in 2001, just a few days past 90.

The night after his birthday, Thielemans set out on an eight-concert tour across his homeland. In Ghent, Belgian guitarist Philip Catherine joined him as a special guest. In Brussels, his long-time pianist Kenny Werner and guitarist Oscar Castro-Neves came from the U.S. and Brazil, respectively. In Hasselt, Thielemans — who had broken his foot — performed from a wheelchair. And last night and tonight, May 17 and 18, the two final concerts take place in Liège and then Dinant. It's all taking place in a country where everyone can pronounce the name "Thielemans." (Try "teel-mahnz.")

Invited by the Belgian Tourist Office, I attended his May 9 performance at the Palais des Beaux-Arts, a.k.a. BOZAR (get it?), in Brussels. The interviews and meet-and-greets were canceled, but the concert was sold out and a great success.

Thielemans entered to roaring applause. His band members helped him cross the stage to perch on a high chair so his feet could dangle and clap together. He looks frail, but his breath support and musicality seem little diminished. Just the sound of his Hohner harmonica brings joy and sadness together, and sweetly so.
The graffiti-tagged mural near the childhood home of Toots Thielemans in Brussels. Enlarge image

The graffiti-tagged mural near the childhood home of Toots Thielemans in Brussels.
Becca Pulliam/WBGO

Prior to the show, we journalists were taken on a "Toots Walk" through central Brussels to see his birthplace. There's a whimsical mural that tells you when you're near his childhood home on Rue Haute (High Street).

The Baron calls himself un vrai Bruxellois (a true man of Brussels). His father was a carpenter; his parents ran a pub. They rented rooms to construction workers during the 1920s building boom.

Down the street, a larger but now-demolished building housed the workers' center. Historian Roland Jacobs told us that Thielemans remembers being hoisted on his father's shoulders at socialist-leaning political meetings.

His first instrument was the accordion. Then, in an ornate movie palace (still standing, though no longer a cinema) on the same street, Thielemans first heard the harmonica on a film soundtrack. His early inspiration on the guitar, in the early 1940s, was Django Reinhardt. As for his singular technique of whistling an octave above his guitar, it's said that comes from Slam Stewart (1914-87), the humming virtuoso bassist.

Toots Thielemans did it all — the guitar, the whistling, the harmonica. (He struggled with asthma to do so.) Now, he sticks to the instrument he can carry in his pocket. As he said from the stage in English, "I try to sing almost bel canto with this toothbrush!"

From the early 1950s, Thielemans lived and worked in the U.S., where he became a citizen in 1957. Two early thrills were jamming with Miles Davis in Paris in 1949 and — a few years later — working a week in Philadelphia in the Charlie Parker All Stars, again with Davis. (Toots recalled in a recent article in Le Vif that Parker protected him from Davis. But when Davis remarked that Toots was Caucasian, Toots himself responded, no, "I come from Belgium.")

At BOZAR, four of Toots' first five tunes were recorded by Miles Davis in a short span: "On Green Dolphin Street" (1958), "All Blues" (early 1959), "I Loves You, Porgy" and "Summertime" (both 1958, for Porgy and Bess). "Days of Wine and Roses" was the other number.
Toots Thielemans.
JazzSet

Toots Thielemans In Concert, With Kenny Werner WBGO

In these tunes, Toots' quartet of pianist Karel Boehlee, bassist Hein Van de Geyn and drummer Hans Van Oosterhout were elegant and swinging, much in the tradition of the 1982 Toots Thielemans album Live in the Netherlands with Joe Pass on guitar and Niels-Henning Orsted Pederson on bass. Toots was flying then. And, though he's streamlined his playing, 30 years later he still sounds tuneful, optimistic, willing to soar.

When Werner and Castro-Neves came to the stage — excitement! embraces! — they brought shades of Ella Fitzgerald, Frank Sinatra and Hollywood as they played "How High the Moon" (a samba, thanks to Castro-Neves), "All the Way" (Werner on synthesizer, interpolating "My Way"), and the theme to Midnight Cowboy, an eight-note melody that circles and haunts. Indeed, Thielemans played it on the soundtrack.

Toots' commercial work paid well. He made a Chrysler ad with Louis Armstrong (who called Toots "Bop Chops"), whistled the iconic Old Spice jingle, and played harmonica on the theme song for Sesame Street. Our Toots Walk tour guide quoted him as having said, "When I'm on tour, I can pay for the gasoline for the car. When I make advertising, I can buy the car."

Back on stage, he celebrated his love of Brazilian music with an Ivan Lins piece. It segued into "Manha da Carnival," the theme from the 1959 film Black Orpheus. Applause met "Manha" at the beginning, and rose in a great crescendo at the end.

It was then that I began to feel the emotion of the occasion.

Toots Thielemans' most famous song is "Bluesette." As he told my WBGO colleague Michael Bourne in a 1993 DownBeat story:

"I was playing a concert with [the Parisian violinist] Stephane Grappelli in Brussels in 1962. I was in the same dressing room as Stephane and I was tuning my guitar, and somehow this little song came out. I was humming it and Stephane said, 'That's nice. What is it?' I just said he inspired me, but he said, 'Ecrivez tout de suite! Write it down right away!' I called it 'Bluette' for this little blue flower in Belgium, but when I played it on a show in Sweden, the producer said, 'Isn't that a blues? Why don't you put the 's' in there?' I owe the 's' to him."

Bourne told me another story. Toots' first gig outside Belgium came in Sweden, and he learned Swedish to play in a cabaret. He said the woman introducing him presented him to the crowd as "Tits Tooliemans." I can imagine Toots giggling.

For his 90th birthday concert in Brussels, "Bluesette" — the waltz named for a flower — came near the end of the show, delivered with a deep, stirring, almost frightening samba beat.

Toots Thielemans loves musicians. The more they challenge him, the better. He's said in response to Kenny Werner's more "out" harmonies, "Keep throwing me in the pool. But don't let me drown."

He had a close friendship with the wild and woolly electric bassist Jaco Pastorius (1951-87). In a story in his new Toots 90 coffee-table book, he writes: I met Jaco [Pastorius] at the end of 1979 at the Berlin Jazz Festival. He was playing solo bass. He had just recently left Weather Report. I was playing at the festival, too. During a press conference, a journalist asked Pastorius, 'If you were to form a duo now, who would it be with?' And Jaco glanced at the festival programme and said: 'With Toots Thillman [sic]. Yes, bring me Toots!'

Pastorius said that ever since his childhood, when Thielemans was a member of the George Shearing Quartet, he'd been familiar with Toots' music. So here's a song for Toots Thielemans' 90th birthday, from NPR's Jazz Alive! archive. At the 1982 Kool Jazz Festival in New York, Toots joins Jaco and the Word of Mouth Band for Jaco's waltz, "Liberty City."

引用
2 of 2 people found the following review helpful
5.0 out of 5 stars A deep insight into the musical world of Toots Thielemans October 15, 2012
By Robert Carraher TOP 1000 REVIEWER
Format:Audio CD
"The harmonica has long been regarded as the humblest of musical instruments, and yet, as Mr. Thielemans and Mr. Maret show, when played at its best, it is more than capable of expressing the deepest feelings in the human experience." - Wall Street Journal

Jean-Baptiste Frédéric Isidor, Baron Thielemans, known to the world for near a century as Toots is most identified with the harmonica, "that humblest of instruments", although he is a more than competent guitar player and aspired to be as good as fellow Belgian, Django Reinhardt. He is also renowned for his ability to whistle. Rightfully recognized as one of the greatest `harp' players ever.

He has worked as a bandleader, as a sideman (notably on many projects with composer/arranger Quincy Jones), and has appeared on dozens of film soundtracks. In 2009 he became NEA Jazz Master, the highest honour for a jazz musician in the United States.

You may be wondering what the heck an Old Spice commercial is doing in the middle of a music review. Well, that's easy. Hear that whistle? That's Toots Thielemans. He is perhaps best-known to the American public for whistling the melody in commercials for Old Spice cologne.

Thielemans kicked off his career as a guitar player. In 1949 he joined a jam session in Paris with the great sax and clarinet soloist Sidney Bechet, Charlie Parker, Miles Davis, Max Roach and some other cats. In 1949 and 1950 he participated in European tours with Benny Goodman, making his first record in Paris with fellow band member, tenor saxophonist Zoot Sims. But it wasn't until he moved to the US in 1952 where he was a member of Charlie Parker's All-Stars and worked with Miles Davis and Dinah Washington that he started playing the harmonica more and more on records. He played and recorded with Ella Fitzgerald, Jaco Pastorius, Peggy Lee, The George Shearing Quintet, Quincy Jones, Oscar Peterson, Bill Evans, Paul Simon, Billy Joel, The Happenings, Astrud Gilberto, Shirley Horn, Elis Regina, Billy Joel (that whistle on the opening of The Stranger. You guest it, Toots Thielemans), Paul Simon and many others.

This past April, Toots Thielemans, arguably the most famous harmonica player worldwide, turned 90-years old. To celebrate this milestone, Thielemans has released this live CD/DVD package with the support of his European quartet - pianist Karel Boehlee, drummer Hans van Oosterhout and double-bass player Hein Van de Geyn. The album is comprised of eleven tracks recorded over the past five years during Thielemans' latest globetrotting tours while the accompanying DVD focuses on his group's latest concert in Japan.

90 Yrs. encompasses the impressive array of Thielemans' career. The album opens with the track "Waltz for Sonny," a bow to Sonny Rollins and a musical brother of Thielemans' "Bluesette," perhaps his best known tune with him as the band leader. The next track, "The Dragon," was written by Thielemans for the Japanese movie Yasha (1985), a nice, open and mysterious tune; he also wrote the original soundtrack for the film together with Mitsuhiko Saito.
"Sno' Peas" is originally written by Phil Markowitz and made famous by legendary pianist Bill Evans, with whom Thielemans had played and recorded with Evans while living in the USA. "Sno' Peas" has been on Thielemans' list of favorites for a long time. "One Note Samba" and "Wave," composed by Antonio Carlos Jobim, are great examples of very intelligent, yet accessible writing. Obvious and singable to the superficial ear, and full of hidden details for the specialist such as Thielemans - they leave so much space for creativity and personal interpretation, yet remain always very clear in their own identity at the same time.

"Dat Mistige Rooie Beest (That Misty Red Animal)" was composed by the famous conductor Rogier van Otterloo for the Dutch movie Turks Fruit (Turkish Fruit) and featured Thielemans' recognizable harmonica sound on the original soundtrack.

During his time with Dave Brubeck, "In Your Own Sweet Way" often kicked off their concerts, providing a wonderful vehicle for improvisation with the 8-bar interlude, opening doors to new interpretations. Thielemans is also a great admirer of Louis Armstrong, "the greatest jazz musician ever," and as a boy was bitten by the jazz bug upon hearing the icon's voice. Thielemans includes "What a Wonderful World" as a dedication to Armstrong.

"The Dolphin," written by Luiz Eça, is another very challenging harmonic, yet such lovely melodic song. Thielemans has also worked with pop musicians in addition to big jazz artists. In the seventies Thielemans was invited to join Paul Simon on a long tour and was featured on the song, "I Do It For Your Love." Thielemans has kept it on his repertoire since then.

The last song on the record, "Old Friend," is a very special one. Thielemans wrote it when he was young as a harmonic exercise, yet it is so full of feeling. With adding strings by the Shinozaki Strings from Tokio, this is a heartfelt rendition of this special composition that Toots Thielemans dedicated to his father.

This album is a marvelous celebration of one of the most important, unique, and most importantly, talented musicians of the last 100 years. Helping him celebrate are his European Quartet; Toots Thielemans / harmonica. Karel Boehlee / piano, synthesizer
Hein Van de Geyn / double bass, Hans van Oosterhout / drums.

The DVD alone, is worth the price of the album. It includes some great footage shot in 2011 and called Live Registrations , "Autumn Leaves", "Turks Fruit" (see video above), "Midnight Cowboy", "Saint Thomas", " Blusette"
and "What a Wonderful World".

Between the eleven tunes on the CD, and the DVD, you get a deep insight into the musical world of Toots Thielemans. You can enjoy the love between the musicians in the band, and most amazingly, Thielemans plays strong and is still a force with the feeling and the vast knowledge of jazz and music in general. The qualities of each player, the interaction, the joy and the playfulness and seriousness and above all; the musical story of a man that doesn't just play music but becomes it.

The Dirty Lowdown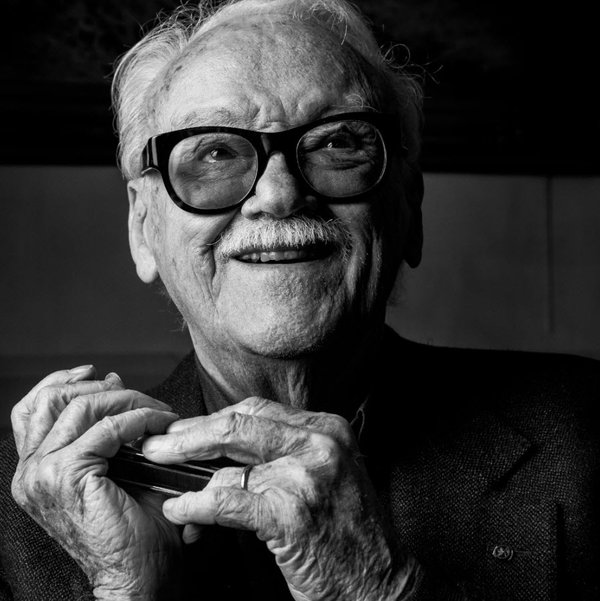 Jean-Baptiste Frédéric Isidor, Baron Thielemans (born 29 April 1922, Brussels, Belgium), known as Toots Thielemans, is a Belgian jazz musician well known for his guitar and harmonica playing as well as his whistling.
专辑曲目:
Disk 1

01. Bluesette
02. Commissaris Witse
03. Turks Fruit
04. Circle of Smiles, Theme From Baantjer
05. My Funny Valentine
06. Theme From Summer of '42
07. Dat Mistige Rooie Beest , From Turks Fruit
08. The Man In Brown, From Baantjer
09. Rosa Turbinata , From Turks Fruit
10. Theme From Midnight Cowboy
11. Someday My Prince Will Come
12. Smile
13. Ben
14. Imagine
15. Good Morning Heartache
16. Talk To Me
17. Honeysuckle Rose
18. Dance for Victor

Disk 2

01. Marina
02. Amoroso
03. Bluesette
04. Velas - Live at Brosella 2011
05. The Dolphin - Live at Brosella 2011
06. For My Lady - Live at Jazz Middelheim 2001
07. If I Could - Live at the Night of the Proms 2007
08. Black Beauty - Live at Jazz Middelheim 1981
09. Tenor Madness - Live at Jazz Middelheim 1981
10. Mixture - Live at Jazz Middelheim 2003
这里是其它用户补充的资源(我也要补充):
暂无补充资源