中文名: 重复文件搜索清理工具
英文名: Duplicate File Detective
资源格式: 压缩包
版本: v4.3.54
发行时间: 2012年
制作发行:
Key Metric Software, LLC.
简介:





软件类型:软件>系统工具
软件性质:破解软件
操作系统:Windows
应用平台:Windows 8, Windows 7, Vista, XP and Windows Server (32 and 64 bit)
问题反馈:http://www.duplicate-file-detective.com/support/index.htm
网站链接:http://www.duplicate-file-detective.com/
软件介绍:

Duplicate File Detective是一款专业的重复文件清理程序。多线程搜索,扫面时间快速。并且可以对"重复文件"进行定义,准确删除你不需要的内容。

Duplicate File Detective 用来帮助你快速查找和管理在你系统中重复文件的强大工具,你可以选择删除或移动到新文件夹或 ZIP 文件来释放磁盘空间。






################ If you like this software, consider to buy it #############

资源更新列表



http://www.VeryCD.com/i/5190747/create/fol...postTime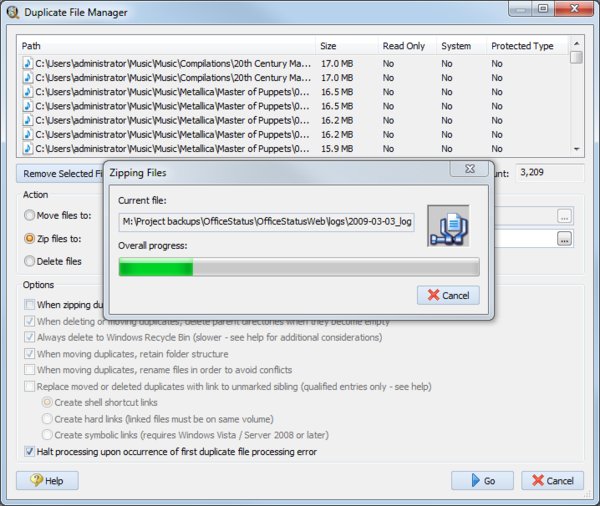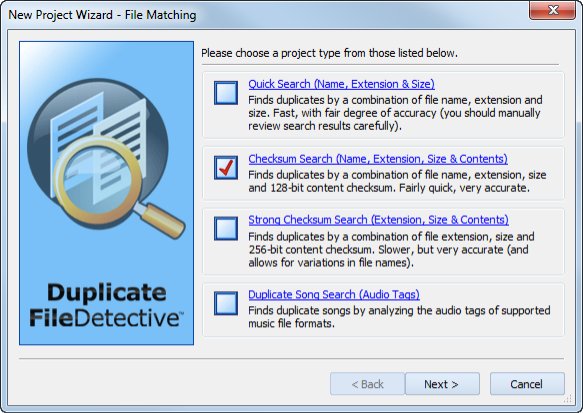 Duplicate File Detective uses state-of-the-art file content analysis technology to show you exactly where your duplicate files are (even when the file names are different). You can search multiple folders, drives, removable storage devices, even network shares - all in a single pass. Then move, zip, or remove duplicate files safely with assistance from our innovative SmartMark duplicate file selection system.

Key Software Benefits

Reclaim wasted local and network storage resources - archive or remove duplicate files
Speed up backup processes by reducing storage allocation redundancy
Gain visibility into what types of duplicates are consuming space and who owns them
Eliminate time wasted performing virus scans on duplicate files
Scan and de-dupe file systems of virtually any size with our extreme scalability engine
Process (move, delete, or zip) duplicates safely with our built-in file management system
Find duplicates by any combination of attributes, including content-only matching
De-dupe and clean up your music (MP3, iTunes, etc.) file collection
Optimized for Windows 8, Windows 7, Vista, XP and Windows Server (32 and 64 bit)


What's New in v4

Duplicate File Detective 4 - Major Feature Highlights
Native 64-bit Support
Many software products claim to be "64-bit compatible", but few provide native 64-bit builds. Duplicate File Detective 4 does, and you should settle for nothing less than the massive scalability and performance that it provides.
Duplicate Song Support
Duplicate File Detective 4 now provides deep support for duplicate songs (music files) through audio tag analysis. Supported audio file formats include MP3, Ogg Vorbis, FLAC, MPC, Speex, WavPack TrueAudio, WAV, AIFF, MP4 and ASF. Music file audio tag support has also been integrated into the following areas:

Support for comparison of song title, artist, album, track, year, genre, duration, and bit rate.
New duplicate search results report columns for all supported audio tags.
Support for audio tags display within the file properties docking window.
Support for duplicate search result filtering by audio tag.
SmartMark technology enhanced to mark duplicate files by audio file duration and bit rate.
Extended export and import facilities to support audio tags.

File Hash Caching
Duplicate File Detective provides a powerful system for comparing files through their hash values (e.g. checksums) - a process by which a file's contents are analyzed to produce a unique digital fingerprint. This duplicate file search technique is amazingly powerful and accurate, but can be time consuming. Duplicate File Detective 4 introduces an amazing new file hash caching facility that stores file hash values for later re-use. This feature can improve the performance of many duplicate search scenarios dramatically by eliminating the need to regenerate hash values for qualifying files.
Improved Performance
Duplicate File Detective 4 contains significant improvements to speed and efficiency, particularly in the following areas:

New, more intelligent file hash thread pool offers improved concurrency.
Improved file comparison algorithms eliminate the need for hashing in many duplicate search scenarios.
Projects that re-use duplicate search paths can benefit dramatically from new hash caching features (see above).
Native 64-bit builds offer improved performance (and scalability) in 64-bit computing environments.

Zip File Content Analysis
Duplicate File Detective 4 can now generate hash values for Zip files by expanding them dynamically and analyzing files they contain. This feature helps to ensure that zip files with identical contents are recognized as duplicates, despite any unique header values they may contain.
Media Preview Window
The existing image preview docking window has been upgraded with full multimedia support. In addition to image files, the media preview window now embeds an instance of Windows Media Player, allowing you to preview music and movie files with ease.
Improved Project Wizard
Duplicate File Detective 4 offers an overhauled New Project Wizard, with numerous refinements to existing project types and the introduction of a new one to support searching for duplicate songs. The wizard now also allows you to choose with duplicate search result report columns to display, with column selections now stored at the project level (e.g. they are no longer global). Each step of the project wizard now also offers smarter default values, based upon initial project type selection.
Improved File Name Comparisons
A new option allows file names to be stripped of non-alphanumeric characters during the comparison process, allowing Duplicate File Detective to ignore common name variations in many scenarios. Also, file extensions can now be compared separately from their names, allowing for a broader range of duplicate detection scenarios, and improved performance when combined with other comparison techniques (such as file hashing).
Empty Directory Removal Support
When processing (e.g. deleting, moving, or archiving) duplicate files with Duplicate File Detective, you now have the option of removing any empty parent folders that result.
New File Type Graphs
File type graphs have been overhauled to provide superior performance, appearance (including new color scheme), and printing support.
Many More Improvements
Duplicate File Detective 4 offers numerous other enhancements that add up to make it our most compelling release ever.

Enhanced theme support.
Support for HTTP proxy authentication during update checking.
Improved handling of file system reparse points (e.g. junctions, symbolic links, mount points).
Improved duplicate search logging and error reporting.
Support for default x64 path exclusions on x64 platforms.
New ability to print the contents of the duplicate search summary report window.
Improved file group editor, now with built-in group support.
Automatic syncing of duplicate search results columns when changing comparison options.
Changes to advanced hash thread pool settings no longer requires restart.
Default project options now offers exclusion of non-Internet temp folder path
Duplicate report column headers can now be reset to their default widths.
Numerous improvements and additions to product help file.
Improved product installation with automatic 32/64 bit build selection.
Increased number of project search and exclusion paths supported.
And much more!


这里是其它用户补充的资源(我也要补充):
暂无补充资源