中文名: MAGIX桌面出版物设计软件
英文名: MAGIX Page and Layout Designer 2013
资源格式: 压缩包
版本: v8.1.4.24911
发行时间: 2013年
制作发行:
MAGIX Software GmbH
简介: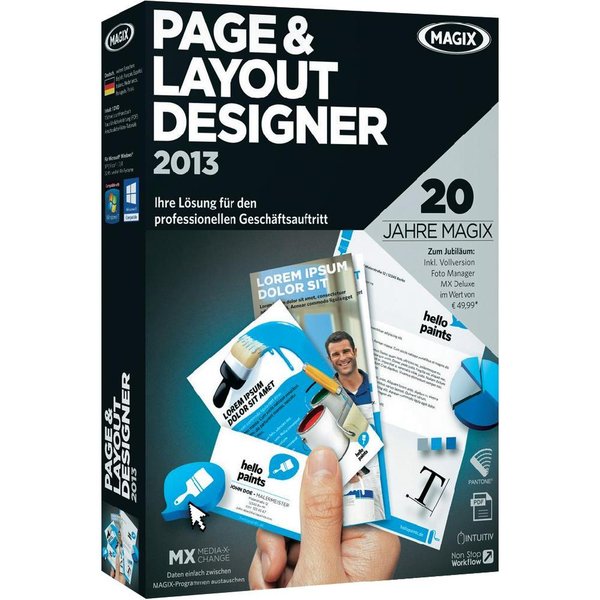 MAGIX桌面出版物设计软件 MAGIX Page and Layout Designer 2013

小型企业和家庭办公的专业人士理想的桌面出版物设计环境,设计和打印高品质的出版物,包括通讯,传单,明信片,小册子,标签,名片,身份证,贺卡,邀请函,信封,传真,信纸,记事本等。



引用
创造完成行销活动和广告材料完美解决专案

展现自己的专业。
Page and Layout Designer 2013是创造完成的行销活动和广告材料的完美解决专案:
为您的企业设计和建立一个标誌,名片,信纸,传单和海报,在几个简单的步骤。
只需提供从广泛的范围内选取一个模板和自订。快速,方便地实现令人印象深刻的结果。
给它一个尝试 - Page and Layout Designer 2013提供可定制的,免版税的模板:一个大的选取。
为任何目的:名片模板,商业演示,广告材料。建立通信,PDF格式...建立徽标例如公司标誌杯或笔。广
告材料。直接连结到Facebook和Flickr的MX功能。使用一个单独的程式,所有的任务,节省自己的时间和金钱。

资源更新列表
http://www.VeryCD.com/i/5190747/create/fol...postTime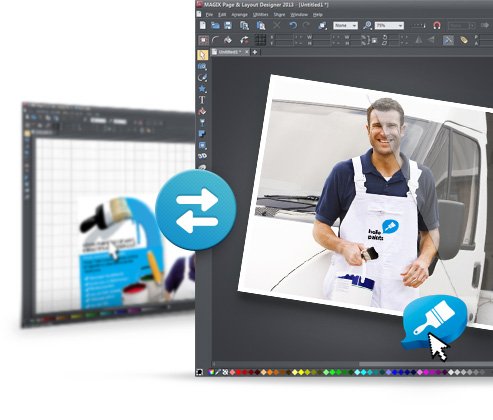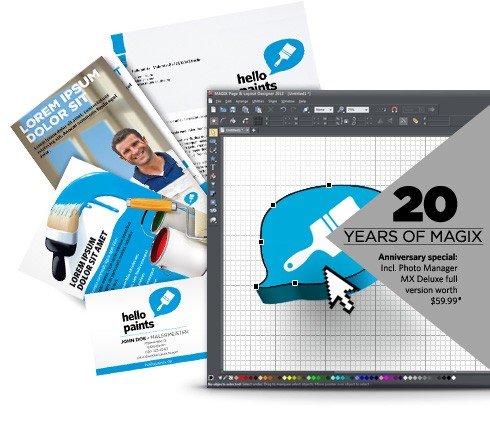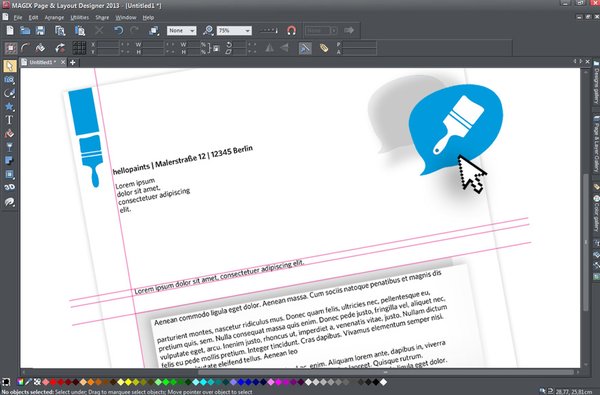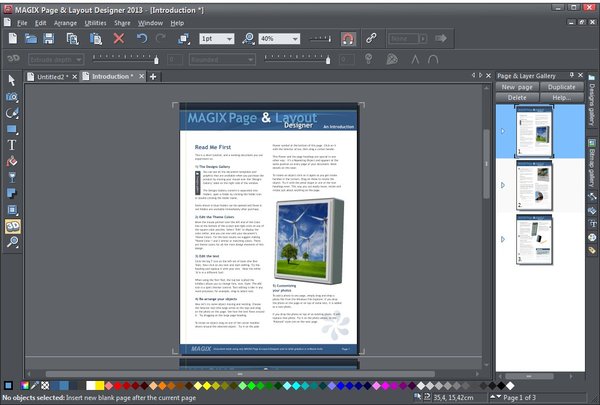 The perfect solution for a
professional business image
MAGIX Page & Layout Designer 2013 is the ideal program for creating company logo designs, advertising campaigns and marketing materials. Present your business professionally. Business cards, flyers, newsletters or brochures: It doesn't matter what kind of document you want to create, this single program is everything you need to make your business successful!
Your advantages:
Large selection of royalty-free templates
for the perfect business presence
Create business cards, letter paper, invitations,
food and drinks menus, logos etc.
Make your own affordable advertising material:
flyers, posters, newsletters, coupons etc.
Design advertising materials featuring your logo
designs (e.g. cups, pens etc.)
Direct link to social media sites, e.g. Facebook
All features in one interface
No prior knowledge necessary
Present yourself professionally
MAGIX Page & Layout Designer is the perfect solution for creating successful marketing campaigns and advertising materials:
Design and create a logo, business cards, letter paper, flyers and posters for your business in a few simple steps.
Simply choose a template from the wide range on offer and customize it. Achieve impressive results quickly and easily.
Give it a try – you won't be disappointed!
MAGIX Page & Layout Designer offers:
A large selection of customizable, royalty-free templates
Templates for any purpose: Business cards, business presentations, advertising materials
Create newsletters, PDFs and lots more.
Create a logo e.g. Company logos for cups or pens
for advertising materials
Direct links to Facebook and Flickr thanks to the MX function.
Use a single program for all tasks and save yourself time and money.
Personalize templates in a few easy steps
1. Select template
Select the right template for you.
Find a template that caters specifically to your needs.
All templates are royalty-free and can be used for commercial purposes.
2. Design
Drag & drop your company logo onto the template.
Add your own text.
Adjust the layout to find the best look in a few minutes.
3. Done!
Print your documents on your printer or send files to a professional print shop.
Online: Add your logo to your company's Facebook page with a click.
Royalty-free templates
Layout and text tools
Image editing
Design Tools
Professional color support
Design and layer gallery
Output print-ready documents
Full support for graphics tablets
Online services
Supported operating systems
Microsoft® Windows® 8 (32-bit and 64-bit)
Microsoft® Windows® 7 (32-bit and 64-bit)
Microsoft® Windows® Vista© (32-bit and 64-bit)
Microsoft® Windows® XP (32-bit)
Minimum system requirements
All MAGIX programs are developed with user-friendliness in mind so that all the basic features run smoothly and can be fully controlled, even on low-performance computers. Check your operating system's control panel for technical information about your computer.
Processor: minimum Intel® Celeron® or AMD® Sempron® with 700 MHz and better
RAM: 512 MB
Graphics card: Onboard graphics card with a minimum screen resolution of 1024 x 600
Hard disk memory: 300 MB free disk space for program installation
Supported file formats & devices
Supported import formats
JPEG, JPEG2000, PNG, GIF, PSD, TIFF, PDF, RTF, EMF/WMF, SVG, XPS, EPS, OpenOffice etc.
Supported export formats
JPEG, JPEG2000, PNG, GIF, PSD, BMP, PDF, PDF/X, RTF, SVG, XPS, EPS etc.
Note: The program's internal online services and the online update require an Internet connection.
代码
[D]igital [I]nsanity b!
ÛÛßßßßßßßßßßßßßßßßßßßßßßßßßßßßßßßßßßßßßßßßßßßßßßßßÛÛÛÛÛÛÛ
ÛÛ ÛÛÛÛÛÛÛÜ ßßß ÜÛÛÛÛÛÛÜ ßßß ÜÛÛÛÛÛÜ ÜÛÛÛÛÛÛÜ ÛÛÛ ÛÛÛÛÛÛÛ
ÛÛ ÛÛÛ ÛÛÛ ÛÛÛ ÛÛÛ ÛÛÛ ÛÛÛ ÛÛÛ ÛÛÛ ÛÛÛ ÛÛÛ ÛÛÛÛÛÛÛ
ÛÛ ÛÛÛ ÛÛÛ ÛÛÛ ÛÛÛ ÛÛÛ ÛÛÛ ÜÜÜÜÜÛÛÛ ÛÛÛ ÜÜÜ ÛÛ
ÛÛ ÛÛÛ ÛÛÛ ÛÛÛ ÛÛÛ ßÛÛÛ ÛÛÛ ÛÛÛ ÛÛÛ ÛÛÛ ÛÛÛ ÛÛÛ ÛÛ
ÛÛ ÛÛÛ ÛÛÛ ÛÛÛ ÛÛÛ ÛÛÛ ÛÛÛ ÛÛÛ ÛÛÛ ÛÛÛ ÛÛÛ ÛÛÛ ÛÛ
ÛÛ ßßßßßßß ßßß ßßßßßß ßßß ßßß ßßßßßß ßßßßßß ÜÛÛ
ÛßßßÛÛßßßßßÛÛÛßßßßßÛÛÛßßßßßÛÛÛßßßßßÛÛßßßÛÛßßßßßÛÛßßÛÛÛßßÛ
ÛßßßÛ Û Û Û Û Û Û Û ÛßßßÛÜÜ ÜÜÛ ßÛß Û
Û Û Û Û ÛÜÜÜÛßßßß Û Û Û ÛÛÛ ÛÛÛÛÜ ÜÛÛ
Û Û Û ÛÜÜÜÜ Û Û Û Û Û ÛÛÛ ÛÛÛÛÛ ÛÛÛ
Û Û Û Û Û Û Û Û Û Û ÛÛÛ ÛÛÛÛÛ ÛÛÛ
ÜÜÜÜÜÜÜÜÜÜÛ Û Û ÛÜ ß ÜÛÜ ß ÜÛ Û Û ÛÛÛ ÛÛÛÛÛ ÛÛÛÜÜÜÜÜÜÜÜÜ
ßßßßßßßßßßßßßßßßßßßßßßßßßßßßßßßßßßßßßßßßßßßßßßßßßßßßßßßßßßßßßßßßßßßßßßßßßÛÛÛÛÛ
We are the dreamers of dreams... ÜÛÛÛÛß
ÜÜÜÜÜÜÜÜÜÜÜÜÜÜÜÜÜÜÜÜÜÜÜÜÜÜÜÜÜÜÜÜÜÜÜÜÜÜÜÜÜÜÜÜÜÜÜÜÜÜÜÜÜÜÜÜÜÜÜÜÜÜÜÜÜÜÜÜÜÜÛÛÛÛßß
ÛÛÛÛÛÛ Today's magic presented by the Digital Insanity heroes is:
ÛÛÛÛÛ
ÛÛÛÛÛ MAGIX Page and Layout Designer 2013 v8.1.4.24911
ÛÛÛÛÛ
ÛÛÛÛÛ
ÛÛÛÛÛ Cracker [ Brainrain & DarkSide ] Protection [ Serial ]
ÛÛÛÛÛ Supplier [ Digital Insanity ] Release Date [ 01/01/2013 ]
ÛÛÛÛÛ Packager [ Digital Insanity ] Release Type [ Keygen ]
ÛÛÛÛÛ Tester [ Digital Insanity ] Release Size [ 16 disks/10.0 MB ]
ÛÛÛÛÛÜ
ßßÛÛÛÛÛÜÜÜÜÜÜÜÜÜÜÜÜÜÜÜÜÜÜÜÜÜÜÜÜÜÜÜÜÜÜÜÜÜÜÜÜÜÜÜÜÜÜÜÜÜÜÜÜÜÜÜÜÜÜÜÜÜÜÜÜÜÜÜÜÜÜÜÜ
ÚÄÄÄÄÄÄÄÄÄÄÄÄÄÄÄÄÄÄÄÄÄÄÄÄÄÄÄÄÄÄÄÄÄÄÄÄÄÄÄÄÄÄÄÄÄÄÄÄÄÄÄÄÄÄÄÄÄÄÄÄÄÄÄÄÄ¿ÛÛÛÛÛÛ
³ [ Description ] ³ ÛÛÛÛÛ
ÀÄÄÄÄÄÄÄÄÄÄÄÄÄÄÄÄÄÄÄÄÄÄÄÄÄÄÄÄÄÄÄÄÄÄÄÄÄÄÄÄÄÄÄÄÄÄÄÄÄÄÄÄÄÄÄÄÄÄÄÄÄÄÄÄÄÙ ÛÛÛÛÛ
ÛÛÛÛÛ
ÛÛÛÛÛ
Note to siteops/nukers: ÛÛÛÛÛ
ÛÛÛÛÛ
This time we decided to pack the setups too next to our ÛÛÛÛÛ
keygen (even the non pro, and older versions despite the ÛÛÛÛÛ
fact that some of them were released with patch), because ÛÛÛÛÛ
as we noticed the downloadable setups/contents can vary ÛÛÛÛÛ
depending on various circumstances for example which magix ÛÛÛÛÛ
domain you visit (http://www.magix.com, ÛÛÛÛÛ
http://www.magix.com/gb, http://www.magix.com/de, etc) or ÛÛÛÛÛ
which country your IP belongs to, and who knows what else. ÛÛÛÛÛ
Different versions can have different product parameters, ÛÛÛÛÛ
so we are trying to avoid troubles at the end user side ÛÛÛÛÛ
with this decision. ÛÛÛÛÛ
ÛÛÛÛÛ
Note to MAGIX authors: ÛÛÛÛÛ
ÛÛÛÛÛ
We would like to give something back and not only take ÛÛÛÛÛ
away, so open your eyes now: Your WMI implementation is ÛÛÛÛÛ
faulty and will never be executed properly. ÛÛÛÛÛ
You should call CoInitializeSecurity to set the needed ÛÛÛÛÛ
privileges to be able to query the MAC address through WMI. ÛÛÛÛÛ
ÛÛÛÛÛ
---------------------------------------------------------- ÛÛÛÛÛ
ÛÛÛÛÛ
Hello Scene! ÛÛÛÛÛ
ÛÛÛÛÛ
Here is our last masterpiece to you. We have to close our ÛÛÛÛÛ
keygen factory. ÛÛÛÛÛ
As you probably all know, reversing in high level takes a ÛÛÛÛÛ
lot of time, energy and patience that we don't have ÛÛÛÛÛ
anymore. We don't see the point in releasing random things ÛÛÛÛÛ
that can be done by any other teams just to keep the ÛÛÛÛÛ
illusion that we are still alive and increase our release ÛÛÛÛÛ
quantity. We have to concentrate on our real life. You know ÛÛÛÛÛ
the usual story which makes people disappear from the ÛÛÛÛÛ
scene: family, girlfriend, child(ren), job, etc. This was ÛÛÛÛÛ
our playground for about 10 years and we enjoyed it pretty ÛÛÛÛÛ
much! :) Well, it wasn't only a playground it was more a ÛÛÛÛÛ
lifestyle. We met a lot of good people around the world on ÛÛÛÛÛ
our journey. Reversing is like drugs, very hard to stop it ÛÛÛÛÛ
and nothing can exceed the euphoria what you feel when you ÛÛÛÛÛ
realize/solve something. I remember the time when a lot of ÛÛÛÛÛ
groups MU raced even on random converter apps. And also ÛÛÛÛÛ
there was something to admire almost every day from great ÛÛÛÛÛ
teams like AGAiN, CAFE,DT, EDGE, ECLiPSE, PARADOX, TMG, ÛÛÛÛÛ
UCF, SHOCK, SSG, ... (Naturally the list isn't complete, ÛÛÛÛÛ
just mentioned some of the best). There was life back then, ÛÛÛÛÛ
but now it's more like an empty space. Almost all the ÛÛÛÛÛ
quality teams are gone and there's quiet everywhere. I feel ÛÛÛÛÛ
sorry and miss everyone who i knew/used to compete with. We ÛÛÛÛÛ
won't disappear fully from one day to another, but this was ÛÛÛÛÛ
our last big release so don't expect anything from us. We ÛÛÛÛÛ
may update our existing solutions when we have time & ÛÛÛÛÛ
energy. We'll see what future brings. I'd like to say thank ÛÛÛÛÛ
you to all of our friends and supporters in ACME, AiR, ÛÛÛÛÛ
CORE, EMBRACE, HAZE, MESMERiZE, X-FORCE, ZWT. Last but not ÛÛÛÛÛ
least I'd like to thank those who helped us a lot with ÛÛÛÛÛ
testing this release: Bionic, dihux, HaRdLoCk and my ÛÛÛÛÛ
favourite slackazoid in team AiR who wants to stay ÛÛÛÛÛ
anonymous and he was the one who made our kickass ÛÛÛÛÛ
keygenmusics exclusively for us. And another friend in ÛÛÛÛÛ
Embrace who helped in packing this annoying amount of ÛÛÛÛÛ
applications with his packer system. :D ÛÛÛÛÛ
ÛÛÛÛÛ
Special thanks goes to DarkSide for hardcore reversing ÛÛÛÛÛ
sessions and many sleepless nights. :) ÛÛÛÛÛ
ÛÛÛÛÛ
Always remember: Quality over quantity ÛÛÛÛÛ
ÛÛÛÛÛ
We wish you Happy New Year and all the best in the future, ÛÛÛÛÛ
Brainrain & DarkSide [Digital Insanity] - Where mind ÛÛÛÛÛ
becomes a weapon ÛÛÛÛÛ
ÛÛÛÛÛ
----------------------------------------------------------- ÛÛÛÛÛ
ÛÛÛÛÛ
MAGIX Page & Layout Designer 2013 is the ideal program for ÛÛÛÛÛ
creating a company logo design, advertising campaigns and ÛÛÛÛÛ
marketing materials. Present your business professionally. ÛÛÛÛÛ
Business cards, flyers, newsletters or brochures: It ÛÛÛÛÛ
doesn't matter what kind of document you want to create, ÛÛÛÛÛ
this single program is everything you need to make your ÛÛÛÛÛ
business successful! ÛÛÛÛÛ
ÛÛÛÛÛ
URL: http://www.magix.com ÛÛÛÛÛ
ÜÛÛÛÛÛ
ÜÜÜÜÜÜÜÜÜÜÜÜÜÜÜÜÜÜÜÜÜÜÜÜÜÜÜÜÜÜÜÜÜÜÜÜÜÜÜÜÜÜÜÜÜÜÜÜÜÜÜÜÜÜÜÜÜÜÜÜÜÜÜÜÜÜÜÜÜÜÛÛÛÛßß
ÛÛÛÛÛÛÚÄÄÄÄÄÄÄÄÄÄÄÄÄÄÄÄÄÄÄÄÄÄÄÄÄÄÄÄÄÄÄÄÄÄÄÄÄÄÄÄÄÄÄÄÄÄÄÄÄÄÄÄÄÄÄÄÄÄÄÄÄÄÄÄÄ¿
ÛÛÛÛÛ ³ [ Install notes ] ³
ÛÛÛÛÛ ÀÄÄÄÄÄÄÄÄÄÄÄÄÄÄÄÄÄÄÄÄÄÄÄÄÄÄÄÄÄÄÄÄÄÄÄÄÄÄÄÄÄÄÄÄÄÄÄÄÄÄÄÄÄÄÄÄÄÄÄÄÄÄÄÄÄÙ
ÛÛÛÛÛ
ÛÛÛÛÛ 1) Install the application
ÛÛÛÛÛ 2) Block its inet connection with firewall
ÛÛÛÛÛ 3) Enter Serial Number (run kg as admin)
ÛÛÛÛÛ 4) Type a fake email
ÛÛÛÛÛ 5) Select activate by post/fax or ticket
ÛÛÛÛÛ 6) Enter Activation Code (Serial Number and Activation Code
ÛÛÛÛÛ work in pair!)
ÛÛÛÛÛ
ÛÛÛÛÛ For plugin activations you should type that driveletter
ÛÛÛÛÛ in the keygen
ÛÛÛÛÛ where the host application is installed!
ÛÛÛÛÛ
ÛÛÛÛÛ Enjoy ...
ÛÛÛÛÛ
ßÛÛÛÛÜ
ßßÛÛÛÛÛÜÜÜÜÜÜÜÜÜÜÜÜÜÜÜÜÜÜÜÜÜÜÜÜÜÜÜÜÜÜÜÜÜÜÜÜÜÜÜÜÜÜÜÜÜÜÜÜÜÜÜÜÜÜÜÜÜÜÜÜÜÜÜÜÜÜÜÜ
ÚÄÄÄÄÄÄÄÄÄÄÄÄÄÄÄÄÄÄÄÄÄÄÄÄÄÄÄÄÄÄÄÄÄÄÄÄÄÄÄÄÄÄÄÄÄÄÄÄÄÄÄÄÄÄÄÄÄÄÄÄÄÄÄÄÄ¿ÛÛÛÛÛÛ
³ [ About the team and some thing what's worth to know... ] ³ ÛÛÛÛÛ
ÀÄÄÄÄÄÄÄÄÄÄÄÄÄÄÄÄÄÄÄÄÄÄÄÄÄÄÄÄÄÄÄÄÄÄÄÄÄÄÄÄÄÄÄÄÄÄÄÄÄÄÄÄÄÄÄÄÄÄÄÄÄÄÄÄÄÙ ÛÛÛÛÛ
Some people met in a hidden place of the internet long time ÛÛÛÛÛ
ago. They realized quickly that they are interested in the ÛÛÛÛÛ
same things, and their thinking is similar too. A nice ÛÛÛÛÛ
friendship started, and they were working on a lot of common ÛÛÛÛÛ
reversing projects. Later this friendship wasn't only ÛÛÛÛÛ
"virtual", they became friends in real life too. This is what ÛÛÛÛÛ
makes us a REAL team... We are dedicated to do quality ÛÛÛÛÛ
keygens. Don't cry with stupid requests, nobody cares about ÛÛÛÛÛ
it, because we are reversing for OUR entertainment and not ÛÛÛÛÛ
for yours! We aren't a new team, just our name seems to be ÛÛÛÛÛ
new. In the years we got some friend, contact and "fan". An ÛÛÛÛÛ
important note to our "fans": We put a hidden trojan in every ÛÛÛÛÛ
release, so when you execute our keygen, it logs all activity ÛÛÛÛÛ
in your computer and sends it to the FBI. HAHA, DIE ALL ÛÛÛÛÛ
[内容被过滤,请注意论坛文明]IN NOBODIES! And finally a few thinks about legality, ÛÛÛÛÛ
copyright, etc: We give a shit on the users, we don't support ÛÛÛÛÛ
any torrents, DCs and other gay things.Our releases are ÛÛÛÛÛ
internal, ONLY for the scene. It's not our business that the ÛÛÛÛÛ
scene is full of shitbones who spread the releases to public ÛÛÛÛÛ
places. It's not our fault that idiots own this world... ÛÛÛÛÛ
ÛÛÛÛÛ
"Coolin' out with style - like back in the days. ÛÛÛÛÛ
Representin' the skills, puttin' suckers in their place..." ÛÛÛÛÛ
ÜÛÛÛÛÛ
ÜÜÜÜÜÜÜÜÜÜÜÜÜÜÜÜÜÜÜÜÜÜÜÜÜÜÜÜÜÜÜÜÜÜÜÜÜÜÜÜÜÜÜÜÜÜÜÜÜÜÜÜÜÜÜÜÜÜÜÜÜÜÜÜÜÜÜÜÜÜÛÛÛÛßß
ÛÛÛÛÛÛÚÄÄÄÄÄÄÄÄÄÄÄÄÄÄÄÄÄÄÄÄÄÄÄÄÄÄÄÄÄÄÄÄÄÄÄÄÄÄÄÄÄÄÄÄÄÄÄÄÄÄÄÄÄÄÄÄÄÄÄÄÄÄÄÄÄ¿
ÛÛÛÛÛ ³ [ Greetings ] ³
ÛÛÛÛÛ ÀÄÄÄÄÄÄÄÄÄÄÄÄÄÄÄÄÄÄÄÄÄÄÄÄÄÄÄÄÄÄÄÄÄÄÄÄÄÄÄÄÄÄÄÄÄÄÄÄÄÄÄÄÄÄÄÄÄÄÄÄÄÄÄÄÄÙ
ÛÛÛÛÛ
ÛÛÛÛÛ Greetings to all souls in hell...
ßÛÛÛÛÜ
ßßÛÛÛÛÛÜÜÜÜÜÜÜÜÜÜÜÜÜÜÜÜÜÜÜÜÜÜÜÜÜÜÜÜÜÜÜÜÜÜÜÜÜÜÜÜÜÜÜÜÜÜÜÜÜÜÜÜÜÜÜÜÜÜÜÜÜÜÜÜÜÜÜÜ
ÚÄÄÄÄÄÄÄÄÄÄÄÄÄÄÄÄÄÄÄÄÄÄÄÄÄÄÄÄÄÄÄÄÄÄÄÄÄÄÄÄÄÄÄÄÄÄÄÄÄÄÄÄÄÄÄÄÄÄÄÄÄÄÄÄÄ¿ÛÛÛÛÛÛ
³ [ Contact ] ³ ÛÛÛÛÛ
ÀÄÄÄÄÄÄÄÄÄÄÄÄÄÄÄÄÄÄÄÄÄÄÄÄÄÄÄÄÄÄÄÄÄÄÄÄÄÄÄÄÄÄÄÄÄÄÄÄÄÄÄÄÄÄÄÄÄÄÄÄÄÄÄÄÄÙ ÛÛÛÛÛ
ÛÛÛÛÛ
If you are skilful enough, you may reach us... ÛÛÛÛÛ
ÜÛÛÛÛÛ
ÜÜÜÜÜÜÜÜÜÜÜÜÜÜÜÜÜÜÜÜÜÜÜÜÜÜÜÜÜÜÜÜÜÜÜÜÜÜÜÜÜÜÜÜÜÜÜÜÜÜÜÜÜÜÜÜÜÜÜÜÜÜÜÜÜÜÜÜÜÜÛÛÛÛßß
ÛÛÛÛÛÛ
ÛÛÛÛÛ [ NFO Created by b & Last Updated on 09/02/2007 ]
ßÛÛÛÛÜ
ßßÛÛÛÛÜÜÜÜÜÜÜÜÜÜÜÜÜÜÜÜÜÜÜÜÜÜÜÜÜÜÜÜÜÜÜÜÜÜÜÜÜÜÜÜÜÜÜÜÜÜÜÜÜÜÜÜÜÜÜÜÜÜÜÜÜÜÜÜÜÜÜÜÜÜÜ


这里是其它用户补充的资源(我也要补充):
暂无补充资源