中文名: 网络连接速度测试工具
英文名: Totusoft LST Server
资源格式: 压缩包
版本: v1.3
发行时间: 2013年
简介: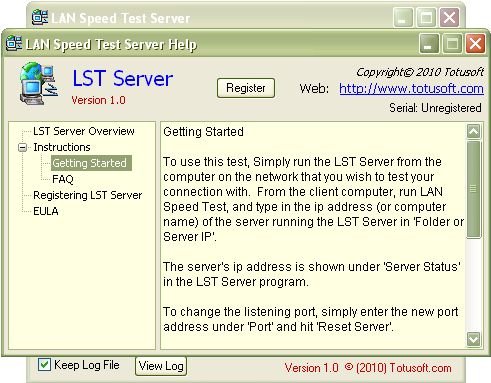 软件类型:软件 网络软件
软件性质:破解/免费软件
操作系统:Windows
应用平台:Windows 2000, XP, Vista, 7
问题反馈:http://www.totusoft.com/support.html
网站链接:http://www.totusoft.com/lanspeedserver.html
软件介绍:


 Totusoft LST Server 是一个网络连接速度测试工具,还可以测试您的WAN(广域网)连接!






资源更新列表


http://www.VeryCD.com/i/5190747/create/fol...postTime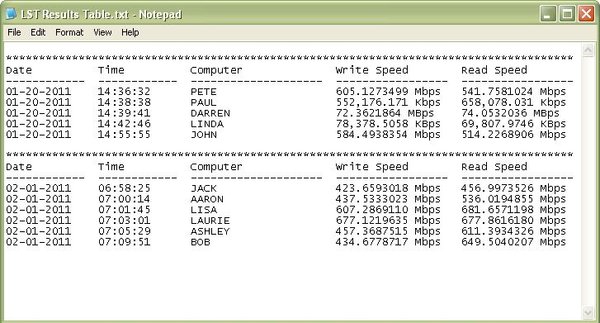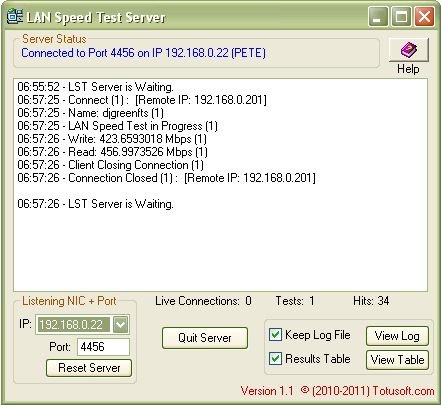 LST Server is an additional feature for Lan Speed Test. By using this configuration the client talks directly to the server through the network with no hard drive limitations. This gives more accurate results of True network performance on the client screen. LST Server also makes it possible to test your WAN (internet) connection!

Some of LST Server Features include...

Completely portable - No installation needed
Incredibly small (106KB) and can run from a hard drive, USB Flash drives, etc.
Compatible with all Windows 2000 & up (2000, XP, Vista, Win7, Server 2003 & Server 2008)
Log Window and logging options
Server supports multiple NICs (Network Adapters)
Server supports multiple client connections
New! Server supports simultaneous stream tests with LAN Speed Test v3.0 & up
Very easy to use

Do I need LST Server to use LAN Speed Test?

Absolutely not. This was the #1 feature request for LAN Speed Test. Using LAN Speed Test with LST Server writes the test file to the server's memory and takes the hard drive out of the picture for more true network speed results. Using LAN Speed Test without LST Server, writes the test file to another computer's hard drive. Tests will show slower speeds, but is more of a real-world test as most of the time you are writing files to other hard drives (file servers, etc.).



代码

°
þßÛÛ²ÜÜ ßÛÛÛÛÛÜÜÜÜ þßÛÛßÜÜ ÜÜßÛÛßþ ÛÛÜ ßÛÛÜÜ °° þÜÜ Üܲ²Ûßþ
ÛÛÛ²² ° Û²ÛÜßß²ÛÛÛÜ Û°°²Û Û²°°² ÛÜÜ ßß Û²²ÛÛ °°±²°° ÞÛ²ÛÜ ÛÛ²²Û
ÛÛ²²ÛÛ °° Û²²ÛÛ ÛÛ²²ÛÝÞ±±²Ý ÞÛ±±²Ý Þ²²Û²ÛÜ Û²²Û °± °Þ²²ÛÝ Þ²ßßÛÝ
ÛßßÛ² °°±²°°ßßß Û²ßß² Û²Û ° Û²²ÛÛ Û²ßß²² ÛßÛÜÜÛÛß ° °° Û²ÛßÜÜÜÛ°°²Û
ÛÛ°°ÛÛ °°ÜÜþÞÛ²²ÛÜÜÛ°°ÛÝÞÛ²²ÜÛ²Ûßß ° ÞÛ°°ÛÛÛ°°Ûßß ÜÜþ ÜÛ²²ÛÛßßßßÛ±±ÛÝ
Û±±²Û ÜÛÛ²ÝÞ²ß ßßßÛ±±Û² ÛÛß ßÛ²²ÛÜ Û²±±Û Û±±Û ÜÛ²²Ý ß ÜÜÜÜ Û²²²Û
ÛÛ²²ÛÛ ÛÛ²²ÝÞ²Ý °±° Û²²ÛÝÞ²Ý ° ÞÛßß²Û Û²²ÛÛÛÛ²²ÛÝ Þ²²ÛÝ ÞÛ²²ÛÝ Þ²²²ÛÝ
ßÛ²²ÛÜÜßÛ²Û Û² ° Þ²²ÛÛ ÛÛ °±° Û°°²ÛÝÛÛ²Û ßÛÛ²²ÜÜßÛ²Û Û²ÛßÜÜܲ²ÛÛÛß
ßÜÜ ßßßßÛÛÛÛÛÜßÛÜÜÜÛ²Ûß Þ²²Ý °° Û±±²Û Û²ÛÛÛ ÜÜ ßßßß²²ÛÛÛÜ ßÛ²²²Ûßßß ÜÜß
ßßß²ÜÜÜÜÜÜ ß ²ÜÜÜÜÜÜÜÜ ßÛ ° Þ²²ÛÛß ÜÜ ßß ² ßßß²ÜÜÜÜÜÜ ß ÜÜÜÜÜܲßß
± ° ß Û²ßß ° ° ±
° ß °
ß þÜ Üþ ß
Þ²Ü ÜÜܲÛÛÛ²Ü tEAM LAXiTY ܲÛÛÛ²ÜÜÜ Ü²Ý
ܲ²ß ÜÛ²ßßß ß²²ß pROUDLY pRESENTS: ß²²ß ßßßÛ²Ü ß²²Ü
ÜÛ²²ß Üß þßß ßßþ ßÜ ß²²ÛÜ
Û²²Û ² ² Û²²Û
ÛÛ²Û ± Totusoft.LST.Server.v1.3 ± Û²ÛÛ
Û ßÛ ° (c) Totusoft ° Ûß Û
Û°°Û Û°°Û
Û°°Û URL ........: http://www.totusoft.com/ Û°°Û
Û°°Û Û°°Û
Û°°Û Supplier ...: TEAM LAXiTY Soft Type ...: APP [X] Û°°Û
Û°°Û Packager ...: TEAM LAXiTY GAME [ ] Û°°Û
Û°°Û Cracker ....: TEAM LAXiTY OTHER [ ] Û°°Û
Û°°Û Rel. date ..: 09.01.13 Û°°Û
Û°°Û Û°°Û
Û±±Û ° Rape Solution: Keygen [ ] Serial [X] RegKey [ ] ° Û±±Û
Û²²ÛÝ Crack [ ] Other [ ] ÞÛ²²Û
ÛÛÛÛÛÜ ÜÛÛÛÛÛ
ÜÛÛß ß ß ßÛÛÜ
ßÛß ²²±±°° °°±±²² ßÛß
ß þÜ °° °° Üþ ß
Þ²Ü ° ÜÜܲÛÛÛ²Ü Ü²ÛÛÛ²ÜÜÜ ° ܲÝ
ܲ²ß ÜÛ²ßßß ß²²ß R E L E A S E . N O T E S ß²²ß ßßß²ÛÜ ß²²Ü
ÜÛ²²ß Üß þßß ßßþ ßÜ ß²²ÛÜ
Û²²Û ² ² Û²²Û
ÛÛ²Û ± ± Û²ÛÛ
Û ßÛ ° ° Ûß Û
Û°°Û LST Server is an additional feature for Lan Speed Test. By Û°°Û
Û°°Û using this configuration the client talks directly to the Û°°Û
Û°°Û server through the network with no hard drive limitations. Û°°Û
Û°°Û This gives more accurate results of 'True' network Û°°Û
Û°°Û performance on the client screen. LST Server also makes it Û°°Û
Û°°Û possible to test your WAN (internet) connection! Û°°Û
Û°°Û Û°°Û
Û±±Û ° ° Û±±Û
Û²²ÛÝ ÞÛ²²Û
ßÛÛÛÛÜ ÜÛÛÛÛß
ßÛÛÛÛÜ ÜÛÛÛÛß
ÜÛÛß ß ß ßÛÛÜ
ßÛß ²²±±°° °°±±²² ßÛß
ß þÜ °° °° Üþ ß
Þ²Ü ° ÜÜܲÛÛÛ²Ü Ü²ÛÛÛ²ÜÜÜ ° ܲÝ
ܲ²ß ÜÛ²ßßß ß²²ß i N S T A L L . N O T E S ß²²ß ßßß²ÛÜ ß²²Ü
ÜÛ²²ß Üß þßß ßßþ ßÜ ß²²ÛÜ
Û²²Û ² ² Û²²Û
ÛÛ²Û ± ± Û²ÛÛ
Û ßÛ ° ° Ûß Û
Û°°Û use the included serial to register Û°°Û
Û°°Û Û°°Û
Û±±Û ° ° Û±±Û
Û²²ÛÝ ÞÛ²²Û
ßÛÛÛÛÜ ÜÛÛÛÛß
ßÛÛÛÛÜ ÜÛÛÛÛß
ÜÛÛß ß ß ßÛÛÜ
ßÛß ²²±±°° °°±±²² ßÛß
ß þÜ °° °° Üþ ß
Þ²Ü ° ÜÜܲÛÛÛ²Ü Ü²ÛÛÛ²ÜÜÜ ° ܲÝ
ܲ²ß ÜÛ²ßßß ß²²ß A P P L Y . i N F O ß²²ß ßßß²ÛÜ ß²²Ü
ÜÛ²²ß Üß þßß ßßþ ßÜ ß²²ÛÜ
Û°°Û ° ° Û°°Û
Û±±Û ° *** CLOSED *** ° Û±±Û
ßÛ²²ÛÜ ÜÛ²²Ûß
ßÛ²²²Ü ܲ²²Ûß
ÜÛ²²Ûß TEAM LAXiTY ßÛ²²ÛÜ
ÜÛ°°Ûß ravishing since 1998 ßÛ°°ÛÜ
ßÛ±±ÛÜ ÜÛ±±Ûß
ßÛ²²ÛÜ ° ° ° ° ° ÜÛ²²Ûß
ßßÛ²ÛÜ ßÜ ²Û ÜßßÛ² ²² Û² ßß ²Û ²Û Û² Üß ÜÛ²Ûßß
ß²²Û ß±±° °°±±Û ÜÜÛ± ßÜÜß ²Û ±Ûßß ßßßÛ±±°° °±²ß Û²²ß
Þ²ß (asc) mx °Û ²Û ²² Û° ܲ ²Ü ±Û °Û ²Û ²² Û° ß²Ý
Ü þß ßß± ßßß ß± ßß °ß ßß± ßßß ßþ Ü
° ° °
LXTCRC:111176:2467

这里是其它用户补充的资源(我也要补充):
暂无补充资源