中文名: 自动运行菜单制作工具
英文名: Longtion Software AutoRun Pro Enterprise II
资源格式: 压缩包
版本: v6.0.1.136
发行时间: 2013年
制作发行:
Longtion Software Inc.,
简介: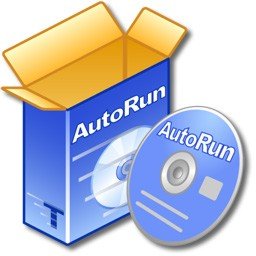 软件类型:多媒体类
软件性质:免费破解软件
操作系统:Windows
应用平台:Windows 95/98/me/NT4/2000/XP/2003/Vista/7
问题反馈:support@longtion.com
网站链接:http://www.longtion.com/autorunenterpriseii/autorunpro.htm
软件介绍:


Longtion 软件公司的产品以可视、简单、易用、功能强大为特色,赢得了不少用户的青睐。AutoRun Pro Enterprise II 是 Longtion 软件公司产品系列中一款功能最为强大的自动运行菜单制作产品,和它的上一代——AutoRun Pro Enterprise 相比,功能得到了明显的改进和加强,不论是软件的设计器界面还是功能模块都有了质的飞跃和提高,软件的使用也显得更加人性化,它既有适合专业人士的普通设计环境,也有适合新手的使用的方案向导。它以一个全视觉的拖放环境为特色,只需简单地使用鼠标即可完成一个专业的 CD、DVD 自动运行界面的创建、编辑、生成自动运行文件等相关工作。在自动运行界面中它支持打开或运行文件、打印文档、发送邮件、访问网站、浏览CD、播放声音...支持显示位图、图标、JPEG、EMF、WMF 图像文件,支持透明窗体,支持...。内置的 CD 烧录器,除能完美支持 Windows Vista 外,还支持对 DVD R/RW 的烧录、写入速度、快速抹除、弹出并关闭刻录机托盘等功能。






资源更新列表


http://www.VeryCD.com/i/5190747/create/fol...postTime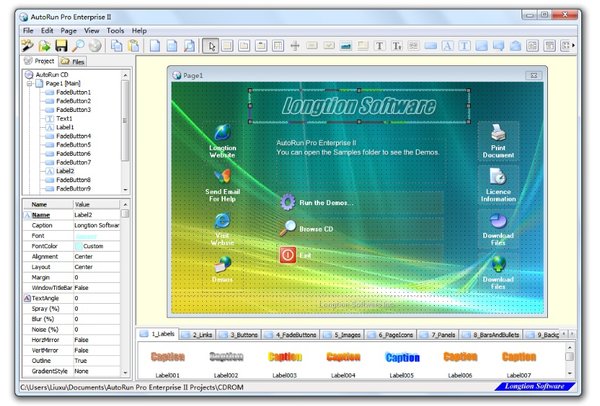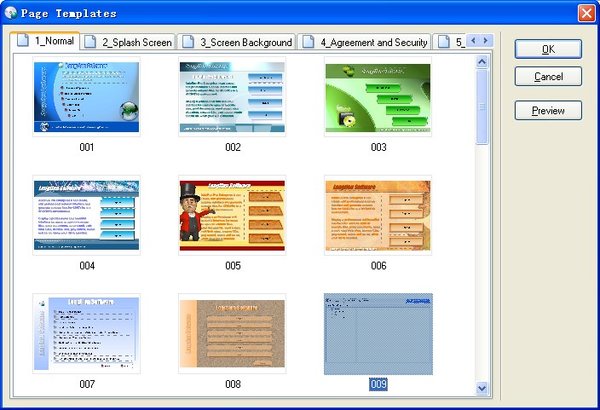 AutoRun Pro Enterprise II is a powerful visual tool to create professional autorun (autoplay) interfaces and presentations for your CD/DVDs. It is the easiest way to create, edit professional autorun (autoplay) interface and generate autorun files for CD/DVDs in a WYSIWYG environment, just click, point, place and test (preview). So all is visual, fast, simple. AutoRun Pro is easy to learn, with demos and wizards you can get started in just minutes!

36 Objects: Panel, TabNotebook, TabSheet, GroupBox, ScrollBox, Splitter, Button, ImageButton, Image, Bevel, SimpleText, ScrollText, Link, FadeButton, Label, Text, Shape, Balloon, Note, ListBox, DropDownList, ListView, TreeView, ShellListView, ShellTreeView, TextBox, RichText, Browser, MediaPlayer, PDFReader, FlashPlayer, SlideShow, Edit, UserPassword, CheckBox and RadioButton.

AutoRun Pro Enterprise II Features
Operating System: Win 95, Win 98, Win ME, Win NT4, Win 2000, XP, 2003, Vista, Win 7
Language: English
License: Shareware


Features:
• Display of every registered document (e.g.: TXT, DOC, HTML) via automatic start of the corresponding application.
• Print of every registered document (e.g.: TXT, DOC, HTML) via automatic start of the corresponding application.
• Start any program.
• Start the default browser with document URL.
• Send email.
• Integrated Web browser and internal commands.
• Integrated sound player.
• Integrated RTF (Rich Text) viewer.
• Integrated Media Player.
• Slide Show images (Photo album), more than 100 styles.
• Background color, Gradient color and Transparent Form.
• Background sound.
• Splash screen, splash screen sound.
• Full screen background and logo image.
• License agreement. You can display a license agreement before any files are launched. The user is required to accept the license in order to continue. If the user does not accept the license, then the AutoRun exits.
• Security. You can protect your CD from being started by unlicensed users by requiring users to submit a User Name and Password or an Authentication Code.
• Exit Form. Show information or confirm exit before program exits
• Unlimited Sub Pages.
• Page FadeIn, FadeOut.
• Images include bitmap, icon, JPEG, EMF, WMF, GIF (Static or Animated), PNG images.
• Page template.
• Object template.
• Using the drag-and-drop interface to link files for opening documents and running executable programs.
• CD Icon and Page icon can be displayed in the title bar.
• Test without burning CD.
• Burn project to CD-R/CD-RW directly with built-in CD Burner.
• Create a single executable file.
• Publish project to new folder.
• Create ISO CD-ROM image file.
• Install Software - You may want to install a default viewer for the files if the user does not have one on his computer. For example, if you are launching a PDF file, you may want to include Adobe Acrobat Reader software on your CD and install it if the user does not already have it installed. You can define one or more files to be installed.
• Create drop down menu bar (main menu), tool bar and status bar for pages like most standard windows to make your page more professional.
• Create popup menu, you can define the pop-up menu that appears when the user clicks on an object or page background with the right mouse button, like most professional applications.
• CD expire date, Specifies an expiration date for the CDs.
• Set object(s) Enable or Disable, Show or Hide Object(s).
• No programming knowledge required.
• No registry entry necessary.
• Runs from CD-ROM without installation.
• No runtime module required.





代码
Û Ü Þ
ÛÝ ßÛ²Ü ÜÛ
Û²ÜÜ ÜÜ ÞÛÛÝ ÜÜܲÛß
ß²ÛÛÛÛÛÛÛ² ÜÜܲÛÛÛÞÛÛ²ÜÜÜ Ü²ÛÛÝ ÜÜÜܲÛÛÝßßÛÛÜÜ
ßßß²ÛÛÛÛÛÛÛÛ ²ÛÛ ÛÛÛÛÛ²ßÛÛÛÛÞÛÛßß²ÛÛÛÛ Ü²ÛÛ²ÛÜ ÛÛÛÛßßßÛÛÛÝÛÛÛ ß²Û²ÜÜ
ÛÛÛÛ ²ÛÛÝÞÛÛÛ ßß ÛÛÛ ÛÛÛÛÛÛÛ ÞÛÛÛ ²ÛÛÛ ßÛÛÛÛÛÛÛ ÛÛÛÝÛÛÛ ÛÛÛÛ
ÛÛÛÛÜÜÛÛÛß ÞÛÛ² ²ÛÛÛÛ ÜÜÜÛÛÛÛ² ÜÜÛÛÛ²ÞÛÛÛÝ ÛÛÛÛÛÛÛ ÜÛÛß ÛÛÛ ÛÛÛÛ
ÛÛÛÛÛÛÛÛÜÜ ²ÛÛÝ ÛÛÛ ÛÛÛÛ²ßßß ÛÛÛÛÛ²ßß ÞÛÛÛÛÛÛÛÛÛÛÛÛÛÛÛÛÛÛÜÜÛÛÛ ÛÛÛÛ
ÛÛÛÛ ÛÛÛÛ ÛÛÛÝ ²ÛÛÛ²ÛÛÛ ÛÛÛÛÝ ÜܲÛÝÛÛÛÝ ²ÛÛÛÝ ÛÛÛÛÛÛÛ² ÛÛÛÛÛÛ ÛÛÛÛ
ÛÛÛÛ ÛÛÛÛÞÛÛÛ ÞÛÛÛÝÛÛÛÞÛÛÛÛ ÞÛÛÛÛÛÛ ÞÛÛÛÛÛÛ ÞÛÛÛÛÛÛÛ ÛÛÛÛÛÛ ÛÛÛÛ
ÛÛÛÛ ÛÛÛÛÛÛÛÛ ÛÛÛÝÛÛÛÛÛÛÛÛ ÞÛÛÛÛÛÛÜÜ ²ÛÛÛÛÛÛ ÞÛÛÛÛÛÛÛÝ ÛÛÛÛÛÛ ÛÛÛÛ
ÜÛÛÛÛ ÛÛÛÛÛÛÛÛ ÛÛÛÝÛÛ²ÛÛÛÛÛÜܲÛÛÛÛ²ÛÛÛÛÛÛÛÛÛÛÛÛÛÝ ²ÛÛÛÞÛÛÛÝ ÛÛÛÛÛÛ ÜÛÛÛÛ
ÛÛ²²ÛÛÛÛÛÛÛÛÛÛÛ²ÜÜÜÛÛÛÛÛÛ°ÛÛÛÛÛÛÛ±ßßÛÛÜÛ ßßß²ÛÛÞÛÛÛÝ ßß²ß ÛÛÛÛ ßßßßÛÛÛÛÛÛÛÛÛÛ
²ß ß²ßß²Û²ÜÛ ÜßßÛ²ÛÛÛÝ ÛÜÛ²ÛÛßÛÜ°ßß ²ÛÛ² ° ÜÛÛÛÜÜ ÛÛÛÛÛßßßßßßß
Ý ° ° ± Ûßß²ÛÜÛ ßÛÜÜÛßÛÛܲßß Ü²Ûß² ßß²ÛÛÛ²ÜÜ °
ÛÜ ² ° ² ß²ÛÜ ÛÝÜÛ²ß ÞÛÝ ± ²ßÛÛÛÛ²Üܲ
ßÛÛÛÜÛ ± ° ÜßÛÛÛÛÛÜÜ Ü B L I Z Z A R D ßÜ ° ° ßÛÛÜß²ÛÛÜ
ÛßÛß²ÛÜÛÜ ° ÜܲÛÛÛÛ²ßßßß ß Ü ÞÛÛÝÞÛÛÛÝ
ÛßÛ ÛÜÜÛÛÛÛ²ßß ° ÜÛ²ß ÜÛÛß
ßßÛ Ü²ÛÛ²ßÛ ° Longtion Software AutoRun Pro ܲÛÛßß ßÛÛÜ
Û ²ÛÛß ± Enterprise II v6.0.1.136 ßÛÛÝ
ÛÛÛß release date: 2013-01-10 supplier: TEAM BLZ ²ÛÛ
ÞÛÛÝ disks: 3 cracker: TEAM BLZ Þ²ÛÝ
°ÛÝ protection: Registration os: WinALL Û±Û
ÛßÛÛ²Ü Ü²Û°ßÛ
ßßÛ ßß²ÜÜ Üܲßß Üßß
²ÛÜÜ ßßÛÛÜÜÛßßßßßßßßÛܲßÛßßßßßßßßßßßßßßßßßßßßßßÛß²ÜÛÛßßßßßßßßÛÜÜÜÛßß ÜÜÛ²
± ßßß²ÛÜÛß² ²ÜÛßß RELEASE INFO ßßÛÜÛ² ²ßÛÜÛ²ßßß ±
± ÜÜܲÛßÛß²ÜÜÜÜÜÜÜÜÛÛÜÜÜÜÜÜÜÜÜÜÜÜÜÜÜÜÜÜÜÜÜÜÜÜÜÜÜÜÛÛÛÜÜÜÜÜÜÜܲßÛßÛ²ÜÜÜ ±
²Ûßß ÛÜÛÜÛ²Ûßßß ß ß ßßßß²ÛÜÛÜÛ ßßÛ²
ÜÜÛ ÜÜÛÛÛßßß° ° ßßÛÜÜ ÛÜÜ
ÛÜÛÛ²ÛÛß Û²ÛÛÜÛ
ÛÜÛÛß ÛÛÜÛ
ÛÛÝ ÛÛ
ÞÛÛ ÛÛÝ
ÛÛÝ Create your own custom autorun menus, interactive presentations, ÞÛÛ
ÛÛÝ multimedia applications, and custom software in just minutes. ÞÛÛ
ÛÛÝ AutoRun Pro Enterprise II features a completely visual drag and ÞÛÛ
ÛÛÝ drop environment. Simply add content such as buttons, photos and ÞÛÛ
ÛÛÝ text to your pages and position them using your mouse. Even if ÞÛÛ
ÛÛÝ you have absolutely no programming experience you'll be able to ÞÛÛ
ÛÛÝ get started creating your own custom applications in just ÞÛÛ
ÛÛÝ minutes. ÞÛÛ
ÛÛÝ ÞÛÛ
ÛÛÝ AutoRun Pro Enterprise II is a popular design tool for rapid ÞÛÛ
ÛÛÝ creation of autorun CD browsers and presentations. Offering a ÞÛÛ
ÛÛÝ simple point-and-click design environment, AutoRun Pro Enterprise ÞÛÛ
ÛÛÝ II allows anyone, regardless of computer competence and creative ÞÛÛ
ÛÛÝ ability, to blend texts, images, video and audio into an ÞÛÛ
ÛÛÝ interactive front-end for CDs and DVDs. In doing this, you can ÞÛÛ
ÛÛÝ make use of wizards, templates and demos that let you jumpstart ÞÛÛ
ÛÛÝ your autorun project in minutes. The end result can be compiled ÞÛÛ
ÛÛÝ as a single executable file and burned onto a CD or DVD disk ÞÛÛ
ÛÛÝ directly using the built-in CD Burner. ÞÛÛ
ÛÛÝ ÞÛÛ
ÛÛÝ The best in AutoRun Pro Enterprise II is that it has been ÞÛÛ
ÛÛÝ designed with the ordinary user in mind, the one who doesn't want ÞÛÛ
ÛÛÝ to take the time to learn how to use a complicated design tool or ÞÛÛ
ÛÛÝ hire a designer to do the work. It lets you create and edit a ÞÛÛ
ÛÛÝ front-end in much the same way as you would design a presentation ÞÛÛ
ÛÛÝ in Microsoft PowerPoint. Just click, drag, position in the ÞÛÛ
ÛÛÝ desired area and preview to see whether you have the intended ÞÛÛ
ÛÛÝ result. In just a few clicks, you can create a main page, a ÞÛÛ
ÛÛÝ splash screen, an agreement form, a security form and an exit ÞÛÛ
ÛÛÝ form, plus add the unlimited number of sub pages. Pages can be ÞÛÛ
ÛÛÝ connected by using transition effects like page fade in, fade out ÞÛÛ
ÛÛÝ and others. You can elaborate pages by adding buttons, images, ÞÛÛ
ÛÛÝ simple text, links and many other objects and associate each of ÞÛÛ
ÛÛÝ them with actions so that end users can interact with and ÞÛÛ
ÛÛÝ navigate through the front-end content. The front-end can let ÞÛÛ
ÛÛÝ them open and execute files, print documents, send email, visit ÞÛÛ
ÛÛÝ web sites, browse CD and more. ÞÛÛ
ÛÛÝ ÞÛÛ
ÛÛÝ AutoRun Pro Enterprise II is a powerful visual tool to create ÞÛÛ
ÛÛÝ professional autorun (autoplay) interfaces and presentations for ÞÛÛ
ÛÛÝ your CD/DVDs. It is the easiest way to create, edit professional ÞÛÛ
ÛÛÝ autorun (autoplay) interface and generate autorun files for ÞÛÛ
ÛÛÝ CD/DVDs in a WYSIWYG environment, just click, point, place and ÞÛÛ
ÛÛÝ test (preview). So all is visual, fast, simple. AutoRun Pro is ÞÛÛ
ÛÛÝ easy to learn, with demos and wizards you can get started in just ÞÛÛ
ÛÛÝ minutes! ÞÛÛ
ÛÛÝ ÞÛÛ
ÛÛÝ 35 Objects: ScrollBox, Panel, TabNotebook, TabSheet, GroupBox, ÞÛÛ
ÛÛÝ Button, ImageButton, Image, Bevel, SimpleText, ScrollText, Link, ÞÛÛ
ÛÛÝ Splitter, FadeButton, Label, Text, Shape, Balloon, Note, ListBox, ÞÛÛ
ÛÛÝ DropDownList, ListView, TreeView, ShellListView, ShellTreeView, ÞÛÛ
ÛÛÝ TextBox, RichText, Browser, MediaPlayer, FlashPlayer, SlideShow, ÞÛÛ
ÛÛÝ Edit, UserPassword, CheckBox and RadioButton. ÞÛÛ
ÛÛÝ ÞÛÛ
ÛÛÝ ScrollBox, Panel, TabNotebook, TabSheet, GroupBox are container ÞÛÛ
ÛÛÝ objects. The container object can serve as a container (parent) ÞÛÛ
ÛÛÝ for other objects. The parent of an object is the object that ÞÛÛ
ÛÛÝ contains the object. For example, if a page includes three ÞÛÛ
ÛÛÝ RadioButton objects in a GroupBox object, the GroupBox object is ÞÛÛ
ÛÛÝ the parent of the three RadioButton objects, and the RadioButton ÞÛÛ
ÛÛÝ objects are the child objects of the GroupBox object. ÞÛÛ
ÛÛÝ ÞÛÛ
ÛÛÝ Page Template and Object Template make it more easy. ÞÛÛ
ÛÛÝ ÞÛÛ
ÛÛÝ It's fast and easy to use. Anyone can quickly create autorun ÞÛÛ
ÛÛÝ CD-ROMs within minutes. ÞÛÛ
ÛÛÝ ÞÛÛ
ÛÛÝ Features: ÞÛÛ
ÛÛÝ ÞÛÛ
ÛÛÝ - Display of every registered document (e.g.: TXT, DOC, HTML) via ÞÛÛ
ÛÛÝ automatic start of the corresponding application. ÞÛÛ
ÛÛÝ - Print of every registered document (e.g.: TXT, DOC, HTML) via ÞÛÛ
ÛÛÝ automatic start of the corresponding application. ÞÛÛ
ÛÛÝ - Start any program. ÞÛÛ
ÛÛÝ - Start the default browser with document URL. ÞÛÛ
ÛÛÝ - Send email. ÞÛÛ
ÛÛÝ - Integrated Web browser and internal commands. ÞÛÛ
ÛÛÝ - Integrated sound player. ÞÛÛ
ÛÛÝ - Integrated RTF (Rich Text) viewer. ÞÛÛ
ÛÛÝ - Integrated Media Player. ÞÛÛ
ÛÛÝ - Slide Show images (Photo album), more than 100 styles. ÞÛÛ
ÛÛÝ - Background color, Gradient color and Transparent Form. ÞÛÛ
ÛÛÝ - Background sound. ÞÛÛ
ÛÛÝ - Splash screen, splash screen sound. ÞÛÛ
ÛÛÝ - Full screen background and logo image. ÞÛÛ
ÛÛÝ - License agreement. You can display a license agreement before ÞÛÛ
ÛÛÝ any files are launched. The user is required to accept the ÞÛÛ
ÛÛÝ license in order to continue. If the user does not accept the ÞÛÛ
ÛÛÝ license, then the AutoRun exits. ÞÛÛ
ÛÛÝ - Security. You can protect your CD from being started by ÞÛÛ
ÛÛÝ unlicensed users by requiring users to submit a User Name and ÞÛÛ
ÛÛÝ Password or an Authentication Code. ÞÛÛ
ÛÛÝ - Exit Form. Show information or confirm exit before program ÞÛÛ
ÛÛÝ exits ÞÛÛ
ÛÛÝ - Unlimited Sub Pages. ÞÛÛ
ÛÛÝ - Page FadeIn, FadeOut. ÞÛÛ
ÛÛÝ - Images include bitmap, icon, JPEG, EMF, WMF, GIF (Static or ÞÛÛ
ÛÛÝ Animated), PNG images. ÞÛÛ
ÛÛÝ - Page template. ÞÛÛ
ÛÛÝ - Object template. ÞÛÛ
ÛÛÝ - CD Icon and Page icon can be displayed in the title bar. ÞÛÛ
ÛÛÝ - Test without burning CD. ÞÛÛ
ÛÛÝ - Burn project to CD-R/CD-RW directly with built-in CD Burner. ÞÛÛ
ÛÛÝ - Create a single executable file. ÞÛÛ
ÛÛÝ - Publish project to new folder. ÞÛÛ
ÛÛÝ - Create ISO CD-ROM image file. ÞÛÛ
ÛÛÝ - Install Software - You may want to install a default viewer for ÞÛÛ
ÛÛÝ the files if the user does not have one on his computer. For ÞÛÛ
ÛÛÝ example, if you are launching a PDF file, you may want to ÞÛÛ
ÛÛÝ include Adobe Acrobat Reader software on your CD and install it ÞÛÛ
ÛÛÝ if the user does not already have it installed. You can define ÞÛÛ
ÛÛÝ one or more files to be installed. ÞÛÛ
ÛÛÝ - Create drop down menu bar (main menu), tool bar and status bar ÞÛÛ
ÛÛÝ for pages like most standard windows to make your page more ÞÛÛ
ÛÛÝ professional. ÞÛÛ
ÛÛÝ - Create popup menu, you can define the pop-up menu that appears ÞÛÛ
ÛÛÝ when the user clicks on an object or page background with the ÞÛÛ
ÛÛÝ right mouse button, like most professional applications. ÞÛÛ
ÛÛÝ - CD expire date, Specifies an expiration date for the CDs. ÞÛÛ
ÛÛÝ - Set object(s) Enable or Disable, Show or Hide Object(s). ÞÛÛ
ÛÛÝ - No programming knowledge required. ÞÛÛ
ÛÛÝ - No registry entry necessary. ÞÛÛ
ÛÛÝ - Runs from CD-ROM without installation. ÞÛÛ
ÛÛÝ - No runtime module required. ÞÛÛ
ÛÛÝ ÞÛÛ
ÞÛÛ ÛÛÝ
ÛÛÝ ÞÛÛ
ÛÛÛ۲߰ °ß²ÛÛÛÛ
ßßÛÛÛÛ²ÜÜ ° ° ÜܲÛÛÛÛßß
²ÛÛÛÛÛÛÛÛÛ²ÜÜÜÜ Ü Ü ÜÜÜܲÛÛÛÛÛÛÛÛÛ²
± ßßß²ÛÛÛÛ²ßßßßßßßßÛܲßÛßßßßßßßßßßßßßßßßßßßßßßßÛß²ÜÛßßßßßßßß²ÛÛÛÛ²ßßß ±
± ßßß²ÛÛÛÛÛ ²ÜÛßß INSTALL INFO ßßÛܲ ÛÛÛÛÛ²ßßß ±
± ÜÜܲÛÛÛÛ²ÜÜÜÜÜÜÜÜÛÛÜÜÜÜÜÜÜÜÜÜÜÜÜÜÜÜÜÜÜÜÜÜÜÜÜÜÜÜÜÛÛÜÜÜÜÜÜÜܲÛÛÛÛ²ÜÜÜ ±
²ÛÛÛÛÛÛÛÛÛ²ßßßß ß ß ßßßß²ÛÛÛÛÛÛÛÛÛ²
ÜÜÛÛÛÛ²ßß ° ° ßß²ÛÛÛÛÜÜ
ÛÛÛ۲߰ °ß²ÛÛÛÛ
ÛÛÝ ÞÛÛ
ÞÛÛ ÛÛÝ
ÛÛÝ Run setup and follow instructions. ÞÛÛ
ÛÛÝ ÞÛÛ
ÛÛÝ Register using these infos: ÞÛÛ
ÛÛÝ ÞÛÛ
ÛÛÝ Name : XXXXXXX/XXXXXXXX! ÞÛÛ
ÛÛÝ Serial : XXXXXXXXXXXXXXXX ÞÛÛ
ÛÛÝ Key : XXXXXXXXXXXXXXXX ÞÛÛ
ÛÛÝ ÞÛÛ
ÞÛÛ ÛÛÝ
ÛÛÝ ÞÛÛ
ÛÛÛ۲߰ °ß²ÛÛÛÛ
ßßÛÛÛÛ²ÜÜ ° ° ÜܲÛÛÛÛßß
²ÛÛÛÛÛÛÛÛÛ²ÜÜÜÜ Ü Ü ÜÜÜܲÛÛÛÛÛÛÛÛÛ²
± ßßß²ÛÛÛÛ²ßßßßßßßßÛܲßÛßßßßßßßßßßßßßßßßßßßßßßßÛß²ÜÛßßßßßßßß²ÛÛÛÛ²ßßß ±
± ßßß²ÛÛÛÛÛ ²ÜÛßß GREETINGS ßßÛܲ ÛÛÛÛÛ²ßßß ±
± ÜÜܲÛÛÛÛ²ÜÜÜÜÜÜÜÜÛÛÜÜÜÜÜÜÜÜÜÜÜÜÜÜÜÜÜÜÜÜÜÜÜÜÜÜÜÜÜÛÛÜÜÜÜÜÜÜܲÛÛÛÛ²ÜÜÜ ±
²ÛÛÛÛÛÛÛÛÛ²ßßßß ß ß ßßßß²ÛÛÛÛÛÛÛÛÛ²
ÜÜÛÛÛÛ²ßß ° ° ßß²ÛÛÛÛÜÜ
ÛÛÛ۲߰ °ß²ÛÛÛÛ
ÛÛÝ ÞÛÛ
ÞÛÛ ÛÛÝ
ÛÛÝ greets fly out to all groups which actively and courageously ÞÛÛ
ÛÛÝ work on building better release conditions and ÞÛÛ
ÛÛÝ thus keep the scene up. ÞÛÛ
ÛÛÝ ÞÛÛ
ÛÛÝ special greets to our friends in: ÞÛÛ
ÛÛÝ ÞÛÛ
ÛÛÝ absokt - acme - air - digerati - explosion - f4cg ÞÛÛ
ÛÛÝ orion - pdx - shock - ssg - tbe - tmg - unleashed - zwt ÞÛÛ
ÞÛÛ ÛÛÝ
ÛÛÝ ÞÛÛ
ÛÛÛ۲߰ °ß²ÛÛÛÛ
ßßÛÛÛÛ²ÜÜ ° ° ÜܲÛÛÛÛßß
²ÛÛÛÛÛÛÛÛÛ²ÜÜÜÜ Ü Ü ÜÜÜܲÛÛÛÛÛÛÛÛÛ²
± ßßß²ÛÛÛÛ²ßßßßßßßßÛܲßÛßßßßßßßßßßßßßßßßßßßßßßßÛß²ÜÛßßßßßßßß²ÛÛÛÛ²ßßß ±
± ßßß²ÛÛÛÛÛ ²ÜÛßß CONTACT ßßÛܲ ÛÛÛÛÛ²ßßß ±
± ÜÜܲÛÛÛÛ²ÜÜÜÜÜÜÜÜÛÛÜÜÜÜÜÜÜÜÜÜÜÜÜÜÜÜÜÜÜÜÜÜÜÜÜÜÜÜÜÛÛÜÜÜÜܲÜܲÛÛÛÛ²ÜÜÜ ±
²ÛÛÛÛÛÛÛÛÛ²ßßßß ß ß ßßßß²ÛÛÛÛÛÛÛÛÛ²
ÜÜÛÛÛÛ²ßß ° ° ßß²ÛÛÛÛÜÜ
ÛÛÛ۲߰ °ß²ÛÛÛÛ
ÛÛÝ ÞÛÛ
ÞÛÛ ÛÛÝ
ÛÛÝ We are a closed group, if we need you then we will contact you! ÞÛÛ
ÛÛÝ ÞÛÛ
²ÛÝ Software worth using is worth buying.. keep this in mind! ÞÛÛ
ÞÛÛ ÛÛÝ
²ÛÛÜÜ ÜÜÛÛ²
ÛÛÛÛÛÜÛÜÜÜ ÜÜÜÛÜÛÛ²ÛÛ
ßßÛÛÛÛ²ÜÜÛÜÜÜÜ ÜÜÜÜÛÜܲ۲ÛÛßß
²ÛÛÛÛÛ²ÛÜÛÜÛßßßßßßßßÛÝ nfo updated on ÞÛßßßßßßßßÛÜÛÜÛ²ÛÛÛ°Û²
ßßß°ÛÛÛÛ² Û² 2009.07.19 ÛÛ ²ÛÛÛÛ°ßßß
ßßß°ÜÜÜÜÜÜÜÜÛÛ²Ü Ü°ÛÛÜÜÜÜÜÜÜÜ°ßßß
ÛÛÛÛ²ÜÜ ÜÜÜ ÜÜ°Û²ÛÛ
ßß²ÛÛÛÛ°ÛÛÛ°ÜÜ Û Û ÜܲÛÛÛÛÛÛ²Û²ßß INFOFILE DRAWN BY
ÜÛÛ²ÛÛ²²ÛÛ°Û°Û°ÛÛÛ²ÛÛÛÛÛÜ H7/ACCESSiON
ßßß°ÛÛÛ²Û²Û²ÛÛÛ°ßßß
ßßßÛÜÛßßß
ÛÜÛ


这里是其它用户补充的资源(我也要补充):
暂无补充资源