中文名: 目录报告列表制作软件
英文名: Gillmeister Folder2List
资源格式: 压缩包
版本: v2.3.3 Bilanguage
发行时间: 2013年
制作发行:
Gillmeister Software
简介: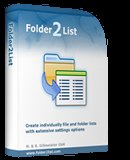 软件类型:软件>应用软件
软件性质:破解软件
操作系统:Windows
应用平台:Windows 8, 7, Vista and XP
问题反馈:http://www.folder2list.com/en/support.html
网站链接:http://www.folder2list.com/en/index.html
软件介绍:

Gillmeister Folder2List 是一款可以帮助你快速的将指定目录中的所有文件和子目录情况制作成精美的表格并可打印出来或者保存为PDF电子文档文件的工具软件!简单的来说就是可以帮助你给指定的目录做一个详情报告列表!

做好的目录报表可以导出为PDF格式、CSV格式、Text格式、HTML网页格式、Excel XML格式、RTF格式等!支持打印!内置多种表格模版,而且可以自定义报表的字体样式等细节!






资源更新列表


http://www.VeryCD.com/i/5190747/create/fol...postTime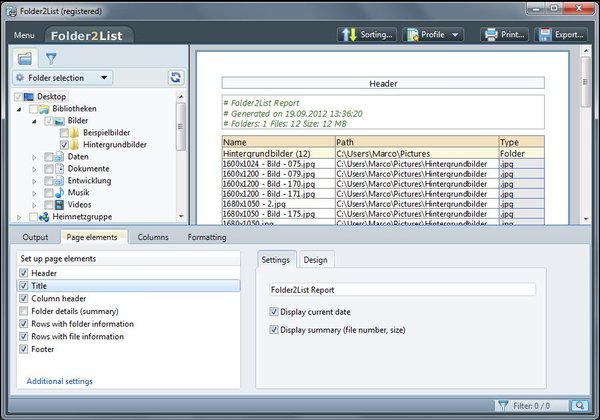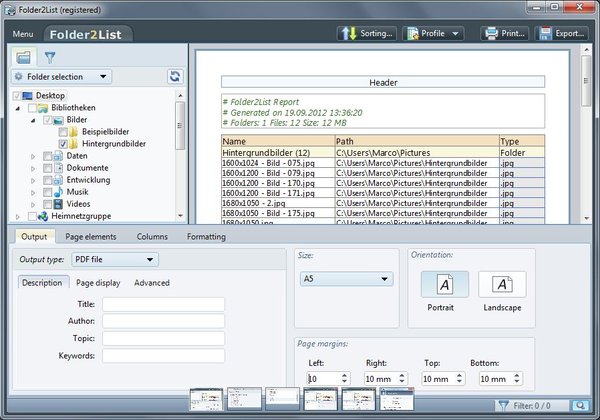 With Folder2List you can quickly and easily create folder and file lists. Select the data to be displayed from numerous properties and format the data with various setting options. Folder2List supports metadata such as Exif, ID3, and IPTC. This allows you to clearly list, for instance, information regarding your MP3-files or photos.

The program offers a variety of options to individually adapt the appearance of the lists. With a few simple clicks you can customize font, background color, frames, etc. You can save these settings as a profile. The generated folder or file lists can be printed and exported to many different formats (XLS, Excel-XML, PDF, HTML, CSV, TXT, and RTF).



Print simple file lists (output file names)
Create file lists (e.g., MP3 lists) which include various file attributes
Print folder lists to display the number of files and total size
Create detailed folder lists, to visualize certain folder properties
Export file lists/folder lists - a variety of different file formats is supported


Use numerous properties of folders and files

When generating the data lists you can use properties like size, date of creation, file extensions. In addition, a lot of the metadata contained in files can be used. This feature enables you to create, for example, MP3 lists that contain artist, album, and genre.

Select file list columns

General data (name, path, file type, creation date, modification date, file size).
Exif data (taken date, camera manufacturer, camera model, photographer, description, commentary, image width/height, horizontal/vertical resolution, flash use).
Image data (width/height, horizontal/vertical resolution, bit depth).
Audio data (artist, album, title, year, comment, track, genre, bit rate, duration).
IPTC data (country, country code, state, city, location, title, photographer, description, provider, source).

Export or print folder contents

With Folder2List you can easily print folder contents. Or you can save the directory contents as a text file, CSV file, etc. to further process the extracted information. For export, there are many formats available.

Select file list format

Output directory contents as text (save as TXT, CSV or HTML file)
Export file list to Excel or Word (save as XLS, Excel-XML, CSV or RTF file)
Save file lists as PDF file
Print directory and file lists

Sort and filter files


The extensive filter and sort functions can be applied to many properties (such as file extensions, image size, and date of creation). By using filters you can include or exclude files and/or folders.
Real-time preview for folder lists or file lists
Real-time preview when creating directory lists

Due to the real-time preview the effects of all settings (such as changes of the column width, font color, and frame color) are visible immediately.




代码

°
þßÛÛ²ÜÜ ßÛÛÛÛÛÜÜÜÜ þßÛÛßÜÜ ÜÜßÛÛßþ ÛÛÜ ßÛÛÜÜ °° þÜÜ Üܲ²Ûßþ
ÛÛÛ²² ° Û²ÛÜßß²ÛÛÛÜ Û°°²Û Û²°°² ÛÜÜ ßß Û²²ÛÛ °°±²°° ÞÛ²ÛÜ ÛÛ²²Û
ÛÛ²²ÛÛ °° Û²²ÛÛ ÛÛ²²ÛÝÞ±±²Ý ÞÛ±±²Ý Þ²²Û²ÛÜ Û²²Û °± °Þ²²ÛÝ Þ²ßßÛÝ
ÛßßÛ² °°±²°°ßßß Û²ßß² Û²Û ° Û²²ÛÛ Û²ßß²² ÛßÛÜÜÛÛß ° °° Û²ÛßÜÜÜÛ°°²Û
ÛÛ°°ÛÛ °°ÜÜþÞÛ²²ÛÜÜÛ°°ÛÝÞÛ²²ÜÛ²Ûßß ° ÞÛ°°ÛÛÛ°°Ûßß ÜÜþ ÜÛ²²ÛÛßßßßÛ±±ÛÝ
Û±±²Û ÜÛÛ²ÝÞ²ß ßßßÛ±±Û² ÛÛß ßÛ²²ÛÜ Û²±±Û Û±±Û ÜÛ²²Ý ß ÜÜÜÜ Û²²²Û
ÛÛ²²ÛÛ ÛÛ²²ÝÞ²Ý °±° Û²²ÛÝÞ²Ý ° ÞÛßß²Û Û²²ÛÛÛÛ²²ÛÝ Þ²²ÛÝ ÞÛ²²ÛÝ Þ²²²ÛÝ
ßÛ²²ÛÜÜßÛ²Û Û² ° Þ²²ÛÛ ÛÛ °±° Û°°²ÛÝÛÛ²Û ßÛÛ²²ÜÜßÛ²Û Û²ÛßÜÜܲ²ÛÛÛß
ßÜÜ ßßßßÛÛÛÛÛÜßÛÜÜÜÛ²Ûß Þ²²Ý °° Û±±²Û Û²ÛÛÛ ÜÜ ßßßß²²ÛÛÛÜ ßÛ²²²Ûßßß ÜÜß
ßßß²ÜÜÜÜÜÜ ß ²ÜÜÜÜÜÜÜÜ ßÛ ° Þ²²ÛÛß ÜÜ ßß ² ßßß²ÜÜÜÜÜÜ ß ÜÜÜÜÜܲßß
± ° ß Û²ßß ° ° ±
° ß °
ß þÜ Üþ ß
Þ²Ü ÜÜܲÛÛÛ²Ü tEAM LAXiTY ܲÛÛÛ²ÜÜÜ Ü²Ý
ܲ²ß ÜÛ²ßßß ß²²ß pROUDLY pRESENTS: ß²²ß ßßßÛ²Ü ß²²Ü
ÜÛ²²ß Üß þßß ßßþ ßÜ ß²²ÛÜ
Û²²Û ² ² Û²²Û
ÛÛ²Û ± Gillmeister Folder2List v2.3.3 Bilanguage ± Û²ÛÛ
Û ßÛ ° (c) Gillmeister Software ° Ûß Û
Û°°Û Û°°Û
Û°°Û URL ........: http://www.rename-expert.com Û°°Û
Û°°Û Û°°Û
Û°°Û Supplier ...: TEAM LAXiTY Soft Type ...: APP [X] Û°°Û
Û°°Û Packager ...: TEAM LAXiTY GAME [ ] Û°°Û
Û°°Û Cracker ....: TEAM LAXiTY OTHER [ ] Û°°Û
Û°°Û Rel. date ..: 05.01.13 Û°°Û
Û°°Û Û°°Û
Û±±Û ° Rape Solution: Keygen [ ] Serial [ ] RegKey [ ] ° Û±±Û
Û²²ÛÝ Crack [ ] Other [X] ÞÛ²²Û
ÛÛÛÛÛÜ ÜÛÛÛÛÛ
ÜÛÛß ß ß ßÛÛÜ
ßÛß ²²±±°° °°±±²² ßÛß
ß þÜ °° °° Üþ ß
Þ²Ü ° ÜÜܲÛÛÛ²Ü Ü²ÛÛÛ²ÜÜÜ ° ܲÝ
ܲ²ß ÜÛ²ßßß ß²²ß R E L E A S E . N O T E S ß²²ß ßßß²ÛÜ ß²²Ü
ÜÛ²²ß Üß þßß ßßþ ßÜ ß²²ÛÜ
Û²²Û ² ² Û²²Û
ÛÛ²Û ± ± Û²ÛÛ
Û ßÛ ° ° Ûß Û
Û°°Û Folder2List is a powerful and reliable application for Û°°Û
Û°°Û creating folder and file lists with numerous formatting and Û°°Û
Û°°Û setting options. Û°°Û
Û°°Û Û°°Û
Û±±Û ° ° Û±±Û
Û²²ÛÝ ÞÛ²²Û
ßÛÛÛÛÜ ÜÛÛÛÛß
ßÛÛÛÛÜ ÜÛÛÛÛß
ÜÛÛß ß ß ßÛÛÜ
ßÛß ²²±±°° °°±±²² ßÛß
ß þÜ °° °° Üþ ß
Þ²Ü ° ÜÜܲÛÛÛ²Ü Ü²ÛÛÛ²ÜÜÜ ° ܲÝ
ܲ²ß ÜÛ²ßßß ß²²ß i N S T A L L . N O T E S ß²²ß ßßß²ÛÜ ß²²Ü
ÜÛ²²ß Üß þßß ßßþ ßÜ ß²²ÛÜ
Û²²Û ² ² Û²²Û
ÛÛ²Û ± ± Û²ÛÛ
Û ßÛ ° ° Ûß Û
Û°°Û Just replace "Folder2List.exe". Û°°Û
Û°°Û Register the app with a more than 31 digits key. Û°°Û
Û±±Û ° ° Û±±Û
Û²²ÛÝ ÞÛ²²Û
ßÛÛÛÛÜ ÜÛÛÛÛß
ßÛÛÛÛÜ ÜÛÛÛÛß
ÜÛÛß ß ß ßÛÛÜ
ßÛß ²²±±°° °°±±²² ßÛß
ß þÜ °° °° Üþ ß
Þ²Ü ° ÜÜܲÛÛÛ²Ü Ü²ÛÛÛ²ÜÜÜ ° ܲÝ
ܲ²ß ÜÛ²ßßß ß²²ß A P P L Y . i N F O ß²²ß ßßß²ÛÜ ß²²Ü
ÜÛ²²ß Üß þßß ßßþ ßÜ ß²²ÛÜ
Û°°Û ° ° Û°°Û
Û±±Û ° *** CLOSED *** ° Û±±Û
ßÛ²²ÛÜ ÜÛ²²Ûß
ßÛ²²²Ü ܲ²²Ûß
ÜÛ²²Ûß TEAM LAXiTY ßÛ²²ÛÜ
ÜÛ°°Ûß ravishing since 1998 ßÛ°°ÛÜ
ßÛ±±ÛÜ ÜÛ±±Ûß
ßÛ²²ÛÜ ° ° ° ° ° ÜÛ²²Ûß
ßßÛ²ÛÜ ßÜ ²Û ÜßßÛ² ²² Û² ßß ²Û ²Û Û² Üß ÜÛ²Ûßß
ß²²Û ß±±° °°±±Û ÜÜÛ± ßÜÜß ²Û ±Ûßß ßßßÛ±±°° °±²ß Û²²ß
Þ²ß (asc) mx °Û ²Û ²² Û° ܲ ²Ü ±Û °Û ²Û ²² Û° ß²Ý
Ü þß ßß± ßßß ß± ßß °ß ßß± ßßß ßþ Ü
° ° °
LXTCRC:94346:3633

这里是其它用户补充的资源(我也要补充):
暂无补充资源