专辑英文名: Bruch: Concerto for violin in Gm; Scottish Fantasy
专辑中文名: 布鲁赫:第一号小提琴协奏曲,苏格兰幻想曲
古典类型: 全集作品
资源格式: FLAC
发行时间: 1995年08月15日
简介:


专辑介绍:

布鲁赫:第一号小提琴协奏曲

除了布鲁赫的两首名作之外,还收录了魏欧当的第五号小提琴协奏曲。这些作品,放眼乐坛,没有其他人的演奏能敌得过海飞兹的。布鲁赫的「苏格兰幻想曲」繾綣的柔情呼唤著我们的灵魂,只有海飞兹的音乐性加强绝的技巧,才能显示原创的功力。

海飞兹的技巧完美是名师、天份加上苦练的结果,他过著最严谨自律的演奏家生活,放纵和浪漫的艺术家性格不是他的作风。而海飞兹也深知自己琴艺精湛,必须及时在盛年留下传世之作,所以即使他在一九三零年代就开始录音,且在单音时期就有许多畅销的录音作品问世,但在他五零年代为RCA唱片公司所网罗后,却重新把他的经典曲目重新以立体声再灌录一遍。而正好RCA是世上最早採用立体声录音的公司,因此能及时捕捉到他在巔峰时的琴音。

海飞兹/ 布鲁赫:小提琴协奏曲第一号&「苏格兰幻想曲」等&魏奥当
Heifetz- Bruch: Violin Concerto No.1, Scottish Fantasy/ Vieuxtemps: Violin Concerto No.5
唱片公司: SONY MUSIC
类别: CD古典协奏曲
唱片编号: BVCC37257
发行日期: 2000年06月15日
内容物:1片装
录音: ~1962年

Orchestra: New Symphony Orchestra of London
Conductor: Malcolm Sargent
Composer: Max Bruch, Henri Vieuxtemps
Audio CD (August 15, 1995)
Number of Discs: 1
Label: RCA
ASIN: B000003FIR

Jascha Heifetz (English pronunciation: /ˈhaɪfɪts/, February 2 [O.S. January 20] 1901 – December 10, 1987) was a violinist, born in Vilnius, then Russian Empire, now Lithuania. He is widely regarded as one of the greatest violinists of all time.

Early life

Heifetz was born into a Jewish family in Vilnius, Lithuania, then part of the Russian Empire. The record confirming his birth on January 20, 1901 (full archival citation - LVIA/728/4/77) is held at the Lithuanian State Historical Archives (LVIA). A copy of the record is held on microfilm at the LDS in Salt Lake City (No 2205068, image number - 795). The record states the family was registered in Polotsk. His father, Reuven Heifetz, son of Elie, was a local violin teacher and served as the concertmaster of the Vilnius Theatre Orchestra for one season before the theatre closed down. Jascha took up the violin when he was three years old and his father was his first teacher. At five he started lessons with Ilya D. Malkin, a former pupil of Leopold Auer. He was a child prodigy, making his public debut at seven, in Kovno (now Kaunas, Lithuania) playing the Violin Concerto in E minor by Felix Mendelssohn. In 1910 he entered the Saint Petersburg Conservatory to study under Leopold Auer himself.

He played in Germany and Scandinavia, and met Fritz Kreisler for the first time in a Berlin private house together with other noted violinists in attendance. Kreisler, after accompanying the 12-year-old Heifetz at the piano in a performance of the Mendelssohn concerto, said to all present, "We may as well break our fiddles across our knees." Heifetz visited much of Europe while still in his teens. In April 1911, Heifetz performed in an outdoor concert in St. Petersburg before 25,000 spectators; there was such a sensational reaction that police officers needed to protect the young violinist after the concert. In 1914, Heifetz performed with the Berlin Philharmonic conducted by Arthur Nikisch. The conductor was very impressed, saying he had never heard such an excellent violinist.

Career

Heifetz and his family left Russia in 1917, traveling by rail to the Russian far east and thence by ship to the United States, arriving in San Francisco.

On October 27, 1917, Heifetz played for the first time in the United States, at Carnegie Hall in New York, and became an immediate sensation.[5] Fellow violinist Mischa Elman in the audience asked "Do you think it's hot in here?", whereupon Leopold Godowsky, in the next seat, imperturbably replied, "Not for pianists."[6] The reviews by the New York critics were rapturous.

In 1917, Heifetz was elected as an honorary member of Phi Mu Alpha Sinfonia, the national fraternity for men in music, by the fraternity's Alpha chapter at the New England Conservatory of Music in Boston. As he was aged 16 at the time, he was perhaps the youngest person ever elected to membership in the organization. Heifetz remained in the country and became an American citizen in 1925. When he told admirer Groucho Marx he had been earning his living as a musician since the age of seven, Groucho answered, "And I suppose before that you were just a bum."



引用
21 of 21 people found the following review helpful
5.0 out of 5 stars Simply the Best February 13, 2005
By F. Rupert
Format:Audio CD
These classic recordings were issued in the early 1960s in excellent sound. Unlike many earlier Heifetz records, you don't have to make allowances for the substandard, boxy sound that seems to be the norm for the majority of Heifetz recordings from the 1950's (the Brahms Concerto being a notable exception). The performances are first-rate, especially the Scottish Fantasy. This has been recorded by quite a few violinists (Perlman, Chung, etc.), but nobody else comes close to the awesome exhibition of virtuosity Heifetz provides. Perhaps you have to play the violin to grasp what you're hearing, but the Finale is hair-raising. Everyone else sounds like they're working hard in the Finale, but not Jascha. One of the great, classic violin recordings. BUY IT.
Comment |
Was this review helpful to you?

16 of 16 people found the following review helpful
5.0 out of 5 stars Wow! January 18, 2004
By Ryan
Format:Audio CD
I have three recordings of the Bruch VC, Perlman, Midori, Kyung Wha Chung,and all of them are pretty good, with Perlman standing out in the group of three, but when I heard Heifetz's rendition I was blown away. The 1st movement, which is played quite often, had a new flair to it that made me feel like i HADNT heard the piece 1000 times. The second movement was very heartfelt and the best I have heard, along with the technically perfect 3rd mvt. As for the Scottish Fantasy, it's the best around, and I havent really listened to teh Vieuxtemps yet, but so far an AWESOME CD, especially the VC, a must have!!!!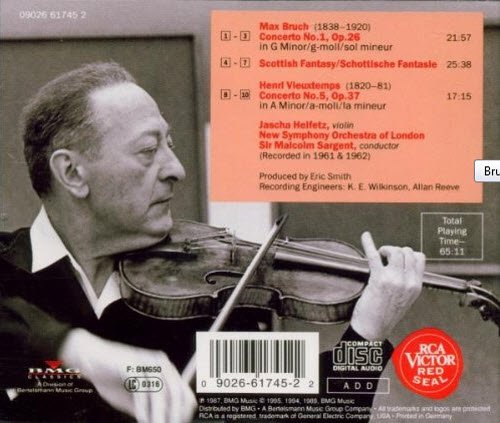 专辑曲目:
01. Bruch - Violin Concerto #1 in G Minor - 1 Vorspiel (Allegro Moderato) [07:39]
02. Bruch - Violin Concerto #1 in G Minor - 2 Adagio [07:51]
03. Bruch - Violin Concerto #1 in G Minor - 3 Finale (Allegro Energico) [06:35].

04. Bruch - Scottish Fantasy - 1 Introduction (Grave, Adagio Cantabile) [07:46]
05. Bruch - Scottish Fantasy - 2 Allegro [04:32]
06. Bruch - Scottish Fantasy - 3 Andante Sostenuto [06:38]
07. Bruch - Scottish Fantasy - 4 Finale (Allegro Guerriero) [06:53]

08. Vieuxtemps - Violin Concerto #5 in A Minor - 1 Allegro Non Troppo [12:30]
09. Vieuxtemps - Violin Concerto #5 in A Minor - 2 Adagio [03:36]
10. Vieuxtemps - Violin Concerto #5 in A Minor - 3 Allegro con Fuoco [01:04]
这里是其它用户补充的资源(我也要补充):
暂无补充资源