中文名: 电子记事簿软件
英文名: Chaos Software Time And Chaos
资源格式: 压缩包
版本: v8.0.5.8
发行时间: 2012年
制作发行:
Chaos Software Group, Inc.
简介: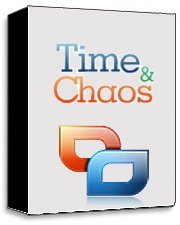 软件类型:软件>应用软件
软件性质:免费破解软件
操作系统:windows
应用平台:Windows XP/Vista/7/8
问题反馈:http://www.chaossoftware.com/support/
网站链接:http://www.chaossoftware.com/products.aspx
软件介绍:

相当优秀的电子记事簿,除可排定行程,日历功能,更有电话簿的建立功能,整体功能相当完整,并可对节日、特定日子来设定为每年、每月等共同发生日。

Time & Chaos 是一个利用三种不同的类型来进行信息管理的工具,要作的事,约会,联系人。它能够让你在一个单独的屏幕中浏览所有的类目。这个程序这个记录所有你的联系人,包括商业及个人。它可以同32位的软件联合起来直接拨打电话,发送传真及电子邮件,连接到网站以及并入信件。综包括WinFax Pro 8.0支持,Windows 98 支持,一个新的月历程序,更好的分组管理,27种新的打印尺寸。它同样支持打印附件功能。这个升级版包括Word XP 支持,搜索屏幕增强,联系表历史记录,改善的拖拉功能。







资源更新列表


http://www.VeryCD.com/i/5190747/create/fol...postTime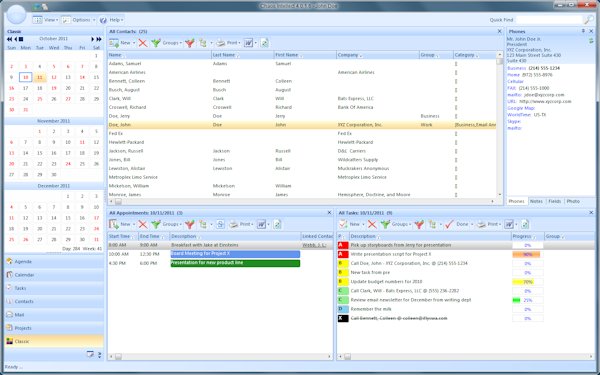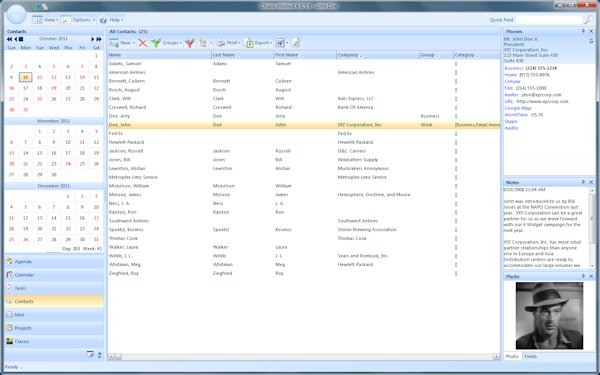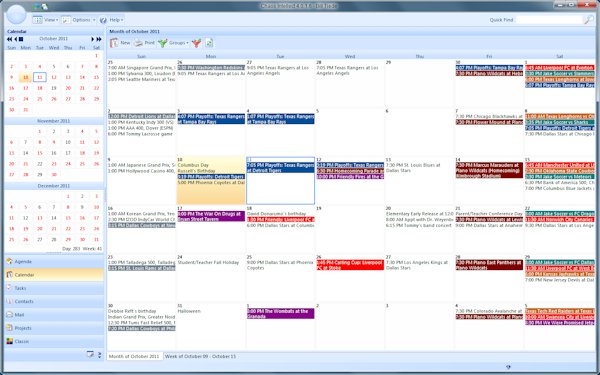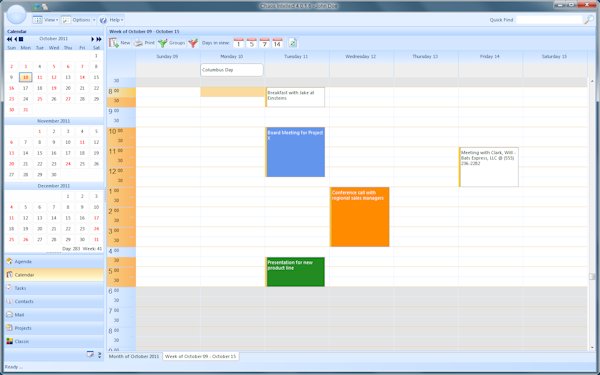 Contact Manager and Time Management CRM software: Time and Chaos!

Time and Chaos is the best CRM contact manager software for Windows users. The relationship history of any contact or client is easily tracked and T&C improves your time management capabilities with its appointment calendar and to do list tasks that show you exactly what needs to be done today. If you are on a network, Time & Chaos allows you to share your data with everyone on your network with no expensive server add-on required.
Time & Chaos gives you an important advantage!

Since 1992, Time & Chaos has provided great contact manager and time management features to people just like you! We invite you to download a fully-functional version to try with no missing or disabled features. Give us a chance and we'll prove to you that Time & Chaos is better than anything else out there!

In fact, the staff of CNET's Download.com recently reviewed Time & Chaos and their comments are a must-read if you are considering what Time & Chaos could do for you. [We must say it is one of our favorite reviews of the many we have received over the years!]

So what is so great about Time & Chaos?

Great interface! T&C has a classic page where everything appears on one screen, but there are many ways to change up what you see when you need to focus on a certain area. The Appointments view lets you see you schedule by day, week, or month. See Today's look at your upcoming week. Projects even offers a custom database to track whatever you need to. Most important is that the interface is simple and doesn't get in your way to trip you up as you try to get things done!
Works with any email software! T&C lets you link to your current email system for outgoing messages. (If you would like integrated email built in for even more power, take a look at our Chaos Intellect program instead!)
Easy Networking and Real-Time Sharing! Everyone on the network can use the same databases at the same time and see changes immediately! No additional and expensive server software is required, either!
Easy to learn! You'll pick it up almost as soon as you turn it on and won't need to go to a class just to get started. Time & Chaos is real world tested by real users, just like you!
Risk Free Trial! Time & Chaos is FREE to try for 21 days, no questions asked. Should you decide it's not the program for you, it can be easily uninstalled for quick and easy cleanup.
We're friendly! If you have any questions about getting started with Time & Chaos, let us know!

What do real people have to say about Time & Chaos?

We have a very vocal user community that likes to talk about our software. Click here to read some of their user testimonials about Time & Chaos.
Are you still using an old version?

Our acclaimed contact management software has been fully rewritten to provide the easiest and most effective time manager you can trust to keep chaos under control. And it's not just new features, but also many useful improvements to the things you use every day! If you are not using our current software, you are missing out!
What does it cost?

First, take advantage of our free trial download with no hassles or obligations. It's better than a money-back guarantee because you don't buy it until you already know you like it.

Time & Chaos 8 is $49.95 per user and comes with two years of upgrade protection to provide free upgrades as they are released!

(Owners of Time & Chaos 5 or 6 can get $10 off the purchase of the new Time & Chaos: click here for the discounted order form)

We license by user, not by computer or database, so if you are the only user, you can pay one low fee and legally use this program at home, at work, and on your laptop. As you add additional users, keep in mind the fact there is no special expensive network or server software that is necessary to purchase, as all the network features are already built in and included in the client program.

Our products are available exclusively through our secure online store with immediate full version electronic delivery. Click here to go to our secure online store and buy our software online.

All new purchases also receive TWO YEARS of upgrade protection, so if a new version of Time & Chaos is released within two years, it is yours with no additional fee!
Do you have any questions?

We have many resources to help you help yourself, plus you can get in touch with us if nothing else works.

Start with our free online video training area: Chaos University (all lessons five minutes or less).

Browse through our Product Documentation, with a table of contents organized by the sections of our program you want to learn about.

Get quick answers using our Online Support Knowledge Base.

If you still can't find the answer you need, please contact us.


代码
²
²²ÜÜÜÜ
Þ²ÛÛÛÝ
Þ²ÛÛÛÝ ß ÜÜÜÜÜÜÜÜÛÜÜ
ÞÛÛÛÛÝßßßßßßßßÛÛÜÜ ÜÜÜÛßßßßßßßÛÛÜÜ ÜÜ ² ÜÛßßßßßß ÜÜÜ ßÛÛßßßßßßßßßßßßÛÜÜ
ÞÛÛÛÛÛßßßÛÛÛÛÜÜÜ ßÛÛß ÜÜÜÛÛßßÛÜÜÜ ßßßÛÛß ²ÜÜÜÜÛÛßßßÛÛÛÛÛÝß ÜÛÛÛÜÛßßÛÛÛÜÜÜ ß
ÛÛÛÛÛÛ ßÛÛÛÛÛÜ ÜÛÛÛÛß ßÛÛÛÛÛÜ Ý ÜÛ²ÛÛÛß ÞÛÛÛÛÛ ÛÛÛÛÛß ßÛÛÛÛÛÛÜ
ÞÛÛÛÛÝ ÞÛÛÛÛÛ ÛÛÛÛÛÝ ÞÛÛÛÛÛÝ ÞÛ²²ÛÛ ÛÛÛÛÛÝÞÛÛÛÝ ÞÛÛÛÛÛÛÝ
ÞÛÛÛÛÝ ÛÛÛÛÝÞÛÛÛÛÛ ÜÛÛÛÛß Ûß²²ÛÝ ÞÛÛÛÛÝÞÛÛÛÝ ÛÛÛÛÛÛÛ
ÞÛÛÛÛÝ ÛÛÛÛ ÛÛÛÛÛÝ ÜÜÛßßß ÜÜÜÛ²ÛÝ ÞÛÛÛÛÝÞÛÛÛÝ ÛÛÛÛÛÛÛÝ
ÞÛÛÛÛÝ ÛÛÛÛÝÞ²ÛÛÛÛ ÜÜÛÛÛÛÛÛ²ÞÛ ÞÛÛÛÛÝÞÛÛÛÝ ÞÛÛÛÛÛÛÝ
ÞÛÛÛÛÝ °°°° ÞÛÛÛÛÛ²²ÛÛÛÛÝ °°°°° ÜÛÛÛÛÛÛÛÛÛ² ÛÝ °°°°° ÛÛÛÛÛÝÞÛÛÛÝ °°°°° ÞÛÛÛÛÛÛÛ
ÞÛÛÛÛÝ ÜÛÛÛÛÛÛ²²ÛÛÛÛÛÝ ÛÛÛÛÛÛÛÛÛÛÝÞÛÜ ÞÛÛÛÛÛÝÞÛÛÛÝ ÞÛÛÛÛÛÛÝ
ÞÛÛÛÛÝ ÜÛÛÛÛÛß Ü ²ßÛÛÛÛÛÜ ÞÛÛÛÛÛÛÛÛÛÛ ßÛÛÜÜܲßÛÛÛÛÛÝÞÛÛÛÝ ÛÛÛÛÛÛÛ
ßßßßßÛÜßßßß ÜÜÜÜÛÛÛÛÜ ßßßßßßÛÜÜÜÛÛÛÛßßßß ÜÜÜÜÜÜÜÜܲ ßßßßß ßßßßß ÜÜÜÜ ÞÛÛÛÛÛÛß
ßßßÛÜÜÜÜÛßßßßß ßßßßßßßßÛÜÜÜÜÜÜÜÜÜÜÛßßßßsQz<SAC>²ßßßßßßßßßßßßßßßß Ûßßß
²ß
ß²

ÜÜÜÜÜÜÜÜÜÜÜÜÜÜÜÜÜÜÜÜÜÜÜÜÜÜÜÜÜÜÜÜÜÜÜÜÜÜÜÜÜÜÜÜÜÜÜÜÜÜÜÜÜÜÜÜÜÜÜÜÜÜÜÜÜÜÜÜÜÜÜÜÜÜÜÜÜ
ÛÛÛßßß ßßßÛÛÛ
Ûß Time&Chaos v8.0.5.8 (C) Chaos Software ßÛ
Ûß ßÜ
² ÄÄÄÄÄÄÄÄÄÄÄÄÄÄÄÄÄÄÄÄÄÄÄÄÄÄÄÄÄÄÄÄÄÄÄÄÄÄÄÄÄÄÄÄÄÄÄÄÄÄÄÄÄÄÄÄÄÄÄÄÄÄÄÄÄÄÄÄÄÄÄÄÄÄÄ ²
± Disks: 3 x 2,88mb Date : January 4, 2013 ±
° OS : Windows Type : Patch °
Ü ÜÜÜÜÜÜÜÜÜÜÜÜÜÜÜÜÜÜÜÜÜÜÜÜÜÜÜÜÜÜÜÜÜÜÜÜÜÜÜÜÜÜÜÜÜÜÜÜÜÜÜÜÜÜÜÜÜÜÜÜÜÜÜÜ ÜÜ Ü
ßÜßß
Ûß
² Release Description:
± ~~~~~~~~~~~~~~~~~~~

Time & Chaos 8 offers an easy to use but powerful address book of
contacts, appointment schedule, to do task management and memos, but
without the email features of Chaos Intellect. Chaos 8 works great for
individuals or shared workgroups on networks.

°
Ü ÜÜÜÜÜÜÜÜÜÜÜÜÜÜÜÜÜÜÜÜÜÜÜÜÜÜÜÜÜÜÜÜÜÜÜÜÜÜÜÜÜÜÜÜÜÜÜÜÜÜÜÜÜÜÜÜÜÜÜÜÜÜÜÜ ÜÜ Ü
ßÜßß
Ûß Installation:
² """""""""""""""
±
± Just unpack and install. Unrar crack.rar to install dir and use any
° Name&Serial to register.

Ü ÜÜÜÜÜÜÜÜÜÜÜÜÜÜÜÜÜÜÜÜÜÜÜÜÜÜÜÜÜÜÜÜÜÜÜÜÜÜÜÜÜÜÜÜÜÜÜÜÜÜÜÜÜÜÜÜÜÜÜÜÜÜÜÜ ÜÜ Ü
ßÜßß
Ûß Greetz:
² """""""""""""""
°

Ü ÜÜÜÜÜÜÜÜÜÜÜÜÜÜÜÜÜÜÜÜÜÜÜÜÜÜÜÜÜÜÜÜÜÜÜÜÜÜÜÜÜÜÜÜÜÜÜÜÜÜÜÜÜÜÜÜÜÜÜÜÜÜÜÜ ÜÜ Ü
ßÜßß
Ûß Contact Us:
² """""""""""""""
±
°
ßßÛÜÜÜÜ Ü Ü ÜÜÜÜÛßß
ßßßßßßßßßßßßßßßßßßßßßßßßßßßßßßßßßßßßßßßßßßßßßßßßßßßßßßßßßßßßßßßßßßßßßßßßßßß

这里是其它用户补充的资源(我也要补充):
暂无补充资源