中文名: 声音合成与音效处理软件
英文名: AudioMulch
资源格式: 压缩包
版本: v2.2.3
发行时间: 2012年
制作发行:
Sonic Fritter Pty Ltd
简介: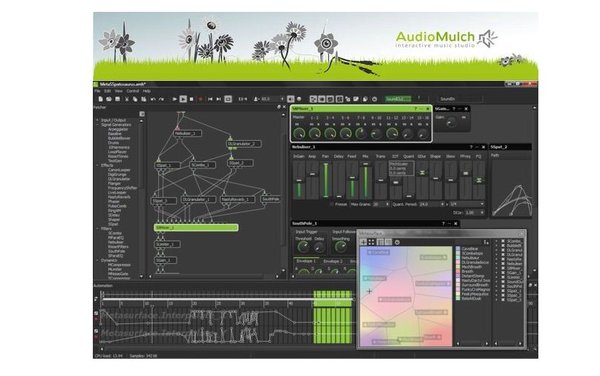 软件类型:软件>多媒体类
软件性质:破解软件
操作系统:Windows
应用平台:Windows XP, Vista, Windows 7
问题反馈:www.audiomulch.com/contact.htm
网站链接:www.audiomulch.com/
软件介绍:


AudioMulch是一套交互的声音合成与音效处理软件,可以用来当作音效处理或当作一套完整的音乐编辑与执行系统。AudioMulch内含了许多的声音合成及处理模组,也可以当作VST插件的主机。

AudioMulch是一款具有已被公认的实验性的、运行于Windows之上、并合并主流电子乐与电子声效而开发出的一个可变声波交互式专业音效创作环境,因此解除了被受限制的艺术家的想像力,而利用它的音像工序特性创制新音乐时,您更可不必考虑去购买那些昂贵硬件器材。可以用来当作音效处理或当作一套完整的音乐编辑与执行系统。AudioMulch内含了许多的声音合成及处理模组,也可以当作VST外挂的主机。







资源更新列表


http://www.VeryCD.com/i/5190747/create/fol...postTime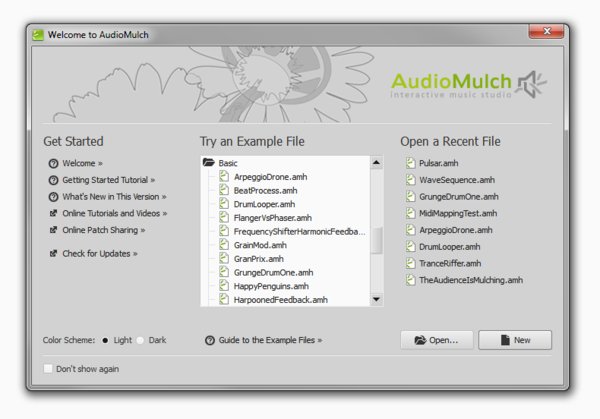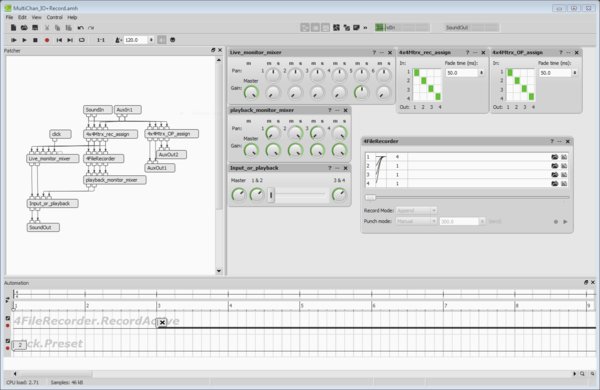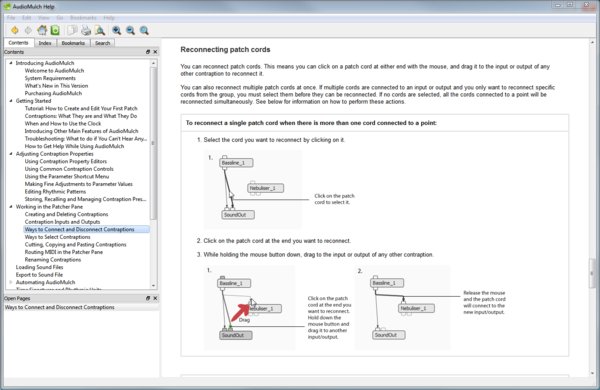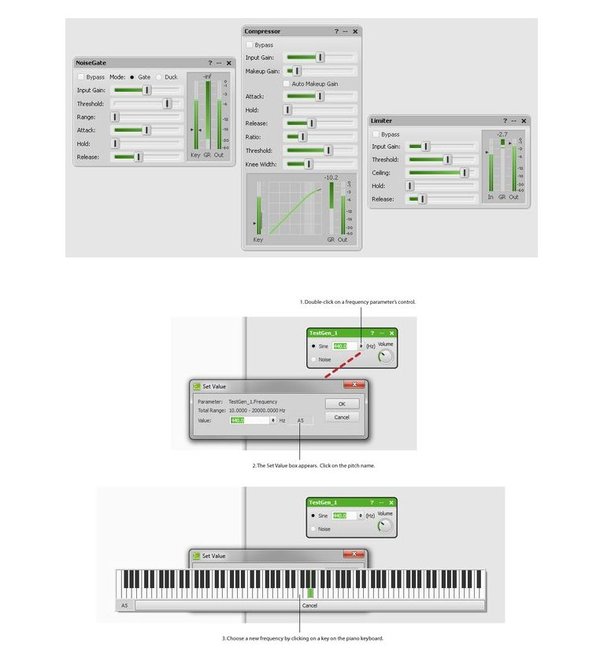 AudioMulch is an interactive musician's environment for PC and Mac. It is used for live electronic music performance, composition and sound design.

AudioMulch allows you to make music by patching together a range of sound producing and processing modules. Unlike some patcher-based programming environments, AudioMulch's modules perform high-level musical functions, so you don't have to create things from the ground up using individual oscillators and filters. AudioMulch is designed for live performance and improvisation - you can process live audio sources and control every knob and slider on the user interface using a MIDI controller.

What's New in AudioMulch 2.2?

AudioMulch 2.2 introduces the new features and refinements listed below. AudioMulch 2.2 is a free upgrade for licensed AudioMulch version 2 users.
Lower latency

We've been working to reduce latency with high-end sound cards. AudioMulch's sound processing engine has been overhauled, resulting in even lower latency response to MIDI events, and improved real-time audio processing stability with very low latency buffer settings. On Mac OS the 256 sample lower limit on audio buffer sizes has been removed - this limit was never present on Windows. We've also added an option to disable Desktop Window Manager MMCSS scheduling for Windows Vista and Windows 7. This reduces graphics-related audio glitching on some systems.

MIDI output contraptions
AudioMulch 2.2 lets you route MIDI data from plugins to external MIDI devices using MidiOut contraptions. You can use MidiOut contraptions to control hardware MIDI synthesizers or outboard effects processors. This adds to the existing functionality, which allows MIDI sequencing and VST instrument plugins to be connected using MIDI routing in the Patcher Pane. MidiOut contraptions are intended to be used with VST and Audio Unit plugins that send MIDI output, such as control generators, data transformers and sequencing plugins. When combined with MidiIn contraptions, this also lets you use AudioMulch to process and route MIDI. AudioMulch doesn't currently include any built-in MIDI processing contraptions. There are lists of recommended MIDI plugins for Mac and for Windows.

Improved MIDI and network clock (beat) synchronization

AudioMulch 2.2's new timing engine improves timing stability when chasing MIDI and network synchronization. MIDI synchronization is now compatible with a broader range of sound cards and MIDI interfaces. We've also improved timing stability for MIDI sync output on Macintosh. A new pattern mode option provides compatibility for sending MIDI clock to simple pattern-based step sequencers such as Korg Electribes and the Nord Micro Modular. We've made sync offset settings more consistent (positive values always make the slave later), and added sync offset settings for network synchronization.

New community patch sharing and discography at AudioMulch.com

AudioMulch.com has recently been updated with a new patch sharing area, and a discography that users can edit. In the patch sharing area, you can download and share patches ranging from simple examples to a complex compositions. You can learn about releases by other AudioMulch users in the discography, and also promote your own releases. Follow the links to visit the patch sharing area, and the AudioMulch discography.

Display and edit frequency parameters as musical pitches

You can now work directly with musical pitch names when using frequency parameters that are usually displayed in Hertz. Frequency values are now annotated with the musical note name and deviation from the pitch in cents. In the Set Value Dialog Box, you can enter frequencies as musical pitches using a piano keyboard interface.
New SChorus stereo chorus contraption

We've added a new, versatile stereo chorus contraption called SChorus. SChorus is the result of research into the behavior of classic chorus units.
Contraption preset improvements

A new header bar in the contraption Presets Window gives you a more streamlined method of working with presets. By clicking on the buttons on the bar, you can store a new preset and browse between presets. The Presets Window's auto-hide behavior can now be toggled on or off. We've also removed the limit on the number of presets you can store in each contraption.
Use MIDI control to switch Metasurface snapshots

You can now use MIDI control to switch between Metasurface snapshots. Use a MIDI pedal board or other MIDI controller to switch snapshots in live performance when you don't want to have to reach for the mouse.
New Welcome Screen

When AudioMulch launches you can now have quick access your recent documents via the Welcome Screen. The Welcome Screen also provides links to other common tasks and web site resources.
Improved plugin compatibility on Mac with a new Cocoa-based user interface

AudioMulch is now using Apple's "Cocoa" framework. This brings improved compatibility with Audio Unit plugin user interfaces. This is also a step in the direction of future support for 64-bit operation.
Improved Help File with step-by-step instructions

AudioMulch's help system has been updated and restructured with a clear, step-by-step tutorial format to get you started quickly. This is a long-term project and we're about half way through. So far we've taken care of these sections: Getting Started, Working in the Patcher Pane and Adjusting Contraption Properties.
Other improvements and bug fixes

Version 2.2 includes a range of other enhancements, tweaks and bug fixes. We've listed the enhancements that will impact on your workflow below. For the full list of changes check the release notes.
• We've added the ability to clear automation points without deleting the time range. Using the DELETE key or selecting the Clear item in the Edit menu deletes the selected points. Using the Delete Time item in the Edit menu deletes the time range, which used to be the default behavior.
• Added clock-synchronous period and phase mode to SSpat contraption. This lets you synchronize spatialization paths to the global clock pulse. Note: as a result of this change, documents saved with AudioMulch 2.2 that use SSpat will not load correctly in AudioMulch 2.1 (see important note below).
• The Metasurface parameters tree now supports multiple selection (using drag, SHIFT+click and CTRL+click). Enable Selected Parameters and Disable Selected Parameters shortcut menu items have been added. See The Metasurface page of this Help File for details.
• You can now adjust the brightness and contrast of the user interface color scheme on the Appearance page of the Settings/Preferences Dialog Box.
• The interpretation of MIDI Control Change and Program Change messages has been updated to conform more with the MIDI specification when controlling presets and Metasurface snapshots. By default, the first (0th) MIDI value now maps to the first (1st) preset/snapshot. There's also an option to change the offset. See Controlling AudioMulch Parameters from MIDI for more information.
• We've unified handling of drag-and-drop behavior between Metasurface snapshots, contraption Presets, Document Switcher document entries, File Player and File Recorder. These should now all behave consistently.




代码
ÜÜÜ ÜÛÛßÛÜ
ÛÛÛÛÛ ÜÜÞÛÛÛÛÛÛÝ
ßßßÜÛßÛÜ ÛÛÛÝßÛÛÛÛß ÜÜÜ
ÛÛÛÛÛÜÛÝ ßßß ÜÜÜÜÜ ßßÛÜÜÜÜ Ü
ÜÜÜÜÜÜÜÜßß ÛÛÛß ÜÜÜÜÜÜÜÜß ßÜÜÜÜÜÜÜÜÜÜÛÛÛÛÛßß ÜÜÜÜÜÜÜÜ ßÛÛÛÛÜÜÜ ÛÛÛÛÜ
ÞÛÛÛÛÛß ßß ÛÜßÛÛÛÛÛÛÛÛÜ ÛÛÛÛÛß ÛÛÛÛÛß ÜÛÛÛÛÛÛÛÛÛÛÛÛÜ ÜßßÛÛÛÛÛÜ ÛÛÛÛ²
ÛÛÛÛÛ ±ÛÛÛÜÛÛÜßÛÛÛÛÛ °²ÛÛÛÛ ÛÛÛÛÛ² ²ÛÛÛÛß ßÛÛÛÛÛÞÛÛÜßÛÛÛÛÛ ÞÛÛÛ²
ÛÛÛÛÛ° ²ÛÛÛÛÛÛÛÛ ÞÛÛÛÝ ÞÛÛÛÛ Û²ÛÛÛÛÛÛÛÛÛÝ ÞÛÛÛÛÛÛÛÛÛ ÛÛÛÛÝ ÞÛÛÛÛ
° ÛÛÛÛÛ± °°°°° ÛÛÛÛÛÛÛÛ²° ÛÛÛÛ ÞÛÛÛ²° ÛÛÛÛÛ²ÛÛÛÛ² °°°°°° ÛÛÛÛÛÛÛÛÛ ÛÛÛÛ ÞÛÛÛ²°
ÛÛÛÛÛ² ÛÛÛÛÛÛÛÛÛ ÞÛÛÛÝÞÛÛÛÛ °ÛÛÛÛÛÛÛÛÛÛÛ ÜÜ ÛÛÛÛÛÛÛÛ²° ÞÛÛÛÝÞÛÛÛÛ
ÛÛÛÛÛÛÝ ÞÛÛÛÛÞÛÛÛÛ ÛÛÛÛÛÛÛÛÛ ±ÛÛÛÛÛ ²ÛÛÛÛÜ ßß ÜÛÛÛÛ²ÛÛÛÛ ÛÛÛÛÞÛÛÛÛ
Û²ÛÛÛÛÛÜÜÜÛÛÛÛÛÝÛÛÛÛÛ ÞÛÛÛÛÛÛÛÝ ²ÛÛÛÛÛ ÛÛÛÛÛÛÜÜÜÜÛÛÛÛÛ²ÛÛÛÛÛ ÞÛÛÛÛÞÛÛÝ
ßÛÛÛÛÛÛÛÛÛÛÛÛßÞÛÛÛÛÛÜÜ ÛÛÛÛÛÛß ÛÛÛÛÛÛ ßÛÛÛÛÛÛÛÛÛÛÛÛÛßÞÛÛÛÛÛ ÛÛÛÛÛÛÛ
ßßßßßßßß ÜÛÛÛßßßß ÛÛÛÛÛÜ ÜÛÛÛÛÝ ßÛÛÛßÛÛÛÛÜß ÜÛÛÛßßßß ÞÛÛÛßß
ÜÜÛÛÛÜÜ ÜÜßßß ßÛÛÛÛÛÛÛÛÛÛß ßÛ ÞÛß ß
ÛÛ ÜÛÛÛÜß ÜÜÜÜÜÜÜ ßßÛÛÛÛßß ÞÝÛÝ
ßÛÛÛÛÛßÜÜÜ ÛßßÛÛÛÛÛÛÛÛ ÛÛÝ ÜÜÜÜÛÛÛÛÛÛÜÜÜÜ
ßß ÛÛÛÛÛ ÛÛÜÛÛÛÛßßßßßß ÜÜÜÜÜÜÜÜÜÜÜÜ ßÛ ÜÛÛÛßßß ßßßÛÛÛÜ
ßßß ÜÛÛÛ²ÜßßÜÜÜÜÛÛÛÛÛÛÛÛßßßßßßßßßßßßÛÛÛÛÛÛÛÛÜÜ ÛÛß PRESENTS ßÛÛ
ÛÛÛÛÛÛÛÛ ßßßß ßß ÞÛÛ ON ÛÛÝ
ÜÜ ßÛÜÛÛß AudioMulch v2.2.3 ÛÛÜ 12/31/12 ÜÛÛ
ÜÛÛßß ÜÜ ßÛÛÛÜÜÜ ÜÜÜÛÛÛÞ
ÛÛÛ ÜÛÛß Cracker : Nail Supplier : UNION ß²ßÛÛÛÛÛÛÛÛßßß Û
ÞÛÛ ÛÛÛ Packager : UNION OS : Windows ° ÜÜ ²
ÛÛÜ ßÛÜ Protection : License ÜÛÛ °
ßÛÛÛÜ ß ÜÛÛÛß
ÜÜßÜßÛÛÛÛÜÜÜÜ ° Retail: 189$ ÜÜÜÜÛÛÛÛßß Ü
ÜÛßÛÛÝÞßÛÛÝ ßßßßÛÛÛÛÛÛÜÜܲÜÜÜÜ ÜÜÜÜÜÜÜÜÛÛÛÛÛÛßßßß Ü ÜÛÛÛÛ
ÛÛÛÛÛÛÜÜÞÛ ÜÜÜÜÜßßßßßßßßÛÛÛÛÛÛÛÛÛÛÛÛßÛßßßßßß ÜÜ ÜÛÛÛÛÛÝÛÜßßßÜ
ßßÛÛÛÛß Û ÜÛßÜÜÛÛÛÛÛÛÜ ßÛÛÛ ÛÝ ÛÝ ßÛÛÜÛßþÜÛÛÛÛÛÛÜ
ÞÛ² ÛÛÛÛÛÛÛÛÛÛÛÛ ÞÛÝ ² Þ²± ÜÜÛÛÛÛÛÛÛÛ ÛÞÛÛÛÜÜ
ß ßÛÛÛÛÛÛÛÛÛÛß ÜÛÛÛÜÜÜÜÞÛÝÜÜÜÜ ß ßÛÛÛÛÛÛÛÛÜÛßÞÛ ßÛ
ÜÜÜÜÛÛÛÛÛÜÜÜÜßßÛÛÛßß ÜÜÛÛÛÛÛÛÛÛßßßßß ß ßßßßÛÛÛÛÛÛÛÛÜÜÜÜÜÜßßßßÛßß ÛÛÛÛÜÜÛ
ÜÛÛÛßßß Ü ßßßÛÛÛÜ ßßßß ßßßßßßÛÛÛÛÜÜÜÜ ßßß
ÛÛß ÜÜß ßÛÛ ßÛÛÛÛÛÜÜ
ÞÛÛ °²ÛÝ NOTES ÛÛÝ °²ÛÞß ßÛÛÜ
ÛÛÜ ßÜ ÜÛÛ ßÛÛ ÛÛÜ
ßÛÛÛÜÜÜ ÜÜÜÛÛÛß ßÞ ÛÛ
ßßßÛÛÛÛÛÛÛßßß http://www.audiomulch.com Ü Û
ÛÛ Û
ÛÛÜ ÛÛ
Ü ÛÛÛÜ ÜÛÛ
ÜÛßÛÛÞÛßÛÛÛÜÜÜ ÜÛÛÛß
ÛÛÜÛÛÝÛÛÝ ßßÜßÛÛÛÛÜÜÜÜ ÜÜÜÜÛÛÛÛßß
ßÛÛÛÛÞÛ² ÞßÛÛÝ ßßßßÛÛÛÛÛÛÜÜÜÜÜÜÜÜ ÜÜÛÛÛÜÜ ÜÜÜÜÜÜÜÛÛÛÛÛÛßßßßÜÜÜÜÛÛÝ
ßß ² þÞÛ ßÛÛß ßßßßßßßß ÛÛ ÜÛÛÛÛÛ ÛÛßßßßßßß ßßÛÛÛÛßß
° ß ÜÛÛÜÜÜÜÜÜÜÜÜÜ ßÛÛÛÛÛÛÛß ÜÜ ÜÜÛÛÛÜÜ
ÜÜÜÜÜÛÛÛÛÛÛÛÛÛßßßßßßßßß²ß ßßß ÜÛÛÛÜßßÛÛÛÛÛÛÛÛÛÜÜÜÜ ßÛÛÛÛÜ ÛÛ
ÜÜÜÛÛÛÛßßßß ± ßÛÛÛß ßßßßÛÛÛÛÜÜÜßßÛÛß
ÜÜÛÛßßß ßßßÛÛÜÜ
ÛÛß We don't want sites, neither couriers and we don't take in new ßÛÛ
ÛÛ crackers. If we feel you are worthy you will be contacted. ÛÛ
ÜÜ ÜÜ
ÛÛÜ Greetings goes to: CLS.CORE.DSI.HBD.LND.OGN.PDM ÜÛÛ
ßÛÛß ÜÜÜÜÛÛÛÛÛÜÜÜÜ RZR.REBELS.X-FORCE.UCL.UCF ÜÛÛß
ÜÛÛÛßßß Ü ßßßÛÛÛÜ ÜÜÜÛÛßß
ÛÛß ßÛÜÜ ßÛÛ ° ÜÜÜÜÛÛÛßßß
ÞÛÛ UNION! Û²° ÛÛÝÛÜÜÜÜÜÜÜÜ ÜÜÜÜܲÜÜÛÛÛÛÛÛÛÛßÛÛßÛßÜÛÜÜ
ÛÛÜ ß ß ÜÛÛ ÜßßßßßßßßÛÛÛÛÛÛÛÛÛÛÛÛßßßßßßßß ÞßÛÛÛßÜ Û ÛÛÛÛÛÛÜ
ßÛÛÛÜÜÜ ÜÜÜÛÛÛßÜÛÛÛÛÛÛÛÛ ÞÛ ÛÛÝÛÞÛÛÛÛÛ Û
ßßßÛÛÛÛÛÛÛßßßÜÜÛÜßßÛÛÛßß Û ßÛÝþÛÛÛÛÛÜÛß
ßß ÞÛ² ßßÛÛÛÛßß
.nfo header and layout by Hetero ß

这里是其它用户补充的资源(我也要补充):
暂无补充资源