中文名: 多标签文件管理器
英文名: XYplorer
资源格式: 压缩包
版本: v11.90.0100
发行时间: 2012年
简介: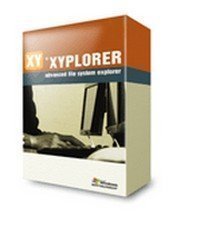 软件类型:应用软件-文件管理
软件性质:免费破解软件
操作系统:Windows
应用平台:Windows 8, 7, Server 2008, Vista, XP, Server 2003, 2000, NT, Me, 98. Both 32-bit and 64-bit versions,
问题反馈:support@xyplorer.com
网站链接:http://www.xyplorer.com/
软件介绍:

XYPlorer 是一款多标签文件管理器,具有强大的文件搜索功能,各种预览功能,可以高度自定义的界面,以及一系列方法可以让你的电脑有效地自动处理周期性的任务。XYplorer是一个工具而非玩具,名副其实,绝对是高级用户和电脑高手苦苦寻找的浏览器替代品。

XYplorer是类似于"资源管理器"的 Windows 文件系统管理工具。具有强大的文件搜索、通用预览及可高度自定义的界面等特点,以及一系列用于自动进行周期性任务的独特功能。







资源更新列表


http://www.VeryCD.com/i/5190747/create/fol...postTime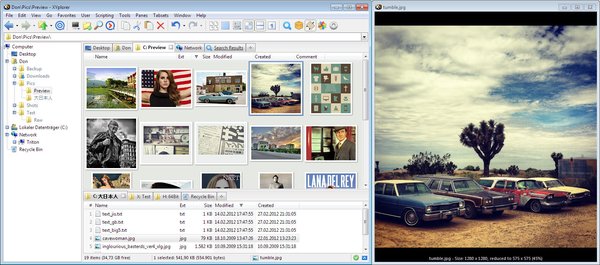 XYplorer is a tabbed file manager for Windows. It features a powerful file search, a versatile preview, a highly customizable interface, optional dual pane, and a large array of unique ways to efficiently automate frequently recurring tasks. It's fast and light, it's innovative, and it's portable.


XYplorer is a file manager for Windows.

Supported Operating Systems: Windows 8, 7, Server 2008, Vista, XP, Server 2003, 2000, NT, Me, 98. Both 32-bit and 64-bit versions, where applicable, are supported.

Here is a selection of XYplorer's features:
1. Navigation
Tabbed Browsing. Cutting-edge file management using a true multi-tabbed interface.
Tabsets allow you to conveniently store and load whole workspaces. Learn more...
The optional Dual Pane mode spells productivity and ease of use, especially for those coming from an orthodox file manager. Learn more...
Mini Tree™, the author's favorite feature, is a folder tree displaying only the paths you have actually used. Learn more...
2. Searching
The powerful and speedy File Search supports Boolean Logic, Regular Expressions, Content Search, and more...
The Duplicate File Finder quickly lists duplicate files in any location. Learn more...
Branch View lets you see the contents of all subfolders of a folder in one list. Learn more...
Customizable Power Filters let you quickly focus subsets of files. Learn more...
3. File Operations
Queued File Operations with background processing. Enjoy the speed and safety of a Copy Queue. Learn more...
Custom Copy, an alternative copy method featuring verification, reporting, logging, and more. Learn more...
Quickly create New Items from a configurable menu, a major time saver.
Batch Rename using wildcard patterns, variables, and Regular Expressions. Preview included. Learn more...
4. Organization
Tag-Based File Management supports assigning individual labels, tags, and comments to any file and folder. Learn more...
Color-code your files by Name, Size, Date, Age, or Attributes to quickly spot what's important for you now. Learn more...
The Catalog is a favorites panel on steroids, serving as launch panel, drop target, and scripts library. Learn more...
5. Information
Folder Sizes and Item Counts can be shown right in the file list.
One-click Previews of all important image, audio, video, web, office, and font file formats. Learn more...
The Floating Preview is a sizeable preview pane separate from the main window for images and documents. Learn more...
Mouse Down Blow Up™ is supported for thumbnails and image previews. Learn more...
One-click Reports on folders or search results, including directory print in various formats. Learn more...
6. Automation
User-Defined Commands will reduce your daily routines to simple keystrokes. Learn more...
Folder View Settings. Save and auto-restore the view settings of any particular folder. Learn more...
Scripting. Advanced solutions for advanced tasks. A power user's dream. Learn more...
7. Configuration
Portable File Associations™. Home is where your double-click is. Learn more...
Toolbar. A configurable toolbar where most buttons have a specific right-click menu.
Keyboard. Customizable Keyboard Shortcuts for nearly 600 functions. Have it your way!
8. Safety and Accessibility
Multi-Level Undo/Redo for file operations, stored between sessions, allows you to fix today what you broke yesterday. Learn more...
Wipe is a method to securely delete files and folders beyond recovery. Learn more...
Access Control. Control which paths can be accessed, and which file operations are allowed. A corporate feature.
Adjust Font Sizes on the fly by Ctrl+Wheel, Line Heights by Ctrl+Shift+Wheel. The Toolbar supports Large Icons.
9. Last Not Least
Simple key-based registration, 100% trouble-free. No DRM hassle. Paying customers are not treated like pirates.
A clean and user-friendly interface, simple and elegant, makes working with XYplorer easy and intuitive.
XYplorer is the only major file manager that ever since offers a true Lifetime License: Never pay again for any future upgrade.
XYplorer is continuously enhanced and users are taken seriously. Visit the Forum...






代码
ÜÜ
ßßÜ
Û
ÞÛ
REAL LEGENDS NEVER DIE! ÜÛÛÛ
ÜÜÜÛßß ÜÜÛßÛÛÛÝ
ÜÛÛÛß ÜÜÜÛÛßÛÛÛÛÛÛÝ
ÛÛ²Û ÜÜÜÜÜÛÛÛßßßßÜÜÛÛÛÛÛÛÛ²Ý
ÞÛ²ÞÝ ° ÜÜÛÛÛßßß°°°Üܲ²ÛÛÛÛÛÛÛÛÛÛ²²
ÛÛÛ°ÛÜ ÜÜ ÜÜÛÛßß °°°±±²²²²ÛÛÛÛÛÛÛÛÛÛ²²²
ÞÛÛÛ±ßÛÜÜ ÜÛß °ÜÛÛÛß°°°±±±²²²²ÛÛÛÛÛÛÛÛÛÛÛÛ²²±ß
ÛÛÛÛ²²ÜÜßßßÛÜÜÜ ÜßßÛÜÜ ÜÜÛÛß °°±±²²ÛÛÛÛÛÛÛÛÛÛÛÛÛÛÛ²±±±
Û²ÛÛÛÛÛÛÛ°°±ÛßÛÛÛÜÜÜ ÞÜßßÜÜßÛÛÛÛÛ °°±±²²²ÛÛÛÛÛÛÛÛÛÛÛÛÛÛÛÛ²²²±Ý
Û²ÛÛÛÛÛÛÛÛÛ²²±±°°ßßßÛÛÜÜßßÛÛ ÛÛÜßÛÛ °±²²ÛÛÛÛÛÛÛ²²²²ßßÛÛÛßÛßÛÛÛ²²²
Û²²ÛÛÛÛÛÛÛÛÛÛÛ²²²±±° ßßÛÜÜÛÛÛÛÝÞݱ²²ÛÛÛ²±°ßÛÛÜÛÛÛÛÛÛßßßßßßßÛÛÛÛÛÜÜ
ÞÛ²²²²²ÛÛÛÛÛÛÛÛÛÛÛÛÛ²²²±° ßßÛÛÛÛ Ý°²²²°ÜÜÛÛÛÛÛßß°°°²²ÛÛÛ²²±±°°°ÛÛÛßßßß
ÞÛ²²²²²²²²²²²ÛÛÛÛÛÛÛÛÛÛ²²±°° ÞÛÛÝÞܱ°ÛÛÛÛÛßß°°±±²²ÛÛÛÛÛÛÛÛÛÛÛÛßß
Û²²ßÜÜÜÛÛÛÜÜÜÜÜ°°±²²ÛÛÛÛÛ²²±° ÛÛÝ°ÛÛÛÛÛÛß±±²²²ÛÛÛÛÛÛÛÛÛÛÛÛÛß ßÛÜÜÜÜÜß
ÜÛÛÛÛßßÜÜÜÜÜ ßßßÛÛÛÜÜßß°±²²²±°ÞÛÛ ÛÛÛÛÛß±²²²ÛÛÛÛÛÛÛÛÛÛÛÛÛÛÛÝ ÜÜßßÛÛÛßß
ßßßÛÛÛÛÛÛÛ²²²²±±° ° ßßÛÛÛÜ°±²±°°ÛÛ²ÞÛÛÛÝ°±²²²ÛÛÛÛÛÛÛÛÛÛÛÛÛÛÛÛ ÞÛ Þß
ßßÛÛÛÛÛ²²²²±±°°°° ßÛÛÛÛÜÜÛÛÛ± ßÛÛÛÜ°±±²²²²²ÛÛÛÛÛÛÛÛÛÛÛÛ ßÛÜÜ
ßÛÛÛÛÛÛ²²²²±±°° ßÛÛÛÛÛÛÛß ²ÛÛÛÜ°±±²²²²²²²²ÛÛÛÛÛÛÛÝ ß²ÛÜÜ
ÛÛÛÛÛÛÛ²²²²±°° ÞÛÛÛÛÛ° ²ÛÛÛ °±±°ÜÜÜÜÛÛÛÛÜÜÜÛßÜ ßÛÛÛÜ
ÞÛÛÛÛÛ²²²²±°°° ÞÛÛÛß ÞÛÛÛÜÛÛÛÛÛßßß ÜÜÜÜÛÛÛÛÛÛÜÜ ßÛÛ²
ÛÛÛß°±ÜÜÜÜÜ° ÜÛÛÛÝ Ü ÛÛÛÛÛÛ°°Ü²ÛÛÛ²²²²ßßß ²ÛÛÝ
ÛÛÛÜÛßßßßßßßÛÛÛÛßÛÛ ÜÝ ÞÜ ÛÛÛÛ °²²ÛÛ²²²ß ÞÛÛÛ
ÞÛÛßßßßÛÛ²²±±±°ßÝݲÛÝ ÛÛÛÜ ÛÝ ÜÛÛÛ °±²ÛÛ²ß Ü²ÛÛ²
ß ßß²²±°°ÝÛ ²Û ÞÛÛßßÛÜÛÛÞÛÛÛ°±±²ÛÛÛ Üܲ²ÛÛÛÝ
²²²°°ÛÝßÛ²ÜÛßܲ²±°ÞÛÝÞÛ²²±²ÛÛÛÝ Üܲ±±²²²ÛÛÛÛ²
ÞÛ²² ÛÛ Ü²²Ý°²²±°°ÞÛÛ ÛÛÛÛ²²ÛÛ °Ü±±²²²²ÛÛÛÛÛÛ²²²
ÜÛÜ ÛÛݱ²±Ûݲ±±° ÞÛÛ °²ÛÛÛÜÜßÝ Ü±²²²ÛÛÛÛÛÛÛ²²²²²ß
ÜÛ²²²±°ÞÛÛ °²ßÛ²°° ÝÛÛÝÞÛÛÛÛÛÛÛÛÛÜÜ°±²²ÛÛÛÛÛÛ²²²²²ßß
Û²²ÛÛ±±°Þ°ÛÛ °°Þ ° ±²ÛÝ °²²²²ÛÛÛÛÛÛÛÛÜß²ÛÛÛ²²²²ß
CRUDE.12 ²²ÛÛ²±°° Þ²ÛÛÛ ° ÜÜ ßßÛÛ °°²²²ÛÛÛÛÛ²ÛÛÛܲ²²²ß
Ü ²ÛÛÛ²±°° ÛÛÛÛÛÜÜÛÛÛÛÛÛÜÜÜÝ Ü °²²²ÛÛÛÛÛÛÛÛÛÜ°Ý
ß²ß ÞÛÛÛ²±°° Þ±ÞÛÛßßÜÛÛÛÛÛÝÛÛÛ°²²ÞÛ °±²ÛÛÛÛÛÛÛÛÛÛÜ <___Z> Ü
° Þ ° ÛÛ²±Ü Üܲ±Üܲ±°ßÛÛÛÛÛÜÛÛÞ²ÝÛ °°±²²²²ÛÛÛÛÛÛÛ² ß²ß
ÞÝ Ü²ÜßÛÛ° ßÛÛÛ²Ûß²ÛÛÛÛ±° ßßÛÛÜÛÝÛß ÝÛß °²²±ÛÛÛÛÛÛÛÛ²²Ý ° Ý °
ÞÛÝ ß ÞÛÛ²±° ßÛÛÛÛÜ ßßÛÛÛÛÛ²ÜßÛÛÛÞÞÝÞ Ü Þ°²ÛÛÛÛÛÛ²ÛÛÛ² Ü²Ü ÞÝ
²ÛÛÜ ßßÛÛ² ÜÛÛ²ÛÛÛ² ÞÜÜ°ßßßÛÝßÛÛßÛ°ÛÝ °²ÛÛÛÛÛÛÛÛÛ²± ß ÞÛÝ
Þ²ÛÛÛÛÛÜÜß°° ÜÛÛÛÛ² ßÛÛÜÞÛÜ °²ÛÛܲ²ß ²²ÛÛÛÛÛÛÛÛ°Þ ÜÜÛÛ²
°²²²ÛÛÛÛݱ ÜÛßß²ÛÛ²ÜÜ ßßß ±²Û²²Ý ° °²²ÛÛÛÛ° ܲ²ÛÛÛ²°
ß°²²²²Û ²°ß ßÛÛÛÛÛÛ²±±°° ²²Û²±Ü ßÜÛÛ²±ÞÛÛÛÛ²±°
ßß±ßÜÛÛÛ²±°°° ßßÜßßÛÛÛ²±° ²ÛÛÛßÝ ÜܲÛÛÛÛÛÛ²°Û²²±±ß
ßÛÛÛÛÛÛ²±°° ° ßÝÞ²ÛÛÛßß ²ÛÝÜÛ Û²²ÛÛÛÛÛÛÛÛ²²Üßß
Ü ßßÛÛÛ²²²±°°° ßÜÞ²ÛÜÛßÛÜÛÛÜÛ ²ÛÛÛÛÛÛÛÛ²²²ß Ü
Þ Ü±Ü ß Ü ßßßÛ²²²°°ÜÜßß²²ÛÛßÜÛÛÛÝ°ÛÛÛÛÛ²²ßß Ý
ÛÝ ß Þ Ý Ü ÜÜÛ²²²±° ßßßßßÜÜßßßß ÝÜ°Ü ÞÛ
Ü ÞÛÜÜ ßÜÜÜ ßÜ Ü²²ßÛ²ÛßßÛ²²±°°±ßßßÜ ÜÜß ÜÜÜß ß ÜÜÛÛÝ Ü
ß°ß ßÛÛÛÛÛÜÜ°ßÛßܲ²±°Ü²²±°ÛÛÛÛÛÛ²ß °°°°²ÜßÛßßÜÜÜÜÛÛÛÛÛÛÛß ß°ß
ÜÜÜ Ü²Ü ßßßÛÛÛßÜß±°ÜÛßÛÛßÜÛÛÛÛ²²ßÜ°²²±±²²Û²ÜßÛÛÛÛÛßßßßß Ü²Ü ÜÜÜ
Ûß ß² ß ÜÜÜÛÛÛ²ÝÞÛßÜÛÛÛÛ° ÛÜܲßß ÛÛ²²ÛÛÛÛÛÛÞÛß²ÛÛÛÛÛÜÜÜ ß ²ß ßÛÝ
ÞÝ ÜÜÛÛÛÛßßßßÛ ß ÜßßÝ ÜÛÛÛß ÛÛÛÛ²ÛÛÛßݲÛÛÛßßßßßßÛÛÛÜÜ ÞÛ
ßÛÜÜÜÛÛßßÜÜܲ²ÛßßÜÜ ÞÛÛÝ ÝÜÜÛß ÛÛÛÝ°²ÛÞÛÞ߰ܲ²ÛÛ²²ÜÜ°ßßÛÛÜ ÜÛ
ß ÛÛÛÛÛßÜÜÛÛÛÛÛÜ Ûß ÞÛÛ ° Þ²ßÜݱÛÜÝÛÝÞÛÛÛÛÛÛÛÛÛÛÛÛ²° ßßßß
ÛÛÛÛÛÛ°Þ²²ÛÛÛÛ°ßßÞ Û ° °ÜÛÛÛÛÜ° ÛÛÛ ÞßßÝÜÛÞ±ÛÛÛÛÛÛÛÛÛÛÛÛÛ²
ÛÛÛÛÛÛÛÞÛÛÛ²²ßÜÜÛÛÜ ÝÞ² Þ²ß ßÝ ÞÜÜ ßÛÝ ßÝ°²ÛÛÛÛÛÛÛÛÛÛÛÛÛÛ
ÛÛÛÛß°ÛÛÛÛÛÛ²ÝÛÛÛÛÛÛÛ ÛßÜ ÞÝ ° ÛÝ °Þ Ü ßß²²ÛÛÛÛÛÛÛÛÛÛÛÛ
ÞÛÛ±ÝÛÛÛÛÛÛ±²ÛßßßßßÛÛÛÛ Û° ßÜ ßÜ ÜÜ° Þ °°Ý ÛÞ±²ÜÜßßÛÛÛÛÛ²ÛÛÛÛÝ
ÛÛ±ßÜÛÛÛ±°Ûß Üß°ßß²Ü ßÛÝ ÞÛ±° Þ °±²²ß ÞÛ²²Û ÛÛÛÛßÛÛÛÛÝ
ÛÛÛÛÛÛÛ²°Û °²Ý Û ÞÛ± ° ²²Ûß ÞݲÛÛ ÛÛÛÛÜÞÛÛÛ
ÛÛÛÛÛÛ²°ÛÝ °Þ Þ ÞÛ²° ° °±ÛÝ ÝÛÛ²Ý ÞÛÛÛÛÜßÛÝ
ÞÛÛÛÛ²°²ß ÛÛ²° °°±Ý°°²Û ÛÛÛ²Ý ÛÛÛÛÛÛÛÜ
ÛÛ²ÛÛ±ÝÞÝÞ Üß ÛÛÛ±° ܲßß °±ÛÝ ßÞÛÛÛÜÜÜÛßÛÛÛÛÛÛ²
ÛÛ²ÛßÜ²Û ß° ÞÜ ÞÛÛÛ²±°²Û °²ÛÜ ßßÜßÛÛÛÛÛÛ±ÞÛÛÛÛÛ
ßÜܲ²²²ÛÜÜßßÜÜ ßÛÜÜÜÛÛÛÛÛÛ²ÛÝ °±° °±²ÛÜ ÞÞݱÛÛÛÛ°ÜÛÛÛÛÛ
ßßßÛÛÛÛÛÛÛÜÜÜÜß ßß²ÛÛÛÛÛÛÛÛÝß²²Û²° °²²ÛÛÜÜ ÜÛ ß²ÛÛÛÞÛÛßßß
ÜÜÜßßß ßß²²ÛÛÛÛ ÞÛÛÛ²±°ÜÛÛÛÛÛÛÛÛÛß ÜÜÜÜ
ÜÛß ß²Ü ß²ÛÛÝ ÛÛÛÛÛÛÛÛ²ßßß Ü²ß ßßÛÜ
Þ²Ý °ÜÛß²Ü Û° ÞÛß Þ²ÛÛ²ß °Û ܲßÛÜ° Þ²Ý
Û° Þ Þ²ÞÝ ÜÜßß ßÛÛÝ ÞÝ²Ý ÞÝ °Û
ß²ÜÛß Ü²Üß ßßÜÜ ßÜ²Ü ßÛÜÜß
ÜÛÛßß C.R.U.D.E ßßÛÛÜ
ÞÛÛÝ° P.R.O.U.D.L.Y P.R.E.S.E.N.T.S °Þ²ÛÝ
²ÛÛÜ Ü Ü Ü²ÛÛ
ßßÛÛÛÜÛß ßÛÜÛÛÛßß

XYplorer v11.90.0100

Ü ßÜ Üß Ü
ß²ß ²Ý RLS.DATE.........2012/12/31 Þ² ß²ß
ÜÛß RLS.SIZE.........01x10.00MB ßÛÜ
ÜÜßßß ßßßÜÜ
ÜÛß Ü RLS.TYPE.............Keygen Ü ßÛ
²Ý° ßßÜ PROTECTION...........Custom Üßß °ÞÝ
ßÜÜ °Þ² ²Ý° ÜÜß
ßß ÜÛß PLATFORM.............WinAll ßÛÜ ßß
ÜÜÜÛßß ßßÛÜÜÜ
ÜÛÛßß ßßÛÛÜ
Þ²Ý ° ° Þ²Ý
ßÜ °° °° Üß
°± ±°
±² ²±
²ÛÞ * RELEASE NOTES * ÝÛ²
²ÛÞ ÝÛ²
ÝÛÛÞ XYplorer is a file managing system ÝÛÛÞ
ÝÛÛÞ that comes with a user-friendly ÝÛÛÞ
ÝÛÛÞ interface and supports multiple tabs. ÝÛÛÞ
ÝÛÛÞ ÝÛÛÞ
ÝÛÛÞ The application is similar to Windows ÝÛÛÞ
ÝÛÛÞ Explorer, so you shouldn't have any ÝÛÛÞ
ÝÛÛÞ problems in getting around its features. ÝÛÛÞ
ÝÛÛÞ ÝÛÛÞ
ÝÛÛÞ So, you can open a location in a new ÝÛÛÞ
ÝÛÛÞ tab or pane, copy a selected row to ÝÛÛÞ
ÝÛÛÞ clipboard and renames files in ÝÛÛÞ
ÝÛÛÞ several ways (e.g. batch, set ÝÛÛÞ
ÝÛÛÞ extension, edit item names). ÝÛÛÞ
ÝÛÛÞ ÝÛÛÞ
ÝÛÛÞ In addition, you can move, copy or ÝÛÛÞ
ÝÛÛÞ backup files and folders, open an ÝÛÛÞ
ÝÛÛÞ item with command-line arguments, ÝÛÛÞ
ÝÛÛÞ create shortcuts, wipe files, swap ÝÛÛÞ
ÝÛÛÞ names and set the modified date to ÝÛÛÞ
ÝÛÛÞ the current one. ÝÛÛÞ
ÝÛÛÞ ÝÛÛÞ
ÝÛÛÞ But you can also preview and compare ÝÛÛÞ
ÝÛÛÞ files, use the undo, redo and search ÝÛÛÞ
ÝÛÛÞ functions, check out an action log, ÝÛÛÞ
ÝÛÛÞ configure a selection filter ÝÛÛÞ
ÝÛÛÞ (wildcard patterns or a regular ÝÛÛÞ
ÝÛÛÞ expression) and look for templates. ÝÛÛÞ
ÝÛÛÞ ÝÛÛÞ
ÝÛÛÞ On top of that, you can sort items ÝÛÛÞ
ÝÛÛÞ according to various parameters (e.g. ÝÛÛÞ
ÝÛÛÞ attributes, comments), customize ÝÛÛÞ
ÝÛÛÞ columns, iconize and rename tabs, ÝÛÛÞ
ÝÛÛÞ lock the tree, calculate folder ÝÛÛÞ
ÝÛÛÞ sizes, create a favorites list, add ÝÛÛÞ
ÝÛÛÞ and edit tags, manage user-defined ÝÛÛÞ
ÝÛÛÞ commands, run scripts, toggle the ÝÛÛÞ
ÝÛÛÞ active pane, and more. ÝÛÛÞ
ÝÛÛÞ ÝÛÛÞ
ÝÛÛÞ The program takes up low system ÝÛÛÞ
ÝÛÛÞ resources, supports keyboard ÝÛÛÞ
ÝÛÛÞ shortcuts, includes a comprehensive ÝÛÛÞ
ÝÛÛÞ help file and has an excellent ÝÛÛÞ
ÝÛÛÞ response time. We haven't encountered ÝÛÛÞ
ÝÛÛÞ any problems. All in all, it seems ÝÛÛÞ
ÝÛÛÞ that XYplorer comes bundled with all ÝÛÛÞ
ÝÛÛÞ the right functions (and more) for a ÝÛÛÞ
ÝÛÛÞ file manager. We strongly recommend ÝÛÛÞ
ÝÛÛÞ it to all users, regardless of their ÝÛÛÞ
ÝÛÛÞ experience level. ÝÛÛÞ
ÝÛÛÞ ÝÛÛÞ
ÝÛÛÞ ÝÛÛÞ
ÝÛÛÞ URL: http://www.xyplorer.com ÝÛÛÞ
ÝÛÛÞ ÝÛÛÞ
ÝÛÛÞ ÝÛÛÞ
ÝÛÛÞ ÝÛÛÞ
ÝÛÛÞ * iNSTALL NOTES * ÝÛÛÞ
ÝÛÛÞ ÝÛÛÞ
ÝÛÛÞ 1.) Unpack and install ÝÛÛÞ
ÝÛÛÞ 2.) Use our keygen to register ÝÛÛÞ
ÝÛÛÞ 3.) Enjoy! ÝÛÛÞ
ÝÛÛÞ ÝÛÛÞ
ÝÛÛÞ Supermegahyperdyperawsum party today ÝÛÛÞ
ÝÛÛÞ @ 127.0.0.1! Be there or be square! ÝÛÛÞ
ÝÛÛÞ ÝÛÛÞ
ÝÛÛÞ If you can't understand how to install ÝÛÛÞ
ÝÛÛÞ or use this then please don't waste our ÝÛÛÞ
ÝÛÛÞ or anyone else time whining about bad ÝÛÛÞ
ÝÛÛÞ installation instructions. ÝÛÛÞ
ÝÛÛÞ ÝÛÛÞ
ÝÛÛÞ Instead of blaming us for delivering ÝÛÛÞ
ÝÛÛÞ poor package try to read developer's ÝÛÛÞ
ÝÛÛÞ FAQ or program's manual. ÝÛÛÞ
ÝÛÛÞ ÝÛÛÞ
ÝÛ² ²ÛÞ
ÝÛ² ²ÛÞ
²± ±²
±° ÜÜ ÜÜ °±
°° ßßÜ Üßß °°
° ²Ý Þ² °
ÜÛß ßÛÜ
ÜÜßßß * C O N T A C T * ßßßÜÜ
ÜÛß Ü Ü ßÛÜ
²Ý° ßßÜ Üßß °Þ²
ßÜÜ °Þ² CRUDE IS A CLOSED GROUP ²Ý° ÜÜß
ßß ÜÛß SO WE DO NOT ACCEPT ANY ßÛÜ ßß
ÜÜÜßß KIND OF NEW MEMBERS ßßÜÜÜ
ÜÛßß ßßÛÜ
Þ² ° ° ²Ý
ßÜ °° OUR RESPECT AND GREETS GOES TO: °° Üß
°± ±°
±² BEAN . CoolPHat . DVT . EMBRACE . FLT ²±
²ÛÞ ÝÛ²
²ÛÞ HERiTAGE . HOODLUM . Lz0 . OUTLAWS ÝÛ²
ÝÛÛÞ ÝÛÛÞ
ÝÛÛÞ PARADOX . SKIDROW . UNLEASHED . VACE ÝÛÛÞ
ÜÜßßßÜÜ ÛÛÞ ÝÛÛ ÜÜßßßÜÜ
ÞÝ ßÛ ²ÛÞ ÝÛ² Ûß ÞÝ
ß ±ÛݲÛÞ AND TO ALL OUR FRIENDS IN THE SCENE ÝÛ²ÞÛ° ß
ÜÛß ±² ²± ßÛÜ
ܲÛß °± Ü Ü ±° ßÛ²Ü
²Ûß Üß °° ÜÛß ßÛÜ °° ßÜ ßÛ²
ÞÛÛ° Þ² °ÞÛÝ YOU KNOW WHO YOU ARE :P ÞÛÝ° ²Ý °ÛÛÝ
ÛÛÛ²Ü ßÛÜÜ ßÛÜ ÜÛß ÜÜÛß Ü²ÛÛÛ
ÞÛÛÛÛ²ÜÜ ßßßÜÜ ßÜ Üß ÜÜßßß ÜܲÛÛÛÛÝ
²ÛÛßßÜ° ÜÜ ßÛÜ ÜÜ ÜÜ ÜÛß ÜÜ °ÜßßÛÛ²
ß Üß Üßß °°ÞÛÝÜÛß ßÛÜÞÛÝ°° ßßÜ ßÜ ß
Û² ²Ý° °ÜÛÛßÞÛÝ * aScii by ___Z <DFS> * ÞÛÝßÛÛÜ° °Þ² ²Û
ÞÛÛ°ßÛÜ ß°²ÛÛÜßÛÜ ÜÛßÜÛÛ²°ß ÜÛß°ÛÛÝ
ßÛÛܲ°ßßÜÜÜ °±²²ÜßÛÜ ÜÛßܲ²±° ÜÜÜßß°²ÜÛÛß
ßÛÜß²±°° ßÛÜ°±²²ÞÛÝ Direct From Stars ÞÛݲ²±°ÜÛß °°±²ßÜÛß
ÞÛÝÞÛ²±°°Þ²Ý°ÜÜßß ßßÜܰ޲ݰ°±²ÛÝÞÛÝ
ÜÛßÜßßß ÜÜÛß ßÛÜÜ ßßßÜßÛÜ
ÜÜÜßßß ßßß ßßß ßßßÜÜÜ
2o.o3.12



这里是其它用户补充的资源(我也要补充):
暂无补充资源