中文名: 反间谍应急中心
英文名: NETGATE Spy Emergency
资源格式: 压缩包
版本: v11.0.505.0 Multilingual
发行时间: 2012年
制作发行:
NETGATE Technologies s.r.o.
简介: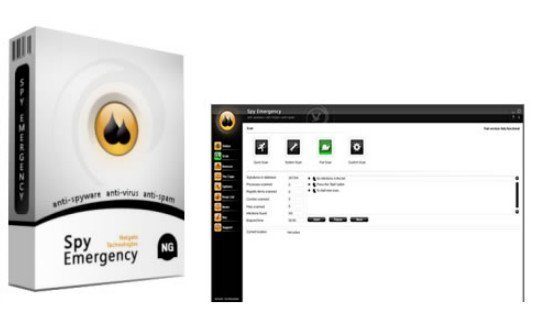 软件类型:软件>安全相关
软件性质:破解软件
操作系统:Windows
应用平台:Windows 7 (32-bit and 64-bit), Windows Vista (32-bit and 64-bit), Windows XP (32-bit), Windows 2000 (32-bit)
问题反馈: http://www.giantmatrix.com/support/
网站链接: http://www.spy-emergency.com/
软件介绍:


来自捷克的反间谍产品,专注于查杀间谍软体、木马、键盘记录机,以及广告程序等。顾名思义是'反间谍应急中心',界面极酷,以火红的默认主题彰显其强力的查杀能力。数据库有十余兆之大,目前已收集了近十万个特征码,相对较全。独创多轮检测技术,并提供常规的实时防护等。软体操作极其简便,直观而清爽,注重用户体验。

功能摘要

支援 Microsoft Internet Explorer、Mozilla Firefox 及 Opera 浏览器
系统记忆体扫描
系统登录档扫描
储存装置扫描
包含反垃圾邮件功能
绑假软体扫描
命令列功能
自动更新特征码
浏览器防护,包含首页防护,以避免首页绑假
Cookies 追踪防护
支援排程功能
简易的操作设定
可于间谍软体执行前即时防护并阻止







资源更新列表


http://www.VeryCD.com/i/5190747/create/fol...postTime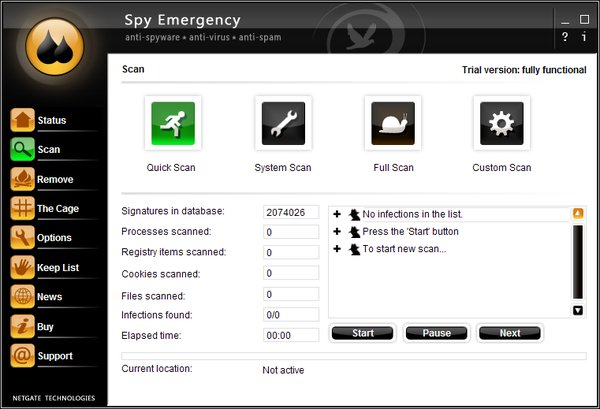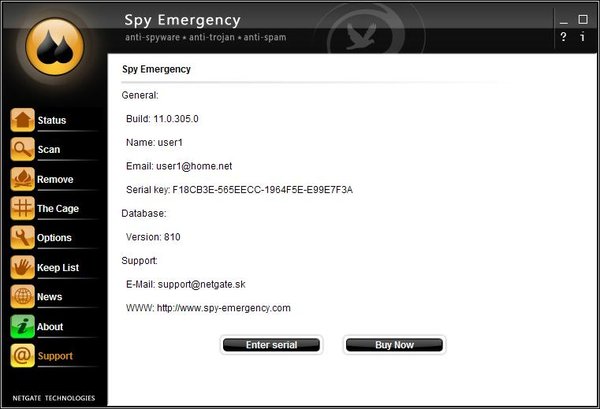 Spy Emergency is anti-spyware, anti-trojan and anti-spam software that fast and secure removes spyware and other internet infections from your computer. With its intuitive user interface, spyware removal is very simple for every user.


Spy Emergency Features:

Scan of your system memory
Scan of your registry
Scan of your storage
System directory scan
Tracking cookies scan
Host file scan
VX2 complaint hijackers scan
Automatic LSP stack repair
Real-time memory and prevention shields
IE, Opera, Firefox shields
Tracking cookies shields
Automatic database updates
News updates
Individual spy restore functionality
Keeplist
Scheduling support
Simple configuration
Intuitive and clear user interface for spyware removal
Skin support
Language support
Technical support
and much more...

Spy Emergency protects you against thousands of infections, including:
Spyware
Adware
Spam
Homepage hijackers
Remote administration tools
ActiveX Components
Dialers
Scumware
Keyloggers
Trojans
Data mining software
Toolbars
Tracking cookies
Browser Hijackers/BHO's
and many other types of internet parasites and infections.




代码
i'm the black rider, always faster than you...

ÜÜÜÜÜÜÜÜÜ°°°°ÜÜÜÜÜ
ÜÜÛÛÛÛÛÛÛÛÛÛÛÛÛÛÛÛÛÛ° °°±²ÛÛ²±²Û²°Ü
ÜÜÜÛÛÛÛ ±°°°° ÛÛ± °° ÛÛÛ±Ü
°ÜÛÛÛÛÛ² Û Û ±± Û ÛÛ°° Û°ÛÛ ²Û±Ü
ÜÛÛÛÛ± ±² ²Û² Û ±±± Û ² ²Û² ²ÛÛÛÛ ²ÛÛÛÛÛÛ° ÛÛÛÜÜ
ÜÛÛÛÛÛ° ÛÛ± ±Û° ÛÛÛÛÛÛ² ÛÛÛÛ°°ÛÛÛÛÛÛÛÛÛÛÛÛ² ÛÛÛÛÛÛÛÛÛÛÛÛÛÛÜ
ÜÛ²ÛÛÛÛ±ÛÛÛÛÛÛÛÛÛÛÛÛÛÛÛÛÛÛÛÛÛÛÛÛÛÛÛÛÛÛÛÛÛÛÛÛÛÛÛÛÛÛÛÛÛÛÛ²²ÛÛÛÛÛ°
°Û°ÛÛÛÛÛÛÛÛÛÛÛÛÛÛÛÛÛÛÛÛÛÛÛÛÛÛÛÛÛÛÛÛÛÛÛÛÛÛÛÛÛÛÛÛÛÛÛÛÛÛÛÛÛÛÛÛÛÛÛÛÛ
ÛÛÛÛÛÛÛÛÛÛÛÛÛÛÛÛÛÛÛÛÛÛÛÛÛÛÛÛÛÛ²°ÛÛ²ÛÛÛÛÛÛ°ÛÛÛÛÛÛ²ÛÛÛÛÛÛÛÛÛÛÛÛÛ²Û
ÛÛÛÛÛÛÛÛÛÛÛÛÛÛß ±²ßÛÛßÛß°± ±ÛÛÛÛÛÛÛÛÛÛÛ ßßÛÛßÛÛÛÛÛÛÛÛÛ²
ÛÛÛÛÛÛÛÛÛÛÛÛß° ÛÛÛÛÛÛÛÛÛÛÛÛÛÜ ²ÛÛÛÛÛÛÛÛ
ÛÛÛÛÛÛÛÛß°² ÜÛÛÛÛÛÛÛÛÛÛÛÛÛÛÛÛ² °²ÛÛ²²ÛÛ
ÛÛÛÛÛÛÛÛÛ± ÜÛÛÛÛÛÛÛÛÛÛÛÛÛÛÛÛÛÛÛÛÜ° ²ÛÛÛÛ
ÛÛÛÛÛÛÛÛ ÜÜÛÛÛÛÛÛÛÛÛÛÛÛÛÛÛÛÛÛÛÛÛÛÛÛ²° ²ÛÛÛÛÛÛ
ÛÛÛÛÛÛ² °ÛÛÛÛÛÛÛÛÛÛÛÛÛÛÛÛÛÛÛÛÛÛÛÛÛÛÛÛ° ÛÛÛÛÛÛ
°ÛÛÛÛÛÛ ±ÛÛÛÛÛÛÛÛÛÛÛÛÛÛÛÛÛÛÛÛÛÛÛÛÛÛÛÛ² ÛÛÛÛÛ²
ÛÛÛÛÛ° ÛÛÛÛÛÛÛÛÛÛÛÛÛÛÛÛÛÛÛÛÛÛÛÛÛÛÛÛÜ°²²²± ßÛÛÛÛ°
ÛÛÛÛÛÛ ° °Û²ÛÛÛÛÛÛÛÛÛÛÛÛÛÛÛÛÛÛÛÛÛÛÛÛÛÛÛÛ° ÛÛÛ±
ÛÛÛÛÛÛ °²²²ÛÛÛÛÛÛÛÛÛÛÛÛÛÛÛÛÛÛÛÛÛÛÛ° °ÛÛ
ÛÛÛÛÛÛ ÜÛÛÛÜ ²ÛÛÛÛÛÛÛÛÛÛÛÛÛÛÛÛÛÛÛÛÛÛÛ² ÜÛÛÛÛÛÛÜÜ ±Û±
Û ÛÛÛ± ÜÛÛÛÛÛÛÛÛÛÛÛÛÛÛÛÛÛÛÛÛÛÛ²ÛÛÛÛÛÛÛÛÛÛÛÛÛÛÛÛÛÛÛÛÛ ÛÛÛÛÛÜ
ÛÛ °°ß ÜÛÛÛÛÛÛÛÛÛÛÛÛÛÛÛÛÛÛÛÛÛÛÛÛÛÛÛÛÛÛÛÛÛÛÛÛÛÛÛÛÛÛÛÛÛÛÛÜ ²Û °ÛÛÛÜ
²±Û °Û ²ÛÛÛÛÛÛÛÛÛÛÛ ²ÛÛÛÛÛÛÛÛÛÛÛÛÛÛÛÛÛÛÛÛÛÛÛ °ßÛÛÛÛÛÛÛÛÛÛÛ °Û° °ÛÛ±Û
Û ÛÛ Û °Û±ÛÛÛÛÛÛÛÛÛÛÛÛÛÛÛÛÛÛÛ²ÛÛÛÛÛÛÛÛÛÛÛÛÛÛÛÛÛÛÛÛÛÛÛÛÛÛßß± ±Û ±Û±ÛÛÛ
°Û ÛÛ Û ßßÛÛÛÛÛÛÛÛÛÛÛÛÛÛÛÛÛÛÛÛÛÛÛÛÛÛÛÛÛÛÛÛÛÛßß °Û ÛÛ Û
± ÛÛÛ Û ßßÛÛÛÛÛÛÛÛÛÛÛÛÛÛÛÛÛÛÛÛÛÛÛÛÛÛß ²Û ÛÛÛÛ
Û°Û²ÛÛÛ °²ÛÛÛÛÛÛÛÛÛÛÛÛÛÛÛÛÛÛÛÛÛÛÛÜÜ ²Û °Û°Û
ßÛÛ²ÛÛÛ Û²²ÛÛÛÛÛÛÛÛÛÛÛÛÛÛÛÛÛÛÛÛÛÛÛÛÛÛÛÛ² ÛÛÛ ÛÛÛ±
²Û²°²Ü ÜÛÛÛÛÛÛÛÛÛÛÛ±ÛÛÛÛÛ ±ÛÛÛÛÛÛÛÛÛÛÛÛÛÛ ±±ÛÛÛ
±ÛÛÛ ²ÛÛÛÛÛ²ÛÛÛÛÛÛ² ÛÛÛÛÛ ²ÛÛÛÛÛÛÛÛÛÛÛ ±Û ÛÛÛ
ßÛÛ °ÜÛÛÛÛÛÛÛÛÛÛÛ² ²ÛÛÛÛÛÛ °ÜÛÛÛÛÛÛÛÛ±ÛÛ²±Û° ±Û±Û±
ÛÛ± °ÜÛ ÛÛÛ ÛÛÛÛÛÛÛܲ±ÛÛÛÛÛÛÛÛ ²ÛÛÛÛÛ²Û° ÛÛÛ± ÛÛÛ°
°ÛÛ ° ÛÛÛÛÛÛÛÛÛÛÛÛÛÛÛÛÛÛÛÛÛÛÛÛÛ²ÛÛÛÛ² ° ±ÛÛÛ
ÛÛ ÛÛÛÛÛÛÛÛÛÛÛÛÛÛÛÛÛÛÛÛÛÛÛÛÛÛÛÛÛÛÛÛÛÛ ÛÛÛ²
²Û± ²ÛÛÛÛÛÛÛÛÛÛÛÛÛÛÛÛÛÛÛÛÛÛÛÛÛÛÛÛÛÛÛÛÛÛ ÛÛÛ²Ü
ÛÛ ÛÛÛÛÛÛÛÛÛÛÛÛÛÛÛÛÛÛÛÛÛÛÛÛÛÛÛÛ²ÛÛÛÛÛÛÛ ÛÛÛÛÛÛÛÛ۲ܰ°
ÜÜÛÛÛÛÛÛ° ÛÛÛÛ²²ÛÛÛ²ÛÛÛÛÛÛÛÛÛÛÛÛÛÛÛÛÛÛÛÛÛ² ÛÛ° ÛÛÛÛ °ÛÛÛÛÛ²Û°
±ÛÛÛÛß Û² °ÛÛÛÛÛÛÛÛÛÛÛÛÛÛÛÛÛÛÛÛÛ²²ÛÛÛ± ÛÛÛÛ± ßÛÛ±
²ÛÛ Ü²ÛÛÛÜ ÛÛÛÛÛÛÛÛÛÛÛÛÛÛÛÛÛÛÛÛÛÛÛÛÛÛÛ °ÛÛÛÛÛÛÛÛÛ ²Û²
Û ÛÛÛÛÛÛ²ÛÛܱ °ÛÛÛÛÛÛÛÛÛÛÛÛÛÛÛÛÛÛÛÛÛÛÛÛÛÛÛÛ ²ÜÛÛÛÛÛÛÛÛÛ ÛÛ ±
°ÛÛÜ ÛÛÛÛÛÛÛÛÛÛÜ ²ÛÛÛÛÛÛÛÛÛÛÛÛÛÛÛÛÛÛÛÛÛÛÛÛÛÛÛ°ÜÜÛÛÛÛÛÛÛÛÛÛÛÛ± ÛÛ Û
²ÛÛÛ ÛÛÛÛÛÛÛÛÛÛÛÛÛ²ÛÛÛÛÛÛÛÛÛÛÛÛÛÛÛÛÛÛÛÛÛÛÛÛÛÛÛÛÛÛÛÛÛÛÛÛÛÛÛÛÛ² ±ÛÛ ±±
²ÛÛß ÛÛÛÛÛÛÛÛÛÛÛÛÛÛÛÛÛÛÛÛÛÛÛÛÛÛÛÛÛÛÛÛÛÛÛÛÛÛÛÛÛÛÛÛ²± ÛÛÛÛ
ÛÛ ²ÛÛÛÛÛÛÛÛÛÛÛÛÛÛÛÛÛÛÛÛÛÛÛÛÛÛÛÛÛÛÛÛÛÛÛÛÛÛÛÛÜ ÛÛ
ÛÛß Û²±ÛÛÛÛÛÛÛÛÛÛÛÛÛÛÛÛÛÛÛÛÛÛÛÛÛÛÛÛÛÛÛÛÛÛÛÛÛÛÛÛÛÛÛÛÛÛÛÛÜ ÛÛ
°ÛÛ± ÛÛÛÛÛÛÛÛÛÛÛÛÛÛÛÛÛÛÛÛÛÛÛÛÛÛÛÛÛÛÛÛÛÛÛÛÛÛÛÛÛÛÛÛÛÛÛÛÛÛÛÛÛ² ÛÛÛ
ÛÛ± ±ÛÛÛÛÛÛÛÛÛÛÛÛÛÛÛÛÛÛÛÛÛÛÛÛÛÛÛÛÛÛÛÛÛÛÛÛÛÛÛÛÛÛÛ²²ÛÛÛÛÛÛÛÛÛ± Û° °ÛÛÛ±
ÛÛÜ ÛÛÛÛÛÛÛÛÛÛÛÛÛÛÛÛÛÛÛÛÛÛÛÛÛÛÛÛÛÛÛÛÛÛÛÛÛÛÛÛÛÛÛÛÛÛÛÛÛÛÛÛÛÛÛ² Û ÜÛÛÛÛÛ
ßÛÛÜ°²±²ÛÛÛÛÛÛÛÛÛÛÛÛÛÛÛÛÛÛÛÛÛÛÛÛÛÛ²ÛÛÛÛÛÛÛÛÛÛÛÛÛÛÛÛÛÛÛÛÛÛÛÛÛÛÛÛÛÛÛÛÛ Û ±Û ° Û
ÛÛÛ ±ÛÛÛÛÛÛÛÛÛÛÛÛÛÛÛÛÛÛÛÛÛÛÛÛÛ²ÛÛÛÛÛÛÛÛÛÛÛÛÛÛÛÛÛÛÛÛ²ÛÛÛÛÛÛÛÛÛÛÛÛ ²°ÜÛÛ ß
°±Û ²Û² °ÛÛÛÛÛÛÛÛÛÛÛÛÛÛÛÛÛÛÛÛÛÛÛ²ÛÛÛÛÛÛÛÛÛÛÛÛÛÛÛÛÛÛÛÛÛÛÛÛÛÛÛÛÛÛÛÛÛÛÛÛÛÛÛ
ÜÛ ÛÛÛÛÛÛÛÛÛÛÛÛÛÛÛÛÛÛÛÛÛÛÛÛÛÛÛÛÛÛÛÛÛÛÛÛÛÛÛÛÛÛÛÛÛÛÛÛÛÛÛÛÛÛÛÛÛÛÛÛÛÛÛÛÛÛÛÛ ²
ÜÛÛÛÛÛÛÛÛÛÛÛÛÛÛÛÛÛÛÛÛÛÛÛÛÛÛÛÛÛÛÛÛÛÛÛÛÛÛÛÛÛÛÛÛÛÛÛÛÛÛÛÛÛÛÛÛÛÛÛÛÛÛÛÛÛÛÛÛÛÛ ÛÛÛ ß
ÛÛÛÛÛÛÛÛÛÛÛÛÛÛÛÛÛÛÛÛÛÛÛÛÛÛÛÛÛÛÛÛÛÛÛÛÛÛÛÛÛÛÛÛÛÛÛÛÛÛÛÛÛÛÛÛÛÛÛÛÛÛÛÛÛÛÛÛÛÛÛÛÛÛ²Û° Û
ÛÛÛÛÛÛÛÛÛÛÛÛÛÛÛÛÛÛÛÛÛÛÛÛÛÛÛÛÛÛÛÛÛÛÛÛÛÛÛÛÛÛÛÛÛÛÛÛÛÛÛÛÛÛÛÛÛÛÛÛÛÛÛÛÛÛÛÛÛÛÛÛÛÛÛÛÛÛÛ²
ÛÛÛÛÛÛÛÛÛÛÛÛÛÛÛÛÛÛÛÛÛÛÛÛÛÛÛÛÛÛÛÛÛÛÛÛÛÛÛÛÛÛÛÛÛÛÛÛÛÛÛÛÛÛÛÛÛÛÛÛÛÛÛÛÛÛÛÛÛÛÛÛÛÛÛÛÛÛÛÛ
ÛÛÛÛÛÛÛÛÛÛÛÜÛÛÛÛÛÛÛÛÛÛÛÛÛÛßßßÛÛÛÛÛÛÛÛßÜÛÛÛÛÛÛÛÛÛÛÛÛÛÛÛÛÛÛÛÛÛÛÛÛÛÛÛÛÛÛÛÛÛÛÛß ß²Û
ÛÛÛß Ü ßÛÛÛÛÛÛÛÛÛÛÛÛÛÛÛß Üܲ ÛÛÛÛ²ß ßÛÛÛÛÛÛÛÛÛÛÛÛÛÛÛÛÛÛÛÛÛÛÜÛÛÛÛÛß°ÛÛÛÛÛ² ²
°ÛÛ ß²ß Û²ßßßßÛÛßß²ÛÛß ÜÛÛÛÛ ÛÛÛ °ßÛÛ²ßßÛÛÛßßßÛÛÛßßßß²Û °ÛÛÛÛ° Û
Û° ßþ. ß ÛÛÛÛÛ Û² °Û²° ß .þß °ÛÛß
ÜÜÜ ² ÛÛÛÛÛ ² þ ÜÜÛ Ü
ÜÛÛÛÛ ÛÛÛÛÛ Û °ÜÛÛÛÛ
ÛÛÛÛÛ ÛÛÛÛÛ ÜÛÛÛÛ²
ÛÛÛÛÛ ÛÛÛÛÛ Ü ÛÛÛÛÛ°
ÛÛÛÛÛ² ÛÛ± ÛÛÛÛÛ ÜÛÛÜÜ ÜÛÛÛÛÛÛÜ ÛÛÛÛÛ ÜÛ°
ÛÛÛÛÛÛÛÛÛÛÛ² ÛÛÛÛÛ ÛÛÛÛÛÛÛÛÜ ÜÛÛÛÛÛÛÛÛÛ ÛÛÛÛÛ ÜÛÛÛ
ÛÛÛÛÛÛ ÛÛÛÛÛ ÛÛÛÛ² ÛÛÛ²ÛÛÛÛÛÛÛ ÛÛÛÛÛÛÛÛÛÛÛ± ÛÛÛÛÛ ÛÛÛÛ
ÛÛÛÛÛ° ±ÛÛÛÛ ÛÛÛÛ± ÛÛÛÛ ÛÛÛÛÛ ÛÛÛÛÛ ÛÛÛ² ÛÛÛÛÛ ÛÛ±
ÛÛÛÛÛ ÛÛÛÛ ÛÛÛÛ ÛÛÛÛ ÛÛÛÛÛ ÛÛÛÛÛ ÛÛÛÛÛ ÛÛÛ
ÛÛÛÛÛ ÛÛÛÛ ÛÛÛÛ ÛÛÛÛ ÛÛÛÛÛÛ ÛÛÛÛÛ ÛÛÛÛÛ ÛÛÛÛÛÜ
ÛÛÛÛÛÛÜ°ÛÛÛÛ ÛÛÛÛ²Ü ÛÛÛÛÜÛÛ ÛÛÛÛ ÛÛÛÛÛÛÜ ÜÛ ÛÛÛÛÛÛÛÛÛÛÛÛÛ
ÛÛÛÛÛÛÛÛÛÛÛ ÛÛÛÛÛÛÛ ÛÛÛÛÛß ÛÛÛÛ ÛÛÛÛÛÛÛÛÛ ÛÛÛÛÛ² ÛÛÛÛÛ
ÛÛÛÛß ßÛÛ ßÛÛÛß ÛÛÛÛ ÛÛÛÛÛ ßÛÛÛÛÛ² ÛÛÛÛÛ ÛÛÛ
Ûß Û ß ²ß Ûßß Û
ÜÛÛ² ܲÛ
ÜÛÛÛÛÛ ÜÛÛÛÛ
²Û ²ÛÛÛÛÛÛÛÛ² ²ÛÛÛÛÛ ²ÛÛÛÛÛ² ÛÛÛÛÛ ²ÛÛÛÛÛÛÛÛÛÛÛÛÛÛÛÛÛÛÛÛÛÛÛÛÛÛÛÛÛÛÛÛÛÛÛÛ² Û²
ÛÛÛÛ ÛÛÛÛÛ
ÛÛÛÛÛ
ÛÛÛÛ ÜÛÛÛÛ ÜÜÛÛ ÜÛÛÛÛÛÛÛÛ² ÜÛÛÛÛÛÛÛÛ ÛÛÛÛ °ÜÛÛÛ ÜÜÛÛÛÛÛÛÛÛÜ
ÛÛÛÛ ÛÛÛÛ ÜÛÛÛÛÛÛ ÛÛÛÛÛÛÛÛÛÛ² ²ÛÛÛÛÛÛÛÛÛÛ ÛÛÛÛÜÜÛÛÛ ÛÛÛÛ²ÛÛÛÛÛÛß
ÛÛÛÛÛÛÛÛß ÛÛÛÛÛÛÛ ÛÛÛÛ ÛÛÛÛ± ÛÛÛÛ ÛÛÛÛ² ÛÛÛÛÛÛÛß ÜÛÛÛÛß
ÛÛÛÛÛ ° ÛÛÛÛÛ ÛÛÛÛ ÛÛÛÛÛ± ÛÛÛÛÜ ÛÛÛ° ÛÛÛÛÛ ° ±ÛÛÛÛÛÛÛÛÛÜÜÜ
ÛÛÛÛ² ÛÛÛÛÛ ±ÛÛÛÛ ²ÛÛÛÛÛ± ÛÛÛÛ²ÛÛÛÛÛ ÛÛÛÛ² ± ÛÛÛÛÛÛÛÛÛÛÛÛÛ
ÛÛÛÛÛ ± ÛÛÛÛÛ ² ±ÛÛÛÛ Û ÛÛÛÛ² ÛÛÛÛ² ² ÛÛÛÛÛ ßßßÛÛÛÛÛÛÛÛÛ
± ÛÛÛÛÛÛÛ ²± ÛÛÛÛÛ Û °ÛÛÛÛÛ ÛÛÛÛÛ Ü ÛÛÛÛÛÜ ÜÛ Û ÛÛÛÛÛÛÛ ² Ü ßÛÛÛÛß
Û ÛÛÛÛÛÛß ²²² ÛÛÛÛÛ Û ÛÛÛÛ ÛÛÛÛÛ ² ²ÛÛÛÛÛÛÛÛ ÛÛ ÛÛÛÛÛÛ± ²² ÛÛÛÛÛÛÛÛÛÛÛß
ÛÛ ßÛÛÛÛ ÛÛÛ ÛÛÛÛÛ ÛÛ ÛÛß Û ßÛÛÛÛ ÛÜ °ßÛÛÛÛß ÛÛÛ ßÛÛÛÛ ÛÛ °ßÛÛÛÛÛÛÛß
ÛÛÛÛÜÜÜÜÜÜÛÛÛÛÛÜÜÜÜÜÜÜÛÛÜÜÜÜÛÛÛÛÜÜÜÜÜÜÛÛ² ÜÜÜÜÜÜÜÛÛÛÛÛÛÜÜÜÜÜÜÛÛÛÛ²ÜÜÜÜÜÜÜÜÜÜÜܲ
ÛÛÛÛÛÛÛÛÛÛÛÛÛÛÛÛÛÛÛÛÛÛÛÛÛÛÛÛÛÛÛÛÛÛÛÛÛÛÛÛÛÛÛÛÛÛÛÛÛÛÛÛÛÛÛÛÛÛÛÛÛÛÛÛÛÛÛÛÛÛÛÛÛÛÛÛÛÛÛÛ
ßÛÛÛÛÛÛÛÛÛÛÛÛÛÛÛÛÛÛÛÛÛÛÛÛÛÛÛÛÛÛÛÛÛÛÛÛÛÛÛÛÛÛÛÛÛÛÛÛÛÛÛÛÛÛÛÛÛÛÛÛÛÛÛÛÛÛÛÛÛÛÛÛÛÛßßßßÛ
ßÛÛÛÛÛÛÛÛÛÛÛÛÛÛÛÛÛÛÛÛÛÛÛÛÛÛÛÛÛÛÛÛÛÛÛÛÛÛÛÛÛÛÛÛÛÛÛÛÛÛÛÛÛÛÛÛÛÛÛÛÛÛÛÛÛÛÛß
ÛÛßÜÛÛÛÛÛÛÛÛÛÛÛÛÛÛÛÛÛÛÛßßßßßßÛÛÛßß ßßßßÛÛÛÛÛÛÛßßÛÛÛÛÛÛÛÛÛÛÛÛÛÛÛÛÛß|
Ü ß ßßßßßÛÛÛÛÛÛßßßß ßÝ ßÛßß ßßßÛÛÛÛßßß ß
ßÛß ß ÛÛ jer^dfs
ß ß ÞÝ
ß Ü
NETGATE.Spy.Emergency.v11.0.505.0.Multilingual.Incl.Keygen.and.Patch-BRD


Cracked by...: BRD Cult Size.....: 5
Suplied......: BRD Cult Date.....: 12/24/2012
Packaged.....: BRD Cult Type.....: Keygen & Patch
Protection...: Custom Os.......: WinALL



ÜÜ Ü ÜÜÜÜ Ü Ü
ÜÛÛÛÛÛÛÜÜÜÜÜ ßß ÜÛÛÛ ßßÛÛÛÛÜÜÜÛÛÛÜÜÜÜÜÜÜ ß Ü ÜÜÜ ÛÛÜÜ Ü²ÛÛÛÛÛÜÛÛÛÛÛÛß
ßÛÛÛÛÛÛÛÛÛßÛÛÜÛÜÛÛÛÛÛÛ²ÛÛÛÛÛÛÛÛÛÛÛÛÛ²²ÛÛÛÛ ÛÛÛÛÜßÛÛÛÛÛÛÛÛÛÛÛÛßßÛÛÛÛÛÛÛÛÛ²ÛÛß
ßÛÛÛÛÛÛÛÛÛÛÛÛÛÛÛÛÛÛÛÛÛÛÛÛÛÛÛÛÛÛÛÛÛÛÛÛÛÛÛÛÛÛÛÛÛÛÛÛÛÛÛÛÛÛÛÛÛÛÛÛÛÛÛÛÛÛÛÛÛÛÛÛÛÛßßßßÛ
ßÛÛÛÛÛÛÛÛÛÛÛÛÛÛÛÛÛÛÛÛÛÛÛÛÛÛÛÛÛÛÛÛÛÛÛÛÛÛÛÛÛÛÛÛÛÛÛÛÛÛÛÛÛÛÛÛÛÛÛÛÛÛÛÛÛÛÛß
ÛÛßÜÛÛÛÛÛÛÛÛÛÛÛÛÛÛÛÛÛÛÛßßßßßßÛÛÛßß ßßßßÛÛÛÛÛÛÛßßÛÛÛÛÛÛÛÛÛÛÛÛÛÛÛÛÛß|
Ü ß ßßßßßÛÛÛÛÛÛßßßß ßÝ ßÛßß ßßßÛÛÛÛßßß ß
ßÛß ß ÛÛ
ß ß ÞÝ
ß DESCRiPTiON Ü

Spy Emergency is the anti spyware, anti malware, anti spam
solution that fast and secure removes spyware, malware, spam
and other internet threats from your computer. Spy Emergency
protects you against thousands of various infections and
potencially unwanted software, including spyware, adware,
spam, virus, trojans, worms, homepage hijackers, remote
administration tools, activex components, dialers, scumware,
keyloggers, data mining software, toolbars, tracking cookies,
browser, hijackers/BHO's.



URL: http://www.spy-emergency.com/


ÜÜ Ü ÜÜÜÜ Ü Ü
ÜÛÛÛÛÛÛÜÜÜÜÜ ßß ÜÛÛÛ ßßÛÛÛÛÜÜÜÛÛÛÜÜÜÜÜÜÜ ß Ü ÜÜÜ ÛÛÜÜ Ü²ÛÛÛÛÛÜÛÛÛÛÛÛß
ßÛÛÛÛÛÛÛÛÛßÛÛÜÛÜÛÛÛÛÛÛ²ÛÛÛÛÛÛÛÛÛÛÛÛÛ²²ÛÛÛÛ ÛÛÛÛÜßÛÛÛÛÛÛÛÛÛÛÛÛßßÛÛÛÛÛÛÛÛÛ²ÛÛß
ßÛÛÛÛÛÛÛÛÛÛÛÛÛÛÛÛÛÛÛÛÛÛÛÛÛÛÛÛÛÛÛÛÛÛÛÛÛÛÛÛÛÛÛÛÛÛÛÛÛÛÛÛÛÛÛÛÛÛÛÛÛÛÛÛÛÛÛÛÛÛÛÛÛÛßßßßÛ
ßÛÛÛÛÛÛÛÛÛÛÛÛÛÛÛÛÛÛÛÛÛÛÛÛÛÛÛÛÛÛÛÛÛÛÛÛÛÛÛÛÛÛÛÛÛÛÛÛÛÛÛÛÛÛÛÛÛÛÛÛÛÛÛÛÛÛÛß
ÛÛßÜÛÛÛÛÛÛÛÛÛÛÛÛÛÛÛÛÛÛÛßßßßßßÛÛÛßß ßßßßÛÛÛÛÛÛÛßßÛÛÛÛÛÛÛÛÛÛÛÛÛÛÛÛÛß|
Ü ß ßßßßßÛÛÛÛÛÛßßßß ßÝ ßÛßß ßßßÛÛÛÛßßß ß
ßÛß ß ÛÛ
ß ß ÞÝ
ß iNSTALL NOTES Ü

Install program, apply patch and use our keygen.
Enjoy!




ÜÜ Ü ÜÜÜÜ Ü Ü
ÜÛÛÛÛÛÛÜÜÜÜÜ ßß ÜÛÛÛ ßßÛÛÛÛÜÜÜÛÛÛÜÜÜÜÜÜÜ ß Ü ÜÜÜ ÛÛÜÜ Ü²ÛÛÛÛÛÜÛÛÛÛÛÛß
ßÛÛÛÛÛÛÛÛÛßÛÛÜÛÜÛÛÛÛÛÛ²ÛÛÛÛÛÛÛÛÛÛÛÛÛ²²ÛÛÛÛ ÛÛÛÛÜßÛÛÛÛÛÛÛÛÛÛÛÛßßÛÛÛÛÛÛÛÛÛ²ÛÛß
ßÛÛÛÛÛÛÛÛÛÛÛÛÛÛÛÛÛÛÛÛÛÛÛÛÛÛÛÛÛÛÛÛÛÛÛÛÛÛÛÛÛÛÛÛÛÛÛÛÛÛÛÛÛÛÛÛÛÛÛÛÛÛÛÛÛÛÛÛÛÛÛÛÛÛßßßßÛ
ßÛÛÛÛÛÛÛÛÛÛÛÛÛÛÛÛÛÛÛÛÛÛÛÛÛÛÛÛÛÛÛÛÛÛÛÛÛÛÛÛÛÛÛÛÛÛÛÛÛÛÛÛÛÛÛÛÛÛÛÛÛÛÛÛÛÛÛß
ÛÛßÜÛÛÛÛÛÛÛÛÛÛÛÛÛÛÛÛÛÛÛßßßßßßÛÛÛßß ßßßßÛÛÛÛÛÛÛßßÛÛÛÛÛÛÛÛÛÛÛÛÛÛÛÛÛß|
Ü ß ßßßßßÛÛÛÛÛÛßßßß ßÝ ßÛßß ßßßÛÛÛÛßßß ß
ßÛß ß ÛÛ
ß ß ÞÝ
ß GROUP NOTES Ü


Team BRD is not responsible for the bad usage of this product.
This release is for EVALUATION PURPOSES ONLY.
if you like it, u MUST buy it, Software Authors deserve support!.

Remember, this is an INTERNAL SCENE RELEASE, we DONT support
the spread of this rls over web or p2p networks.


The Black Riders Cult is looking for:

<.> Experienced Crackers, Unpackers and keygenners.
<.> Software Suppliers.


t h e b r d [at] m a i l [dot] r u


° Ü ß²ÛÛß °°° °° ÜÜÜÜÜÜÜÜÜ ° ° °° ° ß Ü °
ܲÜÜ Ü ß²ß ° °°° ÜÜÜÜÛÛ ÛÛÜÜÜÜ °° ° ߲߰ Ü ÜܲÜ
°ÜÛÛß Ü °° °°° ÜÜÛÛÛÛ°²² ÛÛÛÛÛÛ ° ÛÛÛÛÛÛ ²²°ÛÛÛÛÜÜ °° Ü ßÛÛÜ°
²ÛÛÛÛÜ ÜÜÛÛÛÛßßßßßÛÛÛÛÛÛ°ÛÛ ÛÛÛÛÛÛ °°° ÛÛÛÛÛÛ ÛÛ°ÛÛÛÛÛÛßßßßßÛÛÛÛÜÜ ÜÛÛÛÛ²°
ÛÛÛÛÛÛÛ ÛÛÛÛÛÛ°ÛÛÛ ÛÛÛÛÛÛ°ÛÛ ÛÛÛÛÛÛ ²Û² ÛÛÛÛÛÛ ÛÛ°ÛÛÛÛÛÛ ÛÛÛ°ÛÛÛÛÛÛ ÛÛÛÛÛÛÛ°
ÛÛÛÛÛÛÛ ÛÛÛÛÛÛ°ÛÛÛ ÛÛÛÛÛÛ°ÛÛ ÛÛÛÛÛÛ ÛÛÛ ÛÛÛÛÛÛ ÛÛ°ÛÛÛÛÛÛ ÛÛÛ°ÛÛÛÛÛÛ ÛÛÛÛÛÛÛ°
°ÛÛÛÛÛÛ ÛÛÛÛÛÛ°ÛÛÛ ÛÛÛÛÛÛ°ÛÛ ÛÛÛÛÛÛÜÜÜÜÜÛÛÛÛÛß ÛÛ°ÛÛÛÛÛÛ ÛÛÛ°ÛÛÛÛÛÛ ÛÛÛÛÛÛ°
°ßÛÛÛÛÛ ÛÛÛÛÛÛÜÜÜÜÜÛÛÛÛß ÛÛ ÛÛÛÛÛÛÛÛÛÛÛÛÛÛß ÛÛ°ÛÛÛÛÛÛ ÛÛÛ°ÛÛÛÛÛÛ ÛÛÛÛÛß°
°ÛÛÛÛÛ ÛÛÛÛÛÛÛÛÛÛÛÛÛß ÛÛ ÛÛÛÛÛÛßßßßßÛÛÜÜÜ ÛÛ°ÛÛÛÛÛÛ ÛÛÛ ÛÛÛÛÛÛ ÛÛÛÛÛ°
°ßÛÛÛÛ ÛÛÛÛÛÛßßßßßÛÛÛÛ °ÛÛ ÛÛÛÛÛÛ ÛÛÛ ÛÛÛÛÛÛ ÛÛ°ÛÛÛÛÛÛ ÛÛÛ°ÛÛÛÛÛÛ ÛÛÛÛß°
°ÛÛÛÛ ÛÛÛÛÛÛ°ÛÛÛ ÛÛÛÛÛÛ°ÛÛ ÛÛÛÛÛÛ ÛÛÛ ÛÛÛÛÛÛ ÛÛ°ÛÛÛÛÛÛ ÛÛÛ°ÛÛÛÛÛÛ ÛÛÛÛ°
°ÛÛÛÛ ÛÛÛÛÛÛ°ÛÛÛ ÛÛÛÛÛÛ°ÛÛ ÛÛÛÛÛÛ ÛÛÛ ÛÛÛÛÛÛ ÛÛ°ÛÛÛÛÛÛ ÛÛÛ°ÛÛÛÛÛÛ ÛÛÛÛ°
ÛÛÛÛ ÛÛÛÛÛÛ°ÛÛÛ ÛÛÛÛÛÛ°ÛÛ ÛÛÛÛÛÛ ²Û² ÛÛÛÛÛÛ ÛÛ°ÛÛÛÛÛÛ ÛÛÛ°ÛÛÛÛÛÛ ÛÛÛÛ°
ÛÛÛÛ ÛÛÛÛÛÛ°ÛÛÛ ÛÛÛÛÛÛ°ÛÛ ÛÛÛÛÛÛ ²²² ÛÛÛÛÛÛ ÛÛ°ÛÛÛÛÛÛ ÛÛÛ°ÛÛÛÛÛÛ ÛÛÛÛ°
°ÛÛÛÛ ßßÛÛÛÛÜÜÜÜÜÛÛÛÛÛÛ°ÛÛ ÛÛÛÛÛÛ °°° ÛÛÛÛÛÛ ÛÛ°ÛÛÛÛÛÛÜÜÜÜÜÛÛÛÛßß ÛÛÛÛ
°ÛÛÛÛÛÛÜÜÜÜÜÜÜÜÜ ßßÛÛÛÛ°ÛÛ ÛÛÛÛÛÛ ° ÛÛÛÛÛÛ ÛÛ°ÛÛÛÛßß ÜÜÜÜÜÜÜÜÜÛÛÛÛÛÛ°
²ÛÛÛÛÛÛÛÛÛÛÛÛÛÛÛÛÜÜÜÜÜÜÛÛ ßßßßÛÛ ÛÛÛßßß ÛÛÜÜÜÜÜÜÛÛÛÛÛÛÛÛÛÛÛÛÛÛÛÛÛ
ÛÛÛÛÛÛÛÛÛÛÛÛÛÛÛÛÛÛÛÛÛÛÛÛÛÛÛÛÛ ßß ßß ÜÛÛÛÛÛÛÛÛÛÛÛÛÛÛÛÛÛÛÛÛÛÛÛÛÛÛÛÛ
ßÛÛÛÛÛÛÛÛÛÛÛÛÛÛÛÛÛÛÛÛÛÛÛÛÛÛÛÛÛÛÛÛÛÛÛÛÛÛÛÛÛÛÛÛÛÛÛÛÛÛÛÛÛÛÛÛÛÛÛÛÛÛÛÛÛÛÛß
ÛÛßÜÛÛÛÛÛÛÛÛÛÛÛÛÛÛÛÛÛÛÛßßßßßßÛÛÛßß ßßßßÛÛÛÛÛÛÛßßÛÛÛÛÛÛÛÛÛÛÛÛÛÛÛÛÛß|
Ü ß ßßßßßÛÛÛÛÛÛßßßß ßÝ ßÛßß ßßßÛÛÛÛßßß ß
ßÛß ß ÛÛ jer^dfs
ß ß ÞÝ
ß Ü
you will never defeat the riddle of the black riders..

Keygen/Keygen.exe:FB0CFE66
Keygen/Patch.x64.exe:FDBE011B
Keygen/Patch.x86.exe:F96FA37B
Setup/se-setup-ngt.exe:FF772EC1

这里是其它用户补充的资源(我也要补充):
暂无补充资源