中文名: 窗口变标签软件
英文名: WindowTabs
资源格式: 压缩包
版本: v2012.12.20
发行时间: 2012年
简介: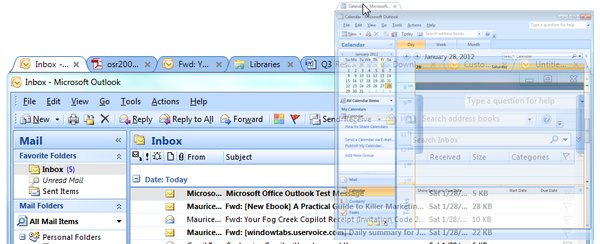 软件类型:系统工具
软件性质:破解软件
操作系统:Windows
应用平台:32/64bit Windows XP ,Windows 8
问题反馈:http://www.windowtabs.com/
网站链接:http://www.windowtabs.com/
软件介绍:


WindowTabs能为所有窗口添加标签栏,免费版最多支持3个标签组,不过这也算不错了,至少能让桌面更整齐一些。支持标签拖拽和合并,标签控一定要试试这个软件。支持32/64位的Windows XP, Vista / Windows 7操作系统。

强大的窗口变标签软件。运行 WindowTabs 之后,它会自动给每一个窗口添加上一个 Chrome 风格的标签,拖拽标签到另一个窗口的标签旁边,就可以把它们组合在一起。






资源更新列表


http://www.VeryCD.com/i/5190747/create/fol...postTime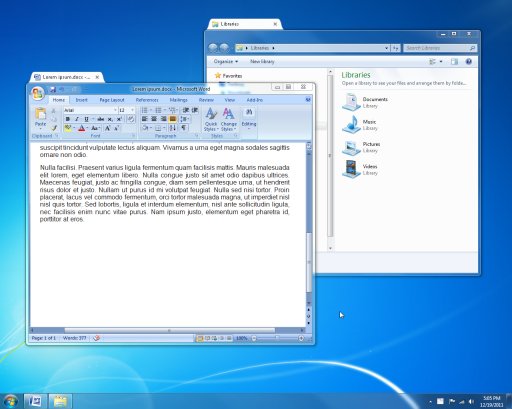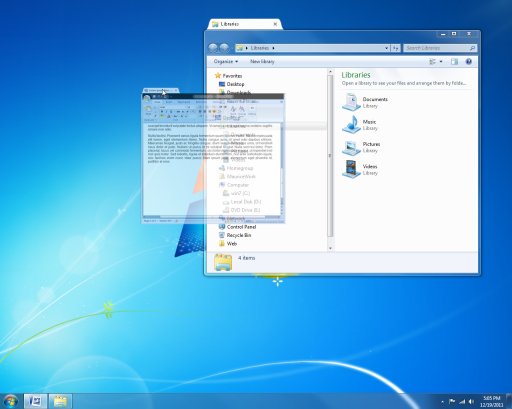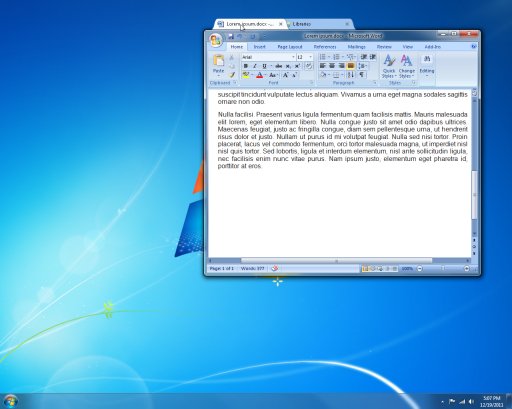 Organize your windows
Bring the productivity of tabbed window management to any desktop application. Organize windows into groups by simply dragging and dropping tabs, just like a tabbed browser.

Unclutter your taskbar
WindowTabs is fully integrated with the Windows 7 taskbar - the taskbar buttons are grouped together along with your windows.
Take it anywhere
Bring WindowTabs with you wherever you go. After purchase, download the portable version to a USB device and launch it on any PC or laptop - no install required.

Enhance any application
Add tabs to almost any desktop application including Microsoft Office applications, Microsoft Outlook, Adobe Reader, Adobe Photoshop, Windows Explorer, Internet Explorer, Putty, Visual Studio...


代码
i'm the black rider, always faster than you...

ÜÜÜÜÜÜÜÜÜ°°°°ÜÜÜÜÜ
ÜÜÛÛÛÛÛÛÛÛÛÛÛÛÛÛÛÛÛÛ° °°±²ÛÛ²±²Û²°Ü
ÜÜÜÛÛÛÛ ±°°°° ÛÛ± °° ÛÛÛ±Ü
°ÜÛÛÛÛÛ² Û Û ±± Û ÛÛ°° Û°ÛÛ ²Û±Ü
ÜÛÛÛÛ± ±² ²Û² Û ±±± Û ² ²Û² ²ÛÛÛÛ ²ÛÛÛÛÛÛ° ÛÛÛÜÜ
ÜÛÛÛÛÛ° ÛÛ± ±Û° ÛÛÛÛÛÛ² ÛÛÛÛ°°ÛÛÛÛÛÛÛÛÛÛÛÛ² ÛÛÛÛÛÛÛÛÛÛÛÛÛÛÜ
ÜÛ²ÛÛÛÛ±ÛÛÛÛÛÛÛÛÛÛÛÛÛÛÛÛÛÛÛÛÛÛÛÛÛÛÛÛÛÛÛÛÛÛÛÛÛÛÛÛÛÛÛÛÛÛÛ²²ÛÛÛÛÛ°
°Û°ÛÛÛÛÛÛÛÛÛÛÛÛÛÛÛÛÛÛÛÛÛÛÛÛÛÛÛÛÛÛÛÛÛÛÛÛÛÛÛÛÛÛÛÛÛÛÛÛÛÛÛÛÛÛÛÛÛÛÛÛÛ
ÛÛÛÛÛÛÛÛÛÛÛÛÛÛÛÛÛÛÛÛÛÛÛÛÛÛÛÛÛÛ²°ÛÛ²ÛÛÛÛÛÛ°ÛÛÛÛÛÛ²ÛÛÛÛÛÛÛÛÛÛÛÛÛ²Û
ÛÛÛÛÛÛÛÛÛÛÛÛÛÛß ±²ßÛÛßÛß°± ±ÛÛÛÛÛÛÛÛÛÛÛ ßßÛÛßÛÛÛÛÛÛÛÛÛ²
ÛÛÛÛÛÛÛÛÛÛÛÛß° ÛÛÛÛÛÛÛÛÛÛÛÛÛÜ ²ÛÛÛÛÛÛÛÛ
ÛÛÛÛÛÛÛÛß°² ÜÛÛÛÛÛÛÛÛÛÛÛÛÛÛÛÛ² °²ÛÛ²²ÛÛ
ÛÛÛÛÛÛÛÛÛ± ÜÛÛÛÛÛÛÛÛÛÛÛÛÛÛÛÛÛÛÛÛÜ° ²ÛÛÛÛ
ÛÛÛÛÛÛÛÛ ÜÜÛÛÛÛÛÛÛÛÛÛÛÛÛÛÛÛÛÛÛÛÛÛÛÛ²° ²ÛÛÛÛÛÛ
ÛÛÛÛÛÛ² °ÛÛÛÛÛÛÛÛÛÛÛÛÛÛÛÛÛÛÛÛÛÛÛÛÛÛÛÛ° ÛÛÛÛÛÛ
°ÛÛÛÛÛÛ ±ÛÛÛÛÛÛÛÛÛÛÛÛÛÛÛÛÛÛÛÛÛÛÛÛÛÛÛÛ² ÛÛÛÛÛ²
ÛÛÛÛÛ° ÛÛÛÛÛÛÛÛÛÛÛÛÛÛÛÛÛÛÛÛÛÛÛÛÛÛÛÛÜ°²²²± ßÛÛÛÛ°
ÛÛÛÛÛÛ ° °Û²ÛÛÛÛÛÛÛÛÛÛÛÛÛÛÛÛÛÛÛÛÛÛÛÛÛÛÛÛ° ÛÛÛ±
ÛÛÛÛÛÛ °²²²ÛÛÛÛÛÛÛÛÛÛÛÛÛÛÛÛÛÛÛÛÛÛÛ° °ÛÛ
ÛÛÛÛÛÛ ÜÛÛÛÜ ²ÛÛÛÛÛÛÛÛÛÛÛÛÛÛÛÛÛÛÛÛÛÛÛ² ÜÛÛÛÛÛÛÜÜ ±Û±
Û ÛÛÛ± ÜÛÛÛÛÛÛÛÛÛÛÛÛÛÛÛÛÛÛÛÛÛÛ²ÛÛÛÛÛÛÛÛÛÛÛÛÛÛÛÛÛÛÛÛÛ ÛÛÛÛÛÜ
ÛÛ °°ß ÜÛÛÛÛÛÛÛÛÛÛÛÛÛÛÛÛÛÛÛÛÛÛÛÛÛÛÛÛÛÛÛÛÛÛÛÛÛÛÛÛÛÛÛÛÛÛÛÜ ²Û °ÛÛÛÜ
²±Û °Û ²ÛÛÛÛÛÛÛÛÛÛÛ ²ÛÛÛÛÛÛÛÛÛÛÛÛÛÛÛÛÛÛÛÛÛÛÛ °ßÛÛÛÛÛÛÛÛÛÛÛ °Û° °ÛÛ±Û
Û ÛÛ Û °Û±ÛÛÛÛÛÛÛÛÛÛÛÛÛÛÛÛÛÛÛ²ÛÛÛÛÛÛÛÛÛÛÛÛÛÛÛÛÛÛÛÛÛÛÛÛÛÛßß± ±Û ±Û±ÛÛÛ
°Û ÛÛ Û ßßÛÛÛÛÛÛÛÛÛÛÛÛÛÛÛÛÛÛÛÛÛÛÛÛÛÛÛÛÛÛÛÛÛÛßß °Û ÛÛ Û
± ÛÛÛ Û ßßÛÛÛÛÛÛÛÛÛÛÛÛÛÛÛÛÛÛÛÛÛÛÛÛÛÛß ²Û ÛÛÛÛ
Û°Û²ÛÛÛ °²ÛÛÛÛÛÛÛÛÛÛÛÛÛÛÛÛÛÛÛÛÛÛÛÜÜ ²Û °Û°Û
ßÛÛ²ÛÛÛ Û²²ÛÛÛÛÛÛÛÛÛÛÛÛÛÛÛÛÛÛÛÛÛÛÛÛÛÛÛÛ² ÛÛÛ ÛÛÛ±
²Û²°²Ü ÜÛÛÛÛÛÛÛÛÛÛÛ±ÛÛÛÛÛ ±ÛÛÛÛÛÛÛÛÛÛÛÛÛÛ ±±ÛÛÛ
±ÛÛÛ ²ÛÛÛÛÛ²ÛÛÛÛÛÛ² ÛÛÛÛÛ ²ÛÛÛÛÛÛÛÛÛÛÛ ±Û ÛÛÛ
ßÛÛ °ÜÛÛÛÛÛÛÛÛÛÛÛ² ²ÛÛÛÛÛÛ °ÜÛÛÛÛÛÛÛÛ±ÛÛ²±Û° ±Û±Û±
ÛÛ± °ÜÛ ÛÛÛ ÛÛÛÛÛÛÛܲ±ÛÛÛÛÛÛÛÛ ²ÛÛÛÛÛ²Û° ÛÛÛ± ÛÛÛ°
°ÛÛ ° ÛÛÛÛÛÛÛÛÛÛÛÛÛÛÛÛÛÛÛÛÛÛÛÛÛ²ÛÛÛÛ² ° ±ÛÛÛ
ÛÛ ÛÛÛÛÛÛÛÛÛÛÛÛÛÛÛÛÛÛÛÛÛÛÛÛÛÛÛÛÛÛÛÛÛÛ ÛÛÛ²
²Û± ²ÛÛÛÛÛÛÛÛÛÛÛÛÛÛÛÛÛÛÛÛÛÛÛÛÛÛÛÛÛÛÛÛÛÛ ÛÛÛ²Ü
ÛÛ ÛÛÛÛÛÛÛÛÛÛÛÛÛÛÛÛÛÛÛÛÛÛÛÛÛÛÛÛ²ÛÛÛÛÛÛÛ ÛÛÛÛÛÛÛÛ۲ܰ°
ÜÜÛÛÛÛÛÛ° ÛÛÛÛ²²ÛÛÛ²ÛÛÛÛÛÛÛÛÛÛÛÛÛÛÛÛÛÛÛÛÛ² ÛÛ° ÛÛÛÛ °ÛÛÛÛÛ²Û°
±ÛÛÛÛß Û² °ÛÛÛÛÛÛÛÛÛÛÛÛÛÛÛÛÛÛÛÛÛ²²ÛÛÛ± ÛÛÛÛ± ßÛÛ±
²ÛÛ Ü²ÛÛÛÜ ÛÛÛÛÛÛÛÛÛÛÛÛÛÛÛÛÛÛÛÛÛÛÛÛÛÛÛ °ÛÛÛÛÛÛÛÛÛ ²Û²
Û ÛÛÛÛÛÛ²ÛÛܱ °ÛÛÛÛÛÛÛÛÛÛÛÛÛÛÛÛÛÛÛÛÛÛÛÛÛÛÛÛ ²ÜÛÛÛÛÛÛÛÛÛ ÛÛ ±
°ÛÛÜ ÛÛÛÛÛÛÛÛÛÛÜ ²ÛÛÛÛÛÛÛÛÛÛÛÛÛÛÛÛÛÛÛÛÛÛÛÛÛÛÛ°ÜÜÛÛÛÛÛÛÛÛÛÛÛÛ± ÛÛ Û
²ÛÛÛ ÛÛÛÛÛÛÛÛÛÛÛÛÛ²ÛÛÛÛÛÛÛÛÛÛÛÛÛÛÛÛÛÛÛÛÛÛÛÛÛÛÛÛÛÛÛÛÛÛÛÛÛÛÛÛÛ² ±ÛÛ ±±
²ÛÛß ÛÛÛÛÛÛÛÛÛÛÛÛÛÛÛÛÛÛÛÛÛÛÛÛÛÛÛÛÛÛÛÛÛÛÛÛÛÛÛÛÛÛÛÛ²± ÛÛÛÛ
ÛÛ ²ÛÛÛÛÛÛÛÛÛÛÛÛÛÛÛÛÛÛÛÛÛÛÛÛÛÛÛÛÛÛÛÛÛÛÛÛÛÛÛÛÜ ÛÛ
ÛÛß Û²±ÛÛÛÛÛÛÛÛÛÛÛÛÛÛÛÛÛÛÛÛÛÛÛÛÛÛÛÛÛÛÛÛÛÛÛÛÛÛÛÛÛÛÛÛÛÛÛÛÜ ÛÛ
°ÛÛ± ÛÛÛÛÛÛÛÛÛÛÛÛÛÛÛÛÛÛÛÛÛÛÛÛÛÛÛÛÛÛÛÛÛÛÛÛÛÛÛÛÛÛÛÛÛÛÛÛÛÛÛÛÛ² ÛÛÛ
ÛÛ± ±ÛÛÛÛÛÛÛÛÛÛÛÛÛÛÛÛÛÛÛÛÛÛÛÛÛÛÛÛÛÛÛÛÛÛÛÛÛÛÛÛÛÛÛ²²ÛÛÛÛÛÛÛÛÛ± Û° °ÛÛÛ±
ÛÛÜ ÛÛÛÛÛÛÛÛÛÛÛÛÛÛÛÛÛÛÛÛÛÛÛÛÛÛÛÛÛÛÛÛÛÛÛÛÛÛÛÛÛÛÛÛÛÛÛÛÛÛÛÛÛÛÛ² Û ÜÛÛÛÛÛ
ßÛÛÜ°²±²ÛÛÛÛÛÛÛÛÛÛÛÛÛÛÛÛÛÛÛÛÛÛÛÛÛÛ²ÛÛÛÛÛÛÛÛÛÛÛÛÛÛÛÛÛÛÛÛÛÛÛÛÛÛÛÛÛÛÛÛÛ Û ±Û ° Û
ÛÛÛ ±ÛÛÛÛÛÛÛÛÛÛÛÛÛÛÛÛÛÛÛÛÛÛÛÛÛ²ÛÛÛÛÛÛÛÛÛÛÛÛÛÛÛÛÛÛÛÛ²ÛÛÛÛÛÛÛÛÛÛÛÛ ²°ÜÛÛ ß
°±Û ²Û² °ÛÛÛÛÛÛÛÛÛÛÛÛÛÛÛÛÛÛÛÛÛÛÛ²ÛÛÛÛÛÛÛÛÛÛÛÛÛÛÛÛÛÛÛÛÛÛÛÛÛÛÛÛÛÛÛÛÛÛÛÛÛÛÛ
ÜÛ ÛÛÛÛÛÛÛÛÛÛÛÛÛÛÛÛÛÛÛÛÛÛÛÛÛÛÛÛÛÛÛÛÛÛÛÛÛÛÛÛÛÛÛÛÛÛÛÛÛÛÛÛÛÛÛÛÛÛÛÛÛÛÛÛÛÛÛÛ ²
ÜÛÛÛÛÛÛÛÛÛÛÛÛÛÛÛÛÛÛÛÛÛÛÛÛÛÛÛÛÛÛÛÛÛÛÛÛÛÛÛÛÛÛÛÛÛÛÛÛÛÛÛÛÛÛÛÛÛÛÛÛÛÛÛÛÛÛÛÛÛÛ ÛÛÛ ß
ÛÛÛÛÛÛÛÛÛÛÛÛÛÛÛÛÛÛÛÛÛÛÛÛÛÛÛÛÛÛÛÛÛÛÛÛÛÛÛÛÛÛÛÛÛÛÛÛÛÛÛÛÛÛÛÛÛÛÛÛÛÛÛÛÛÛÛÛÛÛÛÛÛÛ²Û° Û
ÛÛÛÛÛÛÛÛÛÛÛÛÛÛÛÛÛÛÛÛÛÛÛÛÛÛÛÛÛÛÛÛÛÛÛÛÛÛÛÛÛÛÛÛÛÛÛÛÛÛÛÛÛÛÛÛÛÛÛÛÛÛÛÛÛÛÛÛÛÛÛÛÛÛÛÛÛÛÛ²
ÛÛÛÛÛÛÛÛÛÛÛÛÛÛÛÛÛÛÛÛÛÛÛÛÛÛÛÛÛÛÛÛÛÛÛÛÛÛÛÛÛÛÛÛÛÛÛÛÛÛÛÛÛÛÛÛÛÛÛÛÛÛÛÛÛÛÛÛÛÛÛÛÛÛÛÛÛÛÛÛ
ÛÛÛÛÛÛÛÛÛÛÛÜÛÛÛÛÛÛÛÛÛÛÛÛÛÛßßßÛÛÛÛÛÛÛÛßÜÛÛÛÛÛÛÛÛÛÛÛÛÛÛÛÛÛÛÛÛÛÛÛÛÛÛÛÛÛÛÛÛÛÛÛß ß²Û
ÛÛÛß Ü ßÛÛÛÛÛÛÛÛÛÛÛÛÛÛÛß Üܲ ÛÛÛÛ²ß ßÛÛÛÛÛÛÛÛÛÛÛÛÛÛÛÛÛÛÛÛÛÛÜÛÛÛÛÛß°ÛÛÛÛÛ² ²
°ÛÛ ß²ß Û²ßßßßÛÛßß²ÛÛß ÜÛÛÛÛ ÛÛÛ °ßÛÛ²ßßÛÛÛßßßÛÛÛßßßß²Û °ÛÛÛÛ° Û
Û° ßþ. ß ÛÛÛÛÛ Û² °Û²° ß .þß °ÛÛß
ÜÜÜ ² ÛÛÛÛÛ ² þ ÜÜÛ Ü
ÜÛÛÛÛ ÛÛÛÛÛ Û °ÜÛÛÛÛ
ÛÛÛÛÛ ÛÛÛÛÛ ÜÛÛÛÛ²
ÛÛÛÛÛ ÛÛÛÛÛ Ü ÛÛÛÛÛ°
ÛÛÛÛÛ² ÛÛ± ÛÛÛÛÛ ÜÛÛÜÜ ÜÛÛÛÛÛÛÜ ÛÛÛÛÛ ÜÛ°
ÛÛÛÛÛÛÛÛÛÛÛ² ÛÛÛÛÛ ÛÛÛÛÛÛÛÛÜ ÜÛÛÛÛÛÛÛÛÛ ÛÛÛÛÛ ÜÛÛÛ
ÛÛÛÛÛÛ ÛÛÛÛÛ ÛÛÛÛ² ÛÛÛ²ÛÛÛÛÛÛÛ ÛÛÛÛÛÛÛÛÛÛÛ± ÛÛÛÛÛ ÛÛÛÛ
ÛÛÛÛÛ° ±ÛÛÛÛ ÛÛÛÛ± ÛÛÛÛ ÛÛÛÛÛ ÛÛÛÛÛ ÛÛÛ² ÛÛÛÛÛ ÛÛ±
ÛÛÛÛÛ ÛÛÛÛ ÛÛÛÛ ÛÛÛÛ ÛÛÛÛÛ ÛÛÛÛÛ ÛÛÛÛÛ ÛÛÛ
ÛÛÛÛÛ ÛÛÛÛ ÛÛÛÛ ÛÛÛÛ ÛÛÛÛÛÛ ÛÛÛÛÛ ÛÛÛÛÛ ÛÛÛÛÛÜ
ÛÛÛÛÛÛÜ°ÛÛÛÛ ÛÛÛÛ²Ü ÛÛÛÛÜÛÛ ÛÛÛÛ ÛÛÛÛÛÛÜ ÜÛ ÛÛÛÛÛÛÛÛÛÛÛÛÛ
ÛÛÛÛÛÛÛÛÛÛÛ ÛÛÛÛÛÛÛ ÛÛÛÛÛß ÛÛÛÛ ÛÛÛÛÛÛÛÛÛ ÛÛÛÛÛ² ÛÛÛÛÛ
ÛÛÛÛß ßÛÛ ßÛÛÛß ÛÛÛÛ ÛÛÛÛÛ ßÛÛÛÛÛ² ÛÛÛÛÛ ÛÛÛ
Ûß Û ß ²ß Ûßß Û
ÜÛÛ² ܲÛ
ÜÛÛÛÛÛ ÜÛÛÛÛ
²Û ²ÛÛÛÛÛÛÛÛ² ²ÛÛÛÛÛ ²ÛÛÛÛÛ² ÛÛÛÛÛ ²ÛÛÛÛÛÛÛÛÛÛÛÛÛÛÛÛÛÛÛÛÛÛÛÛÛÛÛÛÛÛÛÛÛÛÛÛ² Û²
ÛÛÛÛ ÛÛÛÛÛ
ÛÛÛÛÛ
ÛÛÛÛ ÜÛÛÛÛ ÜÜÛÛ ÜÛÛÛÛÛÛÛÛ² ÜÛÛÛÛÛÛÛÛ ÛÛÛÛ °ÜÛÛÛ ÜÜÛÛÛÛÛÛÛÛÜ
ÛÛÛÛ ÛÛÛÛ ÜÛÛÛÛÛÛ ÛÛÛÛÛÛÛÛÛÛ² ²ÛÛÛÛÛÛÛÛÛÛ ÛÛÛÛÜÜÛÛÛ ÛÛÛÛ²ÛÛÛÛÛÛß
ÛÛÛÛÛÛÛÛß ÛÛÛÛÛÛÛ ÛÛÛÛ ÛÛÛÛ± ÛÛÛÛ ÛÛÛÛ² ÛÛÛÛÛÛÛß ÜÛÛÛÛß
ÛÛÛÛÛ ° ÛÛÛÛÛ ÛÛÛÛ ÛÛÛÛÛ± ÛÛÛÛÜ ÛÛÛ° ÛÛÛÛÛ ° ±ÛÛÛÛÛÛÛÛÛÜÜÜ
ÛÛÛÛ² ÛÛÛÛÛ ±ÛÛÛÛ ²ÛÛÛÛÛ± ÛÛÛÛ²ÛÛÛÛÛ ÛÛÛÛ² ± ÛÛÛÛÛÛÛÛÛÛÛÛÛ
ÛÛÛÛÛ ± ÛÛÛÛÛ ² ±ÛÛÛÛ Û ÛÛÛÛ² ÛÛÛÛ² ² ÛÛÛÛÛ ßßßÛÛÛÛÛÛÛÛÛ
± ÛÛÛÛÛÛÛ ²± ÛÛÛÛÛ Û °ÛÛÛÛÛ ÛÛÛÛÛ Ü ÛÛÛÛÛÜ ÜÛ Û ÛÛÛÛÛÛÛ ² Ü ßÛÛÛÛß
Û ÛÛÛÛÛÛß ²²² ÛÛÛÛÛ Û ÛÛÛÛ ÛÛÛÛÛ ² ²ÛÛÛÛÛÛÛÛ ÛÛ ÛÛÛÛÛÛ± ²² ÛÛÛÛÛÛÛÛÛÛÛß
ÛÛ ßÛÛÛÛ ÛÛÛ ÛÛÛÛÛ ÛÛ ÛÛß Û ßÛÛÛÛ ÛÜ °ßÛÛÛÛß ÛÛÛ ßÛÛÛÛ ÛÛ °ßÛÛÛÛÛÛÛß
ÛÛÛÛÜÜÜÜÜÜÛÛÛÛÛÜÜÜÜÜÜÜÛÛÜÜÜÜÛÛÛÛÜÜÜÜÜÜÛÛ² ÜÜÜÜÜÜÜÛÛÛÛÛÛÜÜÜÜÜÜÛÛÛÛ²ÜÜÜÜÜÜÜÜÜÜÜܲ
ÛÛÛÛÛÛÛÛÛÛÛÛÛÛÛÛÛÛÛÛÛÛÛÛÛÛÛÛÛÛÛÛÛÛÛÛÛÛÛÛÛÛÛÛÛÛÛÛÛÛÛÛÛÛÛÛÛÛÛÛÛÛÛÛÛÛÛÛÛÛÛÛÛÛÛÛÛÛÛÛ
ßÛÛÛÛÛÛÛÛÛÛÛÛÛÛÛÛÛÛÛÛÛÛÛÛÛÛÛÛÛÛÛÛÛÛÛÛÛÛÛÛÛÛÛÛÛÛÛÛÛÛÛÛÛÛÛÛÛÛÛÛÛÛÛÛÛÛÛÛÛÛÛÛÛÛßßßßÛ
ßÛÛÛÛÛÛÛÛÛÛÛÛÛÛÛÛÛÛÛÛÛÛÛÛÛÛÛÛÛÛÛÛÛÛÛÛÛÛÛÛÛÛÛÛÛÛÛÛÛÛÛÛÛÛÛÛÛÛÛÛÛÛÛÛÛÛÛß
ÛÛßÜÛÛÛÛÛÛÛÛÛÛÛÛÛÛÛÛÛÛÛßßßßßßÛÛÛßß ßßßßÛÛÛÛÛÛÛßßÛÛÛÛÛÛÛÛÛÛÛÛÛÛÛÛÛß|
Ü ß ßßßßßÛÛÛÛÛÛßßßß ßÝ ßÛßß ßßßÛÛÛÛßßß ß
ßÛß ß ÛÛ jer^dfs
ß ß ÞÝ
ß Ü
WindowTabs.v2012.12.20.Incl.Keygen-BRD


Cracked by...: BRD Cult Size.....: 1
Suplied......: BRD Cult Date.....: 12/24/2012
Packaged.....: BRD Cult Type.....: Keygen
Protection...: Custom Os.......: WinALL



ÜÜ Ü ÜÜÜÜ Ü Ü
ÜÛÛÛÛÛÛÜÜÜÜÜ ßß ÜÛÛÛ ßßÛÛÛÛÜÜÜÛÛÛÜÜÜÜÜÜÜ ß Ü ÜÜÜ ÛÛÜÜ Ü²ÛÛÛÛÛÜÛÛÛÛÛÛß
ßÛÛÛÛÛÛÛÛÛßÛÛÜÛÜÛÛÛÛÛÛ²ÛÛÛÛÛÛÛÛÛÛÛÛÛ²²ÛÛÛÛ ÛÛÛÛÜßÛÛÛÛÛÛÛÛÛÛÛÛßßÛÛÛÛÛÛÛÛÛ²ÛÛß
ßÛÛÛÛÛÛÛÛÛÛÛÛÛÛÛÛÛÛÛÛÛÛÛÛÛÛÛÛÛÛÛÛÛÛÛÛÛÛÛÛÛÛÛÛÛÛÛÛÛÛÛÛÛÛÛÛÛÛÛÛÛÛÛÛÛÛÛÛÛÛÛÛÛÛßßßßÛ
ßÛÛÛÛÛÛÛÛÛÛÛÛÛÛÛÛÛÛÛÛÛÛÛÛÛÛÛÛÛÛÛÛÛÛÛÛÛÛÛÛÛÛÛÛÛÛÛÛÛÛÛÛÛÛÛÛÛÛÛÛÛÛÛÛÛÛÛß
ÛÛßÜÛÛÛÛÛÛÛÛÛÛÛÛÛÛÛÛÛÛÛßßßßßßÛÛÛßß ßßßßÛÛÛÛÛÛÛßßÛÛÛÛÛÛÛÛÛÛÛÛÛÛÛÛÛß|
Ü ß ßßßßßÛÛÛÛÛÛßßßß ßÝ ßÛßß ßßßÛÛÛÛßßß ß
ßÛß ß ÛÛ
ß ß ÞÝ
ß DESCRiPTiON Ü

Organize your windows
Bring the productivity of tabbed window management to any
desktop application. Organize windows into groups by simply
dragging and dropping tabs, just like a tabbed browser.

Unclutter your taskbar
WindowTabs is fully integrated with the Windows 7 taskbar -
the taskbar buttons are grouped together along with your
windows.

Take it anywhere
Bring WindowTabs with you wherever you go. After purchase,
download the portable version to a USB device and launch it
on any PC or laptop - no install required.

Enhance any application
Add tabs to almost any desktop application including
Microsoft Office applications, Microsoft Outlook, Adobe
Reader, Adobe Photoshop, Windows Explorer, Internet Explorer,
Putty, Visual Studio...



URL: http://www.windowtabs.com/


ÜÜ Ü ÜÜÜÜ Ü Ü
ÜÛÛÛÛÛÛÜÜÜÜÜ ßß ÜÛÛÛ ßßÛÛÛÛÜÜÜÛÛÛÜÜÜÜÜÜÜ ß Ü ÜÜÜ ÛÛÜÜ Ü²ÛÛÛÛÛÜÛÛÛÛÛÛß
ßÛÛÛÛÛÛÛÛÛßÛÛÜÛÜÛÛÛÛÛÛ²ÛÛÛÛÛÛÛÛÛÛÛÛÛ²²ÛÛÛÛ ÛÛÛÛÜßÛÛÛÛÛÛÛÛÛÛÛÛßßÛÛÛÛÛÛÛÛÛ²ÛÛß
ßÛÛÛÛÛÛÛÛÛÛÛÛÛÛÛÛÛÛÛÛÛÛÛÛÛÛÛÛÛÛÛÛÛÛÛÛÛÛÛÛÛÛÛÛÛÛÛÛÛÛÛÛÛÛÛÛÛÛÛÛÛÛÛÛÛÛÛÛÛÛÛÛÛÛßßßßÛ
ßÛÛÛÛÛÛÛÛÛÛÛÛÛÛÛÛÛÛÛÛÛÛÛÛÛÛÛÛÛÛÛÛÛÛÛÛÛÛÛÛÛÛÛÛÛÛÛÛÛÛÛÛÛÛÛÛÛÛÛÛÛÛÛÛÛÛÛß
ÛÛßÜÛÛÛÛÛÛÛÛÛÛÛÛÛÛÛÛÛÛÛßßßßßßÛÛÛßß ßßßßÛÛÛÛÛÛÛßßÛÛÛÛÛÛÛÛÛÛÛÛÛÛÛÛÛß|
Ü ß ßßßßßÛÛÛÛÛÛßßßß ßÝ ßÛßß ßßßÛÛÛÛßßß ß
ßÛß ß ÛÛ
ß ß ÞÝ
ß iNSTALL NOTES Ü

Install the program and use our keygen.
Enjoy!




ÜÜ Ü ÜÜÜÜ Ü Ü
ÜÛÛÛÛÛÛÜÜÜÜÜ ßß ÜÛÛÛ ßßÛÛÛÛÜÜÜÛÛÛÜÜÜÜÜÜÜ ß Ü ÜÜÜ ÛÛÜÜ Ü²ÛÛÛÛÛÜÛÛÛÛÛÛß
ßÛÛÛÛÛÛÛÛÛßÛÛÜÛÜÛÛÛÛÛÛ²ÛÛÛÛÛÛÛÛÛÛÛÛÛ²²ÛÛÛÛ ÛÛÛÛÜßÛÛÛÛÛÛÛÛÛÛÛÛßßÛÛÛÛÛÛÛÛÛ²ÛÛß
ßÛÛÛÛÛÛÛÛÛÛÛÛÛÛÛÛÛÛÛÛÛÛÛÛÛÛÛÛÛÛÛÛÛÛÛÛÛÛÛÛÛÛÛÛÛÛÛÛÛÛÛÛÛÛÛÛÛÛÛÛÛÛÛÛÛÛÛÛÛÛÛÛÛÛßßßßÛ
ßÛÛÛÛÛÛÛÛÛÛÛÛÛÛÛÛÛÛÛÛÛÛÛÛÛÛÛÛÛÛÛÛÛÛÛÛÛÛÛÛÛÛÛÛÛÛÛÛÛÛÛÛÛÛÛÛÛÛÛÛÛÛÛÛÛÛÛß
ÛÛßÜÛÛÛÛÛÛÛÛÛÛÛÛÛÛÛÛÛÛÛßßßßßßÛÛÛßß ßßßßÛÛÛÛÛÛÛßßÛÛÛÛÛÛÛÛÛÛÛÛÛÛÛÛÛß|
Ü ß ßßßßßÛÛÛÛÛÛßßßß ßÝ ßÛßß ßßßÛÛÛÛßßß ß
ßÛß ß ÛÛ
ß ß ÞÝ
ß GROUP NOTES Ü


Team BRD is not responsible for the bad usage of this product.
This release is for EVALUATION PURPOSES ONLY.
if you like it, u MUST buy it, Software Authors deserve support!.

Remember, this is an INTERNAL SCENE RELEASE, we DONT support
the spread of this rls over web or p2p networks.


The Black Riders Cult is looking for:

<.> Experienced Crackers, Unpackers and keygenners.
<.> Software Suppliers.


t h e b r d [at] m a i l [dot] r u


° Ü ß²ÛÛß °°° °° ÜÜÜÜÜÜÜÜÜ ° ° °° ° ß Ü °
ܲÜÜ Ü ß²ß ° °°° ÜÜÜÜÛÛ ÛÛÜÜÜÜ °° ° ߲߰ Ü ÜܲÜ
°ÜÛÛß Ü °° °°° ÜÜÛÛÛÛ°²² ÛÛÛÛÛÛ ° ÛÛÛÛÛÛ ²²°ÛÛÛÛÜÜ °° Ü ßÛÛÜ°
²ÛÛÛÛÜ ÜÜÛÛÛÛßßßßßÛÛÛÛÛÛ°ÛÛ ÛÛÛÛÛÛ °°° ÛÛÛÛÛÛ ÛÛ°ÛÛÛÛÛÛßßßßßÛÛÛÛÜÜ ÜÛÛÛÛ²°
ÛÛÛÛÛÛÛ ÛÛÛÛÛÛ°ÛÛÛ ÛÛÛÛÛÛ°ÛÛ ÛÛÛÛÛÛ ²Û² ÛÛÛÛÛÛ ÛÛ°ÛÛÛÛÛÛ ÛÛÛ°ÛÛÛÛÛÛ ÛÛÛÛÛÛÛ°
ÛÛÛÛÛÛÛ ÛÛÛÛÛÛ°ÛÛÛ ÛÛÛÛÛÛ°ÛÛ ÛÛÛÛÛÛ ÛÛÛ ÛÛÛÛÛÛ ÛÛ°ÛÛÛÛÛÛ ÛÛÛ°ÛÛÛÛÛÛ ÛÛÛÛÛÛÛ°
°ÛÛÛÛÛÛ ÛÛÛÛÛÛ°ÛÛÛ ÛÛÛÛÛÛ°ÛÛ ÛÛÛÛÛÛÜÜÜÜÜÛÛÛÛÛß ÛÛ°ÛÛÛÛÛÛ ÛÛÛ°ÛÛÛÛÛÛ ÛÛÛÛÛÛ°
°ßÛÛÛÛÛ ÛÛÛÛÛÛÜÜÜÜÜÛÛÛÛß ÛÛ ÛÛÛÛÛÛÛÛÛÛÛÛÛÛß ÛÛ°ÛÛÛÛÛÛ ÛÛÛ°ÛÛÛÛÛÛ ÛÛÛÛÛß°
°ÛÛÛÛÛ ÛÛÛÛÛÛÛÛÛÛÛÛÛß ÛÛ ÛÛÛÛÛÛßßßßßÛÛÜÜÜ ÛÛ°ÛÛÛÛÛÛ ÛÛÛ ÛÛÛÛÛÛ ÛÛÛÛÛ°
°ßÛÛÛÛ ÛÛÛÛÛÛßßßßßÛÛÛÛ °ÛÛ ÛÛÛÛÛÛ ÛÛÛ ÛÛÛÛÛÛ ÛÛ°ÛÛÛÛÛÛ ÛÛÛ°ÛÛÛÛÛÛ ÛÛÛÛß°
°ÛÛÛÛ ÛÛÛÛÛÛ°ÛÛÛ ÛÛÛÛÛÛ°ÛÛ ÛÛÛÛÛÛ ÛÛÛ ÛÛÛÛÛÛ ÛÛ°ÛÛÛÛÛÛ ÛÛÛ°ÛÛÛÛÛÛ ÛÛÛÛ°
°ÛÛÛÛ ÛÛÛÛÛÛ°ÛÛÛ ÛÛÛÛÛÛ°ÛÛ ÛÛÛÛÛÛ ÛÛÛ ÛÛÛÛÛÛ ÛÛ°ÛÛÛÛÛÛ ÛÛÛ°ÛÛÛÛÛÛ ÛÛÛÛ°
ÛÛÛÛ ÛÛÛÛÛÛ°ÛÛÛ ÛÛÛÛÛÛ°ÛÛ ÛÛÛÛÛÛ ²Û² ÛÛÛÛÛÛ ÛÛ°ÛÛÛÛÛÛ ÛÛÛ°ÛÛÛÛÛÛ ÛÛÛÛ°
ÛÛÛÛ ÛÛÛÛÛÛ°ÛÛÛ ÛÛÛÛÛÛ°ÛÛ ÛÛÛÛÛÛ ²²² ÛÛÛÛÛÛ ÛÛ°ÛÛÛÛÛÛ ÛÛÛ°ÛÛÛÛÛÛ ÛÛÛÛ°
°ÛÛÛÛ ßßÛÛÛÛÜÜÜÜÜÛÛÛÛÛÛ°ÛÛ ÛÛÛÛÛÛ °°° ÛÛÛÛÛÛ ÛÛ°ÛÛÛÛÛÛÜÜÜÜÜÛÛÛÛßß ÛÛÛÛ
°ÛÛÛÛÛÛÜÜÜÜÜÜÜÜÜ ßßÛÛÛÛ°ÛÛ ÛÛÛÛÛÛ ° ÛÛÛÛÛÛ ÛÛ°ÛÛÛÛßß ÜÜÜÜÜÜÜÜÜÛÛÛÛÛÛ°
²ÛÛÛÛÛÛÛÛÛÛÛÛÛÛÛÛÜÜÜÜÜÜÛÛ ßßßßÛÛ ÛÛÛßßß ÛÛÜÜÜÜÜÜÛÛÛÛÛÛÛÛÛÛÛÛÛÛÛÛÛ
ÛÛÛÛÛÛÛÛÛÛÛÛÛÛÛÛÛÛÛÛÛÛÛÛÛÛÛÛÛ ßß ßß ÜÛÛÛÛÛÛÛÛÛÛÛÛÛÛÛÛÛÛÛÛÛÛÛÛÛÛÛÛ
ßÛÛÛÛÛÛÛÛÛÛÛÛÛÛÛÛÛÛÛÛÛÛÛÛÛÛÛÛÛÛÛÛÛÛÛÛÛÛÛÛÛÛÛÛÛÛÛÛÛÛÛÛÛÛÛÛÛÛÛÛÛÛÛÛÛÛÛß
ÛÛßÜÛÛÛÛÛÛÛÛÛÛÛÛÛÛÛÛÛÛÛßßßßßßÛÛÛßß ßßßßÛÛÛÛÛÛÛßßÛÛÛÛÛÛÛÛÛÛÛÛÛÛÛÛÛß|
Ü ß ßßßßßÛÛÛÛÛÛßßßß ßÝ ßÛßß ßßßÛÛÛÛßßß ß
ßÛß ß ÛÛ jer^dfs
ß ß ÞÝ
ß Ü
you will never defeat the riddle of the black riders..

Keygen/Keygen.exe:FCAB92DC
Setup/WindowTabs.exe:F9AD0BD3

这里是其它用户补充的资源(我也要补充):
暂无补充资源