中文名: CAD电气原理图形工具
英文名: ProfiCAD
资源格式: 压缩包
版本: v7.3.1 Multilingual
发行时间: 2012年
简介: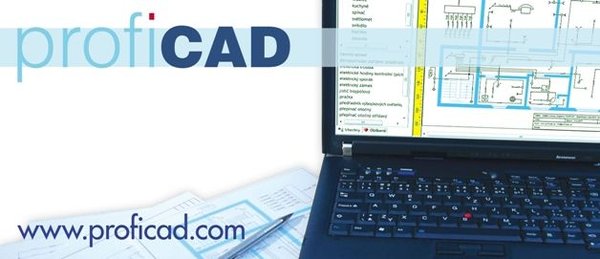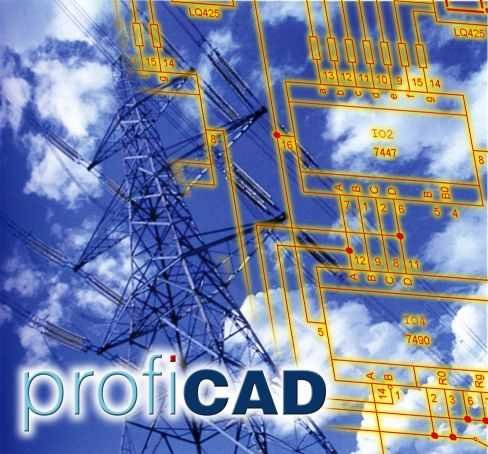 软件类型:软件>行业软件
软件性质:破解软件
操作系统:Windows
应用平台:Windows XP, Vista or 7
问题反馈:http://www.proficad.com/support.aspx
网站链接:http://www.proficad.com/
软件介绍:

ProfiCAD是最快和最简单的方法来创建电子文件和电路图。ProfiCAD是很容易学习和使用的一个专业工具。

ProfiCAD - 电气原理图编辑器

ProfiCAD是专为电气和电子图,原理图,控制电路图的绘制,也可以用于气动,液压和其他类型的技术图表。

最简单的CAD电路。人体工程学和易用性。电气符号的绘图和连接电线。

您可以轻松地创建您自己的符号,在符号编辑器,或者让他们为你绘制。支持自动编号的符号,生成的网表,列出了电线,物料清单,绘制的条纹线和更先进的功能。

现代编程结构+先进的优化技术,CPU,磁盘空间和预算要求低。

系统要求:Windows XP中,Vista或7,15 MB的磁盘空间。







资源更新列表


http://www.VeryCD.com/i/5190747/create/fol...postTime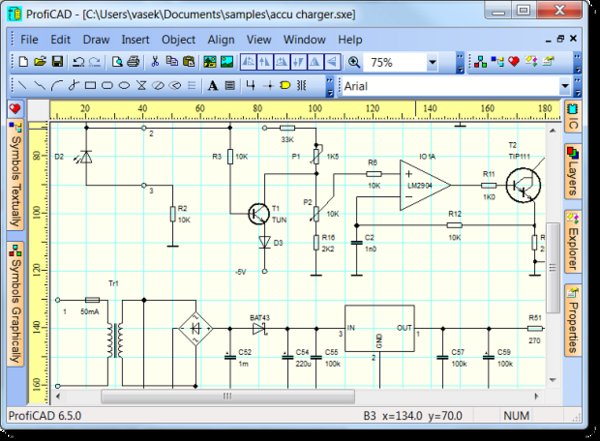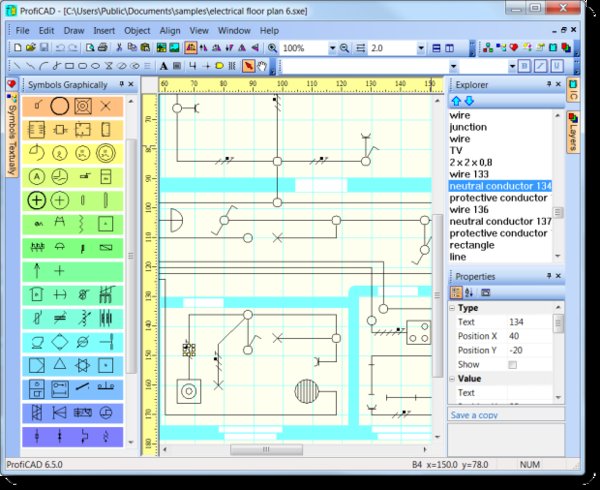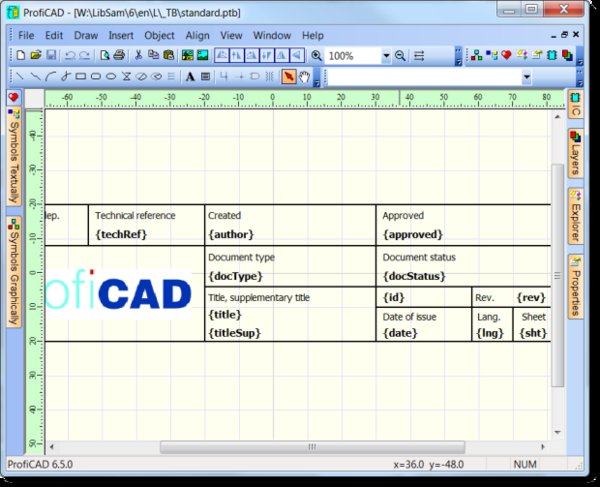 Features of ProfiCAD - electrical diagrams editor

ProfiCAD is designed for drawing of electrical and electronic diagrams, schematics, control circuit diagrams and can also be used for pneumatics, hydraulics and other types of technical diagrams.

The easiest CAD for electrical circuits. Maximum care was paid to ergonomics and ease of use. Just place electrical symbols into the drawing and attach the wires.

Ships with more than one thousand symbols. You can easily create your own symbols in the symbols editor or have them drawn for you for a fee.

Supports automatic numbering of symbols, generation of netlists, lists of wires, bills of material, drawing of striped wires and further advanced features.

Modern programming architecture + advanced optimizations = low demands on CPU, disk space and the budget.

System requirements: Windows XP, Vista or 7, 15 MB of disk space.

The title block designed in accordance with ISO 7200 can be easily adapted, for example by inserting the logo of your company. Or you can create your own in the title block editor.

The program was translated into many languages​​, which will facilitate cooperation with international partners. Drawings can be exported into the DXF format.

The non-commercial (home) edition is distributed free of charge and has some limitations: it does not support the bill of material, netlist, list of wires, reference grid, title block editor and some other limitations.



代码

ßÜ
ÛÜ
ßÛÜ
ÛÛ
ÜÛÛÛ ßÜ
Ü ÛÛÛß ßÛÜ
ßÜ ÛÛÛß ßÛÛ
ßÛÜ ÜÛÛÛÛÜ ÜÛÛ
ÛÛÜ ÛÛÛÛÛÛ ÛÛ
Ü ÛÛ ßÛÛÛÛÛÛ ÛÛÛ
ßÛ ßÛÛ ßÛÛÛÛÛ ÛÛÛß
ÛÛÜ ÛÛÛ ÛÛÛÛÛ ÛÛÛ
ÛÛÜÜ ÛÛÜ ÜÛÛÛÛÛß Üß ÛÛÛ
ßÛÛÛÛÛÛÛÛÛÛÛÛÛÛß ÜÛ ÛÛÛ
ßÜÜ ßÛÛÛÛÛÛÛÛÛÛÛÛÛ ÛÛÜ ÛÛÛ Ü
ÛÛÜ ÜÛÛÛÛÛÛÛÛÛÛÛÛÛ ßÛÛÜ ÜÛÛÛ ÜÛß
ßÛÛÜ ÛÛÛÛÛÛÛÛÛÛÛÛÛÛÛ ÛÛÛÛÛÛÛÛÛ ÜÜÜÛÛÛß
ßÛÛÜ ÜÛÛÛÛÛÛÛÛÛÛÛÛÛÛÛÛÜ ÛÛÛÛÛÛÛß ÜÛÛÛÛÛß
ÛÛÛÛÜÜÛÛÛÛÛÛÛÛÛÛÛÛÛÛÛÛÛÛÛÜ ÛÛÛÛÛß ÛÛÛÛÛß
ßÛÛÛÛÛÛÛÛÛÛÛÛÛÛÛÛÛÛÛÛÛÛÛÛÛ ÛÛÛÛ ÛÛÛÛÛß
ÛÛÛÛÛÛÛÛÛÛÛÛÛÛÛÛÛÛÛÛÛÛÛÛÛÜ ÛÛÛÛ ÛÛÛÛÛ
ÛÛÛÛÛÛÛÛÛÛÛÛÛÛÛÛÛÛÛÛÛÛÛÛÛÜ ÜÛÛÛÛÜ ßÛÛÛÛ
ÛÛÛÛÛÛÛÛÛÛÛÛÛÛÛÛÛÛÛÛÛÛÛÛÛÛÛÛÛÛÛÛÛÛ ßÛÛÛÛ
ßßÛÛÛÛÛÛÛÛÛÛßßßß ßßßÛÛÛÛÛÛÛÛÛÛÛÛ ÛÛÛÛÛÛÜ
ßßßßßß ßÛÛÛÛÛÛÛÛÛÛÛÜÜÛÛÛÛÛÛÛÛ
ÛÛÜÜÜÜÜÜ ÜÜÜÜÜÜÜÜÜÜÜ ßßÛÛÛÛÛÛÛÛÛÛÛÛÛÛÛÛÛß ÜÜ
ßÛÛÛÛÛÛÛÛÛÛÛÛÛÛÛÛÛÛÛÛÛÛÜÜ ßßÛÛÛÛÛÛÛÛÛÛÛÛÛÛ ÜÛÛßß
ßÛÛÛÛÛÛÛÛÛÛÛÛÛÛÛÛÛÛÛÛÛÛÛÛÜ ßÛÛÛÛÛÛÛÛÛÛÛß ÜÛÛß
ÛÛÛßÛÛÛÛÛÛÛÛÛÛÛÛÛÛÛÛÛÛÛÛÛÛÜ ßÛÛÛÛÛÛÛÛÛÜ ÜÛÛß
ßÛÛ ßßßßß ÛÛÛÛÛÛÛÛÛÛÛÛÛÛÛÜ ÛÛÛÛÛÛÛÛÛÛÛÛÛÛÛ
ßÛÜ ÜÛÛÛÛÛÛÛÛÛßßÛÛÛÛÛÛÛÜ ßÛÛÛÛÛÛÛÛÛÛÛÛÛ
ASCII by ßÛ ÛÛÛÛÛÛÛÛß ßÛÛÛÛÛÛÛÜ ßÛÛÛÛÛÛÛÛÛÛÛÜ
ÛÜ ÛÛÛÛÛÛÛß ßÛÛÛÛÛÛÛÜ ßÛÛÛÛÛÛÛÛÛÛÛ
flat/sUx ßÜ ÛÛÛÛÛÛß ßÛÛÛÛÛÛÛÛ ÛÛÛÛÛÛÛÛÛÛÜ
ÜÜ ÛÛÛÛÛÛ ÜÛÛÛÛÛÛÛÛÛÛÜ ßÛÛÛÛÛÛÛÛÛ
ÜÜÛÛÛÛÜ ÛÛÛÛÛß ß ßÛÛÛÛÛÛÛÛÛÛÜ ßÛÛÛÛÛÛÛÜ
ÜÛÛÛÛÛÛÛÛÜ ßÛÛÛÛ ßÜÜÛÛÛÛÛÛÛÛÛÛÛÛÜ ßÛÛÛÛÛÛÛÜ
ÜÛÛÛÛÛÛÛÛÛÛÛÜ ÛÛÛÛ ßÛÛÛÛÛÛÛÛ ßÛÛÛÛÛÛÜ ßßÛÛÛÛÛÛÜ
ÜÛÛÛÛÛÛÛÛÛÛÛßßß ßÛÛÛÛ ßÛÛÛßß ßÛÛÛÛÛÛÜ ßßßßßßß
ÛÛÛÛÛÛÛÛÛßß ßÛÛÛÜ ßÛÛÛÛÛÛÜÜ
ÜÛÛÛÛÛÛÛß ßÛÛ ÜÛÛÛÛÛÛÛÛÛÛÜ
_ÛÛÛÛÛÛß ÜÜ ßÜ ÜÜÛÛÛÛÛÛÛÛÛÛÛßßß
ÛÛÛÛÛÛß ÜÛÛÛÛÜ ß ÜÜÛÛÛÛÛÛÛÛÛÛÛßß
ÛÛÛÛÛß ÜÛÛÛÛÛÛÛÛÜ ÜÜÜÛÛÛÛÛÛÛÛÛÛßßß
ÛÛÛÛÛß ÜÛÛÛÛÛÛÛÛÛÛÛÛÜ ÜÜÛÛÛÛÛÛÛßßßßßß ÜÜ
ÛÛÛÛß ÜÛÛÛÛÛÛÛÛÛÛÛÛß ÜÛÛÛÛÜ
ÛÛÛÛ ÛÛÛÛÛÛÛÛÛÛÛÛß ßÛÛÛÛÛÛÜ
ßÛÛß ÛÛÛÛÛÛÛÛÛÛÛß ÜÜÜÜÜÜÜÜÜÜÜ ßÛÛÛÛÛÜ
ÛÛ ÜÛÛÛÛÛÛÛÛÛß ÜÜÜÛÛßßßß ßßÛÜ ßÛÛÛÛÛÜ
ßÛ ÛÛÛÛÛÛÛÛÛ ÜÜÛÛßß ßÜ ßÛÛÛÛÛ
ÛÜ ÛÛÛÛÛÛÛÛÛ ÜÛÛß ßÛÛÛÛ
ßÛ ÛÛÛÛÛÛÛÛ ÜÛÛß ÛÛÛÛ
ßÜ ÛÛÛÛÛÛÛ ÜÛÛÛß ßÛÛÛ
ÛÛÛÛÛÛÛß ÜÛÛÛÛ ÛÛÛ
ÛÛÛÛÛÛÛ ÜÜÜÜÜÜ ÛÛÛÛ ÜÛÛß
ÛÛÛÛÛÛß ßÛÛÛÛ ÜÛÛÜ ÛÛÛÛ ÛÛß
ßÛÛÛÛÛ ßÛÛÛ ÜÛßÛÛÛß ÛÛÛÛÜ ÜÜÛÛÛÛÛÜÜ Ûß
ÛÛÛÛÛ ÛÛÛÛß Ûß ßÛÛÛÛÜ ÜÛÛßß ßßÛÜ Ûß
ßÛÛÛÛ ÛÛß ßÛÛÛÛÜ ÛÛÛß ÛÛÜ ÜÛß
ÛÛÛÛ ÛÛ ßÛÛÛÛÜ ßÛÛÜ ÛÛÜ
ßÛÛÛ ÛÛ ßÛÛÛÛÜ ßÛÛÜ ÛÛÛ
ÛÛÛÜ ßÛ ßßÛÛÛÜÜ ßÛÛÜÜß ÛÛÛß
ÛÛÛ Û ßßßÛÛÜÜÜ ÛÛÛß
ßÛÛ ß rG ßßßÛÛÜÜÜÜÛÛÛß
ßÛÜ since 2ooo ÛÛÛß
ÛÜ ÛÛÛ
ßÜ PROUDLY TO PRESENT: ÜÛß
Ä ÄÄ ÄÄÄÄÄÄÄÄÄÄÄÄÄÄÄÄÄÄÄÄÄÄÄÄÄÄÄÄÄÄÄÄÄÄÄÄÄÄÄÄÄÄÄÄÄÄÄÄÄÄÄÄÄÄÄÄÄÄÄÄÄ ÄÄ Ä
ProfiCAD v7.3.1 (c) proficad
Ä ÄÄ ÄÄÄÄÄÄÄÄÄÄÄÄÄÄÄÄÄÄÄÄÄÄÄÄÄÄÄÄÄÄÄÄÄÄÄÄÄÄÄÄÄÄÄÄÄÄÄÄÄÄÄÄÄÄÄÄÄÄÄÄÄ ÄÄ Ä
RLS.DATE.: 12/2012 SUPPLiER...: rG ßÛ
YEAR.....: 2012 CRACKER....: rG ßÛ
SiZE.....: 02x5.00MB PACKAGER...: rG ß
TYPE.....: appz/cad PROTECTiON.: Licence
OS.......: WinAll LANGUAGE...: Multi 16

http://www.proficad.com

Ä ÄÄ ÄÄÄÄÄÄÄÄÄÄÄÄÄÄÄÄÄÄÄÄÄÄÄÄÄÄÄÄÄÄÄÄÄÄÄÄÄÄÄÄÄÄÄÄÄÄÄÄÄÄÄÄÄÄÄÄÄÄÄÄÄ ÄÄ Ä
RELEASE iNFO
Ä ÄÄ ÄÄÄÄÄÄÄÄÄÄÄÄÄÄÄÄÄÄÄÄÄÄÄÄÄÄÄÄÄÄÄÄÄÄÄÄÄÄÄÄÄÄÄÄÄÄÄÄÄÄÄÄÄÄÄÄÄÄÄÄÄ ÄÄ Ä
ProfiCAD is designed for drawing of electrical and
electronic diagrams, schematics, control circuit diagrams
and can also be used for pneumatics, hydraulics and other
types of technical diagrams.

Multi 16 = CZ, DE, EN, ES, FR, GR, CN, IT
JP, HU, NL, PL, PT, RO, RU, SK


INSTALLATiON:
Unpack, install, apply patch, enjoy...

Merry x-mas

Note: Setup seems to be only in CZ language. So during
setup just click "Dalsi" button 3 times, then "Instalovat"
and then "Dokoncit". Run program, press F12 and in setup
(Nastaveni) go to System - Ostatni, choose your language in
"Jazykove prostredi", press OK and restart program.



* IF YOU LiKE iT - BUY iT! *


Ä ÄÄ ÄÄÄÄÄÄÄÄÄÄÄÄÄÄÄÄÄÄÄÄÄÄÄÄÄÄÄÄÄÄÄÄÄÄÄÄÄÄÄÄÄÄÄÄÄÄÄÄÄÄÄÄÄÄÄÄÄÄÄÄÄ ÄÄ Ä
ABOUT OUR CREW
Ä ÄÄ ÄÄÄÄÄÄÄÄÄÄÄÄÄÄÄÄÄÄÄÄÄÄÄÄÄÄÄÄÄÄÄÄÄÄÄÄÄÄÄÄÄÄÄÄÄÄÄÄÄÄÄÄÄÄÄÄÄÄÄÄÄ ÄÄ Ä

Nase rls jsou delane jen na vyzkouseni. Nepodporujeme zadne
komercni zneuziti a neprejeme si sirit nase rls ci keygeny
pres p2p ci web. Pokud program chcete komercne vyuzivat, tak
si ho kupte. Nase rls jsou delane pouze pro zabavu.


We do thiS for fun and only for the Scene. If u don't like
the Stuff we releaSe juSt don't leech it. rG iS a Small group
of hardworking memberS baSed on friendShip and loyalty,
Serving the Scene Since 2000 appS, gameS comixS and dvdS.

GreetS fly out to our friendS and supporterS,you know who you
are.

For p2p-networkS people and other lamerS: pleaSe die, gracia!

Don't try to contact us we don't need you.

We are missing you forever, Jakub.


ÜÜßßßßßßßßßßßßßßßÜÜ
Üß ßÜ ÜÜÜÜÛÛÛÜÜÜ
Û ENJOY THiS GREAT Û ÜÛÛÛÛÛÛÛÛßÛÛÛÜ
Û Û ÛÛÛÛÛÛÛÛÛÛ ÛÛÛÛÜ
Û RELEASE FROM rG! Û ÜÛÛÛÛÛÛÛÛÛÛÛÛÛÛß ßÛÛÜ
ßÜ Üß ÛÛÛÛÛÛÛÛÛÛÛÛÛÛÛ ÛÛ
ßÜÜ ÜÜÜÜÜÜÜÜÜÜÜß ÛÛÛßÛÛÛÛÛÛÛÛÛÛÛÛÜ ÛÛÜ
ßÜ Û ÛÛÛ Ü ßßßßßßßßÛÛÛÛÛÜÜÛÛÛ
ßÜ ßÜ ÛÛß ßÜ ßÛÛÛÛß ÛÛÛ
ßÜ ßÜ ÛÛ ßÛÜÜÛ ßÛÛÛÛ_ÛÛÛ
ßÜÜ ßÜ ÛÛÜ ÛÜ ßÛÛÛÛÛß
ßßßßß ÛÛ ßÛÜÛ ÛÛÛ
ÜÛÛÛÛ ßÜ ßÜ ÛÛÛÛ
ÜÛÛ ßÛÜ ÛßßÜÜ ÜÜÜÜ_ÛÛÛÛÛÛ
ÛÛ ßÛÛÜßÛÜÜÛßÜÛßßßßÛÛÛÛ ßÛÛ
ÛÛ ßÛÛÜÜ ÜÛ ÛÛ ÛÛÛ
ÛÛ ßßÛÛÛÛß ÛÛÛ ÜÛÛÛ
ÛÛÛÛÛÜ ÜÜÜÜÜÛß ÛÛÛÛÛÛÛÛ
ÜÛÛßß ÜÛÛßßßßÛÛ ÛÛÛÛ ÛÛß
ÛÛß ÛÛß ÜÛß ÛÛÛÛÛÛÛÛÛ
ÛÛ ÜÛ ÜÛÜÜÛß ÛÛÛÛÛÛÛÛÛß
ÛÛßÛ Ûß Û ÜÛß ÜÛÛÛÛÛÛßß
ÛÜÜÛ ÛÜ ÛÛÛÛ ÜÛßÛÛßß
ßÛÛß ßÛ ÛÛ Ûß ÛÛ
ÛÛÜ ÛÛ Ûß Ûß ßÛÜ
ßÛÛÜÜÜÜÛÛÜÛ Ûß ÛÛ
ßßÛÛßßÛÛ ÜÛ ÛÛ
ÛÛ ÜÛß ÜÛ ÛÛ
ÛÛÜÛß ÜÛß ÛÛÜ
ÛÛÛß ÜÛß ßÛÛÛÜ
ÛÛÛ ÜÛß ßÛÛÜ
ÜÜÛÛß ÜÛÛÛÜ ÛÛÜ
ÜÜÛÛÛÛ ÜÛÛÛßß ÛÛÜ
ÜÜÛÛÛßÛÛ ÜÜÜÛÛßß ÛÛÛ
ÜÜÛÛÛßß ÛÛÛÛÛßß ÛÛ
ÜÜÛÛÛßß ÜÜÛÛÛßß ÜÛß
ÜÜÛÛÛßß ÜÜÛÛßßß ÛÛ
ÜÛÛÛßß ÜÜÛÛßß ÜÛÛ
ÜÛÛßß ÜÛßß ÜÜÜÛÛÜ
ÜÛÛß ÛÛß ÜÜÜÜÛÛÛÛÛÛÛÛÛÛÛÜ
ÛÛÛ ÛÛß ÜÜÜÛÛÛÛßßßßßßßßß ßÛÛ
ÛÛß ÛÛÜ ÜÜÜÜÛÛÛßßßß ÛÛ
ßÛÛ ÛÛ ßÛÛßßßß ÛÜ
ÛÛÜ ßÛÜ ÜÛ ÛÜ
ÛÛÛÜÜ ßÛÛÜ ÜÛÛÛ ßÜ ASCII BY
ßÛÛÛÛÛÛÛÛÛÛÛÛÛÛÛÛÛÛÛÛÛÛÛÛÛÛÛÛÛÛÛÛÛÛÛÛÛÛÛÛÛÛÛÛß ÛÛÛÛÛÛÛ flat
ßßßßßßßßßßßßßßßßßßßßßßßßßßßßßßßßßßßßßßßßß ßßßßß


这里是其它用户补充的资源(我也要补充):
暂无补充资源