中文名: 注册表优化和管理软件
英文名: Foryoursoft Registry Help Pro
资源格式: 压缩包
版本: v1.8.1.1
发行时间: 2012年
简介: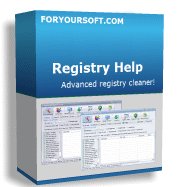 软件类型:软件>系统工具
软件性质:破解软件
操作系统:Windows
应用平台:Windows XP/Vista/7/8 32-bit and 64-bit
问题反馈:http://www.foryoursoft.com/support.htm
网站链接:http://www.foryoursoft.com/reghelp/index.htm
软件介绍:

Foryoursoft Registry Help Pro 是一款高级的 Windows 注册表优化和管理软件。可对注册表进行检查和修补,搜寻,备份,比较,浏览和编辑的操作。







资源更新列表


http://www.VeryCD.com/i/5190747/create/fol...postTime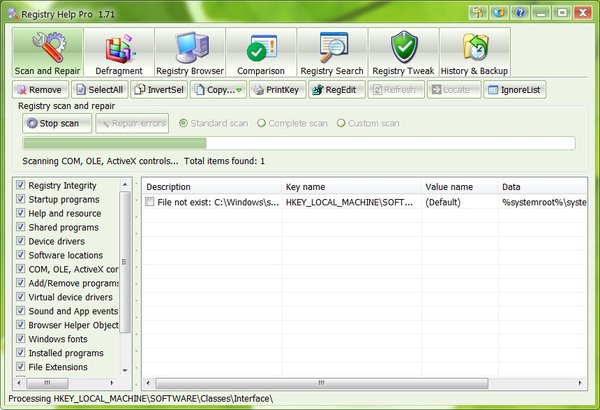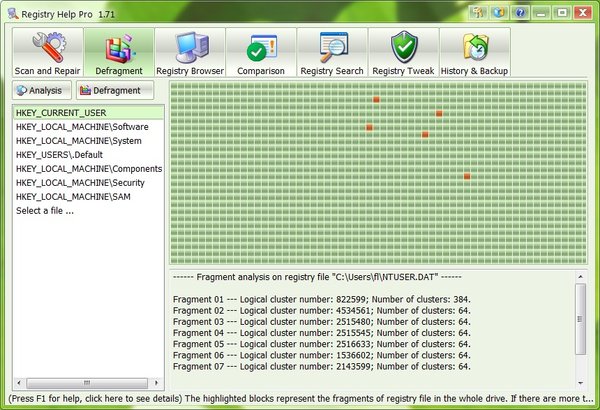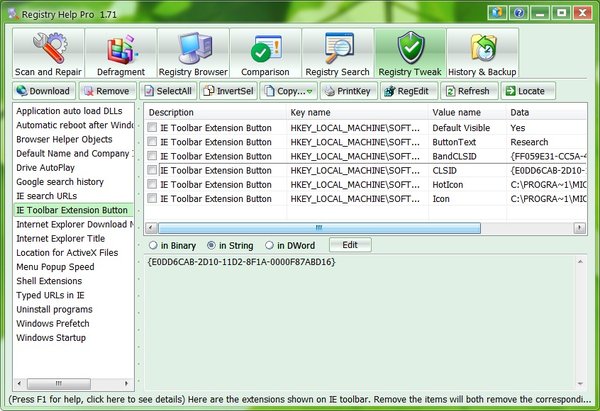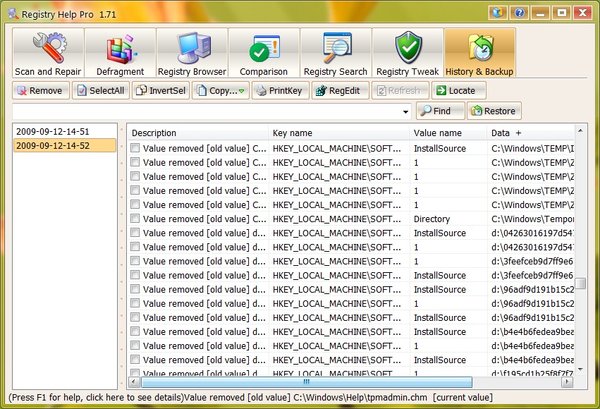 Registry Help - Free Registry Cleaner and Registry Optimizer

Just with a few clicks, Registry Help can clean and repair your registry, defrag your registry files, speed up your computer, and optimize your system.

It is safe! Registry Help will backup all the registry operations you made in Registry Help and restore the changes if you want. It is reliable! Registry Help can take a snapshot for your registry at any time, and compare it at a later time, which ensure you knowing the changes in your registry and enable you to rollback the undesirable changes.* With an advanced search engine, Registry Help can help you search in the whole registry easily and quickly. In addition, Registry Help provides 15 color themes.* Registry Help cares not only functionality but also your individuality! Try it now, it is safe, easy-to-use, and really effective!

Main features

FREE registry scan - Registry Help provides three types of scan: standard scan, complete scan and custom scan.
FREE registry repair, fix all registry errors in FREE version.
Registry files defragment! Analyze and defrag all windows registry files and even any file on your computer! Optimize registry and boost up the performance of your windows system!* Support for bot 32 bit and 64 bit Windows system.
Registry tweak, tell you more tweaks about Windows registry, and you can optimize your windows by yourself.
Advanced search engine. Keywords list supported.
Advanced Registry browser.*
Registry History. All the changes are logged with date and time and detailed description.
Windows registry snapshot.*
Windows registry compare.*
Windows registry backup and restore.*
Advanced Windows registry favorite list.
15 color themes selectable*
Automatic online update.
FREE download!
3-year FREE upgrade!
3-year FREE technical support via email!




代码
i'm the black rider, always faster than you...

ÜÜÜÜÜÜÜÜÜ°°°°ÜÜÜÜÜ
ÜÜÛÛÛÛÛÛÛÛÛÛÛÛÛÛÛÛÛÛ° °°±²ÛÛ²±²Û²°Ü
ÜÜÜÛÛÛÛ ±°°°° ÛÛ± °° ÛÛÛ±Ü
°ÜÛÛÛÛÛ² Û Û ±± Û ÛÛ°° Û°ÛÛ ²Û±Ü
ÜÛÛÛÛ± ±² ²Û² Û ±±± Û ² ²Û² ²ÛÛÛÛ ²ÛÛÛÛÛÛ° ÛÛÛÜÜ
ÜÛÛÛÛÛ° ÛÛ± ±Û° ÛÛÛÛÛÛ² ÛÛÛÛ°°ÛÛÛÛÛÛÛÛÛÛÛÛ² ÛÛÛÛÛÛÛÛÛÛÛÛÛÛÜ
ÜÛ²ÛÛÛÛ±ÛÛÛÛÛÛÛÛÛÛÛÛÛÛÛÛÛÛÛÛÛÛÛÛÛÛÛÛÛÛÛÛÛÛÛÛÛÛÛÛÛÛÛÛÛÛÛ²²ÛÛÛÛÛ°
°Û°ÛÛÛÛÛÛÛÛÛÛÛÛÛÛÛÛÛÛÛÛÛÛÛÛÛÛÛÛÛÛÛÛÛÛÛÛÛÛÛÛÛÛÛÛÛÛÛÛÛÛÛÛÛÛÛÛÛÛÛÛÛ
ÛÛÛÛÛÛÛÛÛÛÛÛÛÛÛÛÛÛÛÛÛÛÛÛÛÛÛÛÛÛ²°ÛÛ²ÛÛÛÛÛÛ°ÛÛÛÛÛÛ²ÛÛÛÛÛÛÛÛÛÛÛÛÛ²Û
ÛÛÛÛÛÛÛÛÛÛÛÛÛÛß ±²ßÛÛßÛß°± ±ÛÛÛÛÛÛÛÛÛÛÛ ßßÛÛßÛÛÛÛÛÛÛÛÛ²
ÛÛÛÛÛÛÛÛÛÛÛÛß° ÛÛÛÛÛÛÛÛÛÛÛÛÛÜ ²ÛÛÛÛÛÛÛÛ
ÛÛÛÛÛÛÛÛß°² ÜÛÛÛÛÛÛÛÛÛÛÛÛÛÛÛÛ² °²ÛÛ²²ÛÛ
ÛÛÛÛÛÛÛÛÛ± ÜÛÛÛÛÛÛÛÛÛÛÛÛÛÛÛÛÛÛÛÛÜ° ²ÛÛÛÛ
ÛÛÛÛÛÛÛÛ ÜÜÛÛÛÛÛÛÛÛÛÛÛÛÛÛÛÛÛÛÛÛÛÛÛÛ²° ²ÛÛÛÛÛÛ
ÛÛÛÛÛÛ² °ÛÛÛÛÛÛÛÛÛÛÛÛÛÛÛÛÛÛÛÛÛÛÛÛÛÛÛÛ° ÛÛÛÛÛÛ
°ÛÛÛÛÛÛ ±ÛÛÛÛÛÛÛÛÛÛÛÛÛÛÛÛÛÛÛÛÛÛÛÛÛÛÛÛ² ÛÛÛÛÛ²
ÛÛÛÛÛ° ÛÛÛÛÛÛÛÛÛÛÛÛÛÛÛÛÛÛÛÛÛÛÛÛÛÛÛÛÜ°²²²± ßÛÛÛÛ°
ÛÛÛÛÛÛ ° °Û²ÛÛÛÛÛÛÛÛÛÛÛÛÛÛÛÛÛÛÛÛÛÛÛÛÛÛÛÛ° ÛÛÛ±
ÛÛÛÛÛÛ °²²²ÛÛÛÛÛÛÛÛÛÛÛÛÛÛÛÛÛÛÛÛÛÛÛ° °ÛÛ
ÛÛÛÛÛÛ ÜÛÛÛÜ ²ÛÛÛÛÛÛÛÛÛÛÛÛÛÛÛÛÛÛÛÛÛÛÛ² ÜÛÛÛÛÛÛÜÜ ±Û±
Û ÛÛÛ± ÜÛÛÛÛÛÛÛÛÛÛÛÛÛÛÛÛÛÛÛÛÛÛ²ÛÛÛÛÛÛÛÛÛÛÛÛÛÛÛÛÛÛÛÛÛ ÛÛÛÛÛÜ
ÛÛ °°ß ÜÛÛÛÛÛÛÛÛÛÛÛÛÛÛÛÛÛÛÛÛÛÛÛÛÛÛÛÛÛÛÛÛÛÛÛÛÛÛÛÛÛÛÛÛÛÛÛÜ ²Û °ÛÛÛÜ
²±Û °Û ²ÛÛÛÛÛÛÛÛÛÛÛ ²ÛÛÛÛÛÛÛÛÛÛÛÛÛÛÛÛÛÛÛÛÛÛÛ °ßÛÛÛÛÛÛÛÛÛÛÛ °Û° °ÛÛ±Û
Û ÛÛ Û °Û±ÛÛÛÛÛÛÛÛÛÛÛÛÛÛÛÛÛÛÛ²ÛÛÛÛÛÛÛÛÛÛÛÛÛÛÛÛÛÛÛÛÛÛÛÛÛÛßß± ±Û ±Û±ÛÛÛ
°Û ÛÛ Û ßßÛÛÛÛÛÛÛÛÛÛÛÛÛÛÛÛÛÛÛÛÛÛÛÛÛÛÛÛÛÛÛÛÛÛßß °Û ÛÛ Û
± ÛÛÛ Û ßßÛÛÛÛÛÛÛÛÛÛÛÛÛÛÛÛÛÛÛÛÛÛÛÛÛÛß ²Û ÛÛÛÛ
Û°Û²ÛÛÛ °²ÛÛÛÛÛÛÛÛÛÛÛÛÛÛÛÛÛÛÛÛÛÛÛÜÜ ²Û °Û°Û
ßÛÛ²ÛÛÛ Û²²ÛÛÛÛÛÛÛÛÛÛÛÛÛÛÛÛÛÛÛÛÛÛÛÛÛÛÛÛ² ÛÛÛ ÛÛÛ±
²Û²°²Ü ÜÛÛÛÛÛÛÛÛÛÛÛ±ÛÛÛÛÛ ±ÛÛÛÛÛÛÛÛÛÛÛÛÛÛ ±±ÛÛÛ
±ÛÛÛ ²ÛÛÛÛÛ²ÛÛÛÛÛÛ² ÛÛÛÛÛ ²ÛÛÛÛÛÛÛÛÛÛÛ ±Û ÛÛÛ
ßÛÛ °ÜÛÛÛÛÛÛÛÛÛÛÛ² ²ÛÛÛÛÛÛ °ÜÛÛÛÛÛÛÛÛ±ÛÛ²±Û° ±Û±Û±
ÛÛ± °ÜÛ ÛÛÛ ÛÛÛÛÛÛÛܲ±ÛÛÛÛÛÛÛÛ ²ÛÛÛÛÛ²Û° ÛÛÛ± ÛÛÛ°
°ÛÛ ° ÛÛÛÛÛÛÛÛÛÛÛÛÛÛÛÛÛÛÛÛÛÛÛÛÛ²ÛÛÛÛ² ° ±ÛÛÛ
ÛÛ ÛÛÛÛÛÛÛÛÛÛÛÛÛÛÛÛÛÛÛÛÛÛÛÛÛÛÛÛÛÛÛÛÛÛ ÛÛÛ²
²Û± ²ÛÛÛÛÛÛÛÛÛÛÛÛÛÛÛÛÛÛÛÛÛÛÛÛÛÛÛÛÛÛÛÛÛÛ ÛÛÛ²Ü
ÛÛ ÛÛÛÛÛÛÛÛÛÛÛÛÛÛÛÛÛÛÛÛÛÛÛÛÛÛÛÛ²ÛÛÛÛÛÛÛ ÛÛÛÛÛÛÛÛ۲ܰ°
ÜÜÛÛÛÛÛÛ° ÛÛÛÛ²²ÛÛÛ²ÛÛÛÛÛÛÛÛÛÛÛÛÛÛÛÛÛÛÛÛÛ² ÛÛ° ÛÛÛÛ °ÛÛÛÛÛ²Û°
±ÛÛÛÛß Û² °ÛÛÛÛÛÛÛÛÛÛÛÛÛÛÛÛÛÛÛÛÛ²²ÛÛÛ± ÛÛÛÛ± ßÛÛ±
²ÛÛ Ü²ÛÛÛÜ ÛÛÛÛÛÛÛÛÛÛÛÛÛÛÛÛÛÛÛÛÛÛÛÛÛÛÛ °ÛÛÛÛÛÛÛÛÛ ²Û²
Û ÛÛÛÛÛÛ²ÛÛܱ °ÛÛÛÛÛÛÛÛÛÛÛÛÛÛÛÛÛÛÛÛÛÛÛÛÛÛÛÛ ²ÜÛÛÛÛÛÛÛÛÛ ÛÛ ±
°ÛÛÜ ÛÛÛÛÛÛÛÛÛÛÜ ²ÛÛÛÛÛÛÛÛÛÛÛÛÛÛÛÛÛÛÛÛÛÛÛÛÛÛÛ°ÜÜÛÛÛÛÛÛÛÛÛÛÛÛ± ÛÛ Û
²ÛÛÛ ÛÛÛÛÛÛÛÛÛÛÛÛÛ²ÛÛÛÛÛÛÛÛÛÛÛÛÛÛÛÛÛÛÛÛÛÛÛÛÛÛÛÛÛÛÛÛÛÛÛÛÛÛÛÛÛ² ±ÛÛ ±±
²ÛÛß ÛÛÛÛÛÛÛÛÛÛÛÛÛÛÛÛÛÛÛÛÛÛÛÛÛÛÛÛÛÛÛÛÛÛÛÛÛÛÛÛÛÛÛÛ²± ÛÛÛÛ
ÛÛ ²ÛÛÛÛÛÛÛÛÛÛÛÛÛÛÛÛÛÛÛÛÛÛÛÛÛÛÛÛÛÛÛÛÛÛÛÛÛÛÛÛÜ ÛÛ
ÛÛß Û²±ÛÛÛÛÛÛÛÛÛÛÛÛÛÛÛÛÛÛÛÛÛÛÛÛÛÛÛÛÛÛÛÛÛÛÛÛÛÛÛÛÛÛÛÛÛÛÛÛÜ ÛÛ
°ÛÛ± ÛÛÛÛÛÛÛÛÛÛÛÛÛÛÛÛÛÛÛÛÛÛÛÛÛÛÛÛÛÛÛÛÛÛÛÛÛÛÛÛÛÛÛÛÛÛÛÛÛÛÛÛÛ² ÛÛÛ
ÛÛ± ±ÛÛÛÛÛÛÛÛÛÛÛÛÛÛÛÛÛÛÛÛÛÛÛÛÛÛÛÛÛÛÛÛÛÛÛÛÛÛÛÛÛÛÛ²²ÛÛÛÛÛÛÛÛÛ± Û° °ÛÛÛ±
ÛÛÜ ÛÛÛÛÛÛÛÛÛÛÛÛÛÛÛÛÛÛÛÛÛÛÛÛÛÛÛÛÛÛÛÛÛÛÛÛÛÛÛÛÛÛÛÛÛÛÛÛÛÛÛÛÛÛÛ² Û ÜÛÛÛÛÛ
ßÛÛÜ°²±²ÛÛÛÛÛÛÛÛÛÛÛÛÛÛÛÛÛÛÛÛÛÛÛÛÛÛ²ÛÛÛÛÛÛÛÛÛÛÛÛÛÛÛÛÛÛÛÛÛÛÛÛÛÛÛÛÛÛÛÛÛ Û ±Û ° Û
ÛÛÛ ±ÛÛÛÛÛÛÛÛÛÛÛÛÛÛÛÛÛÛÛÛÛÛÛÛÛ²ÛÛÛÛÛÛÛÛÛÛÛÛÛÛÛÛÛÛÛÛ²ÛÛÛÛÛÛÛÛÛÛÛÛ ²°ÜÛÛ ß
°±Û ²Û² °ÛÛÛÛÛÛÛÛÛÛÛÛÛÛÛÛÛÛÛÛÛÛÛ²ÛÛÛÛÛÛÛÛÛÛÛÛÛÛÛÛÛÛÛÛÛÛÛÛÛÛÛÛÛÛÛÛÛÛÛÛÛÛÛ
ÜÛ ÛÛÛÛÛÛÛÛÛÛÛÛÛÛÛÛÛÛÛÛÛÛÛÛÛÛÛÛÛÛÛÛÛÛÛÛÛÛÛÛÛÛÛÛÛÛÛÛÛÛÛÛÛÛÛÛÛÛÛÛÛÛÛÛÛÛÛÛ ²
ÜÛÛÛÛÛÛÛÛÛÛÛÛÛÛÛÛÛÛÛÛÛÛÛÛÛÛÛÛÛÛÛÛÛÛÛÛÛÛÛÛÛÛÛÛÛÛÛÛÛÛÛÛÛÛÛÛÛÛÛÛÛÛÛÛÛÛÛÛÛÛ ÛÛÛ ß
ÛÛÛÛÛÛÛÛÛÛÛÛÛÛÛÛÛÛÛÛÛÛÛÛÛÛÛÛÛÛÛÛÛÛÛÛÛÛÛÛÛÛÛÛÛÛÛÛÛÛÛÛÛÛÛÛÛÛÛÛÛÛÛÛÛÛÛÛÛÛÛÛÛÛ²Û° Û
ÛÛÛÛÛÛÛÛÛÛÛÛÛÛÛÛÛÛÛÛÛÛÛÛÛÛÛÛÛÛÛÛÛÛÛÛÛÛÛÛÛÛÛÛÛÛÛÛÛÛÛÛÛÛÛÛÛÛÛÛÛÛÛÛÛÛÛÛÛÛÛÛÛÛÛÛÛÛÛ²
ÛÛÛÛÛÛÛÛÛÛÛÛÛÛÛÛÛÛÛÛÛÛÛÛÛÛÛÛÛÛÛÛÛÛÛÛÛÛÛÛÛÛÛÛÛÛÛÛÛÛÛÛÛÛÛÛÛÛÛÛÛÛÛÛÛÛÛÛÛÛÛÛÛÛÛÛÛÛÛÛ
ÛÛÛÛÛÛÛÛÛÛÛÜÛÛÛÛÛÛÛÛÛÛÛÛÛÛßßßÛÛÛÛÛÛÛÛßÜÛÛÛÛÛÛÛÛÛÛÛÛÛÛÛÛÛÛÛÛÛÛÛÛÛÛÛÛÛÛÛÛÛÛÛß ß²Û
ÛÛÛß Ü ßÛÛÛÛÛÛÛÛÛÛÛÛÛÛÛß Üܲ ÛÛÛÛ²ß ßÛÛÛÛÛÛÛÛÛÛÛÛÛÛÛÛÛÛÛÛÛÛÜÛÛÛÛÛß°ÛÛÛÛÛ² ²
°ÛÛ ß²ß Û²ßßßßÛÛßß²ÛÛß ÜÛÛÛÛ ÛÛÛ °ßÛÛ²ßßÛÛÛßßßÛÛÛßßßß²Û °ÛÛÛÛ° Û
Û° ßþ. ß ÛÛÛÛÛ Û² °Û²° ß .þß °ÛÛß
ÜÜÜ ² ÛÛÛÛÛ ² þ ÜÜÛ Ü
ÜÛÛÛÛ ÛÛÛÛÛ Û °ÜÛÛÛÛ
ÛÛÛÛÛ ÛÛÛÛÛ ÜÛÛÛÛ²
ÛÛÛÛÛ ÛÛÛÛÛ Ü ÛÛÛÛÛ°
ÛÛÛÛÛ² ÛÛ± ÛÛÛÛÛ ÜÛÛÜÜ ÜÛÛÛÛÛÛÜ ÛÛÛÛÛ ÜÛ°
ÛÛÛÛÛÛÛÛÛÛÛ² ÛÛÛÛÛ ÛÛÛÛÛÛÛÛÜ ÜÛÛÛÛÛÛÛÛÛ ÛÛÛÛÛ ÜÛÛÛ
ÛÛÛÛÛÛ ÛÛÛÛÛ ÛÛÛÛ² ÛÛÛ²ÛÛÛÛÛÛÛ ÛÛÛÛÛÛÛÛÛÛÛ± ÛÛÛÛÛ ÛÛÛÛ
ÛÛÛÛÛ° ±ÛÛÛÛ ÛÛÛÛ± ÛÛÛÛ ÛÛÛÛÛ ÛÛÛÛÛ ÛÛÛ² ÛÛÛÛÛ ÛÛ±
ÛÛÛÛÛ ÛÛÛÛ ÛÛÛÛ ÛÛÛÛ ÛÛÛÛÛ ÛÛÛÛÛ ÛÛÛÛÛ ÛÛÛ
ÛÛÛÛÛ ÛÛÛÛ ÛÛÛÛ ÛÛÛÛ ÛÛÛÛÛÛ ÛÛÛÛÛ ÛÛÛÛÛ ÛÛÛÛÛÜ
ÛÛÛÛÛÛÜ°ÛÛÛÛ ÛÛÛÛ²Ü ÛÛÛÛÜÛÛ ÛÛÛÛ ÛÛÛÛÛÛÜ ÜÛ ÛÛÛÛÛÛÛÛÛÛÛÛÛ
ÛÛÛÛÛÛÛÛÛÛÛ ÛÛÛÛÛÛÛ ÛÛÛÛÛß ÛÛÛÛ ÛÛÛÛÛÛÛÛÛ ÛÛÛÛÛ² ÛÛÛÛÛ
ÛÛÛÛß ßÛÛ ßÛÛÛß ÛÛÛÛ ÛÛÛÛÛ ßÛÛÛÛÛ² ÛÛÛÛÛ ÛÛÛ
Ûß Û ß ²ß Ûßß Û
ÜÛÛ² ܲÛ
ÜÛÛÛÛÛ ÜÛÛÛÛ
²Û ²ÛÛÛÛÛÛÛÛ² ²ÛÛÛÛÛ ²ÛÛÛÛÛ² ÛÛÛÛÛ ²ÛÛÛÛÛÛÛÛÛÛÛÛÛÛÛÛÛÛÛÛÛÛÛÛÛÛÛÛÛÛÛÛÛÛÛÛ² Û²
ÛÛÛÛ ÛÛÛÛÛ
ÛÛÛÛÛ
ÛÛÛÛ ÜÛÛÛÛ ÜÜÛÛ ÜÛÛÛÛÛÛÛÛ² ÜÛÛÛÛÛÛÛÛ ÛÛÛÛ °ÜÛÛÛ ÜÜÛÛÛÛÛÛÛÛÜ
ÛÛÛÛ ÛÛÛÛ ÜÛÛÛÛÛÛ ÛÛÛÛÛÛÛÛÛÛ² ²ÛÛÛÛÛÛÛÛÛÛ ÛÛÛÛÜÜÛÛÛ ÛÛÛÛ²ÛÛÛÛÛÛß
ÛÛÛÛÛÛÛÛß ÛÛÛÛÛÛÛ ÛÛÛÛ ÛÛÛÛ± ÛÛÛÛ ÛÛÛÛ² ÛÛÛÛÛÛÛß ÜÛÛÛÛß
ÛÛÛÛÛ ° ÛÛÛÛÛ ÛÛÛÛ ÛÛÛÛÛ± ÛÛÛÛÜ ÛÛÛ° ÛÛÛÛÛ ° ±ÛÛÛÛÛÛÛÛÛÜÜÜ
ÛÛÛÛ² ÛÛÛÛÛ ±ÛÛÛÛ ²ÛÛÛÛÛ± ÛÛÛÛ²ÛÛÛÛÛ ÛÛÛÛ² ± ÛÛÛÛÛÛÛÛÛÛÛÛÛ
ÛÛÛÛÛ ± ÛÛÛÛÛ ² ±ÛÛÛÛ Û ÛÛÛÛ² ÛÛÛÛ² ² ÛÛÛÛÛ ßßßÛÛÛÛÛÛÛÛÛ
± ÛÛÛÛÛÛÛ ²± ÛÛÛÛÛ Û °ÛÛÛÛÛ ÛÛÛÛÛ Ü ÛÛÛÛÛÜ ÜÛ Û ÛÛÛÛÛÛÛ ² Ü ßÛÛÛÛß
Û ÛÛÛÛÛÛß ²²² ÛÛÛÛÛ Û ÛÛÛÛ ÛÛÛÛÛ ² ²ÛÛÛÛÛÛÛÛ ÛÛ ÛÛÛÛÛÛ± ²² ÛÛÛÛÛÛÛÛÛÛÛß
ÛÛ ßÛÛÛÛ ÛÛÛ ÛÛÛÛÛ ÛÛ ÛÛß Û ßÛÛÛÛ ÛÜ °ßÛÛÛÛß ÛÛÛ ßÛÛÛÛ ÛÛ °ßÛÛÛÛÛÛÛß
ÛÛÛÛÜÜÜÜÜÜÛÛÛÛÛÜÜÜÜÜÜÜÛÛÜÜÜÜÛÛÛÛÜÜÜÜÜÜÛÛ² ÜÜÜÜÜÜÜÛÛÛÛÛÛÜÜÜÜÜÜÛÛÛÛ²ÜÜÜÜÜÜÜÜÜÜÜܲ
ÛÛÛÛÛÛÛÛÛÛÛÛÛÛÛÛÛÛÛÛÛÛÛÛÛÛÛÛÛÛÛÛÛÛÛÛÛÛÛÛÛÛÛÛÛÛÛÛÛÛÛÛÛÛÛÛÛÛÛÛÛÛÛÛÛÛÛÛÛÛÛÛÛÛÛÛÛÛÛÛ
ßÛÛÛÛÛÛÛÛÛÛÛÛÛÛÛÛÛÛÛÛÛÛÛÛÛÛÛÛÛÛÛÛÛÛÛÛÛÛÛÛÛÛÛÛÛÛÛÛÛÛÛÛÛÛÛÛÛÛÛÛÛÛÛÛÛÛÛÛÛÛÛÛÛÛßßßßÛ
ßÛÛÛÛÛÛÛÛÛÛÛÛÛÛÛÛÛÛÛÛÛÛÛÛÛÛÛÛÛÛÛÛÛÛÛÛÛÛÛÛÛÛÛÛÛÛÛÛÛÛÛÛÛÛÛÛÛÛÛÛÛÛÛÛÛÛÛß
ÛÛßÜÛÛÛÛÛÛÛÛÛÛÛÛÛÛÛÛÛÛÛßßßßßßÛÛÛßß ßßßßÛÛÛÛÛÛÛßßÛÛÛÛÛÛÛÛÛÛÛÛÛÛÛÛÛß|
Ü ß ßßßßßÛÛÛÛÛÛßßßß ßÝ ßÛßß ßßßÛÛÛÛßßß ß
ßÛß ß ÛÛ jer^dfs
ß ß ÞÝ
ß Ü
Foryoursoft.Registry.Help.Pro.v1.8.1.1.Incl.Keygen.and.Patch-BRD


Cracked by...: BRD Cult Size.....: 1
Suplied......: BRD Cult Date.....: 12/10/2012
Packaged.....: BRD Cult Type.....: Keygen & Patch
Protection...: RC4 Os.......: WinALL



ÜÜ Ü ÜÜÜÜ Ü Ü
ÜÛÛÛÛÛÛÜÜÜÜÜ ßß ÜÛÛÛ ßßÛÛÛÛÜÜÜÛÛÛÜÜÜÜÜÜÜ ß Ü ÜÜÜ ÛÛÜÜ Ü²ÛÛÛÛÛÜÛÛÛÛÛÛß
ßÛÛÛÛÛÛÛÛÛßÛÛÜÛÜÛÛÛÛÛÛ²ÛÛÛÛÛÛÛÛÛÛÛÛÛ²²ÛÛÛÛ ÛÛÛÛÜßÛÛÛÛÛÛÛÛÛÛÛÛßßÛÛÛÛÛÛÛÛÛ²ÛÛß
ßÛÛÛÛÛÛÛÛÛÛÛÛÛÛÛÛÛÛÛÛÛÛÛÛÛÛÛÛÛÛÛÛÛÛÛÛÛÛÛÛÛÛÛÛÛÛÛÛÛÛÛÛÛÛÛÛÛÛÛÛÛÛÛÛÛÛÛÛÛÛÛÛÛÛßßßßÛ
ßÛÛÛÛÛÛÛÛÛÛÛÛÛÛÛÛÛÛÛÛÛÛÛÛÛÛÛÛÛÛÛÛÛÛÛÛÛÛÛÛÛÛÛÛÛÛÛÛÛÛÛÛÛÛÛÛÛÛÛÛÛÛÛÛÛÛÛß
ÛÛßÜÛÛÛÛÛÛÛÛÛÛÛÛÛÛÛÛÛÛÛßßßßßßÛÛÛßß ßßßßÛÛÛÛÛÛÛßßÛÛÛÛÛÛÛÛÛÛÛÛÛÛÛÛÛß|
Ü ß ßßßßßÛÛÛÛÛÛßßßß ßÝ ßÛßß ßßßÛÛÛÛßßß ß
ßÛß ß ÛÛ
ß ß ÞÝ
ß DESCRiPTiON Ü

Just with a few clicks, Registry Help can clean and repair
your registry, defrag your registry files, speed up your
computer, and optimize your system.

It is safe! Registry Help will backup all the registry
operations you made in Registry Help and restore the changes
if you want. It is reliable! Registry Help can take a
snapshot for your registry at any time, and compare it at a
later time, which ensure you knowing the changes in your
registry and enable you to rollback the undesirable changes.
With an advanced search engine, Registry Help can help you
search in the whole registry easily and quickly. In addition,
Registry Help provides 15 color themes. Registry Help cares
not only functionality but also your individuality! Try it
now, it is safe, easy-to-use, and really effective!



URL: http://www.foryoursoft.com/


ÜÜ Ü ÜÜÜÜ Ü Ü
ÜÛÛÛÛÛÛÜÜÜÜÜ ßß ÜÛÛÛ ßßÛÛÛÛÜÜÜÛÛÛÜÜÜÜÜÜÜ ß Ü ÜÜÜ ÛÛÜÜ Ü²ÛÛÛÛÛÜÛÛÛÛÛÛß
ßÛÛÛÛÛÛÛÛÛßÛÛÜÛÜÛÛÛÛÛÛ²ÛÛÛÛÛÛÛÛÛÛÛÛÛ²²ÛÛÛÛ ÛÛÛÛÜßÛÛÛÛÛÛÛÛÛÛÛÛßßÛÛÛÛÛÛÛÛÛ²ÛÛß
ßÛÛÛÛÛÛÛÛÛÛÛÛÛÛÛÛÛÛÛÛÛÛÛÛÛÛÛÛÛÛÛÛÛÛÛÛÛÛÛÛÛÛÛÛÛÛÛÛÛÛÛÛÛÛÛÛÛÛÛÛÛÛÛÛÛÛÛÛÛÛÛÛÛÛßßßßÛ
ßÛÛÛÛÛÛÛÛÛÛÛÛÛÛÛÛÛÛÛÛÛÛÛÛÛÛÛÛÛÛÛÛÛÛÛÛÛÛÛÛÛÛÛÛÛÛÛÛÛÛÛÛÛÛÛÛÛÛÛÛÛÛÛÛÛÛÛß
ÛÛßÜÛÛÛÛÛÛÛÛÛÛÛÛÛÛÛÛÛÛÛßßßßßßÛÛÛßß ßßßßÛÛÛÛÛÛÛßßÛÛÛÛÛÛÛÛÛÛÛÛÛÛÛÛÛß|
Ü ß ßßßßßÛÛÛÛÛÛßßßß ßÝ ßÛßß ßßßÛÛÛÛßßß ß
ßÛß ß ÛÛ
ß ß ÞÝ
ß iNSTALL NOTES Ü

Install program, copy patch to installdir, apply patch and
use our keygen.
Enjoy!




ÜÜ Ü ÜÜÜÜ Ü Ü
ÜÛÛÛÛÛÛÜÜÜÜÜ ßß ÜÛÛÛ ßßÛÛÛÛÜÜÜÛÛÛÜÜÜÜÜÜÜ ß Ü ÜÜÜ ÛÛÜÜ Ü²ÛÛÛÛÛÜÛÛÛÛÛÛß
ßÛÛÛÛÛÛÛÛÛßÛÛÜÛÜÛÛÛÛÛÛ²ÛÛÛÛÛÛÛÛÛÛÛÛÛ²²ÛÛÛÛ ÛÛÛÛÜßÛÛÛÛÛÛÛÛÛÛÛÛßßÛÛÛÛÛÛÛÛÛ²ÛÛß
ßÛÛÛÛÛÛÛÛÛÛÛÛÛÛÛÛÛÛÛÛÛÛÛÛÛÛÛÛÛÛÛÛÛÛÛÛÛÛÛÛÛÛÛÛÛÛÛÛÛÛÛÛÛÛÛÛÛÛÛÛÛÛÛÛÛÛÛÛÛÛÛÛÛÛßßßßÛ
ßÛÛÛÛÛÛÛÛÛÛÛÛÛÛÛÛÛÛÛÛÛÛÛÛÛÛÛÛÛÛÛÛÛÛÛÛÛÛÛÛÛÛÛÛÛÛÛÛÛÛÛÛÛÛÛÛÛÛÛÛÛÛÛÛÛÛÛß
ÛÛßÜÛÛÛÛÛÛÛÛÛÛÛÛÛÛÛÛÛÛÛßßßßßßÛÛÛßß ßßßßÛÛÛÛÛÛÛßßÛÛÛÛÛÛÛÛÛÛÛÛÛÛÛÛÛß|
Ü ß ßßßßßÛÛÛÛÛÛßßßß ßÝ ßÛßß ßßßÛÛÛÛßßß ß
ßÛß ß ÛÛ
ß ß ÞÝ
ß GROUP NOTES Ü


Team BRD is not responsible for the bad usage of this product.
This release is for EVALUATION PURPOSES ONLY.
if you like it, u MUST buy it, Software Authors deserve support!.

Remember, this is an INTERNAL SCENE RELEASE, we DONT support
the spread of this rls over web or p2p networks.


The Black Riders Cult is looking for:

<.> Experienced Crackers, Unpackers and keygenners.
<.> Software Suppliers.


t h e b r d [at] m a i l [dot] r u


° Ü ß²ÛÛß °°° °° ÜÜÜÜÜÜÜÜÜ ° ° °° ° ß Ü °
ܲÜÜ Ü ß²ß ° °°° ÜÜÜÜÛÛ ÛÛÜÜÜÜ °° ° ߲߰ Ü ÜܲÜ
°ÜÛÛß Ü °° °°° ÜÜÛÛÛÛ°²² ÛÛÛÛÛÛ ° ÛÛÛÛÛÛ ²²°ÛÛÛÛÜÜ °° Ü ßÛÛÜ°
²ÛÛÛÛÜ ÜÜÛÛÛÛßßßßßÛÛÛÛÛÛ°ÛÛ ÛÛÛÛÛÛ °°° ÛÛÛÛÛÛ ÛÛ°ÛÛÛÛÛÛßßßßßÛÛÛÛÜÜ ÜÛÛÛÛ²°
ÛÛÛÛÛÛÛ ÛÛÛÛÛÛ°ÛÛÛ ÛÛÛÛÛÛ°ÛÛ ÛÛÛÛÛÛ ²Û² ÛÛÛÛÛÛ ÛÛ°ÛÛÛÛÛÛ ÛÛÛ°ÛÛÛÛÛÛ ÛÛÛÛÛÛÛ°
ÛÛÛÛÛÛÛ ÛÛÛÛÛÛ°ÛÛÛ ÛÛÛÛÛÛ°ÛÛ ÛÛÛÛÛÛ ÛÛÛ ÛÛÛÛÛÛ ÛÛ°ÛÛÛÛÛÛ ÛÛÛ°ÛÛÛÛÛÛ ÛÛÛÛÛÛÛ°
°ÛÛÛÛÛÛ ÛÛÛÛÛÛ°ÛÛÛ ÛÛÛÛÛÛ°ÛÛ ÛÛÛÛÛÛÜÜÜÜÜÛÛÛÛÛß ÛÛ°ÛÛÛÛÛÛ ÛÛÛ°ÛÛÛÛÛÛ ÛÛÛÛÛÛ°
°ßÛÛÛÛÛ ÛÛÛÛÛÛÜÜÜÜÜÛÛÛÛß ÛÛ ÛÛÛÛÛÛÛÛÛÛÛÛÛÛß ÛÛ°ÛÛÛÛÛÛ ÛÛÛ°ÛÛÛÛÛÛ ÛÛÛÛÛß°
°ÛÛÛÛÛ ÛÛÛÛÛÛÛÛÛÛÛÛÛß ÛÛ ÛÛÛÛÛÛßßßßßÛÛÜÜÜ ÛÛ°ÛÛÛÛÛÛ ÛÛÛ ÛÛÛÛÛÛ ÛÛÛÛÛ°
°ßÛÛÛÛ ÛÛÛÛÛÛßßßßßÛÛÛÛ °ÛÛ ÛÛÛÛÛÛ ÛÛÛ ÛÛÛÛÛÛ ÛÛ°ÛÛÛÛÛÛ ÛÛÛ°ÛÛÛÛÛÛ ÛÛÛÛß°
°ÛÛÛÛ ÛÛÛÛÛÛ°ÛÛÛ ÛÛÛÛÛÛ°ÛÛ ÛÛÛÛÛÛ ÛÛÛ ÛÛÛÛÛÛ ÛÛ°ÛÛÛÛÛÛ ÛÛÛ°ÛÛÛÛÛÛ ÛÛÛÛ°
°ÛÛÛÛ ÛÛÛÛÛÛ°ÛÛÛ ÛÛÛÛÛÛ°ÛÛ ÛÛÛÛÛÛ ÛÛÛ ÛÛÛÛÛÛ ÛÛ°ÛÛÛÛÛÛ ÛÛÛ°ÛÛÛÛÛÛ ÛÛÛÛ°
ÛÛÛÛ ÛÛÛÛÛÛ°ÛÛÛ ÛÛÛÛÛÛ°ÛÛ ÛÛÛÛÛÛ ²Û² ÛÛÛÛÛÛ ÛÛ°ÛÛÛÛÛÛ ÛÛÛ°ÛÛÛÛÛÛ ÛÛÛÛ°
ÛÛÛÛ ÛÛÛÛÛÛ°ÛÛÛ ÛÛÛÛÛÛ°ÛÛ ÛÛÛÛÛÛ ²²² ÛÛÛÛÛÛ ÛÛ°ÛÛÛÛÛÛ ÛÛÛ°ÛÛÛÛÛÛ ÛÛÛÛ°
°ÛÛÛÛ ßßÛÛÛÛÜÜÜÜÜÛÛÛÛÛÛ°ÛÛ ÛÛÛÛÛÛ °°° ÛÛÛÛÛÛ ÛÛ°ÛÛÛÛÛÛÜÜÜÜÜÛÛÛÛßß ÛÛÛÛ
°ÛÛÛÛÛÛÜÜÜÜÜÜÜÜÜ ßßÛÛÛÛ°ÛÛ ÛÛÛÛÛÛ ° ÛÛÛÛÛÛ ÛÛ°ÛÛÛÛßß ÜÜÜÜÜÜÜÜÜÛÛÛÛÛÛ°
²ÛÛÛÛÛÛÛÛÛÛÛÛÛÛÛÛÜÜÜÜÜÜÛÛ ßßßßÛÛ ÛÛÛßßß ÛÛÜÜÜÜÜÜÛÛÛÛÛÛÛÛÛÛÛÛÛÛÛÛÛ
ÛÛÛÛÛÛÛÛÛÛÛÛÛÛÛÛÛÛÛÛÛÛÛÛÛÛÛÛÛ ßß ßß ÜÛÛÛÛÛÛÛÛÛÛÛÛÛÛÛÛÛÛÛÛÛÛÛÛÛÛÛÛ
ßÛÛÛÛÛÛÛÛÛÛÛÛÛÛÛÛÛÛÛÛÛÛÛÛÛÛÛÛÛÛÛÛÛÛÛÛÛÛÛÛÛÛÛÛÛÛÛÛÛÛÛÛÛÛÛÛÛÛÛÛÛÛÛÛÛÛÛß
ÛÛßÜÛÛÛÛÛÛÛÛÛÛÛÛÛÛÛÛÛÛÛßßßßßßÛÛÛßß ßßßßÛÛÛÛÛÛÛßßÛÛÛÛÛÛÛÛÛÛÛÛÛÛÛÛÛß|
Ü ß ßßßßßÛÛÛÛÛÛßßßß ßÝ ßÛßß ßßßÛÛÛÛßßß ß
ßÛß ß ÛÛ jer^dfs
ß ß ÞÝ
ß Ü
you will never defeat the riddle of the black riders..

Keygen/Keygen.exe:FBFC78C0
Keygen/Patch.exe:FF9E1775
Setup/reghelppro.exe:F80C59C1

这里是其它用户补充的资源(我也要补充):
暂无补充资源