中文名: 3D文本动画制作工具
英文名: Outerspace Software BluffTitler DX9 iTV
资源格式: 压缩包
版本: v8.3.1.4
发行时间: 2012年
制作发行:
Outerspace Software.
简介: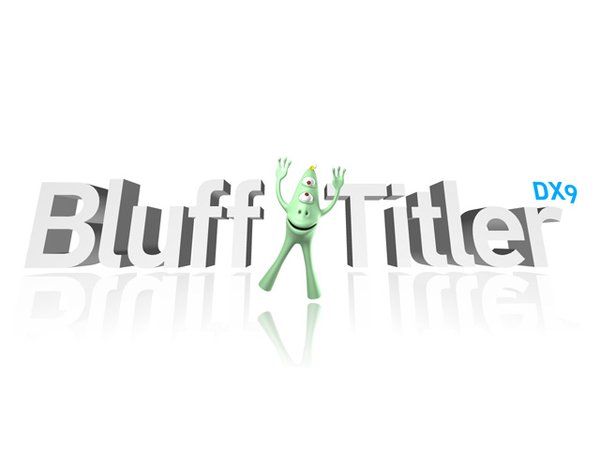 软件类型:软件>多媒体类
软件性质:破解软件
操作系统:Windows
应用平台:Microsoft Windows 8, 7, Vista or XP (32 or 64 bits)
问题反馈: http://www.outerspace-software.com/support.html
网站链接: http://www.outerspace-software.com/
软件介绍:

BluffTitler DX9 iTV是一款制作3D文本动画的工具,制作结果可以实时在BluffTitler播放器中播放或输出为视频文件、图片格式供其它软体使用。


System requirements


Microsoft Windows 8, 7, Vista or XP (32 or 64 bits)
DirectX 9 version June 2007 or later
Intel Pentium compatible processor
512 MB RAM
10 MB available harddisk space
Hardware accelerated 3D graphics card with hardware vertex shader support





资源更新列表


http://www.VeryCD.com/i/5190747/create/fol...postTime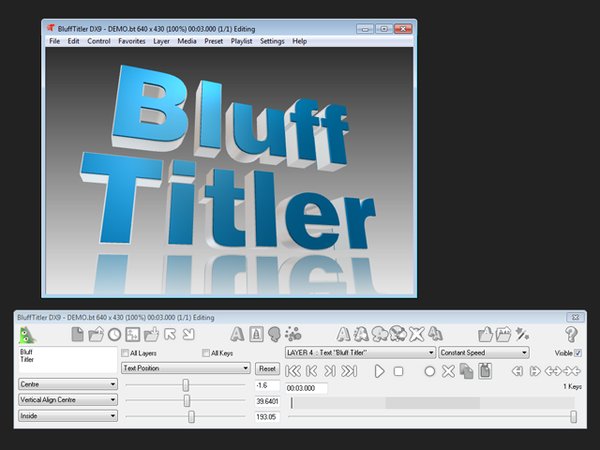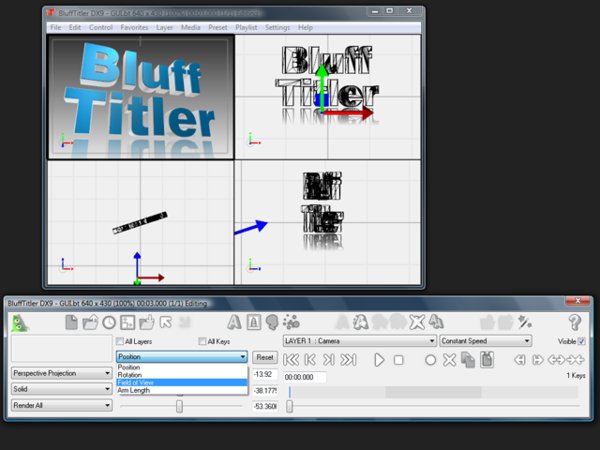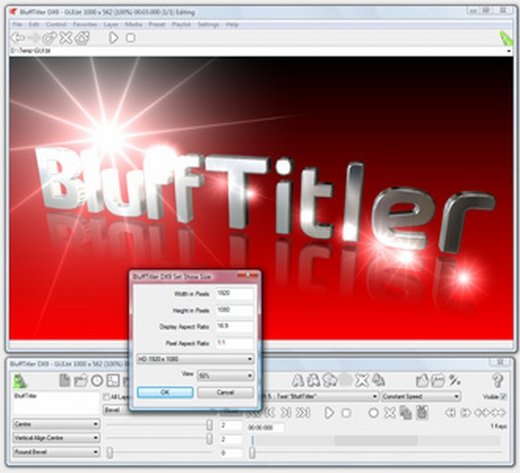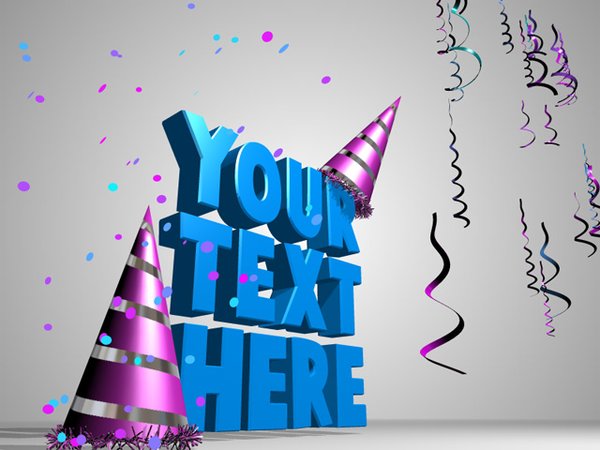 BluffTitler is an effects program for creating 3D text animations, plasma effects and 3D picture/video wipes. The result can be played in realtime by the BluffTitler player or exported to picture and video formats for use in your videos, presentations, websites and VJ performances.


Version 8.7.0.0

Released: Thursday, November 15th, 2012

Free upgrade from version 8.0 or higher. Consult the release notes for version 8.0 for the upgrade details from versions older than 8.0


Version 8.0

Released: 2010-1-14

Version 8 introduces 3 versions:
EASY € 29.95 Free upgrade for registered users!
PRO € 49.95 Upgrade for registered users: € 19.95
iTV € 249.95 Upgrade for registered users: € 219.95

EASY, PRO and iTV versions. Choose Settings > Switch to EASY/PRO Version to switch.
New layer: Container layer
New layer: Lightning layer
New layer: Lense Flare layer
New layer: Voxel layer
Playlists. Choose Settings > Playlist Window to display the playlist window
Shell window. Choose Settings > Shell Window to display the shell window
Blackmagic DeckLink output (only in iTV version)
Support for multi-monitor systems
Advanced time tags in the text layer
Options dialog: choose Settings > General Options...
Vertical align composition effects in the text layer
New light layer properties: Shadow Softness, Beam Colour, Flare Size and Flare Colour
Shadows and lightbeams are now generated by text, EPS, picture, model and sketch layers
New text layer effect: Single Sided
New text layer property: Encrypt
New picture layer effects: Single Sided, Skybox and 2D in Foreground
New particle layer effects: Pointing Upwards and Pointing towards Flight Direction
New particle layer properties: Chameleon, Effect Size, Launch Colour, Launch Colour Tolerance, Grid and Target Layer
New sketch layer effects: Attached Layers point Upwards and Attached Layers follow Sketch
New scroller layer property: Transparency
New plasma layer effects: Horizontal, Vertical and Radial Gradient
New sketch layer effect: Square
New model layer property: Colour
New passe-partout layer effects: Vertical Bars and Horizontal Bars
All demo shows that come with the installer now have the widescreen (16:9) aspect ratio
When editing, the active layer is rendered with a local coordinate system. This can be turned on/off by pressing <F2> or by choosing Settings > General Options...
Optimized rendering for realtime applications
Advanced IPC commands and command line options for system integration
Option to export as compressed AVI with transparency info (compressed 32 bits RGBA)
Bitmap fonts: press the new Select Bitmap Font button in the <F6> font dialog. Use Alphabix to create bitmap fonts
Video texture is updated when timeslider is moved
Attach borders to picture, video and video capture layers
Maximum number of particles increased from 1.000 to 10.000
Maximum number of characters in the text layer increased from 500 to 1000
Maximum show duration increased from 3 to 60 minutes
Use IE proxy settings option in the internet options dialog
Premultiplied alpha channel in SDI output and video export
Support for UNC paths
Intuitive camera position mouse control
Proper Would you like to overwrite? messagebox when saving show with all media files





代码
° ° ÜÜÜÜÜ °° °°°°°° ÜÜÜÜÜ °° °° °°° ÜÜÜÜÜ ° °° °
° ° ÜÜÛÛÛÛÛÛÛÛÛÛÛÜÜ °° °° ÜÜÛÛÛÛÛÛÛÛÛÛÛÜÜ °°°°°° ÜÜÛÛÛÛÛÛÛÛÛÛÛÜÜ °° °
°°°° ÜÛÛÛÛÛÛÛÛÛÛÛÛÛÛÛÛÛÜ ° ÜÛÛÛÛÛÛÛÛÛÛÛÛÛÛÛÛÛÜ °° ÜÛÛÛÛÛÛÛÛÛÛÛÛÛÛÛÛÛÜ °° °
°°°°²ÛÛÛÛÛÛÛÛÛÛÛÛÛÛÛÛÛÛÛ² ° ²ÛÛÛÛÛÛÛÛÛÛÛÛÛÛÛÛÛÛÛ² ²ÛÛÛÛÛÛÛÛÛÛÛÛÛÛÛÛÛÛÛ² °°
°°° ÛÛÛÛ±± ÛÛÛÛÛ±± ÛÛÛÛ ° ÛÛÛÛ±± ÛÛÛÛÛ±± ÛÛÛÛ ° ÛÛÛÛ±± ÛÛÛÛÛ±± ÛÛÛÛ °°°°
°°°°ßÛÛÛÛÛÛÛÛÛÛÛÛÛÛÛÛÛÛÛß ° ßÛÛÛÛÛÛÛÛÛÛÛÛÛÛÛÛÛÛÛß ° ßÛÛÛÛÛÛÛÛÛÛÛÛÛÛÛÛÛÛÛß °°±±
±±°° ÜÛß ßÛÜ ° ° ÜÛß ßÛÜ °° ÜÛß ßÛÜ ° °±±²
²±±°° Ü²ß ßßß ß²Ü °°°°°°° Ü²ß ßßß ß²Ü °°±°°° Ü²ß ßßß° ß²Ü ° °±²²²
²²±±° ßß °° Üß ßß °°°° ßß ° ßß °°° ° ßß ßß °±²²²²
±±±±°°° ° ° ±±°°±°°±±°° ÜÜÛÛÛÛÛÛÛÛÜÜ ° ° °° °°°°±°±°±° °Ü ° °°±±²±²±²±²
Ü Ü ÜÜÜÜÜÜÜ ° °±±±° ° ÜÛÛÛÛßßÛÛÛÛÛÛÛß ° ° ° °°±°±±±°°° Üß °°±°±±±±²±²±
²° ßßßßßÛÜ ±ÛÛÛÛ °° ÛÛÛÛß ±°°°°° ß °°±°±°±°±°±±±
²± °ÛÛÛÛÛÛ °ÛÛßßßßßßßßß²Ü ÛÛÛÛÜÜÛÛÛß°²Ûßßßßßßßßßß²ÜÛßßßßßßßßßßß²Ûßßß ßß ßß ß±±
²²° ÛÛÛÛÛÛ ²Û ÛÛÛÛÜÜÜÛ ÛÛÛÛÛÛÛßÜÛÛÜß ÛÛÛÛÛ °ÛÛ ÛÛÛÛÛ Û ÛÛÛÛÛÛÛÛ²°
²²±° ßßßßßß °Û ²Û²²Û °ÜÜÛÛÛÛÛÛÛÛÜßß²Û ßßßßß ²Û ²ÛÛÛÛ Û ßßßßßßßß²±
²²±° ÛÛÛÛÛ Û °Û±±² ²ÛÛÛÛÛÛÛÛÛÛÛÛÜ°Û ÛÛÛÛ °Û °ÛÛÛÛ Û ÛÛÛÛÛÛÛ²°
²±±° Û²±²Û Û Û±±±° ²ÛÛÛÛÛÛÛÛÛÛÛÛÛÜ Û ±Û Û ÛÛÛÛ Û ÛÛÛÛÛÛÛ²°
±°° ÜÜÛ±²±ÛÜÜÜÜÛÜÜÜÜÛ±±±±° ßÛÛÛÛÛÛÛÛÛÛÛÛÛ² ÜÜÛ ÛÜÜÜÜÛÜÜÜÜÜÜÜÜÜÜܲ²ÜÜ ÜÜÜ ÜÜ ÜÜ°
ß ßßßß°°°ßßßßßßßßßßß°°°° ° ßßÛÛÛÛÛÛÛßß° ßß Û ßßßßßßßßßßßßßßßß ° ° ° °° ° ° °
ÜÜÜ ÜÜ °±±±°°°°°°°° °°°°°° ÜÜÜÜ ÜÜÜÜ ÜÜܲ ° °°°°°°° Û ° ° °°°±°²± ÜÜÜÜÜÜ
ÛÛÛ°ÛÛÛÜ ±°°±°±°°°° ° ° °°°° ÜÛÛÛÛÛÜÛÛÛÛ ÛÛÛ°Ü ° °°° ° ± ° °°°± ÜÛÛÛÛÛÛÛ
ßßßßÛÛÛÛÛ ±±±±°±°°° ° °° ° ÛÛÛÛÛßßßßßßß ßÛÛ ÛÛ ° °°° ° ° ° °± ÛÛÛÛÛßßßß
²²²± ßßßß °±°°°°° ° ° ° ßßßß ß ßß Ü ° °° ßßßß °°±±
²²²²±±±°±°±°°° ° ° ° ° °° ÜÜÜÜÜÜÛÛÛÜÜÜÜÜÜ °°²±²±²±²²²
²±²±±±°±°°°°° ° ° ° ° ° ° ° ° ° °°±±±² ÛÛÛÛÛÛÛÛÛÛÛÛÛÛÛÛÛ °±²²²²²²²²
ÜÜÜÜÜÜÜÜÜÜÜÜÜÜÜÜÜÜÜÜÜÜÜÜÜÜÜÜÜÜ ÜÜ Ü ° °°±°±±² ßßßßßßßßßßßßßßßßß ÜÜÜÜÜÜÜÜÜÜ


P R O U D L Y P R E S E N T S

Outerspace.Software.BluffTitler.DX9.iTV.v8.3.1.4.Incl.Keygen

PROTECTION : SERIAL
SIZE ......: 04 * 4,77MB
DATE ......: 01/2012
URL........: http://www.blufftitler.com

ÜÛÛÛÛÜ ÜÛÛÛÛÜ
ÜÛÛÛÛÛÛÛÛÜ ÜÛÛÛÛÛÛÛÛÜ
ÜÛÛÛÛÛÛÛÛÛÛÜ ÜÛÛÛÛÛÛÛÛÛÛÜ
ÜÛÛ ÛÛÛÛ ÛÛÜ ÛÛßßÛÜ ÛÛßßßß ÛÛ ÛÛßßßß ÜÛßßÛÜ ÜÛßßßß ÛÛßßßß ÜÛÛ ÛÛÛÛ ÛÛÜ
ÛÛÛÛÛÛÛÛÛÛÛÛÛÛ ÛÛßßÛß ÛÛßßßß ÛÛ ÛÛßßßß ÛÛßßÛÛ ßßßÛÜ ÛÛßßßß ÛÛÛÛÛÛÛÛÛÛÛÛÛÛ
ßÛÛßßßßßßßÛß ÛÛ ÛÛ ÛÛÜÜÜÜ ÛÛÜÜÜÜ ÛÛÜÜÜÜ ÛÛ ÛÛ ÜÜÜÜÛß ÛÛÜÜÜÜ ßÛÛßßßßßßßÛß
ÜÛß ßÛÜ ±± ±± ±±±±±± ±±±±±± ±±±±±± ±± ±± ±±±±±° ±±±±±± ÜÛß ßÛÜ
ßÜ Üß ßÜ Üß
ßÛÛß ÛÛßßÛÜ ÜÛßßßß ÜÛßßÛÜ ÛÛßßÛÜ ÛÛßÛßÛÜ ÜÛßßÛÜ ßßÛÛßßß ßÛÛß ÜÛßßÛÜ ÛÛßßÛÜ
ÛÛ ÛÛ ÛÛ ÛÛßßßß ÛÛ ÛÛ ÛÛßßÛß ÛÛ Û ÛÛ ÛÛßßÛÛ ÛÛ ÛÛ ÛÛ ÛÛ ÛÛ ÛÛ
ÜÛÛÜ ÛÛ ÛÛ ÛÛ ßÛÜÜÛß ÛÛ ÛÛ ÛÛ Û ÛÛ ÛÛ ÛÛ ÛÛ ÜÛÛÜ ßÛÜÜÛß ÛÛ ÛÛ
±±±± ±± ±± ±± °±±±±° ±± ±± ±± ± ±± ±± ±± ±± ±±±± °±±±±° ±± ±±



Create dazzling 3D titles for your videos with BluffTitler DX9

Want to impress your friends and clients with cool 3D titles? But do not
want to spend a fortune on professional 3D animation and video titling
software? BluffTitler is the easiest way to add spectacular 3D effects to
your photos and videos!

BluffTitler DX9 is a realtime 3D video titler. The result can be played in
realtime or exported as a movie file for further processing in DVD
authoring tools. Special effects include: reflection mapping, light beams,
beveled borders, looping plasma effects, realtime shadows, EPS import,
particle effects, bump mapping, RSS news feed import, vertex and pixel
shader effects, spinning globe, waving flag, blob rendering and MPEG/Flash
video textures.



ßÛÛß ÛÛßßÛÜ ÜÛßßßß ßßÛÛßßß ÜÛßßÛÜ ÛÛ ÛÛ ÜÛßßÛÜ ßßÛÛßß ßÛÛß ÜÛßßÛÜ ÛÛßßÛÜ
ÛÛ ÛÛ ÛÛ ßßßÛÜ ÛÛ ÛÛßßÛÛ ÛÛ ÛÛ ÛÛßßÛÛ ÛÛ ÛÛ ÛÛ ÛÛ ÛÛ ÛÛ
ÜÛÛÜ ÛÛ ÛÛ ÜÜÜÜÛß ÛÛ ÛÛ ÛÛ ÛÛÜÜÜÜ ÛÛÜÜÜÜ ÛÛ ÛÛ ÛÛ ÜÛÛÜ ßÛÜÜÛß ÛÛ ÛÛ
±±±± ±± ±± ±±±±±° ±± ±± ±± ±±±±±± ±±±±±± ±± ±± ±± ±±±± °±±±±° ±± ±±



1) Unzip, Unrar and install

2) When prompted select PRO version.
Go to Settings > Enter License Keys
and use our Keygen to register

3) Enjoy



ßÜ Üß ßÜ Üß
ÜÛÛßÛÛÛÛßÛÛÜ ÛÛÛßßßÛÛÜ ÜÛÛßßßÛÛÜ ßßßÛÛÛßßßß ÛÛÛßßßßßß ÜÛÛßßßßßß ÜÛÛßÛÛÛÛßÛÛÜ
ÜÛÛÛÛÛÛÛÛÛÛÛÛÜ ÛÛÛ ÛÛÛ ÛÛÛ ÛÛÛ ÛÛÛ ÛÛÛßßßßßß ßßßßßÛÛÜ ÜÛÛÛÛÛÛÛÛÛÛÛÛÜ
Û ÛßßßßßßßßÛ Û ÛÛÛ ÛÛÛ ßÛÛÜÜÜÛÛß ÛÛÛ ÛÛÛÜÜÜÜÜÜ ÜÜÜÜÜÜÛÛß Û ÛßßßßßßßßÛ Û
ßßß ßßß ±±± ±±± °±±±±±±±° ±±± ±±±±±±±±± ±±±±±±±±° ßßß ßßß



Installer and zipped (portable) version included in our release

If the program complains about not being able to find D3DX9_34.dll
you will have to install the latest version of DirectX.




这里是其它用户补充的资源(我也要补充):
暂无补充资源