中文名: 绘图文件转换和打印工具软件
英文名: ViewCompanion Premium
资源格式: 压缩包
版本: v7.33 x32
发行时间: 2012年
制作发行:
Software Companions, Norway
简介:





软件类型:软件>多媒体类
应用平台:Windows
操作系统:Windows 7, Windows Vista or Windows XP
问题反馈:http://www.softwarecompanions.com/support.html
网站链接:http://www.softwarecompanions.com/
软件介绍:

ViewCompanion 是一款功能强大的 HPGL、HPGL/2和HP-RTL 文件浏览和打印工具。支持 CAD 程序或绘图仪生成的HPGL、HPGL/2和HP-RTL文件。ViewCompanion 的主要特性是支持PS、PDF、DWF、DXF、JPG、PCX、PNG、TIFF、BMP、EMF、WMF 等文件格式之间的相互转换,这是专业版。与标准版的区别是可以使用简单的绘图元素(如矩形、椭圆、文字、箭头、图像等)对打开的文件进行修改,并且修改所用的绘图元素保存在单独的文件,不会影响原始文件。


挪威Software Companions,它是一家专注于开发强大的文档观察和转换软件的软件公司,

ViewCompanion 为CAD/CAM市场提供了更强大的特征和功能性。ViewCompanion 在它的所支持的转换标准列表中又增加了3个新的文件标准。用户现在可以转换所有的HPGL-2文件到AutoDesk DXF文件,它可以非常容易的从所有主要的CAD应用软件中读出文件。PDF和DWF标准支持可以使用户在WEB上自由的发布文件。在这个新版本中,转换文件可以被用户自由的缩放。

ViewCompanion 所支持的转换标准包括:Adobe Postscript, Adobe PDF, Gerber RS274-X, AutoDesk DXF, AutoDesk DWF, WMF, EMF, CGM and TIFF。

可以将输入的文件转换成下列的文件格式:
1.Adobe PDF
2.Adobe Postscript
3.AutoDesk DWF
4.Autodesk DXF
5.CALS Group 4 Raster
6.CGM (Computer Graphics Metafile)
7.Gerber RS-274X
8.JPEG Raster
9.Paintbrush PCX
10.PNG Raster
11.Scalable Vector Graphics (SVG)
12.TIFF Raster
13.Windows Metafile
14.Windows Bitmap
15.Windows Enhanced Metafile






资源更新列表


http://www.VeryCD.com/i/5190747/create/fol...postTime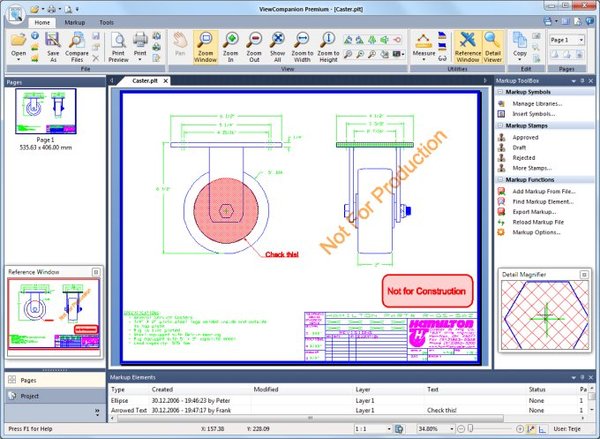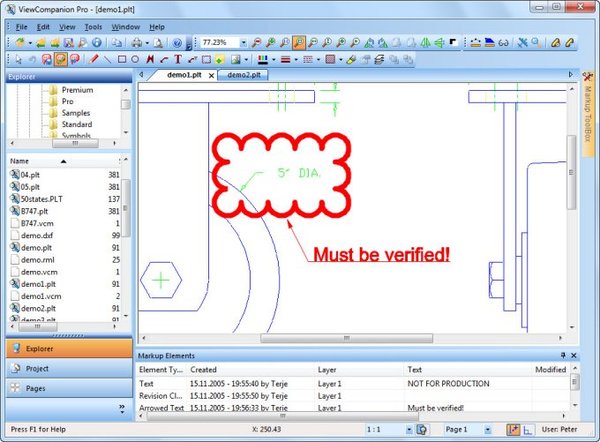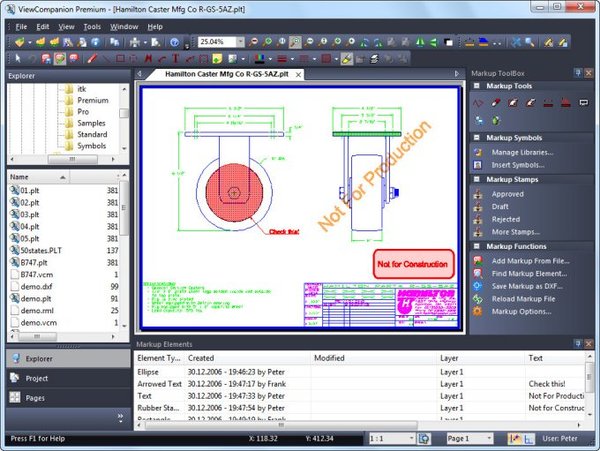 ViewCompanion Premium® is the most powerful member of the ViewCompanion familiy. ViewCompanion Premium can view, print and convert HPGL, HPGL/2, HP-RTL, Adobe PDF, Postscript, EPS, TIFF, CALS and other formats.
Conversion is one of the most important features in ViewCompanion, and the following output formats are supported:
-Adobe PDF
-Adobe Postscript®
-AutoDesk DWF
-AutoDesk DXF
-CALS Group 4 Raster
-Computer Graphics Metafile
-Gerber RS-274X
-HP-RTL Raster
-JPEG Raster
-JPEG2000 Raster
-Paintbrush PCX (PCX)
-Portable Network Graphics (PNG)
-Scalable Vector Graphics (SVG)
-TIFF Raster
-Windows Bitmap (BMP)
-Windows Enhanced Metafile (EMF)
-Windows Metafile (WMF)


If you need to distribute drawings, e.g. on the Internet, you can convert your drawings to Autodesk Drawing Web Format (DWF), Scalable Vector Graphics (SVG) or Adobe PDF. All these formats are very popular for distributing drawings.
You can even convert multiple files of different formats to a single multi-page PDF file.
HPGL/2 plotter files can be converted to AutoDesk DXF format, which can be read by almost all CAD application, e.g.: Autodesk AutoCAD and Microstation.

Both batch conversion and printing is included. The software can be configured to monitor a user selected folder, and all files copied to that folder will be automatically printed.


With ViewCompanion Premium you can add markups to the loaded file. Supported markup elements include rectangles, lines, dimension lines, area measurements, ellipses, polygons, text, arrows, stamps and images.
You can select one of the predefined stamps or create your own. User defined symbol libraries makes it easy to add frequently used symbols as markups. Hyper links can be added to markup elements, and a hyper link can either open another drawing in ViewCompanion, or open an Internet location using the default browser.
All markup elements are stored in a separate file. The original file will be left unchanged.
The markup elements can optionally be included when the viewed file is printed or converted.
The markup elements can be exported to a DXF file.


ViewCompanion Premium Key Features

View, markup, convert and print files of different formats.
Conversion to other standard formats, see below for a list of supported formats.
Extensive set of command line parameters for conversion and printing.
Batch Printing and conversion.
Open files directly from a ZIP archive.
Drag and Drop supported. Both single and multiple files.
Rotate loaded files in steps of 90 degrees.
Load rotated with user-defined rotation.
Add footer and header text containing date, scale, time and filename when printing.
Add watermark using text or a raster image.
Color or Black & White Printing.
Scaled print or fit to paper.
Poster mode for printing big format drawings on multiple sheets, e.g. print an A0 drawing in full size using multiple A4 sheets.
Print Preview.
Print to all Windows supported plotter and printer devices.
Overlay up to 10 files and print as one drawing.
Markup by using lines, text, rectangles, ellipses, images, polygons, arrows, stamps, dimension lines and measurement areas.
Truetype fonts used for markup text entities.
Include markups during printing and conversion.
Create password protected DWF and PDF files.



Compare two plotter files.
Define user Pen Table full control of colors, styles and widths. Also supported for batch printing and conversion.
Individual Pen visibility control.
Entity information query.
Distance measurement with entity snap.
Polygonal area measurements with entity snap.
Supports Metric and Imperial coordinates.
DDE Interface for easy integration with other programs.
Send the viewed file to another person by E-Mail, either as PDF or in original format.
Copy selected region to clipboard, and paste into another Windows application.
Text search and extract.
Store commonly used files in projects.
Easy to use installation and uninstallation software.
Customizable GUI.
Multiple Document Interface (MDI) makes it easy to view several files at once.
Microsoft IntelliMouse supported for zooming and panning operations.
Full screen mode.
Reads multi-page HPGL/2 files.
Reads multi-page TIFF files.
Reads HP-RTL files (HPGL with raster data).
Reads Adobe PDF, Postscript and EPS files.




代码
ÜÝ Ü ÜÜß° Ü±Ü ± ± Ü±Ü °ßÜÜ Ü ÞÜ
ÜÛÛÛ² ÞÜ Üßß Ü²Û° °Û²Ü ßßÜ ÜÝ ²ÛÛÛÜ
ÛÛÛÛÛÛ ²ÛÜ ßÜÜ ÜÜÛßÛÛ² ²ÛÛßÛÜÜ ÜÜß ÜÛ² ÛÛÛÛÛÛ
ÞÛÛÛÛÛÝ °±ÛÛ²ÜÜÜ ßßß° ÞÛÛÝ ÞÛÛÝ °ßßß ÜÜÜÛÛÛ±° ÞÛÛÛÛÛÝ
ÛÛÛÛÛÝ °Û±ßßß²ÛÛÛÛÜÜÜÜÜ° ܲÛß ßÛ²Ü °ÜÜÜÜÜÛÛÛÛßßßß±Û° ÞÛÛÛÛÛ
ÛÛÛÛÛÝ ÜÜÛÛ² ÜÛÛÛßß °Ü²ßß ßßÛÜ° ßßÛÛÛÜ Ü ²ÛÛÜÜ ÞÛÛÛÛÛ
ÛÛÛÛÛ ÜÜÛÛÛ²ßß ÞÛß ° ÜÜßß ° °ßßÜÜ ° ßÛÝ Ü ßß²ÛÛÛÜÜ ÛÛÛÛÛ
ÞÛÛÛÛÛÛ²ßß ° ° ßÜ°Üß ° ° ° ßÜ°Üß Üß ßß²ÛÛÛÛÛÛÝ
ÞÛÛ²ßß Üß ° Üß ßÛÝ Ü² ° ÞÛßÜÛß Ü °ßß²ÛÛÝ
Ûß Û ° ßÜÜ ßÜ ÜÜÜ° ÜÛ± ÜÜÛÛÜÜßÜÛß ÜÜ Üß ßÛ
ÛÜ °ßÛÛÛÜÜ ÜÛÛÛÛÛÛÛÜ Ü²ÛÛÝ ÜÛÛÛÛÛÛ±ÛÛÝ ÜÜÛÛÛ ÞÛ
Þ²Ý ° ÞÛÛÛÛ²²ÛÛÛÛÛÛÛÛÛÛÛÛÛÛ² ÞÛÛÛ²ß ÞÛÛ ÛÛÛÛÛÛÝ °ÞÛÜÜ
ܲÛÛ ° ÞÛÛÛÛÛÞÛÛ²ßß±ÛÛÛÛÛßß ° ÛÛÛÛ° Ûß ÛÛÛÛÛÛÝ ° ÛÛÛÛÛÜ
ÜܲÛÛÛÛÝ ° ÛÛÛÛÛÛÛÛÝ ° ß²ß Ü ÞÛÛ± ßÜ °ÛÛÛÛÞÛÛ ° ÛÛÛÛÛÝ°
ß²ÛÛÛÛßÛÛÛ ° ÛÛÛÛÛÛÛ² ° ÜܲÛÛÜ ²ÛÛÜ ßÛÛÛÛ ÞÛ ° ÛÛÛÛÛ °
°ÞÛÛÛÛÝ ÛÛ² ° ÛÛÛÛ²ÛÛ² ÜÜßßÛÜÜßÛÛÛÜÛÛ²ß ÛÛÛÛÝÞÛÝ ° ÛÛÛÛÛ °
° ÛÛÛÛÛ ÞÛÛÛ ° ÞÛÛÛÛÛÛÛÝ ÞÛ²Û ÛÛß±±° Ü ÛÛÛÛÝ ÛÛ ° ÛÛÛÛÛ ±
± ÛÛÛÛÛ °ßÛÛÛÜ° ÞÛÛÛÛÛÛÞÛÜ ÛÝÞÛÜÛ°±ÛÛÛ ÛÜÛÛÛÛÛ °ÛÛ ° ÛÛÛÛÛ ±
² ÛÛÛÛÛ ° ßÛÛÛÜÜ ÛÛÛÛ²ÛÝßÛ±ÜÜ ÜÜÛÛ ÛÛÛÝ°ÛÛÛÝ ÜÛÛÛÛÛÛÛ ° ßßÜ ° ÛÛÛÛÛ ²
² ÛÛÛÛÛ ° ßßÛÛÜÛÛÛÛßÛÜ°ßßÛÛÛÛßßÜÛÛÛß°ÞÛÛÛ ÜܲÛÛß ÛÛÛÛÛÜÜ ß ÜÞÛÛÛÛ ²
Û ÛÛÛÛÛ ° ßßßÛÛÛÜßßÛÜÜÜÜÜÛÛÛÛß° ÜÛÛÛÛÛÛÛÛÛß ÛÛßß ß ÜÛÛÛÛ ²
Û ßß²ÛÛÜÜ ßßÛÛÜÜßßßßßßÜÜÜÛ²ßß ²ß ÜÜÛÛÛßß Û
ÛÛÛÜÜ ßß²Ü ßÜ ßßßßßßßß ÞÛ Üß ÜÛßß ÜÜÛÛÛ
²ß²ÛÛÛÛÜÜ ß Üß ß ßÜ ß ÜÜÛÛÛ۲߲
ÛÜ ßß²ÛÛÛÛÜÜÜÝ Ü²ÛÝ PROUDLY PRESENTS ÞÛ²Ü ÞÜÜÜÛÛÛÛ²ßß ÜÛ
ÛÛÛÜÜ ßß²ÛÛ ßß²ÛÛÜÜÜÜ ÜÜÜÜÛÛ²ßß ÛÛ²ßß ÜÜÛÛÛ
ÞÛÛÛÛ ÛÜÜ °Û² ÜÜÜÛÛÛÛ²ßß ßß²ÛÛÛÛÜÜÜ ²Û° ÜÜÛ ÛÛÛÛÝ
ÛÛÛÛ Û ßß±ÛÛÛ²ßßß ßßß²ÛÛÛ±ßß Û ÛÛÛÛ
ÛÛÛÛ Û °ß ß° Û ÛÛÛÛ
ÛÛÛÛ ViewCompanion Premium v7.33 x32 ÛÛÛÛ
ÛÛÛÛ ÛÛÛÛ
ÛÛÛÛ ÛÛÛÛ
ÛÛÛÛ Release Date.: 2012-12-06 Supplier.....: TEAM NGEN ÛÛÛÛ
ÛÛÛÛ Size.........: 7x5MB Cracker......: TEAM NGEN ÛÛÛÛ
ÛÛÛÛ ÛÛÛÛ
ÛÛÛÛ Publisher....: Software Companions ÛÛÛÛ
ÛÛÛÛ Url..........: http://www.softwarecompanions.com/ ÛÛÛÛ
ÛÛÛÛ ÛÛÛÛ
ÛÛÛÛ Ü ° ° Ü ÛÛÛÛ
ÛÛÛÛ Û Üß Ü Ü ßÜ Û ÛÛÛÛ
ÛÛÛÛ ÛÜß ÜÛ ÜÜÜßß ÜÜ°°ßß ßß°°ÜÜ ßßÜÜÜ ÛÜ ßÜÛ ÛÛÛÛ
ÛÛÛÛ ß Ü²ßÛ ÜÜÜÛÛßßß ÜÜÜ±ß ß±ÜÜÜ ßßßÛÛÜÜÜ Ûß²Ü ß ÛÛÛÛ
ÛÛÛÛ ßß ÞÛÛÛ²ßß ÜÜßßß Ü° °Ü ßßßÜÜ ßß²ÛÛÛÝ ßß ÛÛÛÛ
ÛÛÛÛ ° ßßÜÜÜÜßß ÜÜÛÛ Release Notes ÛÛÜÜ ßßÜÜÜÜßß ° ÛÛÛÛ
²ÛÛÛÜÜÜÛÛÛßß ßßÛÛÛÛÜÜ ÜÜÛÛÛÛßß ßßÛÛÛÜÜÜÛÛÛ²
ßßÛ²ß ÛÝ ßßßßÛß ßÛßßßß ÞÛ ß²Ûßß
ß ÜÛÛ² ²ÛÛÜ ß
ÜÛÛÛ±Ý Þ±ÛÛÛÜ
ܲÛÛÛß ° ° ßÛÛÛ²Ü
²ÛÛÛß ÜÜß ßÜÜ ßÛÛÛ²
ÛÛÛÛ ÛÛ ÛÛ ÛÛÛÛ
ÛÛÛÛ ÛÛ ÛÛ ÛÛÛÛ
ÛÛÛÛ ÛÛ ViewCompanion Premium© is the most powerful member of ÛÛ ÛÛÛÛ
ÛÛÛÛ ÛÛ the ViewCompanion familiy. ViewCompanion Premium can ÛÛ ÛÛÛÛ
ÛÛÛÛ ÛÛ view, print and convert HPGL, HPGL/2, HP-RTL, Adobe PDF, ÛÛ ÛÛÛÛ
ÛÛÛÛ ÛÛ Postscript, EPS, TIFF, CALS and other formats. ÛÛ ÛÛÛÛ
ÛÛÛÛ ÛÛ ÛÛ ÛÛÛÛ
ÛÛÛÛ ÛÛ Conversion is one of the most important features in ÛÛ ÛÛÛÛ
ÛÛÛÛ ÛÛ ViewCompanion, and the following output formats are ÛÛ ÛÛÛÛ
ÛÛÛÛ ÛÛ supported: ÛÛ ÛÛÛÛ
ÛÛÛÛ ÛÛ ÛÛ ÛÛÛÛ
ÛÛÛÛ ÛÛ - Adobe PDF ÛÛ ÛÛÛÛ
ÛÛÛÛ ÛÛ - Adobe Postscript© ÛÛ ÛÛÛÛ
ÛÛÛÛ ÛÛ - AutoDesk DWF ÛÛ ÛÛÛÛ
ÛÛÛÛ ÛÛ - AutoDesk DXF ÛÛ ÛÛÛÛ
ÛÛÛÛ ÛÛ - CALS Group 4 Raster ÛÛ ÛÛÛÛ
ÛÛÛÛ ÛÛ - Computer Graphics Metafile ÛÛ ÛÛÛÛ
ÛÛÛÛ ÛÛ - Gerber RS-274X ÛÛ ÛÛÛÛ
ÛÛÛÛ ÛÛ - HP-RTL Raster ÛÛ ÛÛÛÛ
ÛÛÛÛ ÛÛ - JPEG Raster ÛÛ ÛÛÛÛ
ÛÛÛÛ ÛÛ - JPEG2000 Raster ÛÛ ÛÛÛÛ
ÛÛÛÛ ÛÛ - Paintbrush PCX (PCX) ÛÛ ÛÛÛÛ
ÛÛÛÛ ÛÛ - Portable Network Graphics (PNG) ÛÛ ÛÛÛÛ
ÛÛÛÛ ÛÛ - Scalable Vector Graphics (SVG) ÛÛ ÛÛÛÛ
ÛÛÛÛ ÛÛ - TIFF Raster ÛÛ ÛÛÛÛ
ÛÛÛÛ ÛÛ - Windows Bitmap (BMP) ÛÛ ÛÛÛÛ
ÛÛÛÛ ÛÛ - Windows Enhanced Metafile (EMF) ÛÛ ÛÛÛÛ
ÛÛÛÛ ÛÛ - Windows Metafile (WMF) ÛÛ ÛÛÛÛ
ÛÛÛÛ ÛÛ ÛÛ ÛÛÛÛ
ÛÛÛÛ ÛÛ With ViewCompanion Premium you can add markups to the ÛÛ ÛÛÛÛ
ÛÛÛÛ ÛÛ loaded file. Supported markup elements include ÛÛ ÛÛÛÛ
ÛÛÛÛ ÛÛ rectangles, lines, dimension lines, area measurements, ÛÛ ÛÛÛÛ
ÛÛÛÛ ÛÛ ellipses, polygons, text, arrows, stamps and images. ÛÛ ÛÛÛÛ
ÛÛÛÛ ÛÛ You can select one of the predefined stamps or create ÛÛ ÛÛÛÛ
ÛÛÛÛ ÛÛ your own. User defined symbol libraries makes it easy to ÛÛ ÛÛÛÛ
ÛÛÛÛ ÛÛ add frequently used symbols as markups. Hyper links can ÛÛ ÛÛÛÛ
ÛÛÛÛ ÛÛ be added to markup elements, and a hyper link can either ÛÛ ÛÛÛÛ
ÛÛÛÛ ÛÛ open another drawing in ViewCompanion, or open an ÛÛ ÛÛÛÛ
ÛÛÛÛ ÛÛ Internet location using the default browser. ÛÛ ÛÛÛÛ
ÛÛÛÛ ÛÛ ÛÛ ÛÛÛÛ
ÛÛÛÛ ÛÛ All markup elements are stored in a separate file. The ÛÛ ÛÛÛÛ
ÛÛÛÛ ÛÛ original file will be left unchanged. ÛÛ ÛÛÛÛ
ÛÛÛÛ ÛÛ ÛÛ ÛÛÛÛ
ÛÛÛÛ ÛÛ The markup elements can optionally be included when the ÛÛ ÛÛÛÛ
ÛÛÛÛ ÛÛ viewed file is printed or converted. ÛÛ ÛÛÛÛ
ÛÛÛÛ ÛÛ ÛÛ ÛÛÛÛ
ÛÛÛÛ ÛÛ The markup elements can be exported to a DXF file. ÛÛ ÛÛÛÛ
ÛÛÛÛ ÛÛ ÛÛ ÛÛÛÛ
ÛÛÛÛ ÛÛ ViewCompanion gives you advanced functions for zooming ÛÛ ÛÛÛÛ
ÛÛÛÛ ÛÛ and panning, so that you can view your files fast and ÛÛ ÛÛÛÛ
ÛÛÛÛ ÛÛ accurate, before printing or converting them. ÛÛ ÛÛÛÛ
ÛÛÛÛ ÛÛ ÛÛ ÛÛÛÛ
ÛÛÛÛ ÛÛ ÛÛ ÛÛÛÛ
ÛÛÛÛ ÛÛ ÛÛ ÛÛÛÛ
ÛÛÛÛ ÛÛ Üß Ü Ü ßÜ ÛÛ ÛÛÛÛ
ÛÛÛÛ ÛÛß ÜÛ ÜÜÜßß ÜÜ ßßß ßßß ÜÜ ßßÜÜÜ ÛÜ ßÛÛ ÛÛÛÛ
ÛÛÛÛ ß Ü²ßÛ ÜÜÜÛÛßßß ÜÜÜ±ß ß±ÜÜÜ ßßßÛÛÜÜÜ Ûß²Ü ß ÛÛÛÛ
ÛÛÛÛ ßß ÞÛÛÛ²ßß ÜÜßßß Ü° °Ü ßßßÜÜ ßß²ÛÛÛÝ ßß ÛÛÛÛ
ÛÛÛÛ ° ßßÜÜÜÜßß ÜÜÛÛ Install Notes ÛÛÜÜ ßßÜÜÜÜßß ° ÛÛÛÛ
²ÛÛÛÜÜÜÛÛÛßß ßßÛÛÛÛÜÜ ÜÜÛÛÛÛßß ßßÛÛÛÜÜÜÛÛÛ²
ßßÛ²ß ÛÝ ßßßßÛß ßÛßßßß ÞÛ ß²Ûßß
ß ÜÛÛ² ²ÛÛÜ ß
ÜÛÛÛ±Ý Þ±ÛÛÛÜ
ܲÛÛÛß ° ° ßÛÛÛ²Ü
²ÛÛÛß ÜÜß ßÜÜ ßÛÛÛ²
ÛÛÛÛ ÛÛ 1. Install ÛÛ ÛÛÛÛ
ÛÛÛÛ ÛÛ 2. Replace original EXE file by this one. ÛÛ ÛÛÛÛ
ÛÛÛÛ ÛÛ 3. Enjoy! ÛÛ ÛÛÛÛ
ÛÛÛÛ ÛÛ 4. Buy and support authors. ÛÛ ÛÛÛÛ
ÛÛÛÛ ÛÛ ÛÛ ÛÛÛÛ
ÛÛÛÛ ÛÛ Üß Ü Ü ßÜ ÛÛ ÛÛÛÛ
ÛÛÛÛ ÛÛß ÜÛ ÜÜÜßß ÜÜ ßßß ßßß ÜÜ ßßÜÜÜ ÛÜ ßÛÛ ÛÛÛÛ
ÛÛÛÛ ß Ü²ßÛ ÜÜÜÛÛßßß ÜÜÜ±ß ß±ÜÜÜ ßßßÛÛÜÜÜ Ûß²Ü ß ÛÛÛÛ
ÛÛÛÛ ßß ÞÛÛÛ²ßß ÜÜßßß Ü° °Ü ßßßÜÜ ßß²ÛÛÛÝ ßß ÛÛÛÛ
ÛÛÛÛ ° ßßÜÜÜÜßß ÜÜÛÛ Greetings ÛÛÜÜ ßßÜÜÜÜßß ° ÛÛÛÛ
²ÛÛÛÜÜÜÛÛÛßß ßßÛÛÛÛÜÜ ÜÜÛÛÛÛßß ßßÛÛÛÜÜÜÛÛÛ²
ßßÛ²ß ÛÝ ßßßßÛß ßÛßßßß ÞÛ ß²Ûßß
ß ÜÛÛ² ²ÛÛÜ ß
ÜÛÛÛ±Ý Þ±ÛÛÛÜ
ܲÛÛÛß ° ° ßÛÛÛ²Ü
²ÛÛÛß ÜÜß ßÜÜ ßÛÛÛ²
ÛÛÛÛ ÛÛ NGEN would like to greet every people ÛÛ ÛÛÛÛ
ÛÛÛÛ ÛÛ bringing his motivation to the scene ÛÛ ÛÛÛÛ
ÛÛÛÛ ÛÛ ÛÛ ÛÛÛÛ
ÛÛÛÛ ÛÛ °ÜÜ ÜÜß ßÜÜ ÜÜ° ÛÛ ÛÛÛÛ
ÛÛÛÛ ÛÛÜÜßßß Üßß ßßÜ ßßßÜÜÛÛ ÛÛÛÛ
ÛÛÛÛ Ûß Ü Üß Üß NGEN TEAM 2012 ßÜ ßÜ Ü ßÛ ÛÛÛÛ
ÛÛÛÛ ÜÛß ÛÝ ßÜ Üß ÞÛ ßÛÜ ÛÛÛÛ
²ÛÛÛÜÛÛ ÛÛ ßß±ÜÜ Üß ÜÜ ßß ÛÛ ÛÛÜÛÛÛ²
ßßÛ²ß ÛÛ Ü ßÛÜ ÜÜÛ ÜÜÛß ÜÛß Ü ÛÛ ß²Ûßß
ß ÛÛ ßÜÜ °ÛÛ ÛÛÛÛÝ ÛÛÛ ÛÛ ÜÜß ÛÛ ß
ÞÛÛÜÜÜÛÛßßßßßÜ ÜÛÛÛ ÛÛÛ ßÜÜ ÛÛÛ ÛÛÛÜ ÜßßßßßÛÛÜÜÜÛÛÝ
ÛÛßßß ÜÜÛ²²ÛÛÛ±ÛÝ ÞÛÛÛ ßßÛÛÛ ÞÛ±ÛÛÛ²²ÛÜÜ ßß²ÛÛ
ܲÛÛÛ²ßß ÜÛß Ûßß ß ßÛÜ ßß²ÛÛÛ²Ü ±
±ÛÛÛß ÛÛÝ ß ÞÛÛ ßÛÛÛ± °
ÞÛÛÝ °±ÛÜ ÜÛ±° ÞÛÛÝ
ßÛÛÜ °ß²°ÜÜ ÜÜ°²ß° ° ÜÛÛß °
°ßß±Ü ° ßßÛÜ ÜÛßß ° ܱßß°
°Ü ° ßÝ Þß Ü° °
°Ü Ü°
Ý ascii korma[SAC] Þ
ú ú

这里是其它用户补充的资源(我也要补充):
暂无补充资源