Yehudi Menuhin -《孟德尔颂:小提琴协奏曲/布鲁赫:第1号小提琴协奏曲》(Mendelssohn: Violin Concerto / Bruch: Violin Concerto No. 1)[LP 黑胶 24bit/96KHz][FLAC]

专辑英文名: Mendelssohn: Violin Concerto / Bruch: Violin Concerto No. 1
专辑中文名: 孟德尔颂:小提琴协奏曲/布鲁赫:第1号小提琴协奏曲
别名: Great Recordings of the Century
古典类型: 奏鸣曲
资源格式: FLAC
版本: [LP 黑胶 24bit/96KHz]
发行时间: 1956年
简介: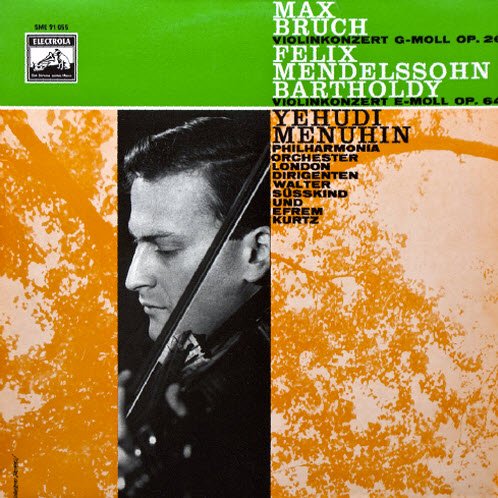 专辑介绍:

「演奏生动鲜活,而曼纽因更是在最好的颠峰状态」-留声机杂誌
★小提琴宗师颠峰期经典录音!

  ■孟德尔颂的E小调小提琴协奏曲自来就被许为浪漫时代小提琴协奏曲中,最受欢迎的名作。乐曲中那令人断肠、欲泣欲诉的多段旋律,始终牵动听者的情绪,在像曼纽因这样的各家手中,重是成为展现一位提琴家品味与技巧的双重挑战。灌录此曲时,曼纽因已经四十二岁,经历过福特万格勒、恩奈斯库等一流大师给他的音乐洗礼,成长为一位思考独立而技巧成熟的提琴家。他在此曲中对那知名的旋律,处理得充满高贵的气质,而不会显得浮滥煽情,给人低俗之嫌。这也使他这份录音自五八年以来,就成为最常被引用的名演。

  ■曼纽因曾在七零年与包尔特爵士留有另一份布鲁赫第一号小提琴协奏曲的录音,然而那份录音却因为曼纽因当时技巧稍有退化,且詮释已见陈旧,而使人遗嗯,与这份早二十年的录音相比,在这里的是一份教人难忘的大师名演。曼纽因那始终无瑕的琴技,和充满清新创意的弓法,总是给人新的啟示,祠这音乐才份,留下最完美的见证。

■布鲁赫:G小调第一号小提琴协奏曲,作品26(1-3)
■孟德尔颂:E小调小提琴协奏曲,作品 64 (4-6)

Performer: Yehudi Menuhin
Orchestra: Philharmonia Orchestra
Conductor: Efrem Kurtz, Walter Susskind
Composer: Felix Mendelssohn, Max Bruch
Audio CD (March 9, 1999)
Number of Discs: 1
Format: Original recording remastered
Label: EMI Classics
ASIN: B00000I7W7


# Composer: Max Bruch, Felix Mendelsohn-Bartholdy
# Performer: Yehudi Menhuin
# Orchestra: Philarmonia Orchestra London
# Conductor: Walter Süsskind, Efrem Kurtz
# Vinyl (1956/58)
# Number of Discs: 1
# Format: Flac
# DR-Analysis: DR 11
# Label: EMI Electrola
# ASIN: B000207NOY

This superb LP from Electrola (SME 91055, German pressing, white/gold label, stereo) features Yehudi Menuhin's sublime renditions of Bruch's Violin Concerto No. 1 in G minor Op. 26* and Mendelssohn's Violin Concerto in E minor Op. 64, both recorded with the Philharmonia Orchestra, the former with conductor Walter Susskind on 12 September 1956, and the latter with conductor Efrem Kurtz on 30 April 1958.

Menuhin left multiple versions of both works, but these recordings – made in the Kingsway Hall* and EMI's Studio No. 1, Abbey Road, during the 'Golden Age of Stereo' with what was then arguably the world's finest orchestra – remain quite special even in a discography as vast and distinguished as Menuhin's (both recordings were balanced by Neville Boyling).


引用
5.0 out of 5 stars Magnificent Menuhin January 3, 2004
By Michael B. Richman HALL OF FAMETOP 500 REVIEWERVINE™ VOICE
Format:Audio CD
After listening for years to Yehudi Menuhin's 1971 accounts of the Mendelssohn (E Minor) and Bruch (No. 1) Violin Concertos, both performed with the London Symphony Orchestra led by Rafael Fruhbeck de Burgos and Sir Adrian Boult respectively, I decided to purchase Menuhin's original stereo recordings of the Concertos from the late 1950s. Well, it seems I found a new standard bearer. This CD, reissued a few years back in EMI's "Great Recordings of the Century" series, certainly lives up to its title. Menuhin's later renditions are outstanding, but the combination of a younger Menuhin, the war-horse Philharmonia Orchestra, and the studio excitement that exudes from seemingly all of the great early stereo recordings, make these accounts a notch better. Of course, having Walter Susskind (for the 1956 Bruch) and Efrem Kurtz (for the 1958 Mendelssohn) on the podium is just icing on the cake. The disc logs in a little on the short side at slightly over 50 minutes, but after these exhilarating performances you need a chance to catch your breath.
Comment |
Was this review helpful to you?
7 of 7 people found the following review helpful
5.0 out of 5 stars Superlative musicianship despite Menuhin's declining technique June 6, 2006
By Santa Fe Listener HALL OF FAMETOP 500 REVIEWER
Format:Audio CD
Made between 1956-58, these classic readings of the Mendelssohn and Bruch concertos display Menuhin at his post-war best. I'm sorry to say that I undervalued these performances for a long time. In the Mendelsoohn I couldn't see past Menuhin's mono recording with Furtwangler just after the war, when the violinist had not yet suffered the decline in technique that was soon to plauge him, and Furtwangler was at his best. Menuhin kept a special affinity for this work, however, and this early stereo version with the excellent Efram Kurtz shows how his musicianship could shine thorugh drawbacks in execution.

The Bruch with Walter Susskind is a bold, forward reading with lots of presence. I especially like the fast tempo for the first movement and Menuhin's way of probing into every phrase--this concerto too often comes off as a combination of cut velvet and embalming fluid. One can't expect Menuhin's tone to be as sweet and steady as Perlman's, and his intonation turns dodgy in fast passagework, but Menuhin well deserves his standing as one of the most musical, expressive violinists of the century.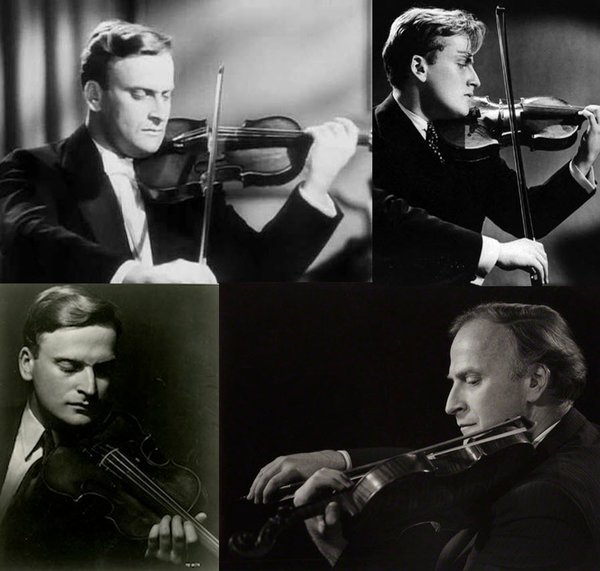 Yehudi Menuhin, Baron Menuhin, OM, KBE (April 22, 1916 – March 12, 1999) was a Russian Jewish American violinist and conductor who spent most of his performing career in the United Kingdom.
专辑曲目:
A1 Bruch – Concerto for Violin & Orchestra No. 1 in G Minor Op. 26 – 1. Vorspiel. Allegro moderato
A2 Bruch – Concerto for Violin & Orchestra No. 1 in G Minor Op. 26 – 2. Adagio
A3 Bruch – Concerto for Violin & Orchestra No. 1 in G Minor Op. 26 – 3. Finale. Allegro energico – Presto
B1 Mendelsohn – Concerto for Violin & Orchestra in E Minor Op. 64 – 1. Allegro Molto Appassionato
B2 Mendelsohn – Concerto for Violin & Orchestra in E Minor Op. 64 – 2. Andante
B3 Mendelsohn – Concerto for Violin & Orchestra in E Minor Op. 64 – 3. Allegretto Non Troppo – Allegro molto vivace
这里是其它用户补充的资源(我也要补充):
暂无补充资源