专辑英文名: Haydn: The Creation H. 21 (Die Schöpfung)
专辑中文名: 海顿:创世纪(芭托,李汶,柏林爱乐)
古典类型: 全集作品
资源格式: FLAC
版本: [2 CD]
发行时间: 1996年02月01日
简介:


专辑介绍:

☉芭托,女高音/温柏格,男高音/摩尔,男低音
☉李汶指挥/柏林爱乐与斯德哥尔摩广播合唱团、斯德哥尔摩商会合唱团


「创世纪」原是英国诗人里德雷为韩德尔所编写的神剧剧本,内容根据旧约圣经「创世纪」与英国诗人米尔顿的「失乐园」写成。可是韩德尔却因故没有使用这部剧本,剧本辗转流传到海顿手中后,他把剧本交给德国贵族外交官斯维顿男爵译为德语。除了翻译剧本,斯维顿男爵对於音乐创作上也给予海顿不少宝贵的意见。神剧全部分成三个部份,前两部由佳百丽、尤利尔与拉飞尔三位天使述说上帝如何在六日创造世界,第三部以描述亚当、夏娃的爱情为主。最后在尤利尔的祝福声中,音乐一转而成讚美天神的庄严合唱。


《创世纪》於1798年在维也纳舒瓦森贝格宫廷做私人演出,由海顿亲自指挥;第一次公开演出则是在1799年。首演当天,《创世纪》带给听眾的,几乎是立即性的震撼;对於听眾热烈无比的反应,感动万分的海顿表示:「有时候冷得像坐在冰块上,可是在下一瞬间,我又觉得自己像是坐在火堆上。不只一次,我害怕自己会承受不住。」参与首演的听眾则写下「从那幸福的夜晚至今已经三天,可是那些音乐依然在我的心中,在我的耳边迴盪。光是回忆,我的心就会悸动不已。」


李汶的演出带有独特的粗獷感,但是在粗獷中又能表现出音乐中的喜悦。除了素质超高的柏林爱乐,三名独唱家也极富个性,整体效果鲜活而且清新却又饱满。

COMPOSER: Joseph Haydn
TITLE: Die Schopfung
TRACKS: German text version of The Creation HobXXI/2.
ORCHESTRA: Berlin Philharmonic
CONDUCTOR: James Levine
ARTISTS: Kathleen Battle Gosta Winbergh Kurt Moll Stockholm Chamber Choir

Haydn (Artist), Battle (Artist), Winbergh (Artist), Moli (Artist), Bpo (Artist), Levine (Artist) | Format: Audio CD

类型: 古典音乐, 音乐
发佈於: 1919年01月01日
℗ 1991 Deutsche Grammophon GmbH, Hamburg

Audio CD (February 1, 1996)
Number of Discs: 2
Format: Import
Label: Dg Imports
ASIN: B000024Z74


引用
James Levine Biography

Since his June 5, 1971, debut at the Metropolitan Opera with Tosca, Music Director James Levine has developed a relationship with that company that is unparalleled in its history and unique in the musical world today. He conducted the first-ever Met performances of Mozart's Idomeneo and La Clemenza di Tito, Gershwin's Porgy and Bess, Stravinsky's Oedipus Rex, Verdi's I Vespri Siciliani, I Lombardi and Stiffelio, Weill's Rise and Fall of the City of Mahagonny, Schoenberg's Erwartung and Moses und Aron, Berg's Lulu, Rossini's La Cenerentola and Berlioz's Benvenuto Cellini, as well as the world premieres of John Corigliano's The Ghosts of Versailles and John Harbison's The Great Gatsby; all told, he has led nearly 2500 performances of 85 different operas there. This season at the Met, he conducts 30 performances of five operas, including Opening Night's new production of Tosca, the new production of Les Contes d'Hoffmann in December, and revivals of Der Rosenkavalier, Simon Boccanegra and Lulu.

Maestro Levine inaugurated the "Metropolitan Opera Presents" television series for PBS in 1977, founded the Met's Lindemann Young Artist Development Program (LYADP) in 1980, returned Wagner's complete Der Ring des Nibelungen to the repertoire in 1989 (in the first integral cycles in 50 years there), and reinstated recitals and concerts with Met artists at the opera house -- a former Metropolitan tradition. Expanding on that tradition, he and the MET Orchestra began touring in concert in 1991, and since then have performed around the world including at Expo '92 in Seville, in Japan, on tours across the United States and Europe, and each year during and after the opera season on its own subscription series at Carnegie Hall; this season his concerts there are in December and January and feature mezzo-soprano Stephanie Blythe and soprano Diana Damrau and music of Elgar, Mahler, Beethoven, Schubert and Richard Strauss. (Maestro Pierre Boulez makes his debut with the MET Orchestra and soprano Deborah Polaski to close the Orchestra's season in May.) Since 1998, Maestro Levine and the MET Chamber Ensemble have performed annually at Carnegie's Weill and Zankel halls; this season's Chamber Ensemble performances also take place in December and January with sopranos Judith Bettina and Jo Ellen Miller, mezzo-soprano Kristin Hoff and bass-baritone Evan Hughes in works by Mozart, Strauss, Sessions, Boulez, Babbitt and Carter. He also gives a masterclass for the Marilyn Horne Foundation at Zankel Hall in January and debuts with the Staatskapelle Berlin with Mahler's Third Symphony in March, as well as playing a special gala fundraising concert there for the imminent restoration of the historic Deutsche Staatsoper (with its Artistic Director, Daniel Barenboim, and Dorothea Röschmann, Waltraud Meier, Matthew Polenzani and René Pape in Brahms' Liebeslieder-Walzer).

James Levine's sixth season as Music Director of the Boston Symphony Orchestra opens on September 23, two days after Opening Night at the Metropolitan, and includes Chopin with Evgeny Kissin and the world premiere of John Williams' "On Willows and Birches" (written for the longtime harpist of the BSO, Ann Hobson Pilot, who is retiring); this program also opens Carnegie Hall's new season on October 1. He conducts 40 performances of fourteen programs in Boston in 2009-10 (four of which travel to Carnegie), including a Beethoven symphony cycle (the orchestra's first on subscription concerts in many decades); three commission premieres from Peter Lieberson ("Farewell Songs"), Elliott Carter (Flute Concerto) and John Harbison (Double Concerto); Mendelssohn's Elijah; a Pension Fund Concert featuring all four Strausses (both Johanns, Josef, and Richard!); and music of Berlioz, Debussy, Ravel, Schubert, Berg, Brahms and Mahler.

In addition to his responsibilities at the Met and the BSO, Mr. Levine is a distinguished pianist and an active and avid recital collaborator, especially in Lieder and song repertoire. He began accompanying such artists as Jennie Tourel, Hans Hotter and Eleanor Steber more than 40 years ago, and since that time has given recitals with most of the great singers of our time. From 1973 to 1993, Levine was Music Director of the Ravinia Festival, summer home to the Chicago Symphony Orchestra, where in a dozen programs each season he led an immense repertoire of symphonic masterpieces, operas, major works for chorus and orchestra, works for unusual combinations of instruments, one-composer marathons, oratorios, concerti, and performed as piano soloist in concerti, chamber music and song recitals. Outside the United States, his activities have been characterized by his intensive and enduring relationships with Europe's most distinguished musical organizations: the Salzburg (1975-1993) and Bayreuth (1982-1998) festivals, the Vienna Philharmonic, and the Berlin Philharmonic. He was Chief Conductor from 1999-2004 of the Munich Philharmonic and has conducted every major orchestra in America and Europe.

James Levine was the first recipient, in 1980, of the annual Manhattan Cultural Award and was presented with the Smetana Medal by the Czechoslovak government in 1986, following performances of the Czech composer's Má vlast in Vienna. He was the subject of a Time cover story in 1983, was named "Musician of the Year" by Musical America in 1984, and has been featured in a documentary in PBS' "American Masters" series. Maestro Levine holds honorary doctorates from the University of Cincinnati, the New England Conservatory of Music, Northwestern University, the State University of New York and the Juilliard School, and is the recipient in recent years of the Award for Distinguished Achievement in the Arts from New York's Third Street Music School Settlement; the Gold Medal for Service to Humanity from the National Institute of Social Sciences; the Lotus Award ("for inspiration to young musicians") from Young Concert Artists; the Anton Seidl Award from the Wagner Society of New York; the Goldenes Ehrenzeichen from the cities of Vienna and Salzburg; the Crystal Award from the World Economic Forum in Davos, Switzerland; the Centennial Medal from The Juilliard School; the 2005 Award for Distinguished Service to the Arts from the American Academy of Arts and Letters; the 2006 Opera News Award; the first-ever Opera Award from the National Endowment for the Arts (2008); and the National Medal of Arts (1997) and Kennedy Center Honors (2003).
This biography was provided by the artist or their representative.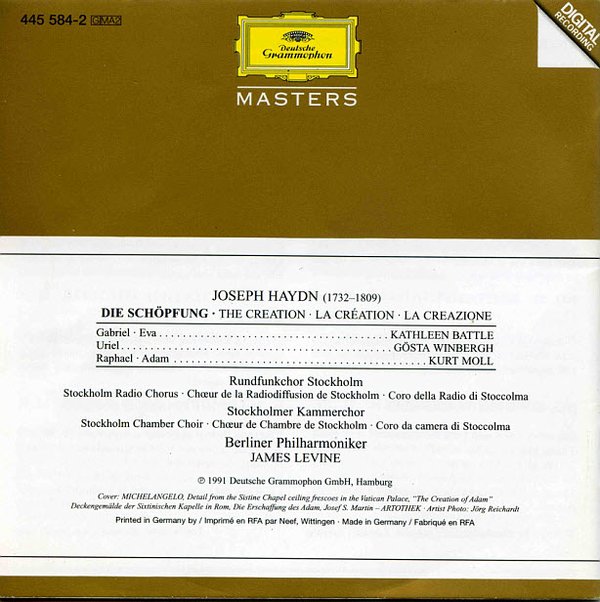 专辑曲目:
01. Einleitung - Rezitativ Und Chor: "Im Anfange"
02. Arie Mit Chor: Nun Schwanden Vor Dem Heiligen Strahle
03. Rezitativ: Und Gott Machte Das Firmament
04. Chor Mit Sopransolo: Mit Staunen Sieht Das Wunderwerk
05. Rezitativ: Und Gott Sprach: Es Sammle Sich Das Wasser
06. Arie: Rollend In SchÄUmenden Wellen
07. Rezitativ: Und Gott Sprach: Es Bringe Die Erde Gras Hervor
08. Arie: Nun Beut Die Flur Das Frische GrÜN
09. Rezitativ: Und Die Himmlischen Heerscharen
10. Chor: Stimmt An Die Saiten
11. Rezitativ: Und Gott Sprach: Es Sei'n Lichter An Der Feste Des Himmels
12. Rezitativ: Im Vollen Glanze Steiget Jetzt
13. Chor Mit Soli: Die Himmel ErzÄHlen Die Ehre Gottes
14. Rezitativ: Und Gott Sprach: Es Bringe Das Wasser
15. Arie: Auf Starkem Fittische Schwinget Sich Der Adler Stolz
16. Rezitativ: Und Gott Schuf GroßE Walfische
17. Rezitativ: Und Die Engel RÜHrten Ihr' Unsterblichen Harfen
18. Terzett: In Holder Anmut Stehn
19. Chor Mit Soli: Der Herr Ist Groß In Seiner Macht

20. Rezitativ: Und Gott Sprach: Es Bringe Die Erde Hervor Lebende GeschÖPfe
21. Rezitativ: "Gleich ÖFfnet Sich Der Erde Schoß" (Raphael)
22. Arie: "Nun Scheint In Vollem Glanze Der Himmel" (Raphael)
23. Rezitativ: "Und Gott Schuf Den Menschen" (Uriel)
24. Arie: Mit WÜRd' Und Hoheit Angetan
25. Rezitativ: Und Gott Sah Jedes Ding
26. Chor: Vollendet Ist Das GroßE Werk
27. Terzett: Zu Dir, O Herr, Blickt Alles Auf
28. Chor: Vollendet Ist Das GroßE Werk
29. Orchestereinleitung Und Rezitativ: Aus Rosenwolken Bricht
30. Duett Mit Chor: Von Deiner GÜT', O Herr Und Gott - Der Sterne Hellster, O Wie S
31. Rezitativ: Nun Ist Die Erste Pflicht ErfÜLlt
32. Duett: Holde Gattin, Dir Zur Seite - Der Tauende Morgen
33. Rezitativ: O GlÜCklich Paar
34. SchlußChor Mit Soli: Singt Dem Herren All Stimmen
这里是其它用户补充的资源(我也要补充):
暂无补充资源