101 String Orchestra -《101管弦乐团 金典专辑 》(101 Strings Instrumental Gold Collector's Edition)[3 CD Set][FLAC]

专辑英文名: 101 Strings Instrumental Gold Collector's Edition
专辑中文名: 101管弦乐团 金典专辑
资源格式: FLAC
版本: [3 CD Set]
发行时间: 2007年09月18日
简介: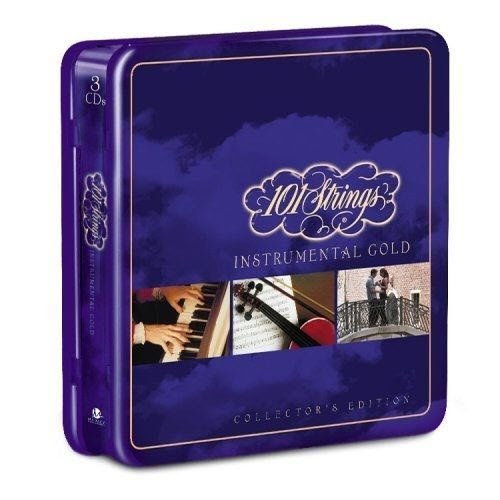 专辑介绍:

101管弦乐团和保罗马丽亚乐团一样,都是以演奏通俗电影,流行音乐出名的乐团.

作为在器乐"轻音乐"(easy listening)最多产和最可信赖的名字之一,101弦乐乐团从1957年初创建以来差不多已经录制了几百张专辑。他们标志性的声音敬礼於美妙的旋律、纯净清新的作品和愉悦放松的环境。101弦乐团101 Strings Orchestra和保罗马丽亚乐团一样,都是以演奏通俗电影,流行音乐出名的乐团.

Artist: The 101 Strings Orchestra
Title Of Album: Collection
Year Of Release: 1958-2011
Label: Essex Records
Genre: Easy Listening, Classical, Soundtracks

Biography by Steve Huey (allmusic.com)
One of the most prolific and reliable names in instrumental easy listening music, the 101 Strings Orchestra has literally recorded hundreds of albums since its inception in 1957. Their trademark sound is built on a reverence for melody, pristine production, and a pleasant, relaxing ambience; while occasional albums have concentrated on brass, piano, guitars, and even mild rock & roll rhythms, the string section -- true to the group's name -- nearly always remains front and center, because of its lush, soothing sound qualities. Most of their albums were built around some unifying theme, whether the work of a well-known artist or songwriter, a specific topic (patriotism, holidays, et al.), TV/ movie themes, songs from a particular country, revampings of familiar tunes from other genres, and so on. The group was founded by producer/engineer Dick L. Miller, who was searching for a way to mimic the sound and style of orchestras led by "name" conductors like Mantovani, without the expense involved in securing their services. He hit upon the idea of recruiting unknown European groups at a much lower cost, and made the 101 Strings Orchestra into something of a brand name (since the personality of the group rested with the arrangements, the individual musicians were somewhat interchangeable, so long as they could play in the preset style). The orchestra's first home was Miller's own Somerset label and their first arranger was Robert Lowden; he was followed by Joseph Kuhn and Monte Kelly in turn, all of whom wrote occasional original numbers as well. In 1964, Miller sold the whole 101 Strings package to the Alshire label, which continued to turn out product with assembly line regularity over the next few decades. During their first decade, the 101 Strings would occasionally offer a more experimental album as a change of pace, but that all stopped after their fan base's reaction to 1968's futuristic and at times unsettling Astro Sounds From Beyond the Year 2000 (which became a sought-after item among latter-day space age pop fans). In 1995, Madacy Entertainment purchased the Alshire label and began reissuing a great deal of the 101 Strings back catalog on CD, not to mention new material.


引用
Audio CD (September 18, 2007)
Number of Discs: 1
Format: Collector's Edition
Label: Madacy Special Mkts
ASIN: B000SNUNTW
Also Available in: Audio CD

5.0 out of 5 stars Totally Outstanding Collection of the Best of 101 Strings who are the BEST! June 11, 2009
By Michael -
Format:Audio CD
I have been listening to, enjoying, and benefiting from the wonderful music of 101 Strings for over 50 years. 36 wonderful selections of real genuine top quality music, mostly instrumental. If there was one additional that could be included I would like it to be the Grand Canyon Suite! Rich, robust, and totally refined--you can't go wrong with the totally wonderful music of the 101 Strings!
专辑曲目:
CD1:

01. Mona Lisa 3:53
02. Fascination 3:13
03. In Love Again 2:26
04. Aura Lee (Love Me Tender) 2:39
05. Memories Are Made of This 2:15
06. September Song 3:50
07. Hawaiian Wedding Song 4:11
08. Always 2:49
09. I Love You Truly 2:09
10. It's Impossible 2:20
11. This Guy's in Love with You 3:46
12. Because of You 2:54

CD2:

01. Moon River 2:57
02. Guantanamera 3:22
03. Call Me Irresponsible 3:15
04. Strangers in the Night 3:28
05. Everybody Loves Somebody 3:14
06. Music Box Dancer 3:14
07. Raindrops Keep Falling on My Head 2:27
08. Scarborough Fayre 2:29
09. Summer of '42 4:09
10. Don't Cry for Me Argentina 4:27
11. Taste of Soul 5:00
12. Feelings 3:57

CD3:

01. Easy to Love 4:08
02. That's Amore 3:03
03. People Will Say We're in Love 4:50
04. Love Is a Many Splendored Thing 4:30
05. Till There Was You 2:40
06. When I Fall in Love 3:52
07. With a Song in My Heart 4:03
08. Meody of Love 2:32
09. Yesterday 4:32
10. Close to You 4:34
11. Come Back to Paradise 3:01
12. I've Got You Under My Skin 3:15
这里是其它用户补充的资源(我也要补充):
暂无补充资源