中文名: CAD绘图修订管理工具
英文名: Guthrie CAD Viewer QA CAD
资源格式: 压缩包
版本: v10.A.17
发行时间: 2012年
制作发行:
Guthrie CAD/GIS Software Pty Ltd.
简介: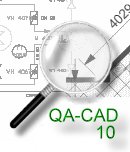 软件类型:软件>多媒体类
软件性质:破解软件
操作系统:Windows
应用平台:Windows 2000/2003/Citrix/XP/XP x64/Vista/Vista 64/Win7/Win7 x64
问题反馈: http://www.guthcad.com/support.htm
网站链接: http://www.guthcad.com/cadviewer_markup_qa.htm
软件介绍:

QA CAD 10 是CAD绘图修订管理工具,它易于使用,有很多的功能.QA CAD 10 是工程设计过程中的重要工具。如果您绘制图纸仍然是手动添加编号和修订,QA CAD 10 是节省您宝贵的时间和资源工具。覆盖绘图自动编号和标记笔记和更正 (文本、 素描、 框、 线条和箭头)。只按下一个按钮的绘图,以及修订和标记笔记和更正,可以保存到一个 PDF 并通过电子邮件发送。


QA CAD 10包括所有的特点和 CAD Viewer 10, CAD Markup 10, SymbolCAD 10 功能,还包括宝贵的加载项扩展 CAD 查看器批处理命令。支持AutoCAD ®2013!


引用
ed2k:
//|file|Guthrie.CAD.Viewer.QA.CAD.v10.A.17-LAXiTY.zip|31184246|6FF792B14FB068A5802D36310DC0EB7B|h=CXZ6YYTGPF55WZF3WO24RQYE63WAQ5BR|/

资源更新列表
http://www.VeryCD.com/i/5190747/create/fol...postTime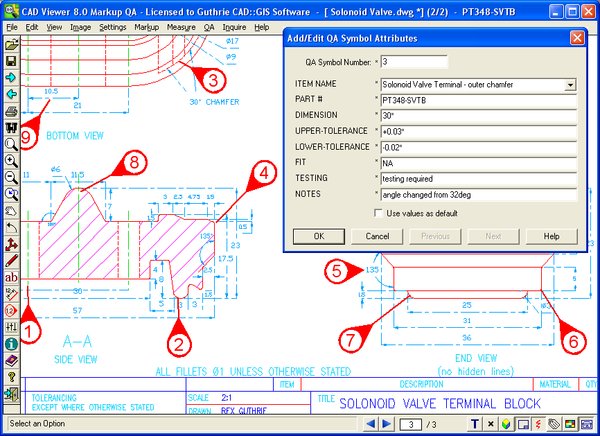 QA-CAD 10 is an essential tool in the engineering design process. If you are still plotting drawings and adding numbered stamps and revisions by hand, then QA-CAD 10 is for you! Save your valuable time and resources with our QA stamping software that overlays drawings with auto-numbered stamps and markup notes and corrections (text, sketches, boxes, lines and arrows).
With just a press of a button the drawing, along with the revision stamps and markup notes/corrections, can be saved to a PDF and sent in an email. The source drawing remains untouched by the stamping and markup operations.
QA-CAD 10 also includes all the features and functions of CAD Viewer 10, CAD Markup 10, SymbolCAD 10, and also includes the valuable add-on extension CAD Viewer Batch Command.
QA-CAD 10 is the perfect tool for drawing revision management because it's easy to use and has many features for the professional user such as embedding field-based data and attributes into the stamps. This data can then be exported to a spreadsheet making it easy to manage your drawing revisions.
QA-CAD 10 functions include:
Overlay drawings with unlimited no. of QA stamps and Markup annotations
Stamps are automatically numbered and easily configured
Choose from 20 different stamping inks
Alter each stamp to any size
Rotate stamps in any direction
Add leaders to stamps
Alter numbering system of QA Stamps anytime during stamping process
Field-based data or attributes may be embedded into QA stamps
Option to configure field entry controls as a dropdown list of user defined values
Dimensions values may be captured directly from the drawing
Export embedded data to a spreadsheet (Excel) for revision management & inspection
Save QA stamps and markup annotations separate to the drawing
Save the drawing with QA stamps and markup overlays to PDF, DWG, DXF, TIFF ...
Vector (DWG, DXF, HPGL/2, DWF), pixel (TIFF, JPG, BMP) and PDF formats can be opened and stamped
Batch Command extension is included in all QA-CAD 10 licenses
QA-CAD 10 also includes all SymbolCAD 10 functions such as:
Create single or multiple collections of symbols from raster images.
Symbol Library creation via easy user interface. Watch Short Video Tutorial! - Create Symbol library + Add symbols to the drawing
Easily access and add commonly used symbols to the drawing at a fixed size.
Mutiple placement of selected symbol in a single continuous operation (i.e. place symbol with a click, move to next location, click to place symbol, and so on)
Supports symbol creation using all common raster formats JPG, BMP, TIF, CAL, PNG.
QA-CAD 10 also includes all CAD Markup 10 functions such as:
Markup all AutoCAD DXF and DWG drawings up to AutoCAD 2013 NEW
Insert Images NEW Watch Short Video Tutorial!
Markup multiple page PDF drawings NEW
Markup all supported raster image drawings
Markup HPGL drawings NEW
Add Markup Text
Add Dimensions - Aligned, Horizonal, and Vertical NEW
Overlay user defined Area and Polyline Length Measurements NEW
Add Lines
Add Boxes
Add Arrows
Store Markup Edits for later use
Set alternate folders for Markup Edits NEW
Blot out portions of the drawing
Blank out (hide) portions of the drawing
Markup Layer toggle allows Markups to displayed or turned off
Add Markups with Hyperlinks NEW
Import/Export Markups NEW
Set Styles for Dimensions, Markups NEW
Overlay drawing printed in Black/White with Markups in color NEW
Keep Markups in color when drawing is toggled to Black/White NEW
QA-CAD 10 also includes all CAD Viewer 10 functions such as:
Intuitive User Interface - anyone can use it
View and print all AutoCAD DXF and DWG drawings up to AutoCAD 2013 NEW
Save to PDF
Save to BMP, JPG, TIF, CAL, GIF, PNG
Intuitive User Interface
Browser style Forward/Back buttons allow multiple (up to 240) drawings to be loaded simultaneously.
Inquire Coordinates NEW
Auto-orientation of print NEW
Hold and Drag Pan method NEW
Layers Control, including Named Layer States
3D pre-defined and user defined Views
Can be called by other applications as a window for Viewing and/or Printing CAD drawings.
CAD Viewer 10 reads all DXF and DWG Versions through to AutoCAD 2013
Free upgrades for 12 months
Enquire on Attributes attached to entities, Xdata supported.
Read BMP, CAL, GIF, GP4, JPEG, PNG, TIFF raster formats.
Save to PDF
View ESRI shapefiles
Read HPGL, HP-GL/2 (.PLT) plotter formats
Read DWF (Drawing Web Format)
TrueType fonts mapping
3D Shade / Render
Can be used for 'slide show' presentations.
Inquire on individual entities - export coordinates / vertices
Thicken printed line widths
High quality print output
Print to Exact Scale
Print single or multiple drawings via the command line with no limit on the number of drawings to print (requires Batch Command license)
Reads Xrefs
Paper Space / Model Space toggle
Layouts support
View, print, save, convert via the command line.
Supports Viewports
Multiple drawings selection via File Open or Windows Explorer
Direct read of ZIP files
Text Search
Version 10
Support all AutoCAD DXF and DWG drawing formats up to AutoCAD 2013 New
Auto-rotate printed pages for best fit New
Most recently used documents list New
Set Styles for Dimensions, Markups, QA New
Expanded Markup, Dimension options New
Import/Export Markups New
ECW format support New
Overlay drawing printed in Black/White with Markups in color New
Add Markups to PDF documents and drawings (Markup version)
Dimension tools (Markup version)
Area and Distance Measurement tools (Markup version)
Store Markup Edits / Additional Markup functions (Markup version)
Save as PDF
View ESRI shapefiles
View HPGL, HP-GL/2 (.PLT) plot files
Save to BMP, JPEG, TIFF, GIF, PNG
代码
°
þßÛÛ²ÜÜ ßÛÛÛÛÛÜÜÜÜ þßÛÛßÜÜ ÜÜßÛÛßþ ÛÛÜ ßÛÛÜÜ °° þÜÜ Üܲ²Ûßþ
ÛÛÛ²² ° Û²ÛÜßß²ÛÛÛÜ Û°°²Û Û²°°² ÛÜÜ ßß Û²²ÛÛ °°±²°° ÞÛ²ÛÜ ÛÛ²²Û
ÛÛ²²ÛÛ °° Û²²ÛÛ ÛÛ²²ÛÝÞ±±²Ý ÞÛ±±²Ý Þ²²Û²ÛÜ Û²²Û °± °Þ²²ÛÝ Þ²ßßÛÝ
ÛßßÛ² °°±²°°ßßß Û²ßß² Û²Û ° Û²²ÛÛ Û²ßß²² ÛßÛÜÜÛÛß ° °° Û²ÛßÜÜÜÛ°°²Û
ÛÛ°°ÛÛ °°ÜÜþÞÛ²²ÛÜÜÛ°°ÛÝÞÛ²²ÜÛ²Ûßß ° ÞÛ°°ÛÛÛ°°Ûßß ÜÜþ ÜÛ²²ÛÛßßßßÛ±±ÛÝ
Û±±²Û ÜÛÛ²ÝÞ²ß ßßßÛ±±Û² ÛÛß ßÛ²²ÛÜ Û²±±Û Û±±Û ÜÛ²²Ý ß ÜÜÜÜ Û²²²Û
ÛÛ²²ÛÛ ÛÛ²²ÝÞ²Ý °±° Û²²ÛÝÞ²Ý ° ÞÛßß²Û Û²²ÛÛÛÛ²²ÛÝ Þ²²ÛÝ ÞÛ²²ÛÝ Þ²²²ÛÝ
ßÛ²²ÛÜÜßÛ²Û Û² ° Þ²²ÛÛ ÛÛ °±° Û°°²ÛÝÛÛ²Û ßÛÛ²²ÜÜßÛ²Û Û²ÛßÜÜܲ²ÛÛÛß
ßÜÜ ßßßßÛÛÛÛÛÜßÛÜÜÜÛ²Ûß Þ²²Ý °° Û±±²Û Û²ÛÛÛ ÜÜ ßßßß²²ÛÛÛÜ ßÛ²²²Ûßßß ÜÜß
ßßß²ÜÜÜÜÜÜ ß ²ÜÜÜÜÜÜÜÜ ßÛ ° Þ²²ÛÛß ÜÜ ßß ² ßßß²ÜÜÜÜÜÜ ß ÜÜÜÜÜܲßß
± ° ß Û²ßß ° ° ±
° ß °
ß þÜ Üþ ß
Þ²Ü ÜÜܲÛÛÛ²Ü tEAM LAXiTY ܲÛÛÛ²ÜÜÜ Ü²Ý
ܲ²ß ÜÛ²ßßß ß²²ß pROUDLY pRESENTS: ß²²ß ßßßÛ²Ü ß²²Ü
ÜÛ²²ß Üß þßß ßßþ ßÜ ß²²ÛÜ
Û²²Û ² ² Û²²Û
ÛÛ²Û ± Guthrie CAD Viewer QA CAD v10.A.17 ± Û²ÛÛ
Û ßÛ ° (c) Guthrie CAD/GIS Software Pty Ltd ° Ûß Û
Û°°Û Û°°Û
Û°°Û URL ........: http://www.guthcad.com Û°°Û
Û°°Û Û°°Û
Û°°Û Supplier ...: TEAM LAXiTY Soft Type ...: APP [X] Û°°Û
Û°°Û Packager ...: TEAM LAXiTY GAME [ ] Û°°Û
Û°°Û Cracker ....: TEAM LAXiTY OTHER [ ] Û°°Û
Û°°Û Rel. date ..: 28.10.12 Û°°Û
Û°°Û Û°°Û
Û±±Û ° Rape Solution: Keygen [ ] Serial [ ] RegKey [ ] ° Û±±Û
Û²²ÛÝ Crack [ ] Other [X] ÞÛ²²Û
ÛÛÛÛÛÜ ÜÛÛÛÛÛ
ÜÛÛß ß ß ßÛÛÜ
ßÛß ²²±±°° °°±±²² ßÛß
ß þÜ °° °° Üþ ß
Þ²Ü ° ÜÜܲÛÛÛ²Ü Ü²ÛÛÛ²ÜÜÜ ° ܲÝ
ܲ²ß ÜÛ²ßßß ß²²ß R E L E A S E . N O T E S ß²²ß ßßß²ÛÜ ß²²Ü
ÜÛ²²ß Üß þßß ßßþ ßÜ ß²²ÛÜ
Û²²Û ² ² Û²²Û
ÛÛ²Û ± ± Û²ÛÛ
Û ßÛ ° ° Ûß Û
Û°°Û CAD Viewer 10 allows you to view and print CAD, PDF, and Û°°Û
Û°°Û raster drawing files. Drawings may also be saved / Û°°Û
Û°°Û converted to other formats such as raster and PDF. QA-CAD Û°°Û
Û°°Û 10 includes all the CAD Viewer, CAD Markup, and SymbolCAD Û°°Û
Û°°Û functions, plus: Û°°Û
Û°°Û Û°°Û
Û°°Û Add numbered QA symbols to CAD, PDF and raster drawings. Û°°Û
Û°°Û Attach data to QA symbols. Û°°Û
Û°°Û Export data to CSV and spreadsheets. Û°°Û
Û°°Û Automatically pick up dimension values from CAD drawings. Û°°Û
Û°°Û Built in Tolerance tables. Û°°Û
Û°°Û Û°°Û
Û°°Û Û°°Û
Û±±Û ° ° Û±±Û
Û²²ÛÝ ÞÛ²²Û
ßÛÛÛÛÜ ÜÛÛÛÛß
ßÛÛÛÛÜ ÜÛÛÛÛß
ÜÛÛß ß ß ßÛÛÜ
ßÛß ²²±±°° °°±±²² ßÛß
ß þÜ °° °° Üþ ß
Þ²Ü ° ÜÜܲÛÛÛ²Ü Ü²ÛÛÛ²ÜÜÜ ° ܲÝ
ܲ²ß ÜÛ²ßßß ß²²ß i N S T A L L . N O T E S ß²²ß ßßß²ÛÜ ß²²Ü
ÜÛ²²ß Üß þßß ßßþ ßÜ ß²²ÛÜ
Û²²Û ² ² Û²²Û
ÛÛ²Û ± ± Û²ÛÛ
Û ßÛ ° ° Ûß Û
Û°°Û Replace "qa10.exe" and run "qa-cad.reg". Û°°Û
Û°°Û Û°°Û
Û°°Û Don't take notice of the information from the about box. Û°°Û
Û°°Û Û°°Û
Û±±Û ° ° Û±±Û
Û²²ÛÝ ÞÛ²²Û
ßÛÛÛÛÜ ÜÛÛÛÛß
ßÛÛÛÛÜ ÜÛÛÛÛß
ÜÛÛß ß ß ßÛÛÜ
ßÛß ²²±±°° °°±±²² ßÛß
ß þÜ °° °° Üþ ß
Þ²Ü ° ÜÜܲÛÛÛ²Ü Ü²ÛÛÛ²ÜÜÜ ° ܲÝ
ܲ²ß ÜÛ²ßßß ß²²ß A P P L Y . i N F O ß²²ß ßßß²ÛÜ ß²²Ü
ÜÛ²²ß Üß þßß ßßþ ßÜ ß²²ÛÜ
Û°°Û ° ° Û°°Û
Û±±Û ° *** CLOSED *** ° Û±±Û
ßÛ²²ÛÜ ÜÛ²²Ûß
ßÛ²²²Ü ܲ²²Ûß
ÜÛ²²Ûß TEAM LAXiTY ßÛ²²ÛÜ
ÜÛ°°Ûß ravishing since 1998 ßÛ°°ÛÜ
ßÛ±±ÛÜ ÜÛ±±Ûß
ßÛ²²ÛÜ ° ° ° ° ° ÜÛ²²Ûß
ßßÛ²ÛÜ ßÜ ²Û ÜßßÛ² ²² Û² ßß ²Û ²Û Û² Üß ÜÛ²Ûßß
ß²²Û ß±±° °°±±Û ÜÜÛ± ßÜÜß ²Û ±Ûßß ßßßÛ±±°° °±²ß Û²²ß
Þ²ß (asc) mx °Û ²Û ²² Û° ܲ ²Ü ±Û °Û ²Û ²² Û° ß²Ý
Ü þß ßß± ßßß ß± ßß °ß ßß± ßßß ßþ Ü
° ° °
LXTCRC:121914:1425
这里是其它用户补充的资源(我也要补充):
暂无补充资源